If the Miele Complete C3 Total Solution PowerLine is on your vacuum cleaner shortlist, here's the review that'll reveal if it should be number one.
I tested a wide selection of vacuum cleaners on carpet, parquet, tiles, stairs and upholstery, and challenged them with mud, fluff, light debris and pet hair to give you the lowdown on how efficiently they'll do the job, how easy they are to use, and how much space they'll take up in your cupboard. Spoiler: we rate this Miele model as one of the best vacuums for pet hair that you can buy. That and it's incredible if you suffer from allergies thanks to its bagged design that traps allergens, dander, and dust in its bin and doesn't let these particles escape into the air in your home as you empty your vac.
Find out how the Miele Complete C3 Total Solution Powerline performed, and if it should make it onto lists of the best vacuum cleaners.
Miele Complete C3 Total Solution PowerLine at a glance:
Why you can trust Real Homes Our expert reviewers spend hours testing and comparing products and services so you can choose the best for you. Find out more about how we test.
Type: cylinder
Bag or bagless: bagged
Suction: great
Noise: you might find yourself opting for the easier-on-the-ear setting
Easy storage: compact for a cylinder
Vac specifications:
Maximum power: 890W
Cable length: 8.5m
Dimensions: 496mm long x 227mm high
Weight: 7.26kg
Noise: 77dB
Dustbag capacity: 4.5 litres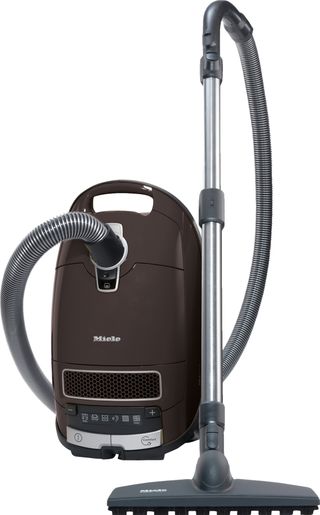 Who will the Miele Complete C3 Total Solution PowerLine suit:
Cylinder vac fans with both hard flooring and carpet to whizz round in one fuss-free clean-up.
What is the Miele Complete C3 Total Solution PowerLine like to use:
A stylish appliance and ultra practical, the Miele Complete C3 Total Solution PowerLine made tackling all my floors – and what shouldn't have been on them – easy.
Hard flooring, carpet and stairs
The Miele Complete C3 Total Solution PowerLine cleaned up efficiently and easily on carpet and hard flooring. The suction power can be adjusted to flooring type with the foot control via the plus and minus settings. When I moved from a carpeted room to one with tiles, for example, there was no need to bend over to lower the level of suction.
The only other adjustment that was necessary as I changed floor surface was a tip of the switch that retracts the brushes in the floorhead (for carpet), or makes them protrude (for hard flooring). You can do this with your foot, just like switching on and off and retracting the cable when you're done.
And while the Miele Complete C3 Total Solution PowerLine made short work of large areas of floor, the beautifully manoeuvrable floorhead worked a treat on even my narrow staircase.
Attachments
The crevice nozzle, dusting brush and upholstery nozzle are all kept on board the vac in a clever space-saving compartment – you just flip open the lid to get to them. This was a real time-saver in swapping from flooring to upholstery as what I needed was right there.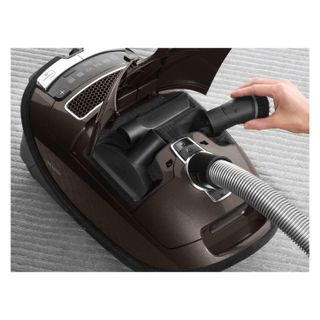 Power and debris removal
Muddy tiles were no issue for the Miele Complete C3 Total Solution PowerLine. The whole area of the floorhead is effective, so cleaning up a dirty area was swift. Lighter debris was pushed forward by the power of the floorhead, but once lifted on to it, pick-up was great.
On carpet, it was easy to push the floorhead over light debris and get it all up. Mud on the carpet was harder work for me, but the machine dealt with it with aplomb. You can lessen suction power if necessary in situations like this to make moving the floorhead easier. And although this machine isn't targeted at pet owners, getting hair off the sofa was no trouble.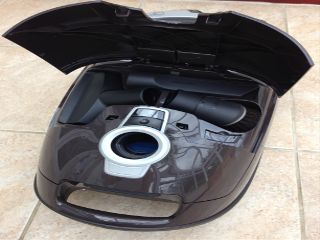 Dustbag removal
Taking a full dustbag out and putting in a new one was plain sailing. As someone with (well-controlled and wants to keep it that way) asthma, I like the dustbag flap that closes automatically when the compartment lid's raised to stop the dust escaping.
Handy features
A HEPA AirClean filter, approved by Allergy UK, that retains dust and pollen is a welcome feature for growing numbers of us. This model also came with both a Turbobrush and Parquet Twister brush – the former was extremely effective on a bedroom carpet (you know how the hair gets in there). The latter really was a joy on parquet, swivelling accurately and getting up even tiny crumbs.
Storing the Miele Complete C3 Total Solution PowerLine
Short and stout as a cylinder vac is, once the Miele Complete C3 Total Solution PowerLine was upright in the cupboard with the floorhead fitted into place on the side it wasn't a space hog.
Manoeuvrability
Hands up if your electrical sockets aren't as plentiful as you'd like them to be. The long cable of the Miele means you don't have to worry about this. It was also simple to move within rooms and across their thresholds, and quite easy to take from downstairs to up – although those with less strength or mobility would probably prefer a lighter vac.
How does it rate online:
On Miele's own site the Miele Complete C3 Total Solution PowerLine has an admirable 4.9 star average with no one, two or three star ratings at all, although only 20 people have shared their opinions. Celebrated are its simple set-up, on-board attachments, and adjustable and powerful suction.
Checking out the critics on Amazon reveals 76% thought it deserved five stars, and just 7% though it should only have one star. Fans liked its power, effectiveness on hard floors and carpet, and the ease with which the bag can be changed. Criticisms concerned the effort needed to use it on carpet, and the quality of the plastic used.
How does it rate against similar vacuum cleaners:
You could pay less for a cylinder cleaner, but the Miele Complete C3 Total Solution PowerLine can pick up plenty before the bag needs changing, so it's a time-saver when you're doing your chores. There's also lots of competition from other cylinder models in the same price bracket, but its ease of set-up and use, and the effective performance across all sorts of floors makes this a savvy buy.
About our review – and our reviewer:
Sarah Warwick has specialised in homes and interiors for over 20 years. She was Executive Editor of Ideal Home magazine, and has written for nationals, magazines and websites including Real Homes, Homebuilding & Renovating, Grand Designs, Homes & Gardens, Houzz, The Guardian, House Beautiful and Country Homes & Interiors. She put the vacuums through their paces all round the house, on all sorts of dirt and debris, and a variety of flooring and surfaces.
Read more on vacuum cleaners: