Living in a home with a child, new wool carpets and constantly moulting mane (that's mine) is a challenge for even the mightiest of vacuum cleaners. The Shark XL Anti Hair Wrap Upright Pet Vacuum PZ1000UKT seemed to have all the answers to our cleaning woes with Anti-Hair Wrap technology, wide floor head and the promise of more suction power compared to any other vacuum cleaner brand.
I was intrigued to say the least so couldn't wait to get it started on the carpeted and hard flooring in our three-bed Victorian home. I was also curious to see how we got on with a corded vacuum cleaner since we are more familiar with having a cordless version as our main cleaner – the Dyson V11 Outsize. Although I am often spoilt for choice for vacuum cleaners (perks of the job) I never do tire of taking the latest one for a spin, especially since it could solve so many cleaning conundrums for me.
Keep scrolling to find out how we got on with this upright vacuum cleaner for pet hair, and see if we think it's worthy of a place in our round-up of the best vacuums. We do not have pets but I do have plenty of long hair to put it through its paces.
Shark XL Anti Hair Wrap Upright Pet Vacuum PZ1000UKT product spec: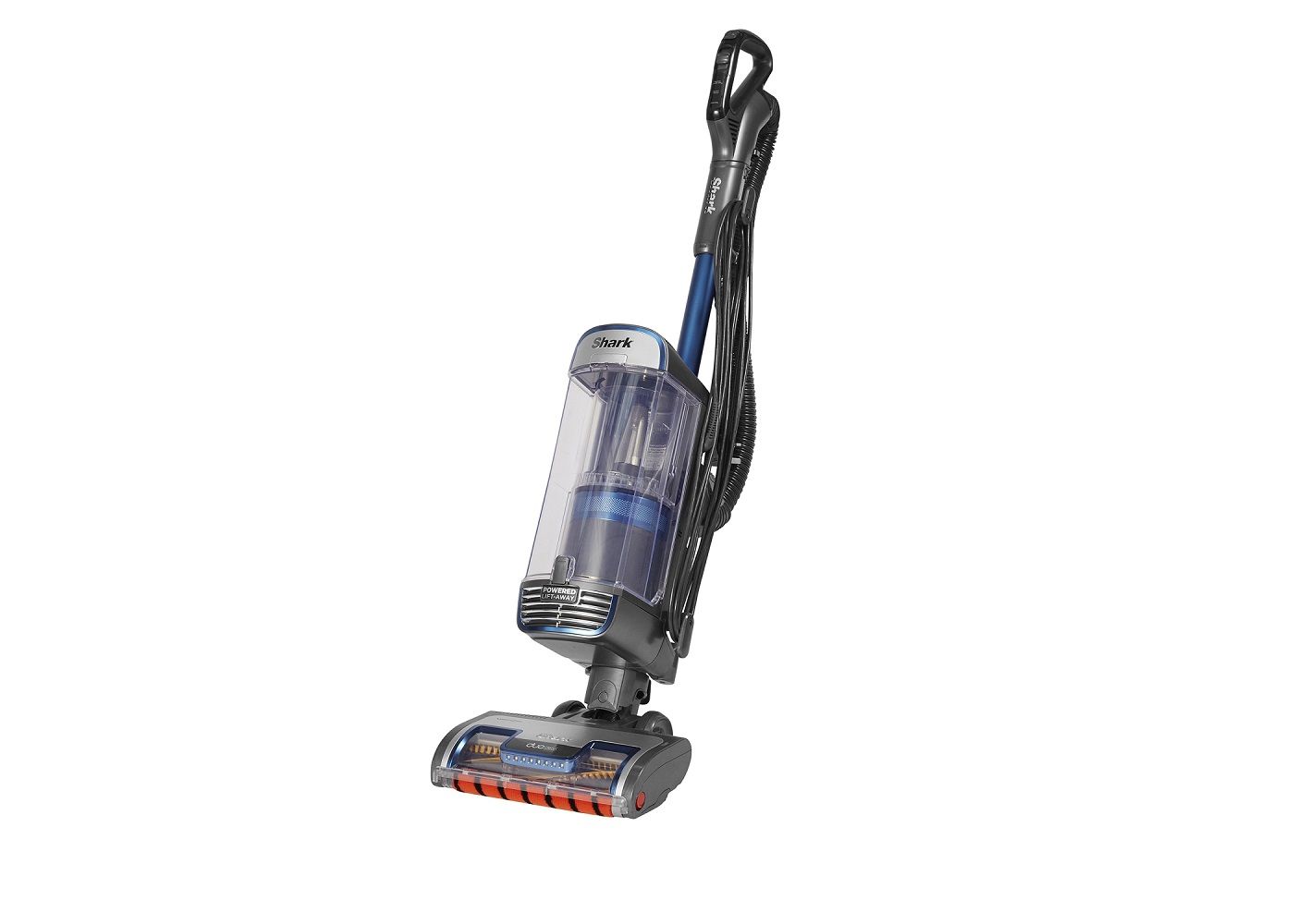 Cable length: 8m
Hose length: 1.5m
Weight: 6.8kg
Capacity: 1.6L
Dimensions: 30.5x25.5x118cm
Jennifer (Jen) Oksien is Homes Editor on TechRadar. Previously she has written for Ideal Home, Real Homes and Homes & Gardens as our Appliances Editor.
She was sent the Shark XL Anti Hair Wrap Upright Pet Vacuum PZ1000UKT to review at home, and use in a real-life setting. From delivery and set up to using it to clean the various levels in the home, Jen has challenged this vac with cereal, hair, dust, dirt and debris.
We are not given any compensation for our reviews, but we may be gifted the product meaning that we can test it over a greater length of time, and update our reviews if required.
Who will it suit?
Commercial cleaners or those looking for a robust vacuum that they're not too afraid to put some strength behind. This vacuum cleaner is one of the heaviest I have reviewed and you may find manoeuvring difficult, so it is not for anyone who struggles with lifting.
Delivery, unboxing and set up
What's in the box?
1. Main unit
2. Floor head
3. Hose and stick handle
4. 1x crevice tool
5. 1x multi-surface tool
6. 1x pet power brush
7. Instruction booklet & quick start guide
The Shark XL Anti Hair Wrap Upright Pet Vacuum PZ1000UKT arrived in a branded box, within a delivery box. Upon opening the box I was pleased to see that zero plastic packaging had been used – even the tape to secure the box was paper-based. This meant that it could all be recycled in our blue paper and cardboard bag.
The main unit, floor head, hose and stick were all seperate. The Pet Power Brush and multi-surface tool were also seperate. It was all straight-forward enough to clip the main vac together, although there are some easy-to-follow instructions provided should you feel you need to refer to them.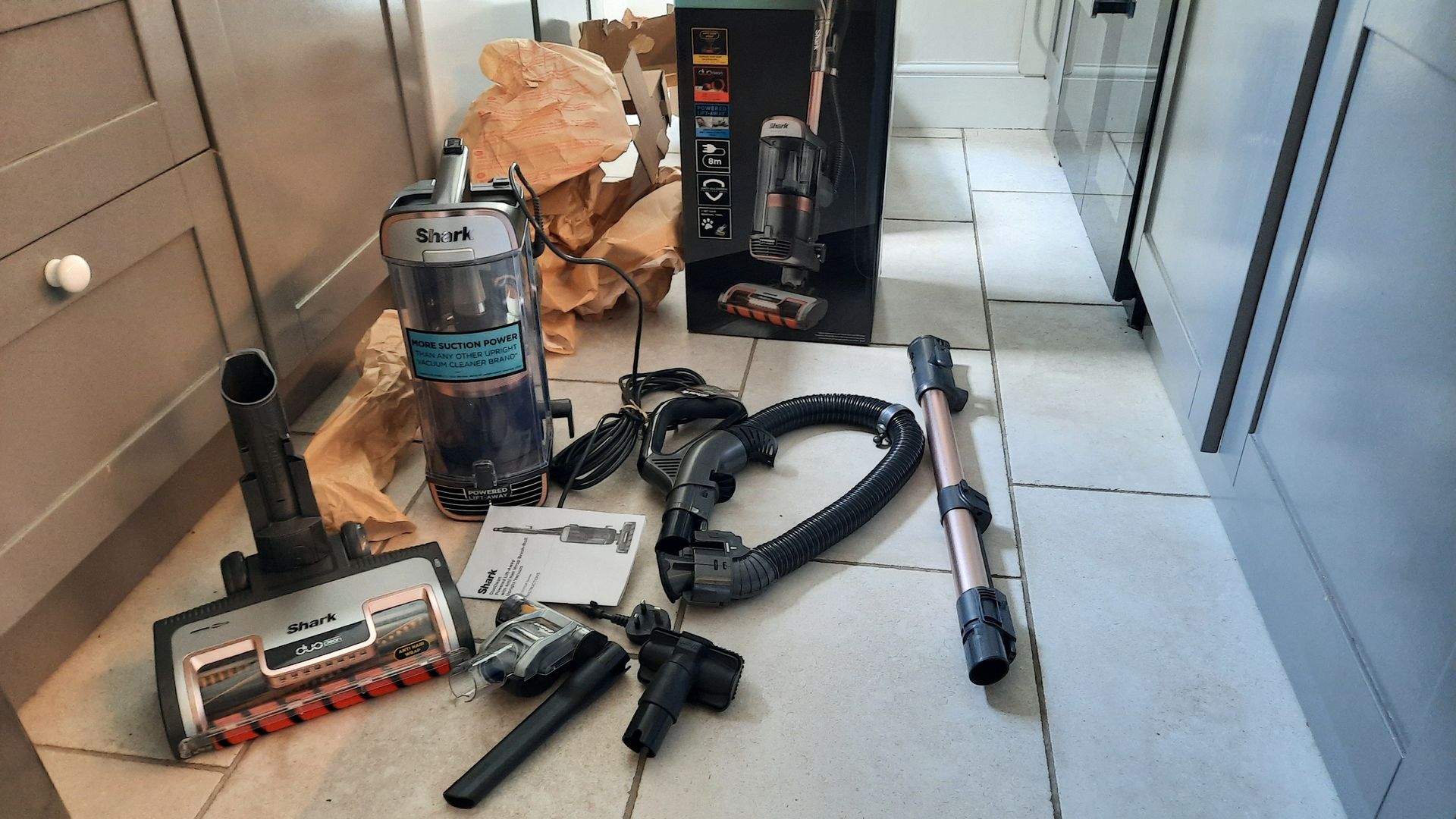 When the vacuum cleaner became an upright vacuum cleaner I then secured the attachments onto the onboard storage. These was great for keeping everything in one place. However, there was nowhere for the pet tool to be stowed. I'm finding this the case more and more often, that the pet tool is the left out attachment despite being the second most valuable after the floor head – it's very odd / annoying.
Performance
With no battery to charge, the Shark XL Anti Hair Wrap Upright Pet Vacuum PZ1000UKT is ready to start vacuuming when you are. I first plugged it in under the stairs to vacuum a runner, rug, pine floorboards and everything else in between.
The first thing I noticed about the vac is how much heavier it is compared to other cordless and corded vacuum cleaners I have reviewed. Steering takes a bit of effort, especially around the table legs and high chair.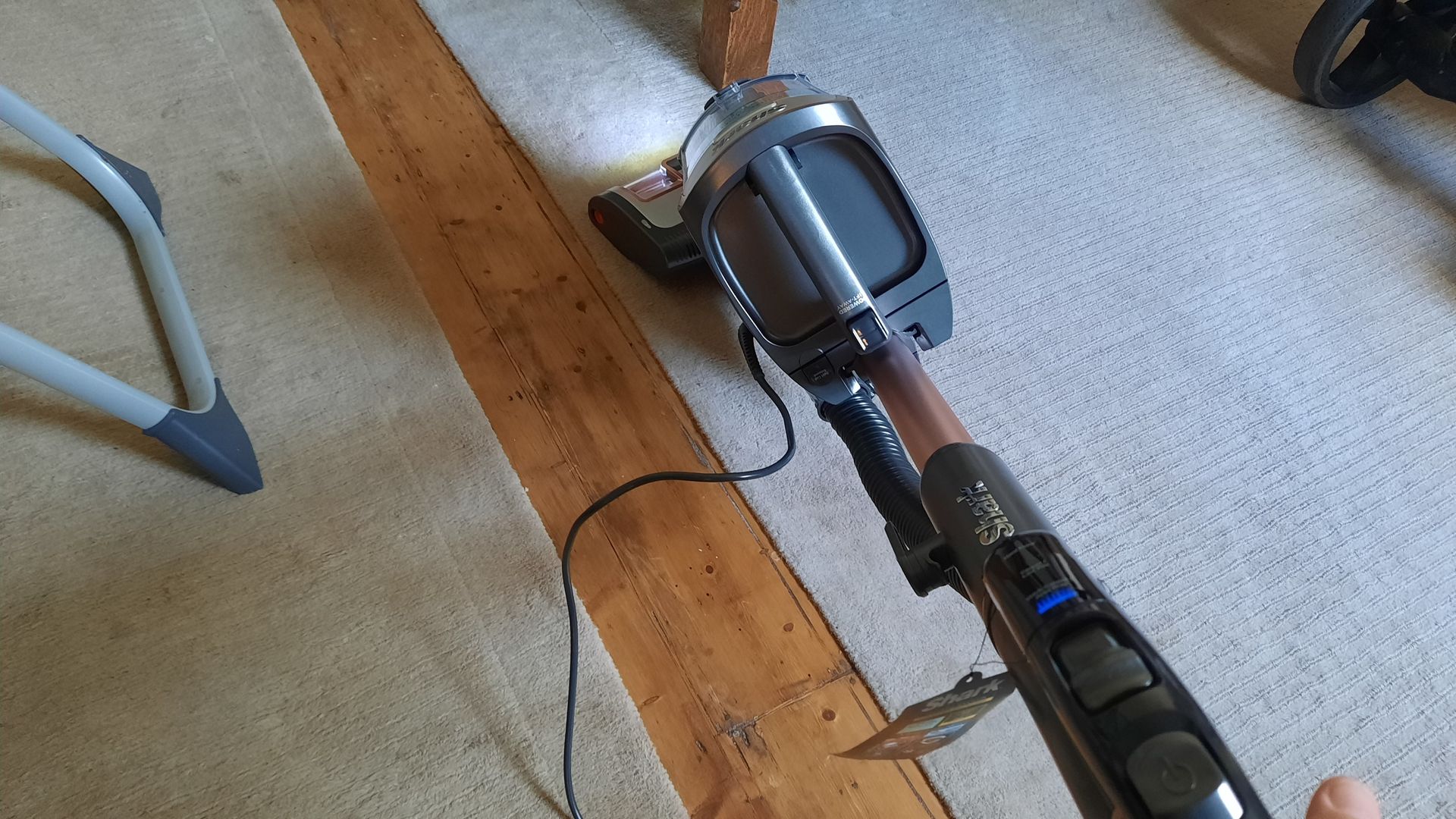 There are three suction levels; hard floor, carpet / low pile and thick carpet / area rug. As I switched between them it didn't make any difference to the manoeuvrability – the unit is just heavy. The floor head has two brush rolls, because it is Shark's signature DuoClean floor head. They work together. The bristle roller engages with the pile on the carpet, whilst the soft front-brush roll lifts debris and stuck-on dust from the hard floor. When the hard floor setting is selected, the bristle bar lifts so it is just the softer brush rolling which helps to avoid damage to the floor.
I love the anti-hair wrap feature – it really works. There was no hair getting wrapped or in a tangle on the floor head. How it works is that the technology actively removes the hair from the brush roll, so you don't have to. The bristles look different to other vacuum cleaner floor heads – they're chunkier and have more spaces between the clusters. There's also what looks like rubber fins wrapped around the bristle bar on the main floor head, and the pet tool.
I also love the size of the floor head. It measures 30.5 cm across so I managed to cover a lot of ground in one go. It gets up against skirting, and the LEDs are mega useful when vacuuming areas in a low light.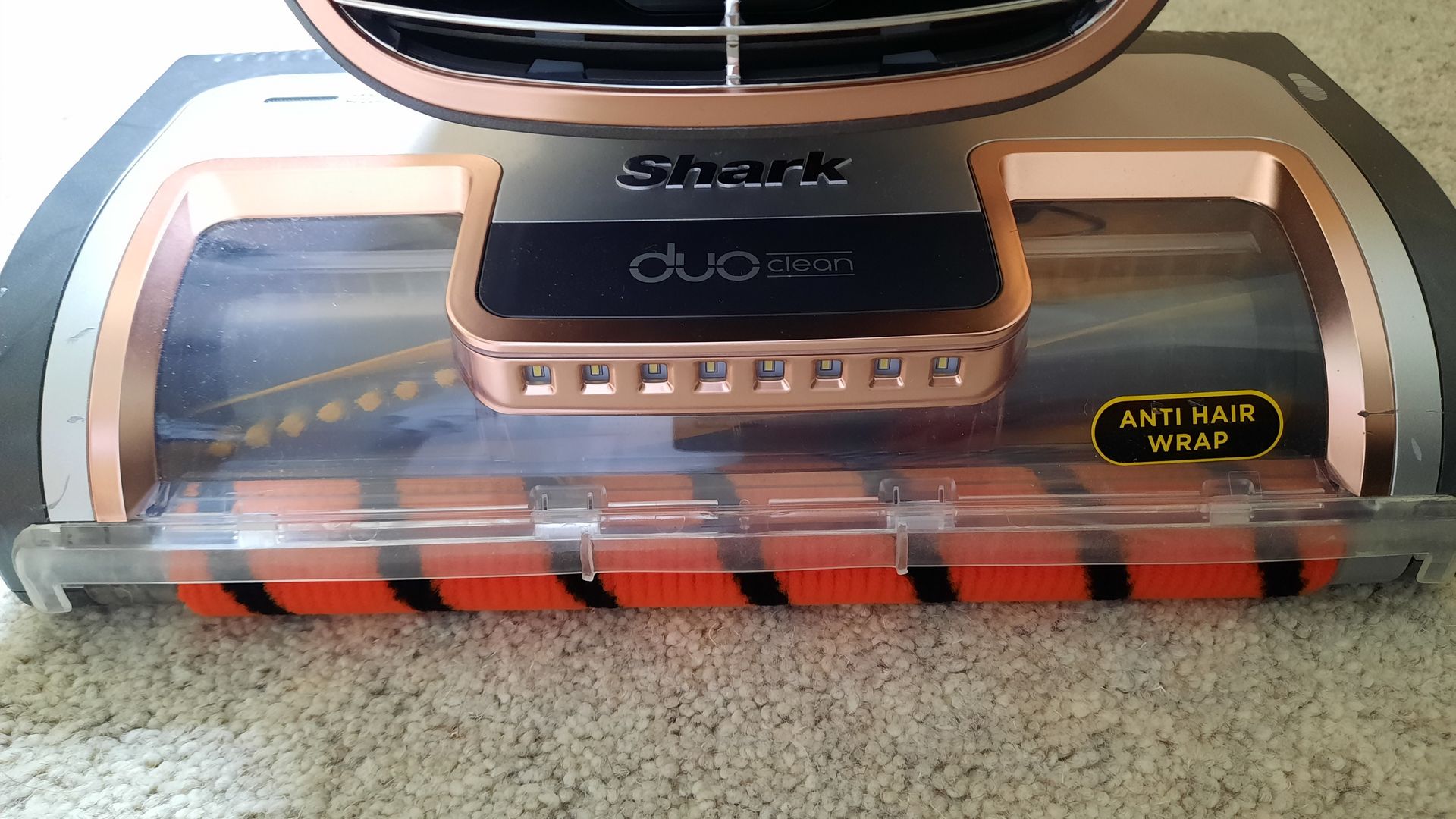 It's a good job the Shark XL Anti Hair Wrap Upright Pet Vacuum PZ1000UKT has powered-lift away to do the stairs because without it, vacuuming the carpet up the stairs would have been a heavy-weight challenge. There is still weight to the Lift-Away, though, so you're still going to need to be feeling strong to use it. There's plenty of cable (eight metres) to get you from the bottom of the stairs to the top of the stairs, too, so there's no need to worry about having to plug back in again halfway through a clean.
I used the pet tool on the stairs which is a lot more nimble than the floor head. It's also small enough and easy enough to clean the underside of the stairs which really needs to be done more in our household. One noticeable thing about using this attachment, and the Lift-Away, is that it is loud. I recorded 76 dB on my sound level meter whereas when using Shark XL Anti Hair Wrap Upright Pet Vacuum PZ1000UKT as an upright vac I recorded 64 dB.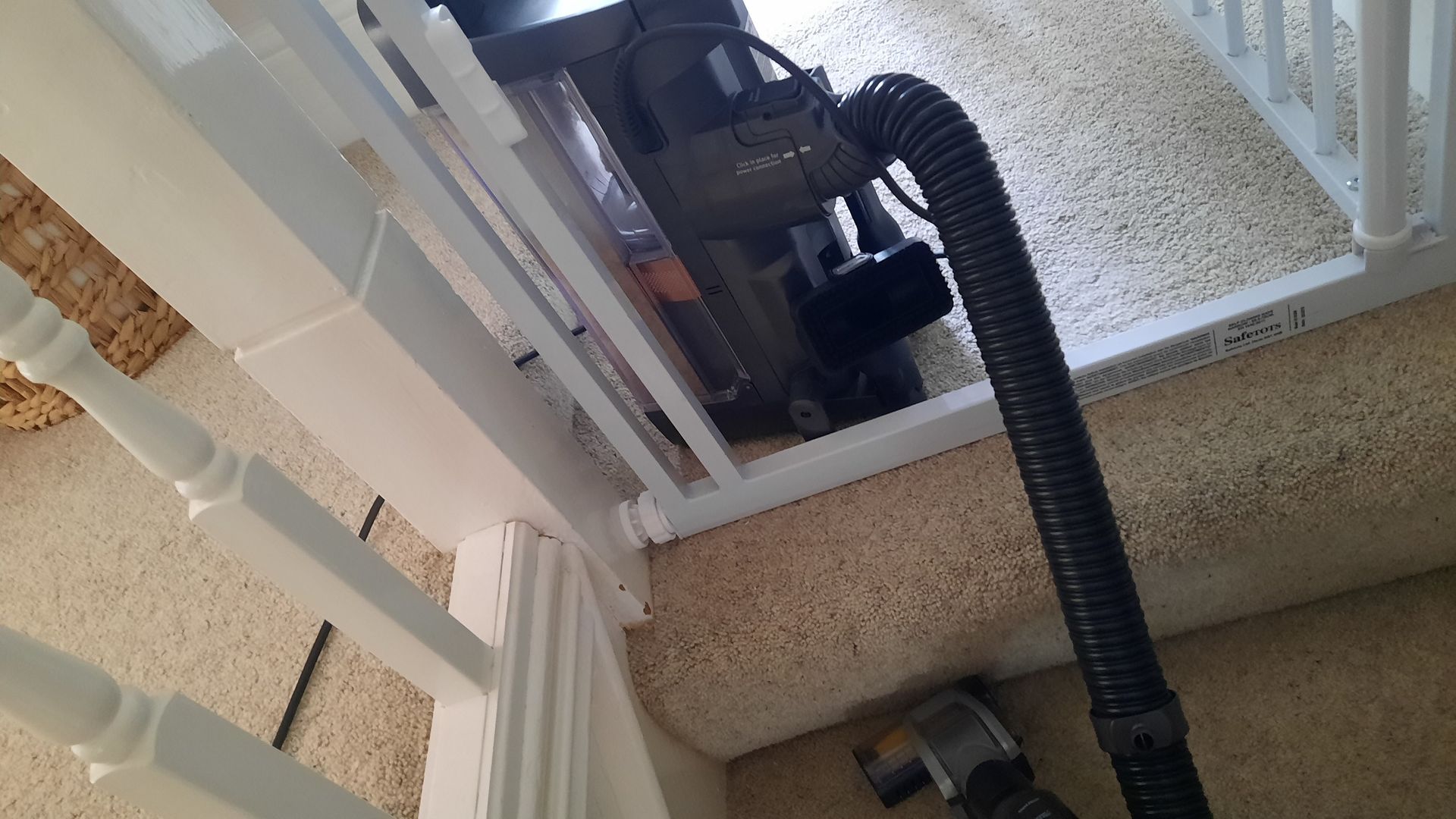 Lift-Away is, also, really useful when vacuuming under furniture. The dust chamber is really big which prevents the vac from gliding underneath the bed, for example, while in upright mode. Using powered lift-away and connecting the wand with floor head meant that I was able to reach as far back as I wanted.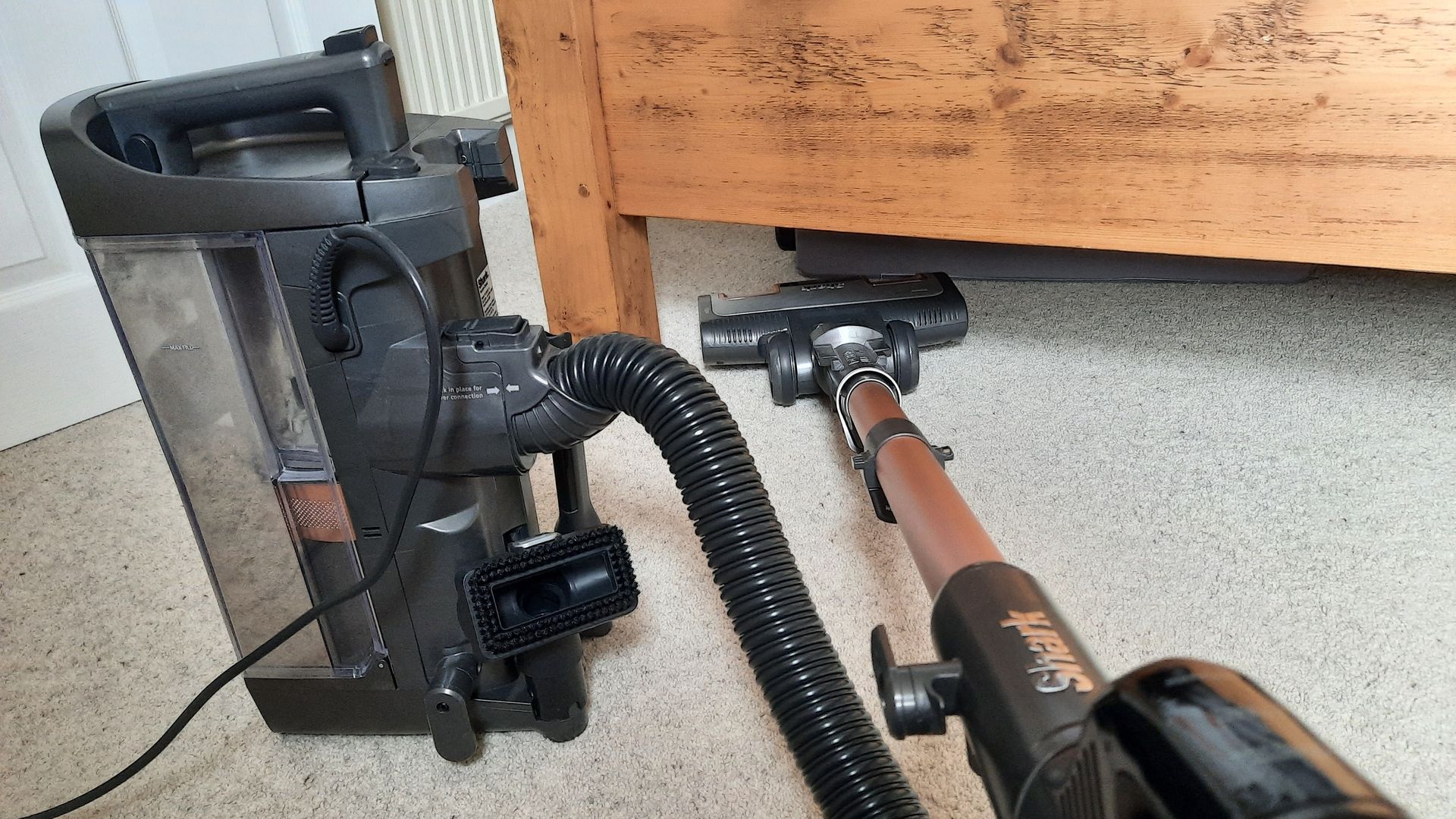 Vacuuming the sofa and various nooks and crannies throughout the house became a little easier to reach with the various attachments and Lift-Away, too. Everything I needed was on board so it was easy to switch between vacuuming tasks. The crevice tool was useful for cleaning the tops of skirting and around the carpet edge, for example. A thing to note is that there is no additional suction level for using the attachments so choose these depending on the task in hard – I opted for the hard floor setting when using the crevice tool.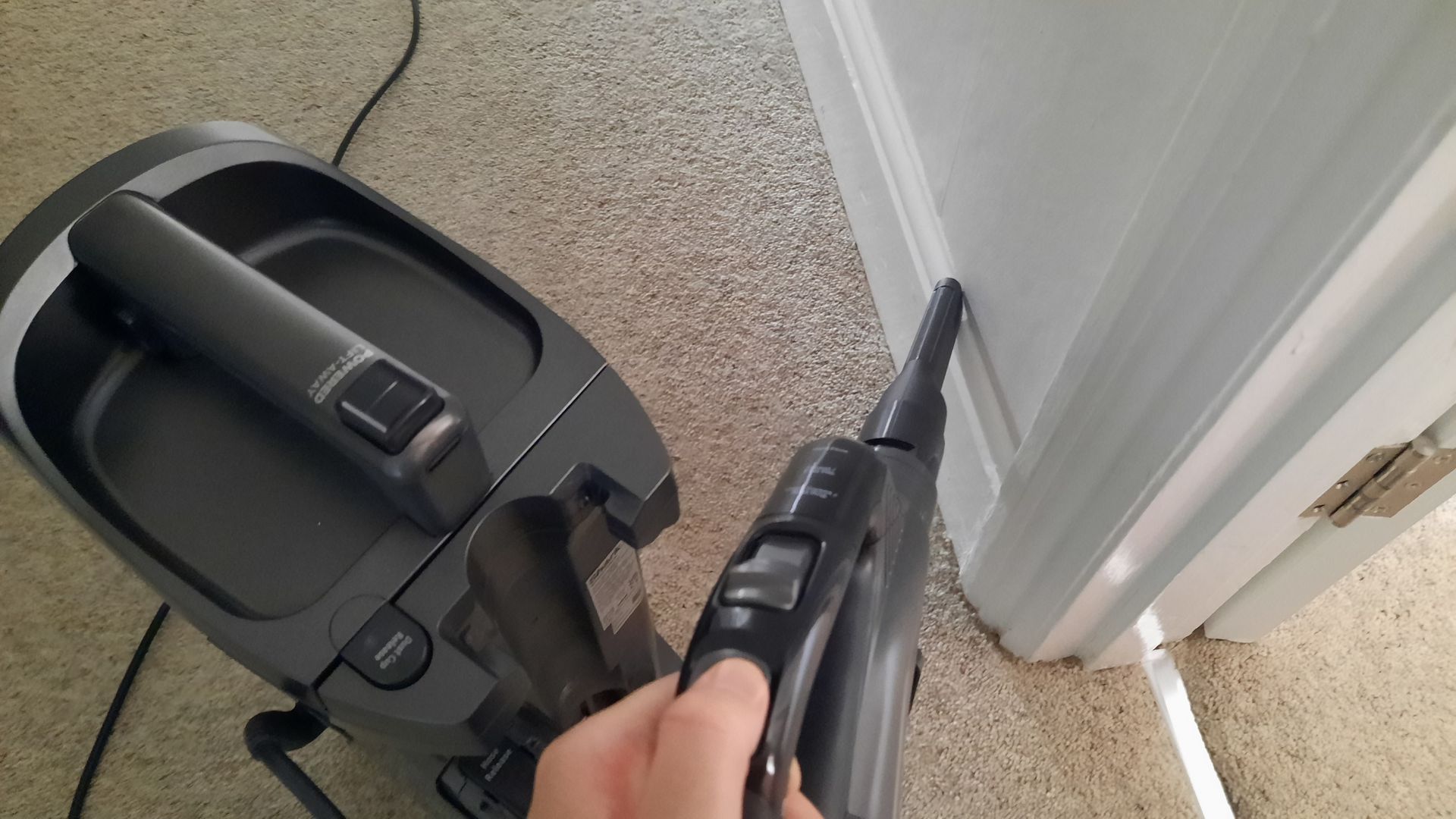 Design
We reviewed the Shark XL Anti Hair Wrap Upright Pet Vacuum PZ1000UKT in a beautiful grey with rose gold accents. It has a large stature but the wide floorhead and XL dust cup capacity are very useful for vacuuming a three-bed family home. More surface has been covered and less emptying of the dust tank was required.
The signature DuoClean floorhead and LEDs make it an effortless clean across carpets and hard floor, which is lit up as you transition across the different floor types.
It's a bagless upright vacuum cleaner which may be a concern for pet owners with allergies but Shark have thought about this and designed the vac with an Anti-Allergen Complete Seal. This captures and traps 99.9% of dust and allergens inside the vacuum cleaner, and doesn't release it back into the air.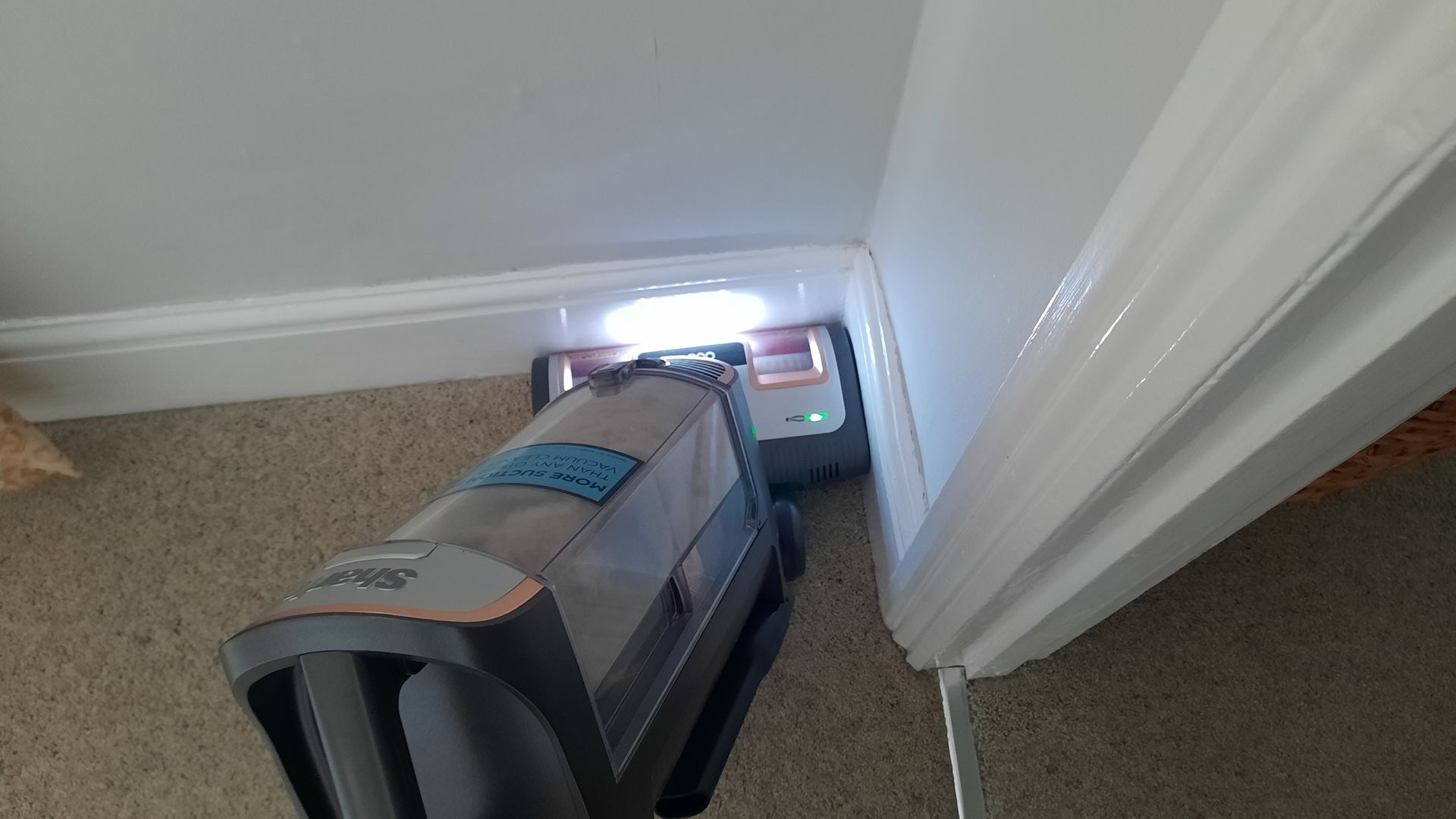 Cleaning, maintenance and storage
An obvious cleaning task which you'll need to do for the Shark XL Anti Hair Wrap Upright Pet Vacuum PZ1000UKT is to empty the 1.6L dust tank. It would be good practice to do this after each use. Alternatively there is a 'max fill' line to keep an eye on. There is a top and bottom dust cup to empty with buttons on the top and bottom to press and release the debris.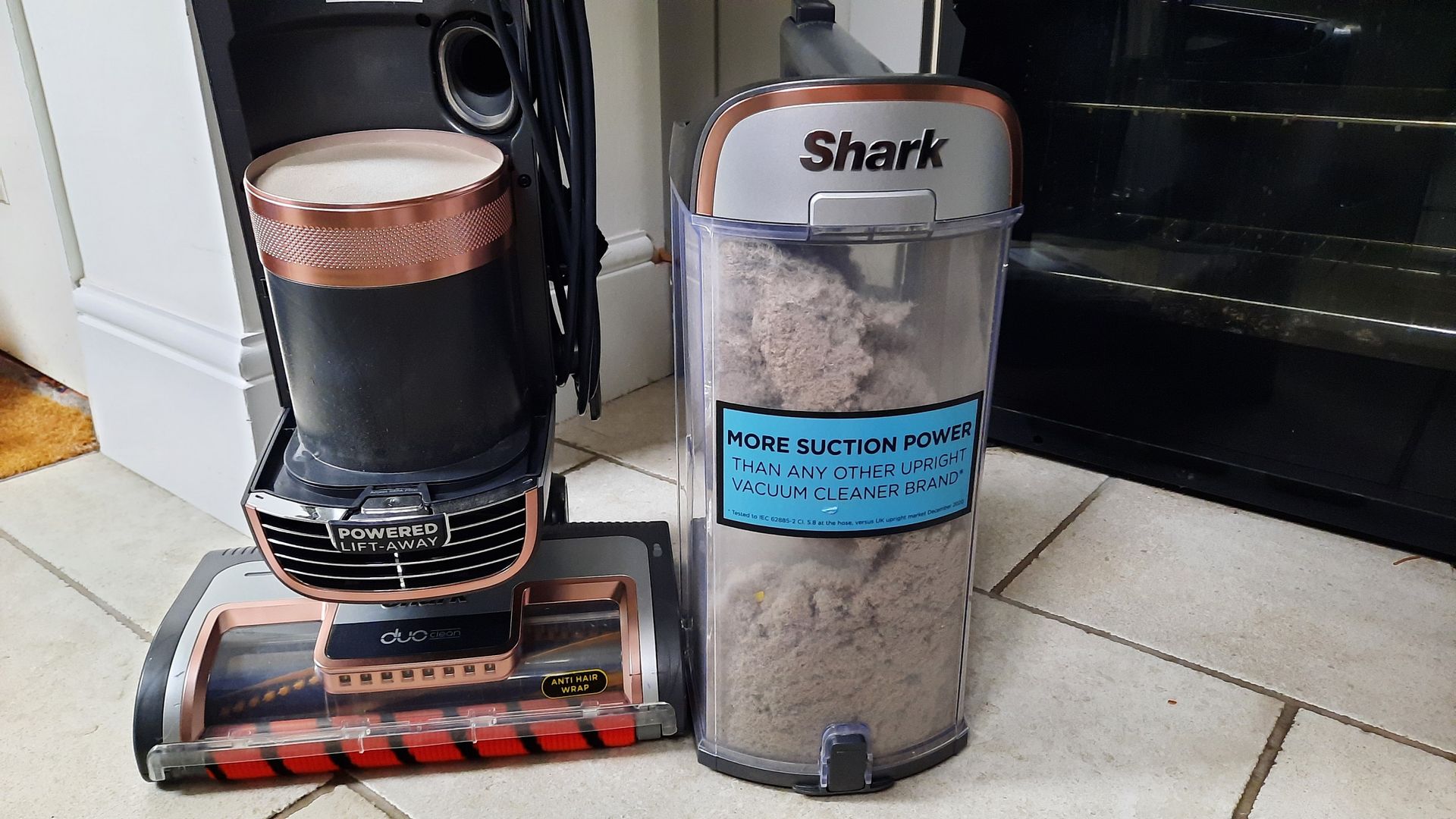 With it's Anti-Hair Wrap tech in the floor head, you won't be needing to cut-away hair from the brush bars. Very rarely anyway. This is an absolute blessing for households (including ours) with malting manes and stray fly-aways, from pets and humans alike. Should anything else get wrapped around the brush bars or an item becomes lodged such as a piece of string or, in this instance, a small peg, the cover on the floor head can be removed by turning three button-like dials so you can clear away any blockages.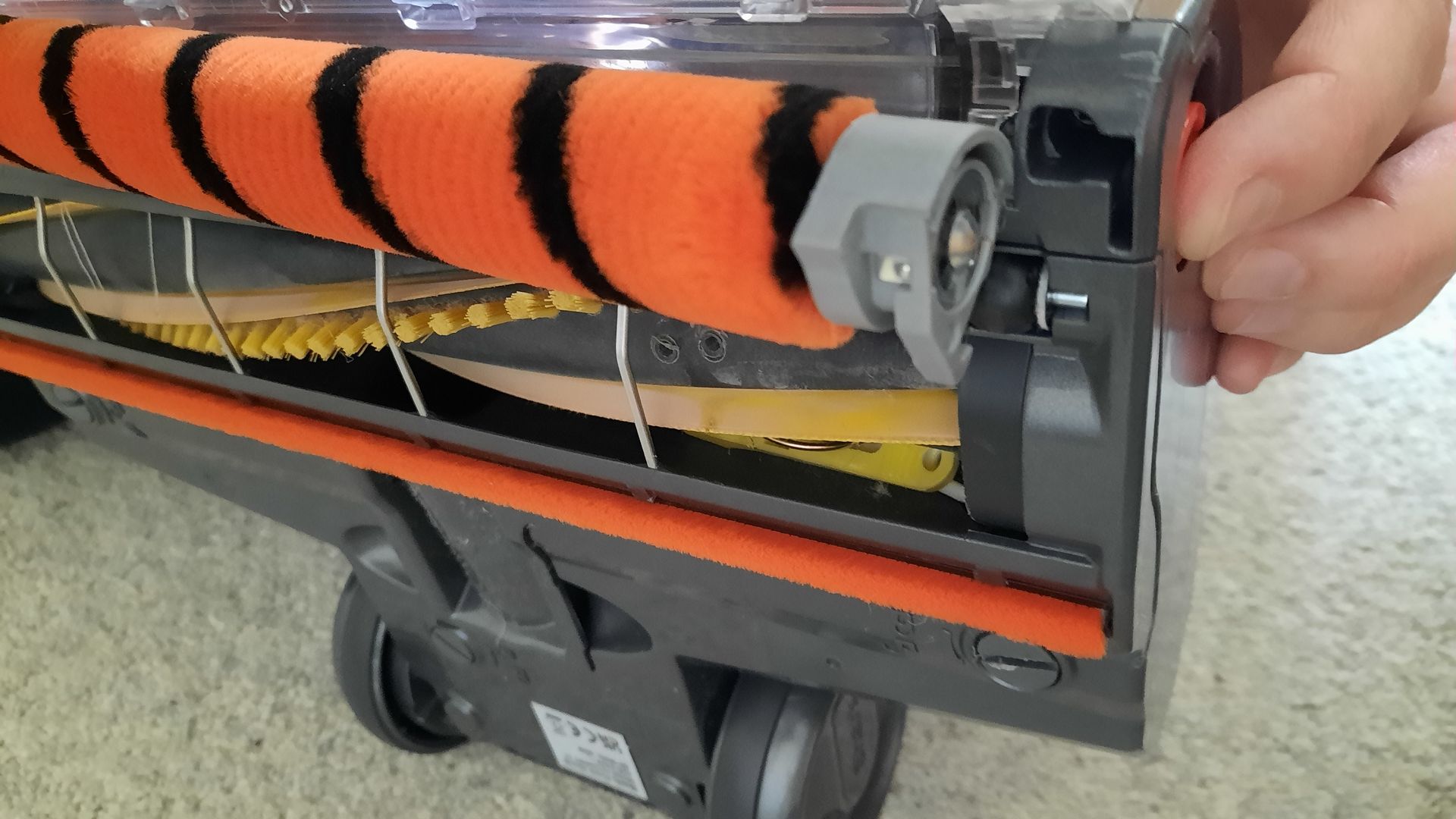 If the floor you are cleaning endures particularly heavy traffic then you may find that the soft roller bar becomes mucky. This roller bar can be ejected and hand-rinsed in water as needed.
Shark recommends that you regularly rinse the filters to maintain the suction power. Use cold water to do this and, as with the roller bar, ensure that it is completely dry before reinserting. Learn how to clean a Shark vacuum filter for more.
To be honest, very little other cleaning is required with this vac. An obvious thing to do at the end of each clean is to empty the dust cup, and when you see any dust settling on the unit give it a wipe.
In terms of maintaining the vac just keep an eye out for blockages. I didn't have any issues with this during the three months of testing, but should you come face-to-face with any, the instructions are very easy and clear to follow. There is advice on how to clear blockages on the nozzle, wand, dust cup, hose and handle.
And for storage, I just kept the vac in its upright position under the stairs. It can go anywhere you have space in the home. Onboard, it'll store all but one accessory which is the pet power brush. It's useful to have the onboard storage because it keeps all the accessorises together and available when you are cleaning – just a shame that the pet power brush is not amongst them because I have to keep remembering where its 'safe place' is.
How does it rate online?
Over on sharkclean (opens in new tab) the Shark XL Anti Hair Wrap Upright Pet Vacuum PZ1000UKT has received 4.7-out-of-5 stars with 95% of reviewers recommending the appliance. A common theme is how amazing the pick up is, especially with pet hair. The epic suction has 'changed my carpets for the better..' says one reviewer with many other reviewers comparing it to another leading brand, and claiming how much better it performed.
The weight of the vac is a thing though. Even the 5-out-of-5 reviews mentioned that it was heavy to move around but this didn't phase them because they were so impressed with the suction power and results.
Currys PC World (opens in new tab) reviewers echo these findings. Many vouch for how 'excellent' the vacuum cleaner is and how well it picks up pet hair. The ease of keeping it clean and use of plastic-free packaging has also been noted as a positive. It's the weight and attachment storage solution – they drop off and there's nowhere to store the third attachment – which contributes to a loss of 0.5 stars from full marks.
Further reviews can also be read on Amazon UK (opens in new tab) and Ao.com (opens in new tab) which report on very similar findings with their experience of the vac thus far,
How does it compare with other vacuum cleaners?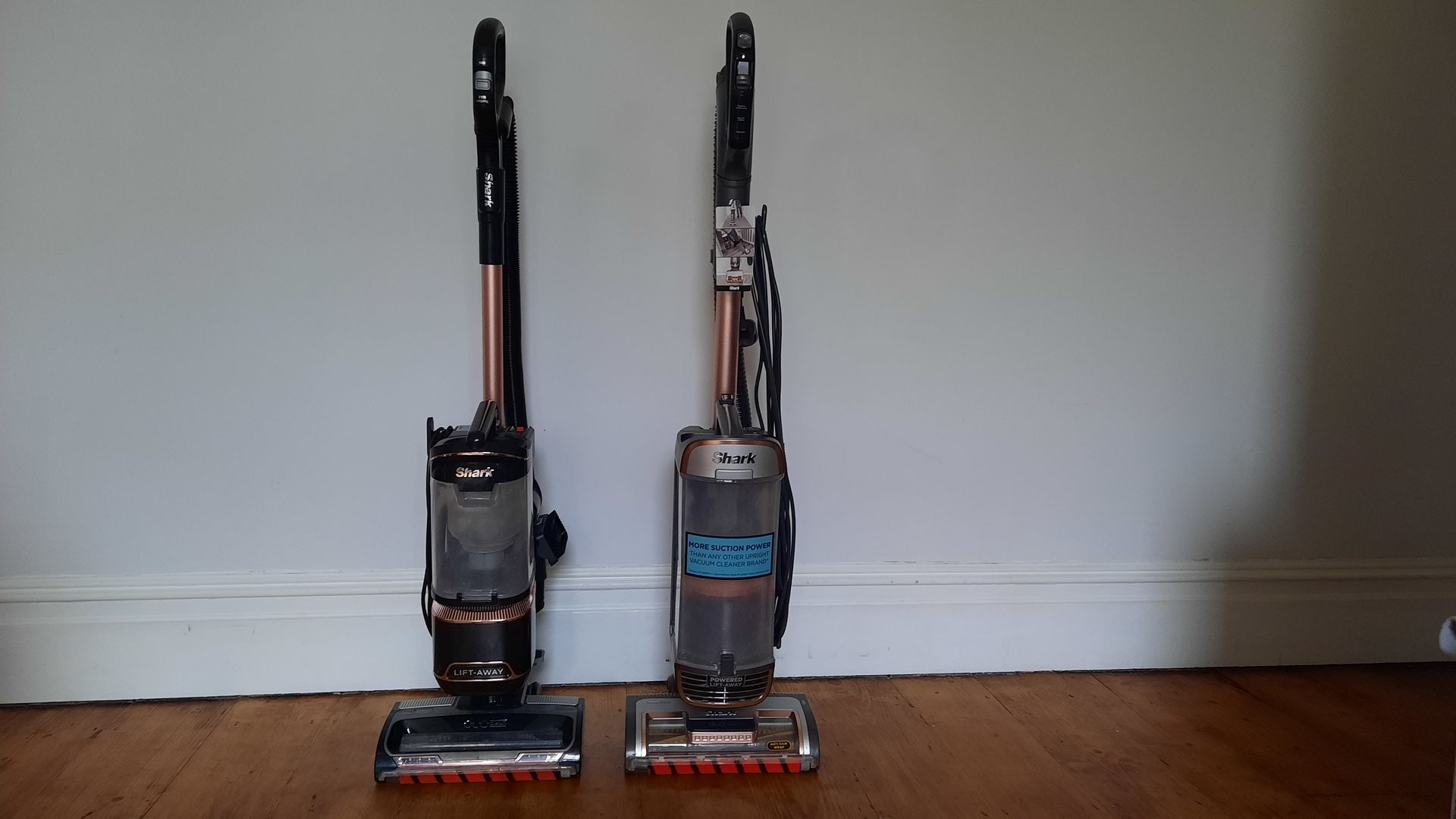 At the same time I was reviewing the PZ1000UKT I was also using the Shark DuoClean Upright Pet Vacuum NV702UKT (opens in new tab). This is a slightly smaller, lighter and more affordable corded upright vacuum cleaner.
A noticeable difference is that the NV702UKT is smaller in size. It doesn't come with the marketed XL floor head of the PZ1000UKT and it has a 0.5L smaller dust cup. This makes it much easier to move around the floors and other levels, especially when using Powered Lift-Away.
The NV702UKT, however, does not come with Anti Hair Wrap technology. This is a really fab feature that the other vac upon reviewing lacks.
Real Homes verdict: should I buy the Shark XL Anti Hair Wrap Upright Pet Vacuum PZ1000UKT?
If you want to deep-clean your carpets regularly or if you are a cleaner by trade, then I would definitely recommend the Shark XL Anti Hair Wrap Upright Pet Vacuum PZ1000UKT.
It has mega impressive power, and therefore suction. I love the fact that the DuoClean floorhead is a decent size because it means that you can cover more ground when vacuuming. Transitioning between hard floor and carpeted floor is satisfying with the two brush bars in the floor head and three settings to switch between. The dust cup can stuff in a lot of dirt, dust and debris so you're not having to run up and down the stairs every five minutes during a clean, either.
There are so many good things about this vacuum cleaner. It's reliable, robust and offers incredible value and I feel that it should be a contender when you're on the verge on pressing the 'buy now button'.
This is a big and heavy vacuum cleaner though so if you're after something nimble to clean the carpets then this is not it. It's also corded so if you want the freedom of cordless then, again, this is not going to be the vacuum cleaner for you.