We've been reviewing the Hoover Telios Extra TX50PET Cylinder Vacuum Cleaner for some weeks, maybe months, so we could give you a thorough report on how it fared.
It's been put through it's paces in a home which has on-going DIY (dust), where pet guinea pigs are frequent visitors (pet hair) and around the best seats in the house (lots of crumbs). I've been using it as our main vac – upstairs and downstairs – so it's had to contend with hard flooring, carpets and the stairs. The challenges it has faced would be those as in any household so I (and you) and get a thorough perceptive on its performance and maintenance requirements. How did it get on? Read our review for the lowdown.
Then find our pick of all the top models in our best vacuum cleaner buyer's guide edit.
Hoover Telios Extra TX50PET Cylinder Vacuum Cleaner specifications
Suitable for: all floor types
Noise level: 64dB
Dust bag capacity: 3.5L
Length of hose: 1.5m
Working radius: 10m
Weight: 5.03kg
Size: H44.3, W30, D23.7cm
Accessories included: crevice tool, dusting brush, furniture nozzle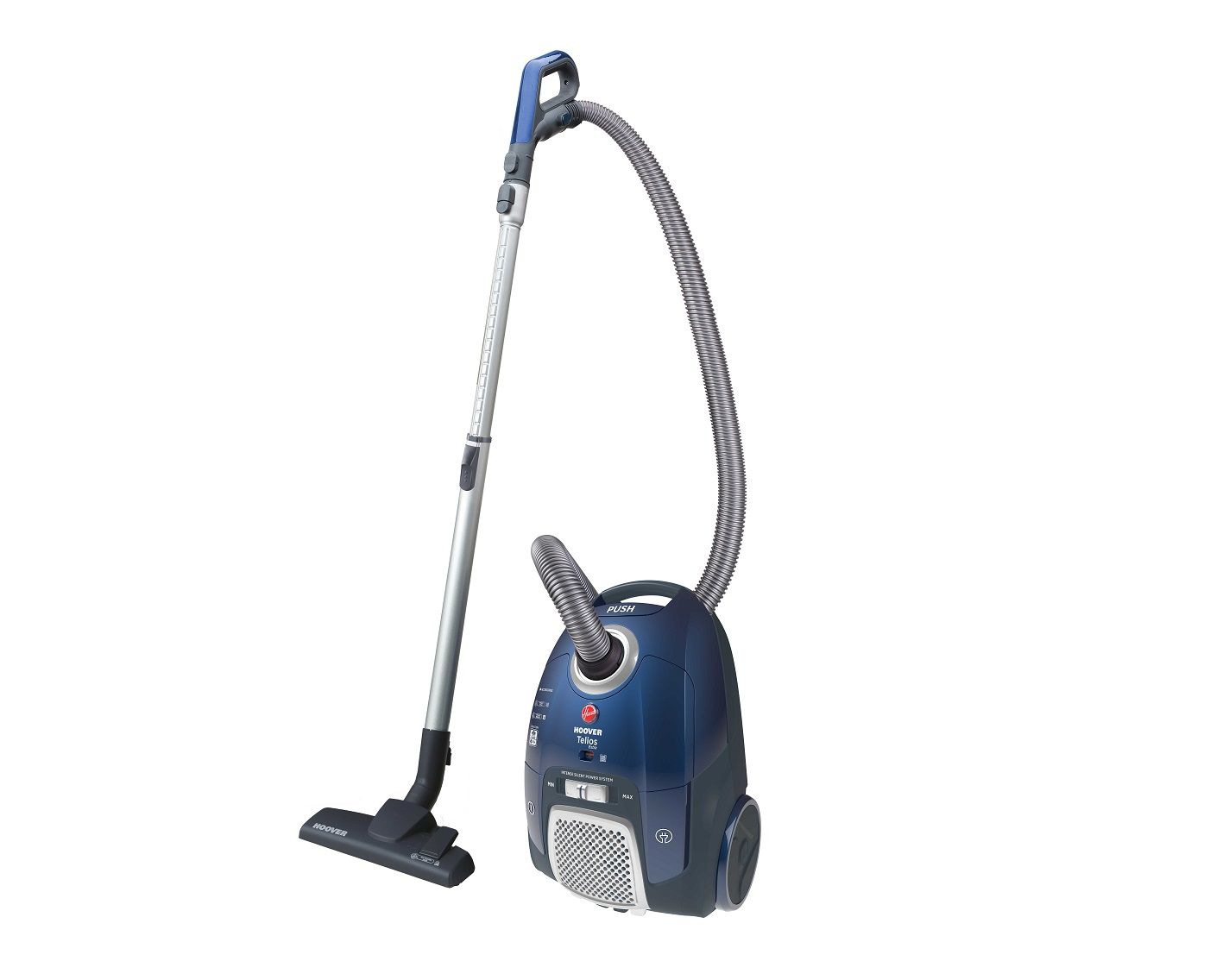 Who would the Hoover Telios Extra TX50PET Cylinder Vacuum Cleaner suit?
The Hoover Telios Extra TX50PET Cylinder Vacuum Cleaner would be well suited to homes with pets, children or various surfaces which could benefit from a bit of suction cleaning. It's a good choice for keeping on top of the regular vacuuming.
Arrival and setting up the Hoover Telios Extra TX50PET Cylinder Vacuum Cleaner
The vac arrived in a cardboard box with, I'm pleased to say, very little plastic. Big tick. The only plastic to be used was some bags around the attachments and hose, although even this could have (perhaps) been avoided. The rest of it was secured with cardboard.
Once I'd opened the box and removed the packaging it then became clear which bits go where, but always best to glance at the instructions before attempting anything first. The hose just clips in to place onto the main body and the hose handle clips onto the telescopic tube. You can then opt to have either the carpet and floor nozzle or an accessory attached for your first use. It really is very easy.
Using the Hoover Telios Extra TX50PET Cylinder Vacuum Cleaner
Once you're all set up, it's time to get vacuuming. For your first go, I would advise pulling out the power cord until you get to the red marker so you can see how much you have to play with before embarking on the awaiting chore. You do have a 10 metre working radius and the telescopic tube is extending, too, so you should have more than enough reach to tackle corners, soft furniture and shelving (etc!)
I took to the floor to start off with, and was immediately impressed by how quiet it is. There's an Acoustic Care System sliding button which can control just how much noise is output so I set it more towards the 'Min' setting. The suction is, also, oh so very good as well. I could see the vac slightly lifting up our large wool rug in the living room which is pretty satisfying because you know that it is reaching deep down into the carpet pile and raising out any (potentially) nasties such as dust mites and crumbs. To make manoeuvrability easy, the telescopic tube rotated 360 degrees in the main unit as I was moving it around the coffee table. This helped to avoid any frustrations of not being able to turn in directed when I needed to.
Off the rug is our lovely sanded wooden floor – something we're proud of – so I gingerly hit the Floor Type Selector Pedal to select the icon with no brushes BEFORE leaving the soft rug to avoid any damage to the harder surface. Again, I was impressed at how smoothly it glided across and picked up the debris which lay in waiting. However, moving on from the living room, into our narrow hallway and round the corner to the dining room the vac unit did get stuck on the door frame so I went back to free it (best not to pull it to avoid damage).
To take it up the stairs plain sailing. For what it is – a cylinder vac – it is pretty lightweight. Just make sure you unplug it, wind the power cord back and have the tube clipped in to its storage position to make it easier (and safer) on the climb.
On the carpet upstairs it did a fine job of lifting dirt, dust and my long hair (plus the carpet). I did find, as I always do, that the hair got stuck on the floor head so I just picked this off and threw away to avoid it clogging unit.
The attachments
To swap the floor head with any one of the three attachments was a doddle; you'll just need to clip them on the end of the telescopic tube, just as you did with the floor head. I used the crevice tool down the sides and in the seams of the sofa. It sucked up everything in its path, which was mainly lots of crumbs. The furniture nozzle was good to run over the sofa covers and scatter cushions which lifted some piggy hair (and probably dust, too) and also made them appear plumper with all that suction. And the dusting brush was a gem at, well, dusting the fire surround and in between the stair banisters.
Storing the Hoover Telios Extra TX50PET Cylinder Vacuum Cleaner
It's a pretty neat set up. The Crevice tool, Furniture nozzle and dusting brush can all be stored on board under the accessories door. The power cord can wind back into the cleaner. And there's a clip at the base of the unit for the floor when to clip into, even when attached to the telescopic tube.
We just keep it in the corner of a room as it stands upright and keeps it's self out of the way, until it's next in use.
Cleaning and maintenance
The Hoover Telios is equipped with an LED bag check indicator which signals both a full bag and obstructions. We, admittedly, have't had this light come on just yet, but it must be getting close because we use it once a week on all (clear) floor surfaces. When the light does come on, the bag will need to be removed and replaced with a new one.
In the instructions, it is also advised that after each five bag changes the filters will need to be cleaned to ensure constant optimum performance. These instructions are pretty comprehensive and are laid out in a step-by-step manner so are easy to follow but we've yet to test this on our model so cannot vouch for this (something to look forward to!)
How does the Hoover Telios Extra TX50PET Cylinder Vacuum Cleaner rate online?
Looking at the review on Argos, 91% of customers would recommend this product and have awarded it 4.5 out of 5 stars (over all). Reviewers rave about how easy it is to use and remark on how excellent the suction is. They also comment on how quiet it is, especially when they are comparing it to their old vacuum cleaners. However, one takeaway from looking at what customers have to say about it is that a few mention that it is a little on the heavy side.
Over at Amazon, the cylinder vac has received 4.1 out of 5 stars for its performance with customers. It get top marks for quietness, suction and ease of use. Even the weight (or lack of it) scored high. But one reviewer has said that the cable and telescopic tube is too short, so worth considering if you need a vac with more freedom or reach.
Our verdict
This vac does as one would expect, and more. I've been super impressed with the suction power, ease of use and manoeuvrability. The bin capacity is plenty big enough for our two bed home, too, and I've found that I don't need to keep emptying it at the end of each use. It's also easy to set up, and I do LOVE the colour.
It just missed out on half a star from us because it got caught (a few times) around tight corners of our home, but this certainly shouldn't be a deal breaker because it really is a very good vacuum cleaner. Honest.
More on vacuum cleaners: