Is the Dyson Light Ball Multi Floor the vac that's going to make your life easier? Our review has all you need to know.
I tested a wide selection of vacuum cleaners on carpet, parquet, tiles, stairs and upholstery, and challenged them with mud, fluff, light debris and pet hair to give you the lowdown on how efficiently they'll do the job, how easy they are to use, and how much space they'll take up in your cupboard.
See how the Dyson Light Ball Multi Floor shaped up and whether it deserves a place in out list of the best vacuum cleaners.
Dyson Light Ball Multi Floor at a glance
Why you can trust Real Homes Our expert reviewers spend hours testing and comparing products and services so you can choose the best for you. Find out more about how we test.
Type: upright
Bag or bagless: bagless
Suction: excellent
Noise: what you'd expect for a powerful vac
Easy storage: yes – it's svelte for an upright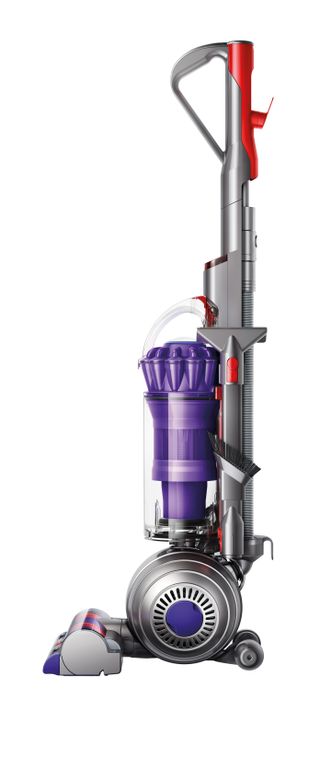 Dyson Light Ball Multi Floor specifications
Voltage: 700W
Cable length: 9.4m
Dimensions: 1057mm high x 384mm length x 281mm wide
Weight: 6.9kg
Noise: 80dB
Energy rating: A
Container capacity: 1.6 litres
Who will the Dyson Light Ball Multi Floor suit?
Upright aficionados who want to speed round carpet as well as their hard flooring.
What is the Dyson Light Ball Multi Floor like to use?
An upright with thoroughly contemporary looks, the Dyson Light Ball Multi Floor is a fuss-free cleaner. Here I look at how it tackled different flooring, dirt types and how easy it is to use.
Hard flooring, carpet and stairs
The split in my home between hard floor and carpet is about half and half, and the Dyson Light Ball Multi Floor was a champion on both. Hard flooring was easier going than carpet, but the latter wasn't too much effort and both were thoroughly clean after the Dyson Light Ball Multi Floor had worked on them. The brush bar default is on, but you can switch it off when you're cleaning hard flooring or more delicate surfaces, so moving from one surface to another is no hassle. The stair tool got into the corners as well as across the treads and up the risers of my staircase.
Attachments
The Dyson Light Ball Multi Floor has just two extra tools with it: the one for the stairs (mentioned above), and a combination tool with brush and nozzle for dusting, crevices and so on. I found these a little bit fiddly to swap to because you have to release the hose from the back of the machine, extend it, then put the attachment on. It's a minor quibble, though, and practice made – well – quicker anyway.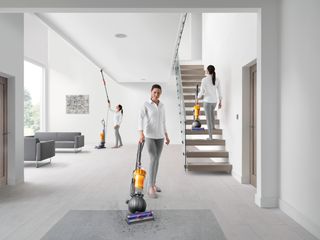 Power and debris removal
There's a simple slider control to change suction according to surface. It's preset for what Dyson calls lightly soiled hard flooring or carpet, then there's a maximum setting for dirt that's decided to be stubborn, and a minimum option for deep pile carpet and delicate surfaces. The preset was certainly powerful enough to deal with mud whether it was on hard flooring or carpet.
The Dyson Light Ball Multi Floor also passed the light debris test with ease whether on tiles, wood or carpet with just a little scatter on the latter that demanded additional passes of the vac. This Light Ball model doesn't have a special pet fur tool, but it was still very efficient at removing hair from upholstery.
Container emptying
Taking the dust container from the machine was easy-peasy. It's obvious where to push thanks to the red button. To empty over the bin, I found I had to push the button like I really meant it, but that done, the dirt ejected easily.
Handy features
Having to keep unplugging a vacuum then replugging it in because it doesn't reach far enough is, let's face it, a bore. For me, therefore, the long cable of the Dyson Light Ball Multi Floor was a huge plus point. Another was the way the floorhead went right to the skirting boards, saving a lot of time.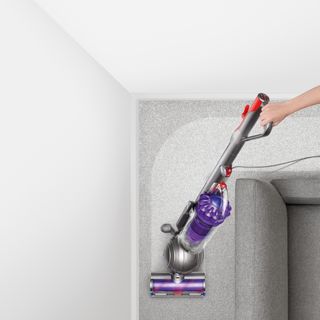 Storing
The Dyson Light Ball Multi Floor was easy on cupboard space and, unlike with a cylinder, you don't have to accommodate the curve of a hose, so it's neat once you've put it away.
Manoeuvrability
It's not a car, but responsive really is the word that comes to mind. The Dyson Light Ball Multi Floor went where I wanted it to with absolutely no objection on all occasions. I also liked the way the stabiliser automatically lifts up when the handle is reclined for use. Going up and down stairs? I found the handle on the Cyclone conveniently easy to grab and the slender shape brought the machine close to my leg to make carrying easy.
How does it rate online?
Some 123 people have taken the time to add their thoughts to the Dyson site. The feedback? An average of 3.7 out of the five stars on offer. It's commended for picking up dirt missed by another vacuum, its manoeuvrability, and its quietness. As for the negatives, comments included that the hose wasn't long enough to clean the whole staircase, while others weren't happy with its performance on deep pile carpets.
Over on Amazon five star reviews lead the way with 70% of shoppers giving the top rating and suction, durability, value for money and ease of use all scoring highly. Highlights for the commenters included its thorough cleaning, and manoeuvrability. For those who marked it down, the machine's weight was too much, while the speed with which the container fills was an annoyance to others.
Want to see other models from this brand? Check out the best Dyson deals (it includes their fans and other home appliances)
How does it rate against similar vacuum cleaners?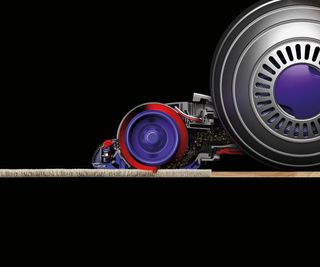 British homeowners are big fans of carpet, so it's easy to be bewildered by the range of uprights on offer to meet this need – including this model. You can be assured, however, that as a powerful cleaner that does a thorough job, the Dyson Light Ball Multi Floor represents good value among its plug-in competition.
About our review – and our reviewer
Sarah Warwick has specialised in homes and interiors for over 20 years. She was Executive Editor of Ideal Home magazine, and has written for nationals, magazines and websites including Real Homes, Homebuilding & Renovating, Grand Designs, Homes & Gardens, Houzz, The Guardian, House Beautiful and Country Homes & Interiors. She put the vacuums through their paces all round the house, on all sorts of dirt and debris, and a variety of flooring and surfaces.
Follow Sarah: @SMWarwick
Read more: