I'll be the first to admit that a cordless vacuum cleaner is probably the most important thing you'll ever own at home, bedsides your mattress. Yes, a cordless vacuum cleaner is an ideal purchase if you want to roam your home while cleaning, without being tethered to an outlet. The majority of cordless vacuums transfer to be a handheld model in just a few clicks and come with plenty of useful attachments that make them worth the cost.
Not only that, but for anyone with a smaller space to work with (flat owners, I am talking to you), then a cordless model is the way forward. You might have to work around battery life, but they certainly make up for this when it comes to their convenient size and versatility.
Now, I'm more than aware that there are a lot of choices when it comes to cordless vacuums (I mean, I've reviewed tonnes myself). That's why we've made sure to test every single one of the options below to create the perfect shortlist. From Dyson to Shark to Bissell, here are the models we rate the most.
The best cordless vacuum 2023 as rated by our experts
Why you can trust Real Homes Our expert reviewers spend hours testing and comparing products and services so you can choose the best for you. Find out more about how we test.
This vacuum cleaner sits at number one in many of our guides — and for good reason. It takes top place in our best vacuums guide and in our guide on Henry vacuums. Why? Its suction is second-to-none, plus it offers dust-free emptying. As a flat owner, our reviewer Annie claimed that it's more than easy to store away, too. It's also super affordable at less than £300, making it all the more attractive.
Our verdict
The Henry Quick might just be our head ecommerce editor Annie's favourite vacuum she's ever tested, and it's mighty strong for a stick vacuum. She loves that it offers two modes, one being a Boost mode for spillages or for whizzing around your home. You can use it with scent pods to make your home smell nice as you clean. She also loves the tools that come included, for cleaning everything from sofas to skirting boards. Annie found that it's best to use it on Boost mode when cleaning hard floors, but when you're working with softer spaces switch it to Normal mode and don't forget to turn off the roller brush if the suction is still too strong. Just like any other stick vacuum, this one is a breeze to store. You can even make use of the wall mount that comes in the box and save on cupboard and floor space.
Key features
It annoyingly doesn't stand up on its own, and because it's a bagged vacuum this vac isn't the most eco-friendly. But it does mean it seals in dust well, making it great for allergy sufferers. At its least powerful, it has a battery life of 70 minutes and you'll need to spend 150 minutes charging it.
Read our full Henry Quick review.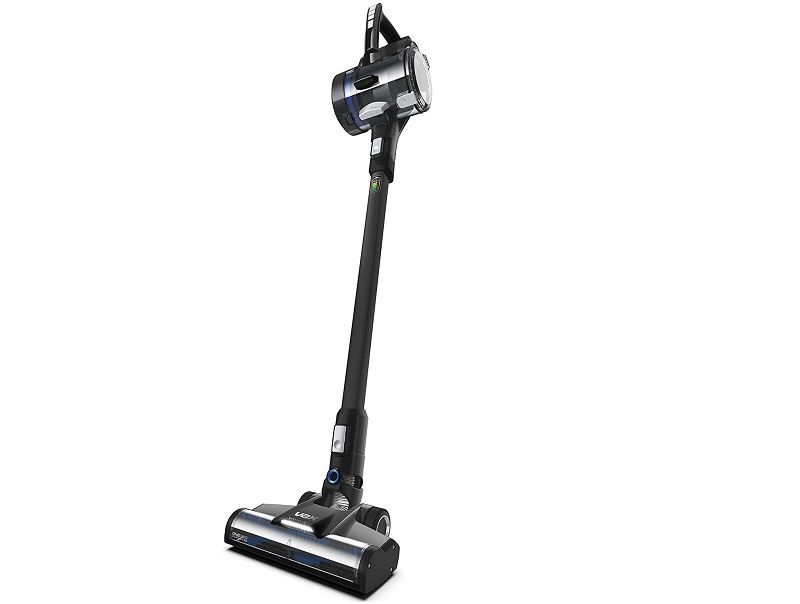 This vac gets our vote for the best cordless vacuum for affordability because it offers incredible suction, it's lightweight and easy to manoeuvre. All for less than £200.
Our verdict
Overall our reviewer Sarah felt that this is a great piece of kit and is one that is reasonably priced, too. The Vax ONEPWR Blade 4 has almost three times more suction power than any of the other cordless vacuum cleaners, and you can tell by the fact that it'll actually try to suck up your flooring while you're cleaning. The brush head of the Blade 4 swivels with ease, so it'll go exactly where you want it to go. It's also low enough to fit underneath furniture and light enough to carry up and down the stairs.
Key features
This model has a DustTracker with LEDs in the brush head so you can easily see what else needs a clean or what you've missed.
Read our full Vax ONEPWR Blade 4 review.
As featured in our best Shark vacuum guide, the Shark Stratos Anti Hair Wrap Plus Pet Pro IZ420UKT is part of a new range from the brand which we happen to like, a lot. Our head ecommerce editor Annie gave it a run for its money in her two-bed flat. If it wasn't for the expense of this vac, it would be at the top of our list to buy. Think you can manage with one battery? You can get this same vacuum cleaner for £479.99 (opens in new tab) (when it's not on sale), which will save a few pennies.
Our verdict
Annie loved using the Shark Stratos IZ420UKT. She found it really easy to use thanks to Clean Sense IQ technology, which automatically controls the power (or suction) depending on what you're cleaning. Annie found it more than capable of picking up the hair her pug leaves behind. Its battery life is also very impressive considering its suction power, whilst its LED lights make it easy to see what you've not yet managed to clean. Another feature Annie loved is that it works with recyclable pods to emit a rather lovely smell as you clean to rid your floors of any lingering pet smells. It comes equipped with Flexology tech (so the vac can bend instead of you) and a DuoClean floorhead with anti-hair wrap making it ideal for transitioning across all floor types.
Key features
More incredible things about this vacuum are that the stick folds, so it can stand upright and out of the way and that it comes with a pet hair removal tool, a bag for keeping all the tools together, and twin batteries.
Read our full Shark Stratos IZ420UKT review.
This stick Dyson vacuum would be higher up our list if it wasn't for the high price. It is, however, our choice of the best Dyson cordless vacuum cleaner, with its powerful suction and other exceptional vac tech. Our reviewer and former ecommerce editor Jaclyn raved about this vac since it has a wealth of advanced features to make cleaning more thorough than ever, including a first-of-its-kind laser to reveal microscopic dust.
Our verdict
After trying the V15 out for over a year, Jaclyn is still a massive fan of this Dyson. She found that this vacuum managed a deeper clean than she even thought possible at home, with her bin filling up rapidly and the Piezo count on her screen surprising her with the depth of information available. Jaclyn also found that using the many attachments never led to a loss in suction power and that using this vacuum day-to-day made the task considerably more enjoyable.
Key features
There are a couple of remarkable features of the V15 Detect. The first is the green laser on its Fluffy cleaner head that makes dust hidden from the eye, visible on hard floors. Jaclyn was really impressed with this during testing.
An acoustic Piezo Sensor has also been integrated into the design of this Dyson vac that continuously sizes and counts dust particles and shows how much has been picked up in a graph on the LCD screen. This sensor is connected to the V15 Detect's suction power which automatically detects and adjusts depending on what it's vacuuming (so clever).
Read our full Dyson V15 Detect review.
The Beko Powerclean is a mighty vacuum that blew away Millie Fender, our head of reviews, when she tested it for Ideal Home.
Our verdict
Millie liked that it has a roller for hard floors and for carpets, both of which are incredibly powerful, a hinged stick that reaches easily under furniture, and three power modes that can bust even the biggest spills. It has a longer running time than some of its competitors and Millie loved that you can charge it on an included stand, which is perfect for renters who don't want to shove their vac in a cupboard. It is noisier than some of the other cordless vacuums we've featured on this list, and because the buttons are under the tip of your thumb, it was easy to accidentally switch on and off.
Key features
It also comes with a great range of tools and has a button boost power mode. It converts to a handheld, so you will find cleaning the stairs a doddle. Using the boost button does shorten battery time, but to keep on top of dirt and fluff every couple of days, this won't be a problem. Just make sure you have a second battery charged for a deep clean. It also has a light that is great for illuminating pesky dust particles.
It's not a cheap option, but our head of reviews Millie Fender found that the Roidmi RS60 looks and feels incredibly high quality when she reviewed it for Ideal Home.
Our verdict
Millie liked that the Roidmi is a powerful and quiet vacuum that looks great and feels very well-made. While it's a little weighty, it feels high quality and sturdy way, rather than burdensome. She really enjoyed the mop attachment, although there is a knack required to make the most of it. The battery life was very impressive too.
Key features
It has three settings for different intensities, but Millie found that the lowest was more than capable of working on both hard and soft floors. The LCD display is high quality, and it even shows the calories burned after you turn off the vacuum. Unnecessary, but Millie thought it was cool.
There are so many attachments and some of them are pretty unique. The mattress brush can also be used on upholstery and in car interiors. Millie thought the most interesting one was the pet brush, which isn't a brush for pet hair, but an actual attachment to brush your pets and pick up excess fur!
If you are looking for a powerful cordless that has incredible suction and epic battery life, then this is the vacuum cleaner for you. Although there is the new Miele HX2 Pro (opens in new tab) now available to buy, this slightly older model is more affordable and (we feel) better value for money.
Our verdict
It's brilliant at cleaning carpets and our reviewer Linda Clayton found it did a fine job on dust, feathers, dog hair, and human hair. This vac even has automatic detection when you glide over different floor types, so it adjusts its suction accordingly.
Linda really liked the deep-down cleaning performance of the HX1 Pro. It has incredible suction power, which is easily on par with a high-end corded vacuum and is achieved without sacrificing battery life. It's this battery life, with a run-time of up to 120 minutes, which rivals the other cordless vacs on our list, so we feel it is very well suited to large, busy family homes.
Although it is not the smallest capacity on our list, for the run-time, Linda found the 0.5-litre dust cylinder to be annoyingly small and had to be emptied far too often. The emptying action is easy enough, though, if a little stiff so if you don't mind frequently emptying the cylinder then you'll have no other quibbles.
Key features
As the name suggests, this cordless vacuum is flexible. Its 3-in-1 design solves multiple cleaning conundrums with three cleaning modes: compact, range, and comfort, which can reach high and low to give you satisfying results.
It comes with three attachments: a crevice nozzle, dusting nozzle, and upholstery brush, that all fit on its convenient wall-mounted unit.
Read our full Miele Triflex HX1 Pro review.
Good news for everyone who loves this friendly-faced fella but doesn't want to be tethered by wires; this Henry Hoover is a modern incarnation of a household classic. Behold, the best cordless cylinder vacuum for demanding cleaning jobs.
Our verdict
Reviewer Sarah Warwick felt that for both price and power, you really can't go wrong with the Henry HVB 160. It comes with two batteries that'll give you up to an hour of cleaning time. The HEPA filter and bags make it great for allergy sufferers. If you want the best cleaning — no wires attached — this is your man.
However, as one of the most cumbersome products on the list, Henry falls down on its manoeuvrability and can be tricky to fit on stairs. If you think this defeats the point of being cordless, don't buy. For those who have trouble lifting, Sarah wouldn't recommend it due to size, however, she thinks that it's perfect for those who live in a bungalow or flat.
Key features
Surprisingly, it's just as powerful as the corded Henry and has respectable suction. The two-speed function allows you to dial up the power for more difficult dirt, and its huge 6-litre capacity is a massive wow factor for a cordless vacuum and in the long term equals less emptying.

It is over a kilo lighter than a standard Numatic Henry, so if you are a fan of the Henry fam, but want to speed up your clean by ditching the plug, give it a go. It is about twice the price.
Read our full Henry Cordless HVB 160 review.
The Dyson Micro weighs a neat 1.5 kilograms, making it just about as lightweight as any vacuum you could find. Our head of reviews, Millie, reviewed the Dyson Micro for our sister site Ideal Home.
Our verdict
Millie found that this vacuum is very powerful given its nifty size, and found the range of attachments for motorised brushing and crevice cleaning really useful.
Although it's great for flats, Millie could also see this being a popular second vacuum cleaner for those who have a weighty canister vac and want something smaller to nip around a large home. Just watch the tiny dust bin though, because it will fill up fast. It's best suited to hard floors thanks to the soft roller, but it did do an OK job on carpet.
Key features
You can plug in the Dyson Micro or wall-mount it. The vac is small enough to fit into a cupboard or against a wall in your flat. Essentially, it's got all the great features we love from Dyson, but in a smaller frame that makes it suitable for less demanding spaces.
If you're looking for a cordless vacuum cleaner with an impressive run time and are not averse to vacuuming-up hair, then we feel that this cordless vacuum from Bissell is for you.
Our verdict
This cordless vacuum cleaner proved itself a hard worker on all the floors during testing at reviewer Sarah Warwick's house. It transforms into a handheld vac, which came in handy for cleaning stairs. Sarah found that it was pretty intuitive to put together too, as well as when it comes to emptying the dust container, so the actual operation of this cordless vacuum cleaner is pretty seamless.
The Bissell Icon 25V is one of the heaviest we have tested and featured in this guide, but it's not an issue if it is converted to a handheld.
Key features
The Bissell Icon 25V promises up to 50 minutes of fade-free cleaning, and it certainly delivered. The removal of the dustbag is also super easy to do, just take off the lid to empty.
The cordless vacuum cleaner has a Smart Seal allergen system, which can be washed under the tap.
Read our full Bissell Icon 25V review.
Real Homes review process — How we test cordless vacuums
The cordless vacuums you see featured in this guide have all been tested by one of our editors or freelancers. We test these vacuums for a minimum of two months in our homes, whilst taking notes on several features. From how simple it is to set up, to its performance on carpets, rugs, and hard flooring. Most cordless vacuums tend to come with a suite of attachments, too, since many convert to a handheld vac. We carry out food-related tests to deliberately challenge these vacuums with cereals, rice, and more across all different floor types. We've found that this is a really great way of quickly, neatly, and (semi) professionally showing you just what the vac is capable of achieving.
The products featured above are by no means limited to just how many vacuums we've tested — these are just our favourites so far. Over the years, our experience hasn't just been focused on reviewing cordless vacuums. We've tested robot vacuums, handheld vacs, and canister vacuums, too. And with all these vacuum cleaners coming into our homes, you may be thinking that our homes are spotless. You're not wrong. We are sometimes even gifted the vac which means that we can continue to use it in our homes, testing for performance over time, which is then reflected in our reviews.
Meet our cordless vacuum testers:
Millie is our head of reviews at Real Homes. She tests everything from coffee machines to robot vacuums from her own home. In the case of the cordless vacuum review that we've featured by Millie, you can find the full reviews on our sister site Ideal Home. From this list, she had hands-on experience with the Beko Powerclean VRT94929VI, Dyson Micro, and Roidmi RS60.
In this guide, our head ecommerce editor Annie has tried out the Shark Stratos IZ420UKT and the Henry Quick. Annie lives in a two-bedroom South East London flat, which she shares with her husband and her pug (who loves to moult). She rates the Shark vacuum higher than the Henry, but when bearing in mind the price difference, the Henry really is a force to be reckoned with.
Jaclyn was previously ecommerce editor across at Future homes titles, including Real Homes. In this guide, Jaclyn has a featured review of the Dyson V15 Detect which was written for our sister site Homes & Gardens.
Jaclyn's home features a mix of hardwood floors, carpets, and area rugs. A small non-shedding dog lives in the house but still manages to track in his fair share of dirt.
Sarah has reviewed many vacuum cleaners for Real Homes, taking them through their paces at home to give us an honest, real-life opinion and comparison on every model. From this list, she's had hands-on experience with the Vax ONEPWR Blade 4, NUMATIC Henry HVB 160, and Bissell Icon 25V cordless vacuums.
Linda is a freelance journalist who has specialised in home tech, interior design and fitness for more than two decades. She has tested plenty of vacuums for Real Homes, including the Miele Triflex HX1 from this list. She tested this vacuum in her Devon home to find out how well it performed across various floor types and how well it coped with busy family life and her three super-fluffy, world-class moulting dogs.
4 things to consider when choosing a cordless vacuum
Watch the shoppable video below to find out how we test and compare cordless vacuums.
1. How long is its battery life?
This is one of the most important features of a cordless vacuum. All of our cordless vacuums have at least 20 minutes of battery life and one has two hours. Less than 20 minutes is not practical, but if you vacuum more regularly than others, this is enough for a quick whizz round to spruce up your home. If concerned, look for a model with removable batteries so that you can buy a spare to keep fully charged as you clean.
2. How heavy is it? And how easy is it to manoeuvre?
To really enjoy the freedoms of cordless, a lighter vacuum cleaner is preferable, but be aware that there is some correlation between weight, power, dirt capacity, and battery life. If you intend this to be your main vacuum cleaner, we recommend choosing something with the best battery life and suction so that you can do a good job without having to recharge mid-clean — if this means a heavier machine, so be it. For quick cleaning, light and easy-to-move is the way to go.
Try and choose one with attachments too for complete versatility and make sure the foot can easily get under furniture.
3. How much can its dust bin hold?
Dust chamber capacity is usually under a litre, which doesn't sound like much but helps ensure the machine is smaller and neater. Also, as a cordless vacuum is designed to be quicker and easier to manoeuvre you might find you use it more regularly and have less dirt to tackle in the first place.
4. How easy is it to store away?
Usually, cordless vacuums are super simple to store away. Some of the ones on our list fold away, and others boast a sleek design making them a great choice for small homes. Some even come with a bracket to hang them in your cleaning cupboard.
When it comes to finding the right product, keep a close eye on our spec items below, which will tell you:
How long the battery lasts on default mode
How long it takes to recharge
The dust chamber capacity
What we think each one is best suited to
How much it weighs
Don't miss our guide to how to vacuum like a pro (yup, there are techniques to get it done quicker and better).
What is the best cordless vacuum?
It's settled: the Henry Quick is our favourite cordless vacuum you can buy. Everyone's favourite brand has finally released a cordless, stick model and it's just as good as we expected it to be. It offers super powerful suction and a range of modes, plus it comes with a suite of tools. Even better? It works with scent pods to make your home smell nice as you clean. It's less than £200 to buy, but there is a catch. It's bagged! If this is something you can get past, then you know what to do.