A cordless vacuum will save you from cumbersome cords and pack all the power you'd expect from a conventional upright vacuum. Popularised by Dyson, the best cordless vacuums are perfect for cleaning multi-floored homes without having to plug and unplug as you go.
Our best cordless vacuum guide features tried and tested models from Shark, Dyson, Miele, Vax, and Beko. There are models with replaceable batteries to extend the battery life, and attachments for hard floors and carpets. Many of the best cordless vacuums also feature on our list of the best vacuum cleaners. While they can't be replaced for the power of corded cleaning, stick vacuums are getting more and more powerful every year.
Below you'll see our top 10 cordless vacuums, complete with our Real Homes ratings out of 5. Most are stick type, but you will find a cordless Henry cylinder model and a versatile crossover from Shark too – going cordless doesn't mean complete change.
The best cordless vacuum
If you want to buy the best cordless vacuum cleaner we wouldn't hesitate to checkout the Vax ONEPWR Blade 4 (opens in new tab). Featuring a sleek and lightweight design, the vacuum has a run time of 45 minutes, a capacity of 0.6 litres and it's pretty great at sucking up everything from crumbs to pet hair and even leaves. When the time comes, it's also very easy to empty. There are vacuums that outdo it on suction and battery life, but we love the value for money you get with this model – making it our top pick.
In our standalone reviews, we did rate the Dyson V11 Absolute (opens in new tab) cordless slightly higher giving it the full five stars. It really can't be beaten on suction, and it has up to 60 minutes run time which is 15 minutes more than the Vax. However, at double the price, we think unless you can spend nearly £500 on a vacuum cleaner, the Vax is a good substitute and you can spend some of your savings on spare batteries to keep charged so you never run out of juice.
Best cordless vacuum 2022: more about our top picks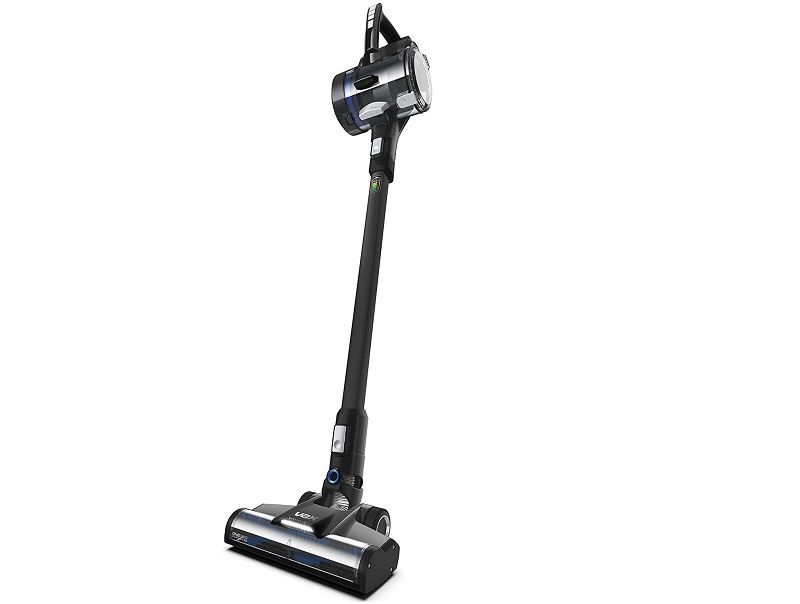 This vac gets our vote for the best cordless vacuum because it has incredible suction, it's lightweight and easy to manoeuvre. Overall, we think it is a great piece of kit and is one which is reasonably priced, too.
What's it good at?
The Vax ONEPWR Blade 4 has almost three times more suction power than any of the other cordless vacuum cleaners, and you can tell by the fact that it'll actually try to suck up your flooring while you're cleaning. This model also has a DustTracker with LEDs in the brush head so you can easily she what else needs a clean, or what you've missed.
What else?
The brush head of the Blade 4 swivels with ease which means that it will go exactly where you want it to go. It's also low enough so it will easily go underneath furniture, and light enough to carry up and down the stairs.
What we don't like?
We've put the full set of tools down as a reason to avoid because this could easily set you back £50. They're may well be deals on where the tools are being offered for free when you come to buy the Vax ONEPWR Blade 4, so keep a look out for this.
Real Homes Rated 4.5/5 stars – read our full Vax ONEPWR Blade 4 review
This stick vacuum would be our number one choice, if it weren't for the BIG price tag. It is, however, our choice of the best Dyson cordless vacuum cleaner, with its powerful suction and exceptional transitioning between floor surfaces. It will easily work its way around the home on a single charge, and it won't need recharging until you've finished the job.
What's it good at?
The highly efficient filter captures allergens and it offers the best one of the best levels of suction around. It also comes with a number of attachments for cleaning crevices and a variety of surfaces. Great for cleaning the car and stairs too, so for people who do lots of spot cleaning, it could be a good replacement to your standard vacuum.
What do we like about it?
It's most redeeming feature though is its weight – or lack of weight for that matter. Although not the lightest Dyson cordless vacuum cleaner, the Dyson V11 is suitably lightweight for carting up and down stairs; even for users with mobility issues. And unlike other super light cordless vacuums, you don't have to compromise on power or running time.
What else?
A single lever pull over a bin cleans this beauty in seconds, but some users found the filter is a little too efficient meaning it needs cleaning quite regularly.
What don't we like?
Is it good? Yes. Worth the hefty price tag – not quite. A couple of things could make this the perfect cordless vacuum cleaner. While it is very good at cleaning, for tougher jobs you need the max power setting which eats battery and means lots of short bursts of cleaning rather than a whole-house job.
Real Homes Rated 5/5 stars – read our full Dyson V11 Absolute cordless vacuum review
The Beko Powerclean is a mighty vacuum that blew us away when we tested it. Seriously, it won top marks all round.
What's it good at?
Everything. It has a roller for hard floors and for carpets, both of which are incredibly powerful, a hinged stick that reaches easily under furniture, and three power modes that can bust even the biggest spills.
What do we like about it?
It has a longer running time than some cordless machines and we love that you can charge it on an included stand, which is perfect for renters who don't want to shove their vac in a cupboard.
It also comes with a great range of tools and has a button boost power modes. It converts to a handheld, so you will find cleaning the stairs a doddle.
What else?
Using the boost button does shorten battery time, but for keeping on top of dirt and fluff every couple of days, this won't be a problem. Just make sure you have a second battery charged for a deep clean.
It has a light too that is great for illuminating pesky dust particles.
What don't we like?
It is noisier than some of the models on this list, and because the buttons are under the tip of your thumb, it was easy to accidentally switch on and off.
Real Homes Rated 5/5 stars
It's not a cheap option but the Roidmi RS60 looks and feels incredibly high quality. It also comes with some really neat attachments.
What's it good at?
First off, the Roidmi RS60 is very quiet. It has three settings for different intensities but we found that the lowest was more than capable of working on both hard and soft floors.
The LCD display is high quality, and it even shows the calories burned after you turn off the vacuum. Unnecessary, but cool.
Last off you can simply pop on the magnetic mop attachment which has a water tank for a continuous supply of water. It won't replace your regular mop, but it will do an amazing job of picking up crumbs and dirt on hard floors.
What else?
There are so many attachments and some of them are pretty unique. The mattress brush can also be used on upholstery and in car interiors. The most interesting one is definitely the pet brush, which isn't a brush for pet hair, but an actual attachment to brush your pets and pick up excess fur!
What we don't like?
It's a little weighty at 6.6kg, but it's not so heavy that you'll struggle to get it up the stairs.
Real Homes Rated 4.5/5 stars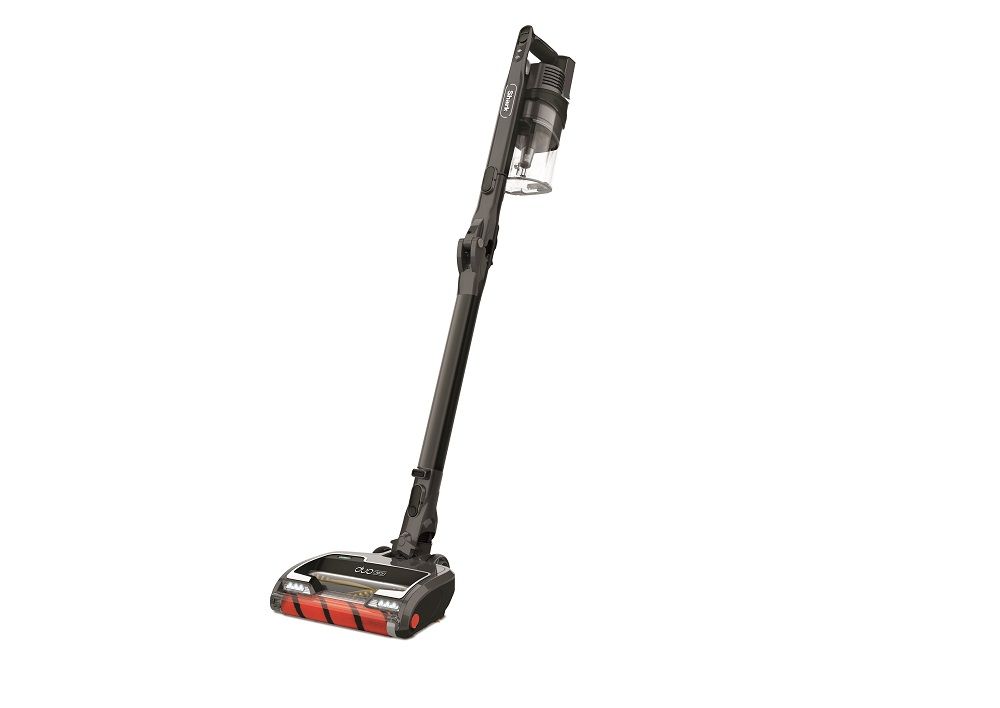 Looking for a stick vacuum with more flex? The Shark Anti Hair Wrap & DuoClean IZ251UKTDB has got this and more - it is a premium cordless stick vacuum cleaner after all.
What's it good at?
We like how easy this vac is to set up and operate. Our reviewer found that the Shark tech performed as promised, too.
What do we like about it?
The Anti Hair Wrap meant that neither human hair nor the very generous contributions made by small furry housemates had entwined itself around the brushes of the floorhead or the motorised pet tool. Having Flexology was also really handy because it meant that our reviewer (and therefore you) can get your vac under the beds and various items of furniture that are raised up on legs.
What else?
This vac will easily convert into a handheld to tackle the smaller jobs around the home, such as removing crumbs or pet hair from the sofa. The motorised pet tool can be slotted on for a thorough job.
The attachments make it a versatile choice since it comes with a 20cm crevice tool, upholstery tool, a dusting brush, and an anti-allergen dusting brush.
What don't we like?
Attachments don't ride on board with the vac, which does mean that you'll need to go to and fro between them. And the weight of the vac is concentrated at the top which will make it tricky to navigate under furniture when using Flexology.
Real Homes Rated 4.5/5 stars – read our full Shark Anti Hair Wrap & DuoClean IZ251UKTDB cordless vacuum cleaner review
If you are looking for a powerful cordless which has an incredible suction and epic battery life, then this is the vacuum cleaner for you.
What's it good at?
As the name suggests, this cordless vacuum is flexible. Its 3-in-1 design solves multiple cleaning conundrums with three cleaning modes: compact, range and comfort, which can reach high and low to give you a result to be proud of.
It's brilliant at cleaning carpets, and our reviewer found it did a fine job on dust, feathers, dog (and human) hairs, too. This vac even has an automatic detection when you glide over different floor types, so it adjusts its suction accordingly.
What do we like about it?
We really like the deep-down cleaning performance of this cordless model. It has incredible suction power, which is easily on par with a high-end corded vacuum, and is achieved without sacrificing battery life. It's this battery life, with a run-time of up to 120 minutes, which rivals the other cordless vacs on our list so we feel it is very well suited to large, busy family homes.
What else?
The Triflex HX1 Pro comes with three attachments; a crevice nozzle, dusting nozzle and upholstery brush, all with a home on the wall mounting unit, which covers all cleaning bases.
What don't we like?
Although it is not the smallest capacity on our list, for the run-time the 0.5L the dust cylinder is annoyingly small and needs emptying far too often. The emptying action is easy enough, though, if a little stiff so if you don't mind frequently emptying the cylinder then you'll have no other quibbles.
Real Homes Rated 4.5/5 stars – read our full Miele Triflex HX1 Pro cordless vacuum review
The Dyson Micro weighs a neat 1.5kg, making it just about as lightweight as any vacuum you could find.
What's it good at?
This vacuum is very powerful given its nifty size, and it's got a range of attachments for motorized brushing and crevice cleaning.
You can plug it in or wall-mount and it's small enough to fit into a cupboard or against a wall in your flat. Essentially, it's got all the great features we love from Dyson, but in a smaller frame that makes it suitable for less demanding spaces.
What else?
Although it's great for flats we could also see this being a popular second vacuum cleaner for those who have a weighty canister vac and want something smaller to nip around a large home. It's best suited to hard floors thanks to the soft roller, but it did do an OK job on carpet.
What we don't like?
The tiny dust bin will fill up very, very fast.
Real Homes Rated 4/5 stars
If you're looking for a cordless vacuum cleaner with an impressive long running time and is not adverse to vacuuming-up hair, then this cordless vacuum from Bissell is for you.
What is it good at?
This cordless vacuum cleaner proved itself a hard worker on all the floors during testing, and the handheld came in handy when it came to stairs cleaning. It's pretty intuitive to put together too, as well as when it comes to emptying the dust container, so the actual operation of this cordless vacuum cleaner is pretty seamless.
What else?
The Bissell Icon 25V promises up to 50 minutes of fade-free cleaning, and it certainly delivered. The removal of the dustbag is also super easy to do; just remove the lid to empty.
The cordless vacuum cleaner also has a Smart Seal allergen system which can be washed under the tap.
What don't we like?
The Bissell Icon 25V is one of the heaviest we have tested and featured on our guide of the best cordless vacuum cleaners, but it's not an issue if it is converted to a handheld.
Real Homes Rated 4/5 stars – read our full Bissell Icon 25V cordless vacuum cleaner review
Good news for everyone who loves this friendly-faced fella but doesn't want to be tethered by wires; this Henry Hoover is a modern incarnation of a household classic. Behold, the best cordless vacuum cleaner for demanding cleaning jobs – this one has even made it onto our best Henry vacuum guide.
What's it good at?
Surprisingly for a cordless vacuum, it's just as powerful as the corded Henry, making for respectable suction. The two-speed function allows you to dial up the power for more determined dirt, and its huge 6-litre capacity is a massive wow-factor for a cordless vacuum, and in the long-term equals less-emptying.
What do we like about it?
For both price and power, you really can't go wrong. It comes with two batteries so you can replace when it runs out and get up to an hour of cleaning time. The HEPA filter and bags make it great for allergy sufferers and if you want the best cleaning, no wires attached, this is your man.
What else?
It is over a kilo lighter than a standard Numatic Henry, so if you are a fan of the Henry fam, but want to speed up your clean by ditching the plug, give it a go. It is about twice the price mind you...
What don't we like?
Being one of the most cumbersome products on the list, Henry falls down on his manoeuvrability and can be tricky to fit on stairs – if you think this defeats the point of being cordless, don't buy. For those who have trouble lifting, we wouldn't recommend him due to size, however, he's perfect for those who live in a bungalow or flat.
Real Homes Rated 4.5/5 stars – read our full Henry Cordless HVB 160 vacuum cleaner review
If a smaller, more compact cordless vacuum cleaner is what you are looking for then it may be worth considering investing in a handheld vacuum cleaner. The Dyson V7 Trigger is our pick of the best handheld vacuum cleaner – as featured in our guide – and is why it has our nice yellow badge plastered on it, too.
What's it good at?
The V7 Trigger has powerful 15 cyclones are designed to catch even the finest of dust particles, making this a good option for those with allergies.
What do we like about it?
It's super-quiet, so if you're a bit of a Monica from Friends and find the sudden urge to clean at a ridiculous hour of the morning, then you won't wake the entire household in the process. It also comes with combination tools which make accesses all areas easy, yup, including stairs, room corners and even the car. And for a cordless handheld, it also has surprisingly good battery life of up to 30 minutes so you can clean uninterrupted.
What else?
There is a dual mode option which allows you sacrifice battery life for a more intense vacuum for those hard to clear areas. Then when you're done emptying is as easy as pulling one tag when held over the bin, simple.
What we don't like?
Aside from the price (which is a little steep) we can't fault it.
---
How to choose the best cordless vacuum
Watch the shoppable video below to find out how we test and compare cordless vacuums.
With our busy work and home schedules you'll need a cordless vacuum cleaner which really does the job, and does it well. Here are a few things to consider...
Battery life
This is one of the most important features of a cordless vacuum. All of our cordless vacuums have at least 20-minutes battery life and one has two hours. Less than 20-minutes is not practical, but if you vacuum more regularly than others, this is enough for a quick whizz round to spruce up your home. If concerned, look for a model with removable batteries so that you can buy a spare to keep fully charged as you clean.
Weight and manoeuvrability
To really enjoy the freedoms of cordless a lighter vacuum cleaner is preferable, but be aware that there is some correlation between weight, power, dirt capacity and battery life. If you intend this to be your main vacuum cleaner, we recommend choosing something with the best battery life and suction so that you can do a good job without having to recharge mid-clean – if this means a heavier machine, so be it. For quick cleaning, light and easy-to-move is the way to go.
Try and choose one with attachments too for complete versatility, and make sure the foot can easily get under furniture.
Why not try a robot vacuum cleaner?
Most people choose a cordless vacuum for the convenience of quick and easy cleaning. So, if you have a larger budget you could consider a robot vacuum cleaner that will make regular cleans totally hands-free.
Capacity
Dust chamber capacity is usually under a litre which doesn't sound like much but helps ensure the machine is smaller and neater. Also, as cordless vacuums are designed to be quicker and easier to manoeuvre you might find you use it more regularly and have less dirt to tackle in the first place.
Storage
All of these machines are much more compact that cylinder and upright machines, making them a great choice for small homes. Some even come with a bracket to hang them in your cleaning cupboard.
When it comes to finding the right product, keep a close eye on our spec items below, which will tell you:
How long the battery lasts on default mode
How long it takes to recharge
The dust chamber capacity
What we think each one is best suited to
How much it weighs
Don't miss our guide to how to vacuum like a pro (yup, there are techniques to get it done quicker and better). Take a read of our 50 best home cleaning essentials for product recommendations to help keep your house clean.
How we test cordless vacuum cleaners
At Real Homes we like to review each of the products before considering them in any of our buyers' guides. To do this means that each time we hear of a new product announcement or we see a product with outstanding user reviews, we just have to call it in.
A number of stick vacuum cleaners which you see featured in this guide have all been tested in the same way by one of our appliance experts. They've been used for a number of weeks (sometime months) in our own homes so that they are faced with real-life hurdles – such as the stairs – and messes. We're even fortunate enough to sometimes keep hold of the vacuum cleaners after testing which means that we can update our guides as we continue to learn about then over a long period of time. We've considered factors such as manoeuvrability, run-time, emptying of the canister (or bag) and general controls and matched this against the price tag so we can weigh up what it is exactly you're getting for your money. In any instance where we have been unable to review but couldn't miss not featuring the vac, we've sought feedback from users who have left reviews on the website where they have bought it from.
You've reached the end of the page. Jump back up to the top^