The Dirt Devil Scorpion+ Hand Vacuum comes in a long line of handheld vacuums from the brand. which is renowned exactly for this type of appliance. Its signature red vacuums – a household staple since it first debuted in 1984 – have been upgraded hugely since then, with The Dirt Devil Scorpion Plus emerging as one of the brand's current offerings. It claims to give users a powerful and versatile tool for maintaining debris and keeping their homes dust-free.
The Dirt Devil Scorpion+ Hand Vacuum was tested for over a month in a pet household with hardwood floors, rugs and upholstered furniture. Through this review, I wanted to establish if the vacuum itself, as well as the attachments, performed as advertised and helped keep my apartment clean and free of my cat's hair, and whether this model could earn a spot in our ranking of the best handheld vacuums.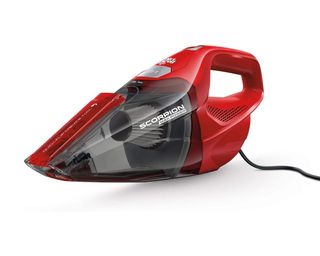 Dirt Devil Scorpion+ Hand Vacuum product specs:
Model number: SD30025B
Cable length (corded): 15 ft (4.57 m)
Number of settings: 1
Bin capacity: 0.45L
Bagged or bagless: Bagless
Weight: 3lbs
Accessories: Crevice Tool, Powered Stair Tool
Unboxing the product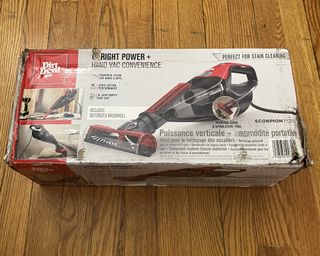 The Dirt Devil Scorpion+ Hand Vacuum arrived in a branded box that was slightly beaten up from the trip (while not aesthetically pleasing, the vacuum and attachments within were unharmed). The box was easy to open and contained the handheld vacuum with the cord, the stair tool, and a user manual plus a customer service flier with contact information. There was minimal trash to dispose of after. The familiar Dirt Devil red is incorporated into the vacuum itself and the attachments. At three pounds, the vacuum is light, even after attaching the Stair Tool.
The Dirt Devil Scorpion + Hand Vacuum user manual features instructions in English, Spanish and French and covers quick start assembly, tools and how to use them, filter removal and replacement and troubleshooting. Under the tools section, I noted that it included instructions on how to use a hose with a crevice tool and dusting brush. Neither of those attachments were included in the box which was confusing at first until you read the small print that states that "not all models have this feature." This was one of the main complaints I read on review sites: other users had expected these tools to be included, but didn't receive them.
Who will it suit?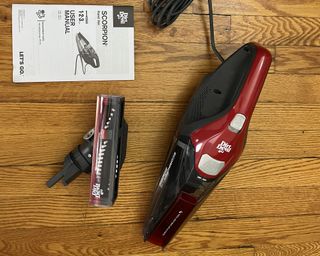 The Dirt Devil Scorpion+ Hand Vacuum will suit households with pets due to its powerful suction and stair tool combination. It packs more punch than your average handheld so if you are specifically after a handheld model that has the suction of the best vacuum cleaners, look no further. Not only does this tool work well on carpeted stairs, with its pivoting head and motorized brush, but I found that it picked up most of my cat's hair on my couch and rug. The crevice tool is helpful for cleaning up corners and hard-to-reach areas under furniture and appliances.
While the length of the Dirt Devil Scorpion+ Hand Vacuum's cord is pretty long (15 ft) and can cover a large surface area, the cord still needs to be unraveled and connected to a power source. This setup process may deter some from vacuuming as often since it's a little tedious to do and then store the vacuum and cord when you've finished using it. If you don't have a power source near where you park your car, then you won't be able to use this vacuum to clean inside it and should look at the best cordless vacuums instead.
What is the Dirt Devil Scorpion Plus like to use?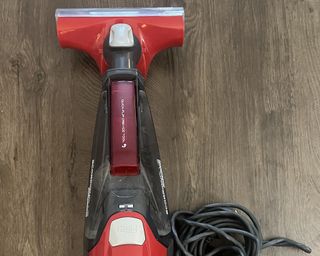 The first thing I noted when I plugged in the Dirt Devil Scorpion+ Hand Vacuum was its suction power. I have used other hand vacuums in the past and I immediately felt the difference with this one. The moment you switch it on, the Dirt Devil Scorpion+ Hand Vacuum roars alive and your hand shakes a little. But it only takes a few seconds to get used to the power and thanks to its light weight (three pounds), it is very easy to maneuver. The vacuum itself and its attachments serve a variety of needs for everyone.
Throughout the process, I found that my favorite attachment was the Stair Tool, with an adjustable head that allows for vertical and horizontal cleaning on carpeted stairs. The tool also works wonders on pet hair on upholstered furniture and rugs. After using the Dirt Devil Scorpion+ Hand Vacuum for five minutes on those surfaces, the amount of pet hair that was suctioned off astounded me. It filled about half the XL bin.
Main vacuum
For hardwood floors and other non-carpeted surfaces, no attachments are needed to get the best use out of the Dirt Devil Scorpion+ Hand Vacuum. There is only one power setting, but it does the job of suctioning debris of different sizes and volume. I tested the Dirt Devil Scorpion+ Hand Vacuum's success by picking up larger pieces of my cat's dry food and a high volume of fine polenta grain that I spilled onto my kitchen floor.
For the dry cat food, the Dirt Devil Scorpion Plus left no piece behind. Due to the high suction power, the range extends beyond the length of the vacuum's opening, speeding up the process. This is particularly helpful for those who do not want to spend extra time going over sections of flooring to make sure debris was not left behind. For the fine polenta grain, I spilled about half a cup on the kitchen floor and most of it was picked up by the hand vacuum in about four to five pass-throughs.
The Dirt Devil Scorpion+ Hand Vacuum without the attachments is perfect for daily or weekly use to keep a home clean. If your regular vacuum is too big and bulky for everyday use, a handheld vacuum like this one is an excellent partner in the maintenance of a home.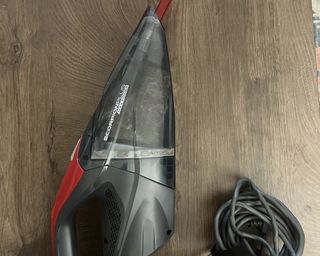 Stair Tool
I previously stated that the Stair Tool attachment is my favorite part of the Dirt Devil Scorpion+ Hand Vacuum; here's why. I love the look of upholstered furniture and rugs in a home, but we all know that this design choice comes with a propensity to attract a lot of dust and hair. Debris is easier to spot on hardwood floors, but it can accumulate for weeks on rugs and furniture without you noticing. This is where the Stair Tool comes in.
This tool features a powered brushroll with an adjustable head for easy vertical and horizontal cleaning for stairs. But the brushroll combined with the high suction also revitalizes carpet, rugs and upholstered furniture by successfully removing debris and pet hair. The tool is easily inserted into the hand vac nozzle to attach. To remove, the user guide says to gently pull the Stair Tool away. I found that a little more force was needed to both attach and remove the tool. When adjusting the rotating head, I felt the force needed to do so could easily cause it to snap off so I would advise caution here.
I tested the Stair Tool on the rug in my living room, my cat's favorite nap spot and the most trafficked surface in the apartment. After about two to three minutes going over the entire five by seven foot rug, it looked noticeably cleaner and the dust bin had filled to about a quarter of its capacity. I moved on to the upholstered couch in the living room, another of my cat's favorite places to lounge, and could not believe how much hair was coming off it. It is comparable to some of the best vacuums for pet hair, but in a neat handheld form.
Quick Flip Crevice Tool
The Dirt Devil Scorpion Plus crevice tool is a useful attachment for all of those difficult-to-reach spots in your home. The crevice tool lives on the vacuum and is easily flipped out and inserted into the mouth of the device, solving the problem of the too-wide body of the vacuum itself. Without the crevice tool, this device would be too bulky to reach all of those smaller corners in your household.
As I stated earlier, one of the winning features of the Dirt Devil Scorpion+ Hand Vacuum is the suction power. For other hand held vacuums that feature a similar crevice tool, I noticed that the suction power is greatly diminished when this tool is used. But in this case, I didn't experience much of a difference in suction power with or without the crevice tool.
Cleaning the Dirt Devil Scorpion+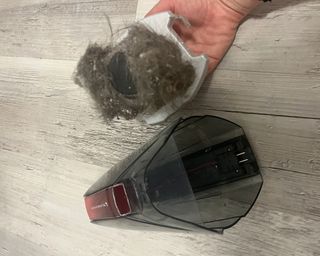 The Dirt Devil Scorpion + Hand Vacuum is very easy to clean. There are two routine cleaning steps that have to be done regularly to maintain the vacuum's performance over time.
The most basic step is emptying the dustbin. Don't wait till the dustbin is completely full to empty since this may lead to poor suction and dust escaping from the vacuum. All you need to do is press the dirt cup release button while holding the handle of the vacuum. This needs to be done carefully to avoid debris falling from the device. I suggest doing this over a trash can.
Once the dirt cup has detached from the vacuum, remove the filter housing and filter and dump the excess debris into the trash. You may have to pull hair and dust clumps off the filter cover as well. Once everything has been cleaned, reattach the filter housing to the dirt cup and click it back onto the vacuum.
Dirt Devil recommends changing the filter every three to six months or as needed to maintain performance. The filter can be rinsed with water but don't use soap or detergent. It will have to air dry for 24 hours or until completely dry before inserting it back into the vacuum. Dirt Devil sells replacement filters on their website for $7.99.
The Dirt Devil Scorpion+ Hand Vacuum's Stair Tool is a bit more complicated to maintain. If you live in a household where a member has long hair (like me) then the hairs will get wrapped around the brushroll. This may cause the tool to get clogged which could lead to poor performance and a smokey burning smell. I suggest working on this tool once or twice a month for five minutes to remove the hair completely.
Storage and maintenance
This vacuum does not take up much space and all the attachments can live on the main device, which makes it perfect for small homes with not a lot of storage space. The crevice tool is attached to the top of the vacuum and you can leave the Stair Tool inserted in the vacuum when not in use. My only suggestion for storage is to make sure you use the velcro holder to tame the 15 ft long cord.
How does it rate online?
Over on the Dirt Devil website, the Scorpion+ Hand Vacuum scored 4.3 out of 5 stars from 112 reviews. Reviewers comment on the quality of the suction power and its usefulness for pet hair. The negative reviews, 19 reviews 3 stars and below, comment on one main thing: how reviewers expected more attachments, as we mentioned earlier.
Looking at reviews on Walmart, the Dirt Devil Scorpion+ Hand Vacuum also gets a 4.3 stars out of 5 rating from 613 reviews with people commenting on the great quality for an affordable price and the functionality of the crevice tool and Stair Tool.
It is important to note that the Dirt Devil Scorpion+ Hand Vacuum comes with a two-year limited warranty that covers original defects in material and workmanship. If the vacuum immediately stops working, Dirt Devil will provide labor and parts to correct any issues your device may have, at no cost to the purchaser.
How does it compare to similar models?
The BISSELL Pet Hair Eraser ($69.99) and the Shark Ultra Cyclone Pet Pro ($79.00) handheld vacuums are the closest comparison I could find to this particular model. In our review of the Shark Ultra Cyclone Pet Pro, we found that it had similarly great suction, and was lightweight and became even more versatile with the added attachments. It has a mini motorized pet tool which is absolutely great for carpets but does struggle with just 15 minutes of run time after 6 hours of charge.
With the Dirt Devil Scorpion, you won't need to worry about the charging element at all, and it also packs in excellent suction and an extra attachment for just $49.96. With that in mind, if you're looking for an affordable option and you don't mind the cord, then this is an excellent choice comparatively.
Should you buy the Dirt Devil Scorpion+ Hand Vacuum?
If you are looking for a powerful handheld vacuum with versatile attachments to help keep your home debris and pet hair free, then I suggest purchasing the Dirt Devil Scorpion+ Hand Vacuum. The Stair Tool isn't just useful for vertical and horizontal cleaning on carpeted stairs; as someone who lives with a cat that sheds constantly, the attachment also helps to get rid of the pesky hair that gets stuck on my furniture and rugs.
The Dirt Devil Scorpion Plus is lightweight, easy to store, and at the affordable RRP of $49.96, this may be a sign to head over to your favorite retailer's site to add it to your home.
About this review, and the reviewer
Alexandra is a contributor to Real Homes and Homes & Gardens where she reviews household products to make your life easier at home, whether it's cooking, cleaning or sleeping. She was sent this product to review at home to find out how it performs picking up debris on different floor types in her apartment as well as on rugs and upholstered furniture. Alexandra lives with a cat that sheds all over her home, requiring constant maintenance. This product was tested over the course of one month.
Read more about how we test products on Real Homes.