A high-performing vacuum such as the Shark Vertex Upright Vacuum with Powered Lift-Away is a major and necessary investment for your home. Consider it an added bonus when it looks as good, as it cleans.
We tested the Shark AZ2002 Vertex DuoClean PowerFins Upright Vacuum with Powered Lift-Away Self-Cleaning Brushroll and HEPA Filter. It is being billed as Shark's most powerful and premium vacuum design, and for good reason: this vacuum is a beast of a floor cleaner. And we think it's one of the best vacuum cleaners for pets — especially if you are after an affordable upright model for a medium to large size busy home.
Now, after a few weeks of testing this vacuum in our home, we're ready to share our thoughts on this powerful household essential, including its strong points, and its pitfalls.
Keep scrolling to see how this vacuum got on in our home testing then, then check out our best vacuum cleaners guide for more top models that we've reviewed.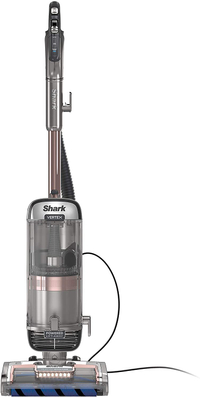 Who will the Shark Vertex Upright Vacuum with Powered Lift-Away suit?
The Shark Vertex Upright Vacuum with Powered Lift-Away is ready to tackle your entire home, especially if you have loads of carpet. It is on the heavier side, so keep that in mind if you plan to lug it up and down the stairs, but this powerful machine is great for families, pet owners, and those with larger homes. It's also a good buy for allergy suffers with its Anti-Allergen Seal Technology and HEPA filtration system.
Shark Vertex Upright Vacuum with Powered Lift-Away: Specifications
Maximum power: 1344 watts
Dust capacity: 1 qt.
Cord length: 30ft.
Hose length: 5.5ft.
Cleaning path width: 12in.
Dimensions: 12" L X 15.09" W X 46.25" H
Weight: 16.38lb.
Filter: Washable HEPA + Foam and Felt Filters
Warranty: 5 years
Attachments: pet crevice tool, dusting brush, self-cleaning power brush
Shark Vertex Upright Vacuum with Powered Lift-Away: features and functions
Powered Lift-Away
Powered Lift-Away offers increased versatility in how you use your Shark Vertex, and is the heart and soul of the Shark's motor. In addition to the standard upright mode, it effortlessly detaches as a pod to extend your reach with a motorized brushroll or to use to clean above the floor with the pod in your hand. It also works with additional motorized accessories, sold separately, and enables you to use the floorhead to access underneath furniture. Note, the Lift-Away pod weighs about 10 pounds.
DuoClean PowerFins
The core feature of the Shark Vertex, and the latest in Shark's technology, involves two rollers to suck up dirt and dust to maximize floor contact for continuous cleaning. The PowerFins roller and a soft roller uncover dust and debris from carpets, directly engage floors, and pick up more in every pass. The soft roller picks up small debris and dust while the silicone PowerFins dig deep into carpets and directly engaging floors for better pet hair pickup, as opposed to vacuums with standard bristles. And even better: the silicone brush rolls are anti-hair wrap.
Self-Cleaning Brushroll
There's nothing worse than hair clogging up your vacuum and reducing its suction capabilities. Well, with the self-cleaning brush roll, human and pet hair doesn't get caught or wrapped in the rollers.
Hypervelocity Accelerated Suction
True to its claim, the Vetex is truly one of Shark's most powerful models. Amplified by the addition of what the company refers to as Hypervelocity Accelerated Suction, this feature delivers a direct airflow path for incredible deep-cleaning performance.
Anti-Allergen Complete Seal Technology
It's coming more and more common for vacuums to feature a HEPA filter trap, but the Anti-Allergen Seal traps 99.9% of dust and allergens inside the vacuum cleaner, rather than emitting them back into the air. However, since it is a bagless design, take caution when emptying the debris bin to not send particles back into the air.
LED Floorlights
At this price point, if the Shark Vertex didn't have LED floorlights to illuminate your cleaning path, we'd be very disappointed.
What we liked about the Shark Vertex Upright Vacuum with Powered Lift-Away
Suction Power
Again, true to its claim, this is one powerful vacuum, and the strongest suction to date of any of Shark's vacuums, requiring much less effort on your part. On hard floors, this vacuum had me zooming along on hard floors, and as for my carpets, they haven't looked this clean in quite some time. It has three modes to toggle through: hard floor cleaning, carpet and low pile cleaning, and thick carpet and area rug cleaning.
Versatility
The advantage of an upright with the Powered Lift-Away technology is its versatility. First and foremost, you get a vacuum that is stable when not in use, and is engineered for both hard floors and carpets. When you need to reach under tables or sofas where a stick vacuum would seamlessly slide, just lift off the Powered Lift-Away, and you can easily maneuver the floorhead into low-profile areas. Using the Lift-Away and the wand, it's easy to accomplish targeted cleans on stairs, hard to reach areas, or even a car.
Rose Gold Accents
While you shouldn't buy a vacuum purely on its looks, though design is an important feature, I love the sophisticated Rose Gold trim that makes this vacuum look even more high end.
What is the Shark Vertex Upright Vacuum with Powered Lift-Away like to use?
When it comes to power, again, the Vertex easily picked up large and small debris, and the self-cleaning power brush combined with the crevice tool made my worn-down carpeted stairs look like new again.
Starting with my first experience using it with hardwood floors. On first use, my household noticed a smell that was reminiscent of burning plastic that went away with use. It swiftly made the wood floor shine. Though, it emitted powerful air that made papers on the fridge blow as we breezed, a trade off, perhaps for all that power.
The next time we used it, to clean up the finishing touches of some fallen dry wall remnants and dust following a handyman in a carpeted bedroom (not recommended for directly cleaning up the dry wall). The brush attachments was helpful for sweeping off the visible dust that collected on some not so lucky shoes, and the floorhead worked across the carpet with ease.
Next excursion: testing the Powered Lift-Away for those hard-to-reach cobwebs that gather high above, and unpopular opinion... I could probably live without this type of feature in exchange for a longer, stretchier hose. The Powered Lift-Away attaches with ease and also makes emptying the dust bin much easier. However, my arm grew tired having to balance the 10-pound Lift-Away in one hand, and the handle to clean in the other. And the Lift-Away just wasn't stable enough on the carpet, nor the hose long enough to accomplish much distance placed on the floor. It was more stable, however, when attached to the base as normal.
Yet, the Lift-Away does have it merits. When it came time to clean the stairs, my mind began to change with the Lift-Away feature that made it possible to freely clean the stairs without having to lug the entire vacuum behind me. The 30-foot power cord was also more than enough to cover the entire stairway in one go. The Lift-Away feature when removed from the vacuum could also be used to clean the inside of a car or reach under low-profile furniture.
Now, another note about the weight of the vacuum. It's heavy at 16-pounds, and not exactly easy to carry between floors. I found it's much easier to carry the Lift-Away and the rest of the vacuum separately, though it does create an extra trip up or down the stairs.
A family member who used the vacuum had difficulty releasing the vacuum from the upright position and struggled with the responsiveness of the power button (note: it needs a good firm press, not a quick tap.)
Another moment that had me close to calling the 1-800 number on the back of the product manual was when my self-cleaning power brush wouldn't snap out of wand, and I truly thought it was stuck. The attachments push on with a compression fit rather than any buttons to eject it from its position. For such an expensive vacuum, I'd hope for an easier time switching between accessories.
The accessories are well-made, and similar to other Shark vacuum attachments. The vacuum even has on-board storage for two accessories, but what am I meant to do with the third? Unfortunately, as I maneuver the vacuum, it was all too easy for the accessories to get bumped off, causing me to pause my vacuum to pick up the rogue attachment, and find a new place to store it.
A note on vacuum maintenance
To keep your investment in tip-top shape, it's important to keep your vacuum clean and to check filters during Shark's recommended intervals. Otherwise, the vacuum could decrease in performance.
Emptying the dust cup is extremely easy, and can be accessed from varying angles to empty. It does get caked in a layer of dust, but you can rinse it with water as you please, about once a month, but wait 24 hours before reattaching.
There are two filters in the unit. The pre-motor filter should be washed with water every month. They're accessible underneath the dust cup, with instructions for where the foam and felt belong, should you forget. The HEPA filter is located at the bottom of the Lift-Away and needs to be cleaned once a year.
Be sure to periodically check the wand, hose, handle, and floor nozzle for any blockages. While the silicone self-cleaning brushroll won't require much maintenance, the blue soft roller requires periodic cleaning. Clean the soft roller by tapping loose debris off, and using a dry paper towel to wipe it clean. It can then be hand-washed, as needed, and left to air dry for 24 hours.
How does the Shark Vertex Upright Vacuum with Powered Lift-away rate online?
The Shark Vertex Upright Vacuum with Powered Lift-Away is a relatively new model from Shark, but early reviews are quite favorable. As of Feb. 2021, it has a 4.7 rating on Amazon and a 4.3 rating on Shark's website.
How does the Shark Vertex Upright Vacuum with Powered Lift-Away compare to other Shark vacuums?
The $449.99 price tag is definitely on the steep end, making it one of Shark's priciest units, but the Shark Vertex upright is loaded with features and power that make it worth it. It replaces the Shark Apex as the brand's most premium option.
It is the heaviest Shark vacuum, but also has the largest dust bin capacity of any Powered Lift-Away unit and a wider cleaning path. Powered Lift-Away is also available in the Apex and Rotator models, but they don't have the silicone power fins or as powerful of a motor.
All Shark upright models have the HEPA air filtration, so there's no compromise on that feature.
Meanwhile, if you're looking for a powerful vacuum from the same Vertex series, but more lightweight, and willing to give up the HEPA filtration, I recommend the Vertex ultra-lightweight stick vacuum that also converts into a three-pound handheld vacuum for accessible cleaning.
Shark Vertex Upright Vacuum with Powered Lift-away: our verdict
If you're looking for a vacuum that can do it all and deliver an impressive clean, you should continue right to that buy button. From visible debris to ground in dust, the Shark Vertex suctioned it all with minimal repeat passes. And hair? Never wrapped around the self-cleaning brush roll or clogged the vacuum shaft, so I think it's safe to say this vacuum is pet-parent approved. Though it is a little loud, external tests found the noise level at around 77 dB, so you may want to keep sensitive pets in a different room.
The Vertex is loaded with features that make it versatile for cleaning a range of spaces, and while I struggled with its weight and fumbled with the Lift-Away, it delivered exactly the type of clean I wanted.
Finally, the one-quart capacity got me through all of my cleaning tests before I had to empty it out, enabling me to get the job done without having to pause to empty the dust cup until I was actually finished.
Shark Vertex Upright Vacuum with Powered Lift-away: where to buy