The Roborock S7 MaxV Ultra is a two-in-one wonder machine, making it ideal for time-starved homes – and busy ones with kids and pets at that.
The magic lies in that the Roborock S7 MaxV Ultra can vacuum and mop at the same time, so only one clean is needed. But what does that mean when the machine encounters area rugs and carpet?
According to Roborock this model has a fancy detection system. 'Intelligent mop lifting means when a carpet is detected, the mop is lifted out of the way.' Basically, it uses ultrasonic sound to recognize the carpet and intelligently lifts up the mop component without interruption. Pretty clever.
Being heavily pregnant, having a toddler who leaves a trail of devastation in her wake and a cat who scatters litter on the daily, the Roborock was put through its paces on all the varied floor types (including old carpet that needs to go) in the four-bedroom family home we've just moved into.
But will it make the cut in our best robot vacuums list? Read on to find out how I got on living with the Roborock S7 MaxV vacuum, then check out our best vacuum cleaner guide for more potential contenders for your next vacuum purchase.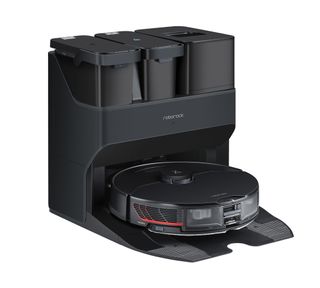 First impressions and unboxing
Roborock S7 MaxV Ultra Specs
Maximum power: 5100 Pa Dust capacity: 2.5L Water tank capacity: 3L Runtime: Up to 180 minutes Charge time: Approx. 4 hours Noise level: 52 - 57dB Vacuum Dimensions: 13.8″ x 3.8″ Weight: 10.36lb Filter: Yes Warranty: 1 year
When the Roborock arrived, I couldn't wait to open it, turn it on, sit back and put my weary feet up. I was pleasantly surprised when I opened the mahoosive boxes, that I wasn't left with loads of parts to put together and therefore undo my first robot vacuum excitement.
One of the first things I noticed is that the Roborock vacuum is super easy on the eyes. It's sleek and low profile so doesn't stick out like a sore thumb in our period home.
There was a user manual, and a setup guide to help with downloading the app and connecting it to the WiFi. Pretty painless all-around.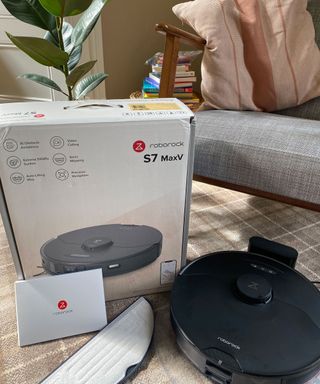 Maintenance and storage
I never have much luck figuring out how to empty vacuums without making a right muck of it... call me clumsy.
The good news is, for anyone considering the Roborock S7 MaxV Ultra, it's super easy to empty. In fact, this little beauty does it all by itself on its slick little dock. Plus it also empties the dirty water onced it's mopped the floor. Bonus.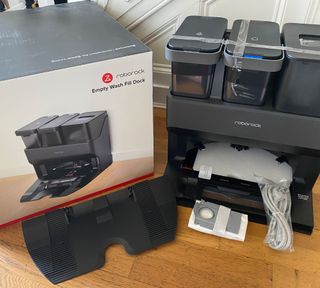 Although I will say that the Empty Wash Fill dock's containers are relatively small so emptying those is a regular occurrence, especially for a busy, mucky four bedroom home replete with a shedding cat and toddler mess.
The dock pulls dust into its 2.5 L dust bag, suitable for up to seven weeks of cleaning (dependent on how much you use the robot of course). Once it's full, you'll need to replace it with a fresh bag.
When it mops, it senses when the mop is verging on too filthy and heads back to clean it before continuing. Pretty efficient I must say. Once it gets to the dock for a clean, there's a little mop cleaning roller that moves over it and pushes dirty water into the drain to be pulled up into the dirty water tank. And it works!
The manual does suggest you give the VibraRise mop cloth a more thorough clean after each use and replace every three to six months, so that's something to be aware of. And a rinse of the dirty water tank is a must too.
As for adding clean water, that's sorted too – for the meantime anyway. Once you fill water into the dock's clean water tank, it will automatically add clean water to the mop when it's needed. Once the tank is empty, just refill and clean as required.
Cleaning the filter is well thought out too and it's recommended you do this every two weeks, but that really depends on how much you use it because I must confess, we have only done it once after getting it two months ago...
Washing the filter is easily done by rinsing with water and tapping it to get all the dust and dirt out of the filter. Just don't touch it too much to avoid damaging the surface. Then just leave to air dry for 24 hours before reinstalling. You'll need to replace it every six to 12 months though.
As for the main brush, it'll need a clean every two weeks and replaced every six to 12 months. I have long hair and I'm pregnant so I'm molting just as much as my cat. I've found that I need to go in to remove my tangled-up hair pretty often. If I don't, Roborock can't handle the cleaning. It literally starts coughing up fur balls, quite possibly more than my cat does. Once I removed the hair though, it was back in fine fettle.
What is it like to use?
It's hard to believe just how easy this machine is.
Seriously. It requires such minimal effort beyond the tap of a button, and that's not an exaggeration. It does mean that you have to download the Roborock app and figure this out but it's pretty simple to use and connecting the vacuum up to it was pretty simple.
The first time you use the Roborock S7 MaxV Ultra, it'll prompt you to map your home. It uses sensors to identify walls and obstructions and occasionally runs into the odd obstacle, whether that be wires or a toy. But don't underestimate it as it will find a way to squeeze into small spaces and corners.
The mapping is rather sporadic at first and it goes about its business in a pretty haphazard way until it gets into a rhythm. Once it gets set in its ways, it'll zone your home into areas (or as we like to call them, rooms).
Here, you're also able to establish no-go and no-mopping zones for areas you don't want it to go, like near our cat's food bowls or to avoid those wires I mentioned earlier.
There's even a sneaky feature on the app that allows you to change the vacuum power and mop scrub intensity on the lower right-hand side of the app's home screen. You can choose between three settings ranging from mild scrub to deep clean. Good to note that the deep clean setting uses way more power consumption so you might find it can't do all of your rooms in one clean with this setting in action.
You can choose to clean the entire floor or an individual area too, so we use it to scoot round the table and the high chair where things get pretty messy. Each night I turn it on at around 12 to do a quick clean of the kitchen so when we wake, we're met with a clean kitchen floor, ready for another day with my toddler to contend with.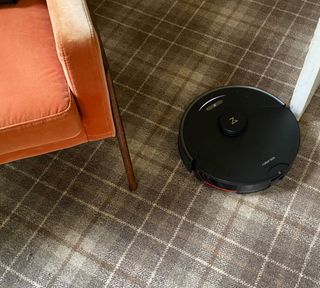 How does it compare to similar products you've used?
I haven't tested a robot mop before, so will compare to the models I use and own.
I will always have eyes for my trusty Shark. We've been through thick and thin together. I'd say I'd compare it to my Shark with my baby Shark (aka the Shark cordless handheld vacuum WV200UK), except I don't have to lift a finger, apart from the odd bit of cleaning and maintenance to keep the device doing its wondrous thing.
I really was skeptical about whether it would be up to the task of vacuuming and cleaning like my usual routine: my lovely, lovely Shark vacuum, followed by one of Real Homes gold rated best mops, my Vileda turbo smart microfiber mop.
And you know what? I think it does a pretty good daily clean. Now, I won't lie – if say, I have the Queen popping round for a cuppa, I might still use my failsafe Shark and Vileda combo, but that's probably just me being super fastidious.
One of the main issues I have with the Roborock S7 MaxV Ultra, is that it does get stuck fairly often. I mean it gets stuck in the same places on separate cleans which meant I had to reset it. But when you do this, it doesn't remember where it left off so it's a bit tedious to watch it go about its business again over the already cleaned floor.
Plus, because you aren't in control of the device, you can't dictate where it's going to head next and I still struggle to watch the order in which it cleans without getting frustrated... a few times I've shouted at it, which as you can imagine didn't do a lot.
But these things aren't really that big a deal in the grand scheme of things as let's get real, it's doing me a massive favor by cleaning for me.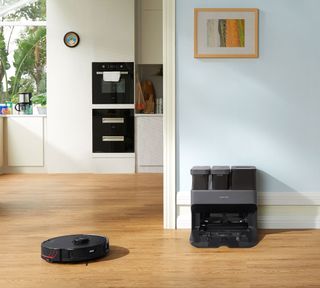 Is it worth the money?
The Roborock S7 MaxV Ultra has a bit of a mind of its own when it skites around your house but it does clean – maybe not quite as well as a conventional vacuum but it cleans nonetheless. The Roborock website claims it scrubs up to 3,000x/minute using sonic vibrations and has a suction power of 5100 Pa, and you know what, it does pick up everything we've leave for it to deal with and mops to a good standard.
The Roborock has definitely given me a LOT of time back and being heavily pregnant right now and feeling like a beached whale, it's been a real luxury to sit back while it does what I usually have to painfully do after a long old day. That alone makes it worth the money.
Roborock S7 MaxV Ultra: our verdict
The Roborock S7 MaxV Ultra is definitely an investment (though noticeably cheaper than some robot vacs without mopping!), but I reckon well worth it, especially for those with mobility issues or are particularly time poor, whether due to family life or crazy work schedules.
It's tackled grime, dust, and hair with the odd tangle issue along the way. And even though, it sometimes gets stuck, it really is a time saver, which is amazing when you're constantly on the go. You don't even need to see it working its way around your home if you whack it on when everyone's in bed. Convenience is more often- than not worth the cost, and it's safe to say that the latest Roborock is a fine example of this.
About this review and our reviewer
Jenny McFarlane is Senior Digital Editor for Real Homes. She's a design obsessive, an avid collector of homeware (much to her husband's despair), and a lover of period properties.
She was sent the Roborock S7 MaxV Ultra vacuum to test in her Belfast home she's only just moved into, to find out how well it performs across various floor types and how well it copes with busy family life, and her black and white cat's many adventures.
As with all our reviews the Roborock S7 MaxV Ultra has been tested first-hand in our home, using it just as you would so you know exactly what you are buying. The products are given to us free of charge and we test them for as long as possible before sending them back to the brand unless we are able to keep it as we are with this vac. This means that we can continue to use the product which gives us the opportunity to return to our reviews for updating, so you can keep up-to-date with how it's fared over a period of time.
Read more about how we test products for Real Homes reviews.