Wondering if the Dyson Big Ball Animal 2 should be your next vacuum cleaner? Then you've come to the right place to find out.
I tested a wide selection of vacuum cleaners on carpet, parquet, tiles, stairs and upholstery, and challenged them with mud, fluff, light debris and pet hair to give you the lowdown on how efficiently they'll do the job, how easy they are to use, and how much space they'll take up in your cupboard.
I put the Dyson Big Ball Animal 2 through its paces – see if it deserves a place in the Real Homes list of the best vacuum cleaners.
Dyson Big Ball Animal 2 at a glance
Why you can trust Real Homes Our expert reviewers spend hours testing and comparing products and services so you can choose the best for you. Find out more about how we test.
Type: cylinder
Bag or bagless: bagless
Suction: very effective
Noise: you can hear the power
Easy storage: pretty compact
Dyson Big Ball Animal 2 specifications
Power: 600W
Cable length: 6.66m
Dimensions: 347mm high x 383mm long x 295mm wide
Weight: 7.96kg
Noise: 80dB
Energy rating: A
Container capacity: 1.5 litres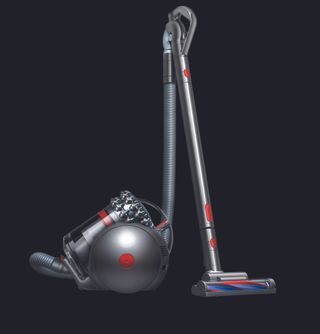 Who will the Dyson Big Ball Animal 2 suit
Pet owners who want their homes pristine in short order.
What is the Dyson Big Ball Animal 2 like to use
With its curvaceous lines and bold coloured accents, the Dyson Big Ball Animal 2 has distinctive style.
Hard flooring, carpet and stairs
Rather than my having to alter the suction, the pneumatic cleaner head of the Dyson Big Ball Animal 2 automatically adjusted to a change of floor surface as I moved around. Although it's not a huge timesaver, I found it does count across a whole house. However, although the machine was impressively easy to move across hard flooring, vacuuming carpet was harder, and therefore slower, work. The vac is pre-set to an easy mode, with a max mode for more powerful cleaning, but I found that easy was definitely enough. Stairs were simple to deal with using the requisite attachment.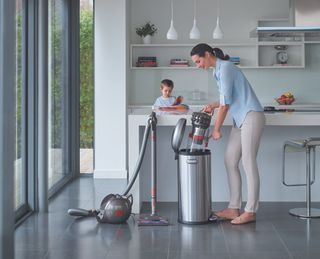 Attachments
The Dyson Big Ball Animal 2 comes with a stair tool (mentioned above), combination tool, carbon fibre turbinehead and tangle free turbine. Changing them was simple and they click easily into place. The turbine tool is the one pet owners will be thankful for. The rotating heads were brilliant for picking up fur that had knitted into upholstery in all the favourite spots around my house. The turbinehead is for fine dust on hard floors, and dirt that's lodged itself in carpet. It got looks-like-new results on a tired carpet in my house.
Power and debris removal
The Dyson Big Ball Animal 2 cleaned up serious dirt on a tiled floor. When it came to lighter debris, it did the job speedily. Just a little was blown out of the way by the machine's power, but going back for the few stray bits didn't hinder me for long. It picked small crumbs up thoroughly, too. It brought carpets up really well, cleaning and restoring flattened pile brilliantly.
Container emptying
The dust container was extremely easy to take off the vacuum, and ejecting the dirt requires you to fully push down the button on the container. Once I had the hang of the pressure needed, this was simple. The instructions suggest encasing the container in a plastic bag to minimise allergen contact for emptying. The downside of avoiding the dust? More plastic bags in your life.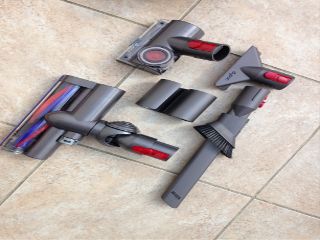 Handy features
The eponymous Big Ball makes this vacuum a highly distinctive machine, but the shape is about solving a problem (even if it does make it look rather pleasingly curvaceous). If, like me, you find you do sometimes topple a cylinder machine in your vacuuming haste, you'll appreciate its self-righting ability.
Storing
Modest proportions mean you won't feel resentful about the amount of cupboard space you have to give up to the Dyson Big Ball Animal 2. As with all cylinders, it's the hose and handle that can get in the way, and on this machine they're held in place on the front when it's stored.
Manoeuvrability
The ball design made the vac brilliantly manoeuvrable round the house as I used it. The shape also ensured it was much easier to take up and down stairs than the raw statistic of its weight led me to suppose. This is because it was easier to hold nearer to my body than other cylinder designs making for a far less awkward lift.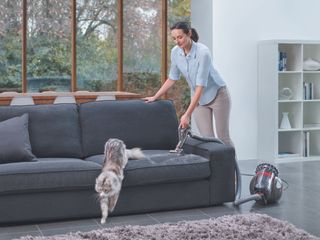 How does it rate online
Only 27 reviewers have given their feedback on the Dyson site with an overall 3.6 out of five stars. Its ability to clean really deeply – including, as you would hope, lifting dog hair and cat fur – are celebrated. So, too, are the ease of removing and emptying the dust container. As for the drawbacks, customers worry that the power on and off and cable retraction buttons might not be robust in the long run, and mention the smaller size of the floorhead compared to previous models.
There are only three reviews on Amazon where once again it's the amount of dirt that the vac can bring out of the floor and its abilities on pet hair that are praised. Among the issues noted are the lack of a place to store the tools, and crevices that make the machine itself hard to clean.
How does it rate against similar vacuum cleaners
There are cheaper alternatives, but it's fair to say that among bagless cylinders, the Dyson Big Ball Animal 2 can take on all-comers, and it's still a leading contender if you're open to bagged cleaners as alternatives. For pet owners, it definitely worthy of a place on the shortlist because of its swift and effective hair-removal abilities.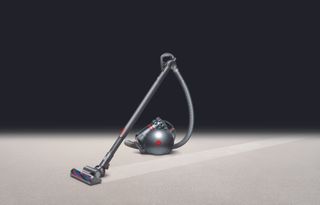 About our review – and our reviewer
Sarah Warwick has specialised in homes and interiors for over 20 years. She was Executive Editor of Ideal Home magazine, and has written for nationals, magazines and websites including Real Homes, Homebuilding & Renovating, Grand Designs, Homes & Gardens, Houzz, The Guardian, House Beautiful and Country Homes & Interiors. She put the vacuums through their paces all round the house, on all sorts of dirt and debris, and a variety of flooring and surfaces.
Follow Sarah: @SMWarwick
READ MORE: