Within the last year, the Dyson V15 Detect has generated significant buzz. It's topped wishlists, shaken up the homes of self-proclaimed clean-freaks, and frequently goes in and out of stock.
I've had the pleasure of owning the Dyson V15 Detect for over a year now, and let me tell you, it's the one cordless vacuum I am holding on to for dear life. You see, I've tested a number of the best vacuums, and this is not one I personally plan on giving up anytime soon, no matter how often my family and friends ask.
So, what's so exciting about the Dyson V15 Detect? Being Dyson, it already has a built-in fan base solely on brand reputation, meaning we expected best-in-class suction power and air filtration. It's also the first to add a small green laser to its fluffy floorhead that reveals all the little microscopic particles hidden from the eye. Gimicky? Perhaps. Effective? Definitely.
It then adds a quantitative figure to your clean, with a Piezo sensor. I had no idea what this was until Dyson showed me this one, but basically, it counts every single particle count down to 10 microns – the size of allergens and pollen. The Piezo sensor also serves the purpose to let the vacuum systems know exactly how much suction power is needed – a great move to conserve battery power.
Testing the Dyson V15 Detect
Reviewed by
Reviewed by
Jaclyn was previously ecommerce editor across Future homes titles, including Real Homes. The Dyson V15 Detect was gifted to her for review, in which we've been able to track how it's done over time. In fact, the Dyson V15 Detect has been in Jaclyn's possession for over a year, so she has been able to get extremely honest about her experience. Jaclyn's home features a mix of hardwood floors, carpets, and area rugs. A small non-shedding dog lives in the house but still manages to track in his fair share of dirt.
Dyson V15 Detect product specifications
Model no: 368340-01
No. of settings: 3
Bin capacity: .2 gal
Suction power: 230 AW
Runtime: up to 60 minutes
Charging time: 270 minutes
Weight: 6.79 lb.
Accessories: Laser Slim Fluffy™ cleaner head, High Torque cleaner head with anti-tangle comb, hair screw tool, crevice tool, stubborn dirt brush, mini soft dusting brush, combination tool, wand clip, docking station, charger
Who will the Dyson V15 Detect suit?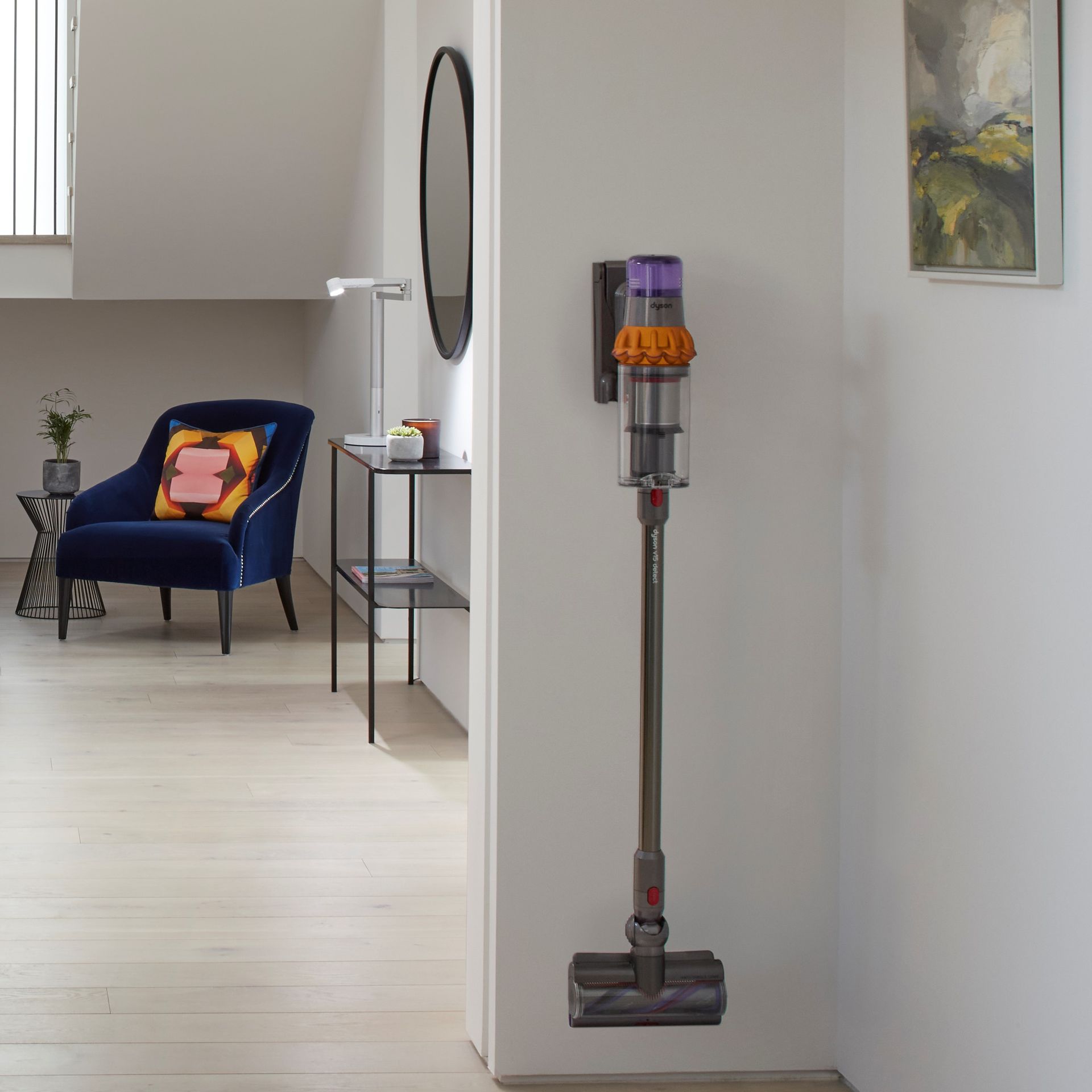 People with lots of hard floors: While the Dyson V15 Detect has floorheads for both carpets and hard floors, you'll want to have ample hard floor space to take advantage of the technology.
People who want the best of the best: There is no doubt the Dyson V15 Detect is high-end, from it's state-of-the-art technology to the numerous attachments to assist in getting every crevice and floor spic and span.
Those with large homes: The dust bin is smallish, but comparable to other Dyson products, the long-last battery runs for up to 60 minutes and the lightweight design ensures you'll be able to power through spaces large and small, though there may be pit stops to the trash.
Delivery, unboxing and setting up the Dyson V15 Detect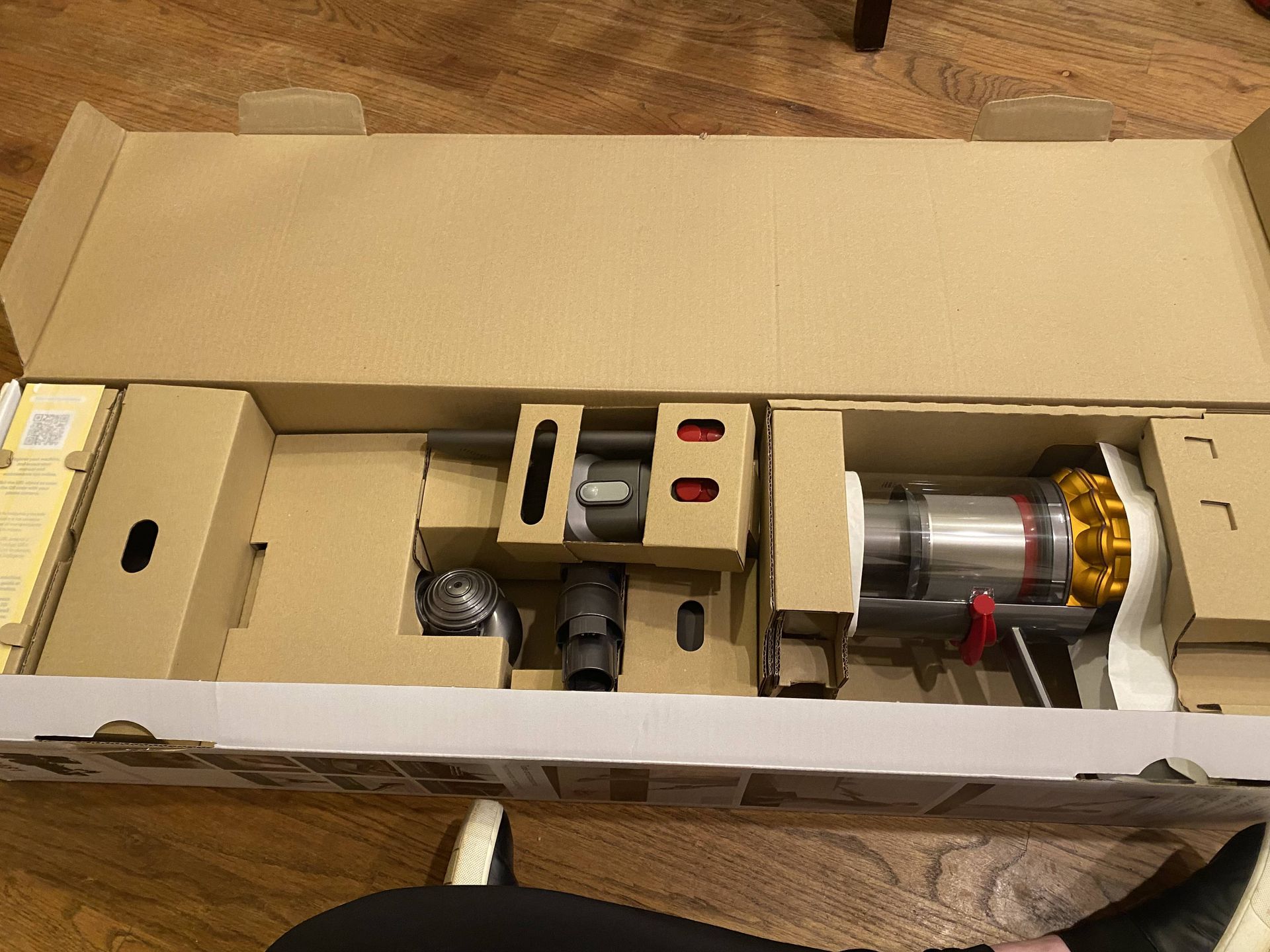 The Dyson V15 Detect arrives in a cardboard sleeve for shipping that slides out to reveal the sleek white packaging of the box. Each piece was neatly wrapped in paper, avoiding the use of plastic packaging. The bundle also forgoes a lengthy manual (which can be found online) for a quick start guide.
Like other Dysons I've used, each piece easily clicks together and is interchangeable to use with the wand arm directly from the handheld unit. While the battery does come with some juice, you should charge it before going on a full cleaning mission.
The Dyson V15 Detect also has a wall charging unit and includes hardware to install. For an extra cost, Dyson offers a floor stand, which is convenient for those who want a home base for their vacuum but are not particularly keen on drilling into walls.
Dyson V15 Detect key features
Laser Dust Detection
The V15 Detect introduces a green laser on its Fluffy cleaner head that makes dust hidden from the eye, visible on hard floors. Dyson engineers precisely positioned the laser at a 1.5-degree angle, 7.2mm off the ground, and chose green for the excellent contrast it gives to the naked eye. Particles are most visible in low-lit areas, and even in the dark, as bright sunlight can wash out the laser.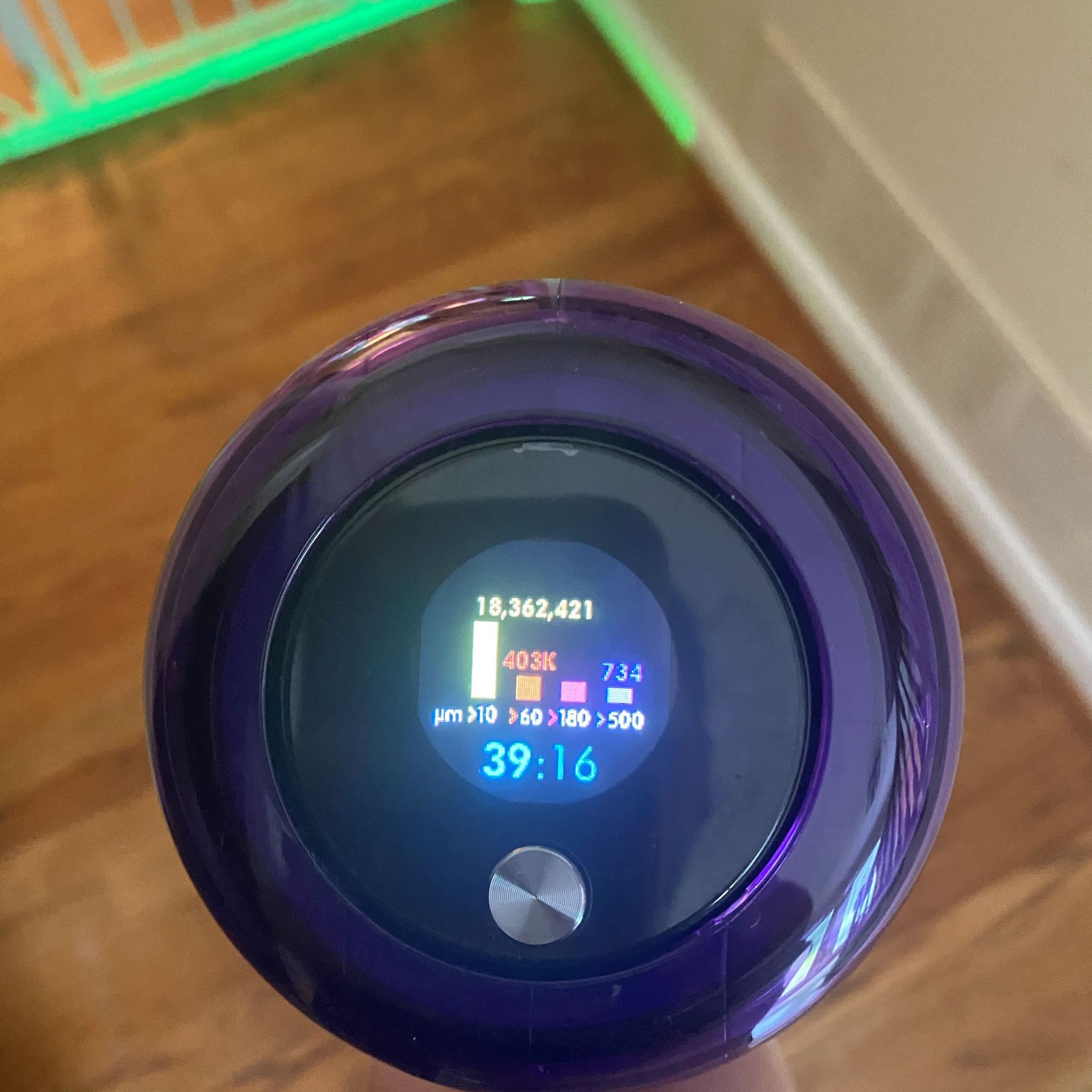 PIEZO Sensor
Dyson integrated an acoustic Piezo Sensor into the design that continuously sizes and counts dust particles and shows how much has been picked up in a graph on the LCD screen. The Piezo sensor counts pieces smaller than 10 µm, like allergens and pollens; less than 60 µm, particles the size of microscopic dust and skin flakes; 180 µm particles the size of dust mites and fine sand; and 500µm particles the size of sugar and fleas. The Piezo Sensor is also connected to the V15 Detect's suction power: it automatically adjusts across different floor types based on the amount of dust and other particles present on the surface.
Reactive and powerful suction
The Dyson Hyperdymium™ motor spins up to 125,000rpm for unparalleled suction power while DLS technology senses and adapts to different flooring.
Anti-tangle hair tech
Dyson developed an anti-tangle conical brush bar that spirals hair off and into the bin to prevent hair wrap on the brushbar. The tech is available on a smaller and full-size High Torque Cleanerhead, which has polycarbonate teeth that look like a comb and prevent tangling around the bristles when you are cleaning, and automatically clear hair from the brush bar.
LCD screen
The LCD displays will show a real-time count of the collected particles from the PIEZO Sensor, a run-time countdown clock, the power mode in use, and maintenance alerts, such as when an air channel is clogged, or if the bin needs emptying.
Filtration
The V15 Detect offers Dyson's five-stage advanced filtration technologies, capturing 99.97% of particles as small as 0.3 microns, to expel cleaner air. The filtration system is comprised of the bin cyclone (that uses centrifugal force to separate dust, dirt, and hair from airflow), a metal mesh filter, cyclone technology, and pre-and post-motor filters that capture the smallest pollutants.
Note this is not HEPA, but you can upgrade to the V15 Detect Absolute if that's a feature you require.
What is the Dyson V15 Detect like to use?
Besides shaking up how you're used to cleaning your floors with its intelligent tech, it operates just like any cordless stick. It offers decent battery life, up to 60 minutes on hard floors and with attachments, though shortened on carpets; incredible, automatically adjusting suction power, which also conserves battery life; and unique features not found on any other product: the green laser and Piezo Sensor.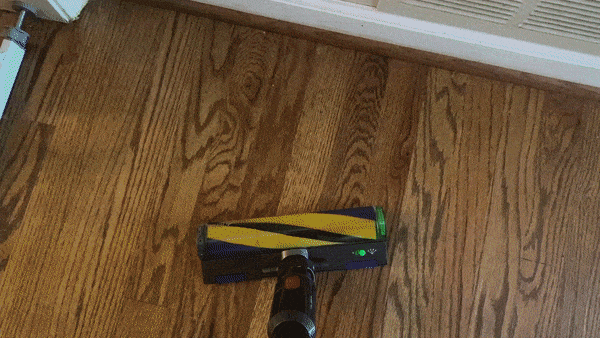 On hard floor
While you can use either the Laser Slim Fluffy cleaner head or Digital Motor Bar, we're opting to use the Laser Slim Fluffy Cleaner to make the most of Dyson's laser technology. It can easily reach near crevices and corners, making sure your floors are free of any dust, dirt, or grime. It's not the best at picking up larger solid pieces of debris, but it can – it just takes longer.
On carpet
You may think your carpets were clean, but you'll notice just how quickly the bin fill and piezo count rise. You'll have to use the digital brushbar as the fluffy slim bar is ineffective, and the green laser can't reveal the dust embedded in your carpets. Some other reviewers found it a little more difficult to push across carpet, but I didn't have that issue.
Stairs
To vacuum the stairs I could use either the original floorhead, or the mini-brush attachment. I found it easier to clean the stairs with the mini-brush but got on fine with both.
Higher up places
Using the brush nozzle and the bendy wand I reached up to tackle the (thin) layer of dust on top of the picture rails in our living room. Suction was just as good as it is on the floorhead and bed nozzle, and the brush helped to sweep the dust up into the wand. Without the head I feel it could have done just as good a job, though, it just helps to get a better angle.
Things to note
Disclaimer, I love how this vacuum cleans, but I have found the Piezo sensor unreliable. When it works, it counts and I believe the accuracy, but if it switches off, getting it back on is a hassle.
According to reddit, I'm not the only one with this issue. On two separate units, I noticed at different points in time that the Piezo sensor wasn't working, and in settings mode, it revealed that the Piezo sensor was off. That's fine, I'll just turn it back on, but instead of allowing me to change settings, well, any settings, the LCD screen cuts off. The first unit, I bypassed as a fluke, a computer chip malfunction, and it was swiftly replaced, but the second time... why would this happen?
Cleaning and maintaining the Dyson V15 Detect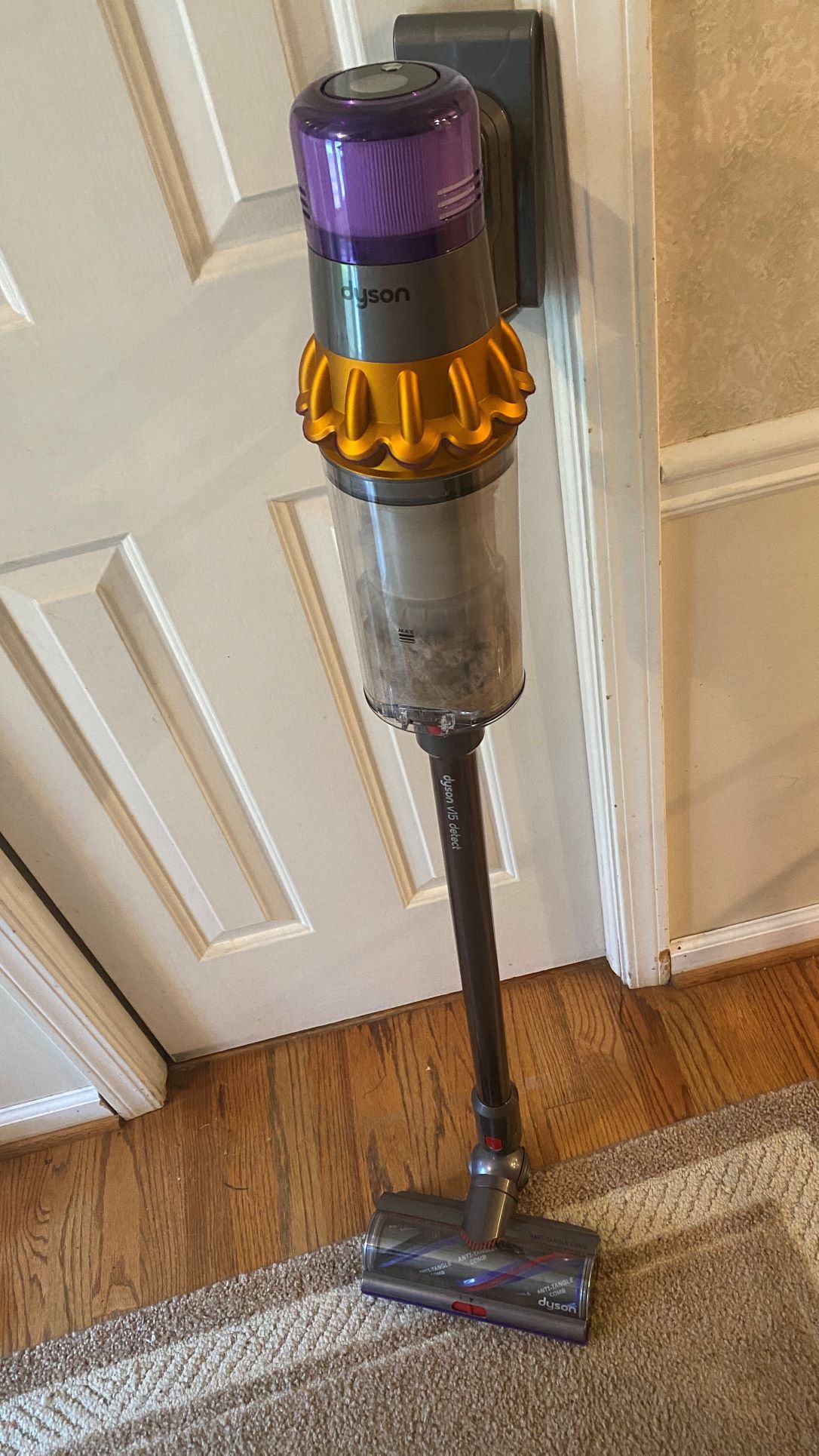 Cleaning and maintenance follow pretty standard recommendations.
The dustbin should be emptied before or once it hits the MAX line. The bin can also separately detach to be wiped with a damp cloth, but only water should be used.
In the event of any blockages, the V15 Detect will let you know on the display screen that it detects a malfunction and automatically cuts off. You'll want to check the tubes here to see what is caught.
Filters should be cleaned monthly. Located in the purple crown of the handheld, the plastic part unscrews off, and the HEPA filter can be washed with water. Be sure it is completely dry before placing back onto the machine. For more, read our advice on cleaning Dyson filters.
The soft Laser Slim Fluffy brush bar is both removable and washable; however, the High Torque cleaner head and hair tool should only be wiped with a cloth. You can remove the brushbar on both to detangle any hair that has been collected.
How does the Dyson V15 Detect rate online?
The Dyson V15 Detect holds a 4.5 out of 5 on Dyson's website, with 84% recommending the product to their peers.
Meanwhile, on Best Buy, the product holds a 4.8, with reviewers asking for a longer warranty (due to the fact that the vacuum has so many functions), to make HEPA standard, and that it would be easier to maneuver on Auto on the carpet.
How does the Dyson V15 Detect Compare to other vacuums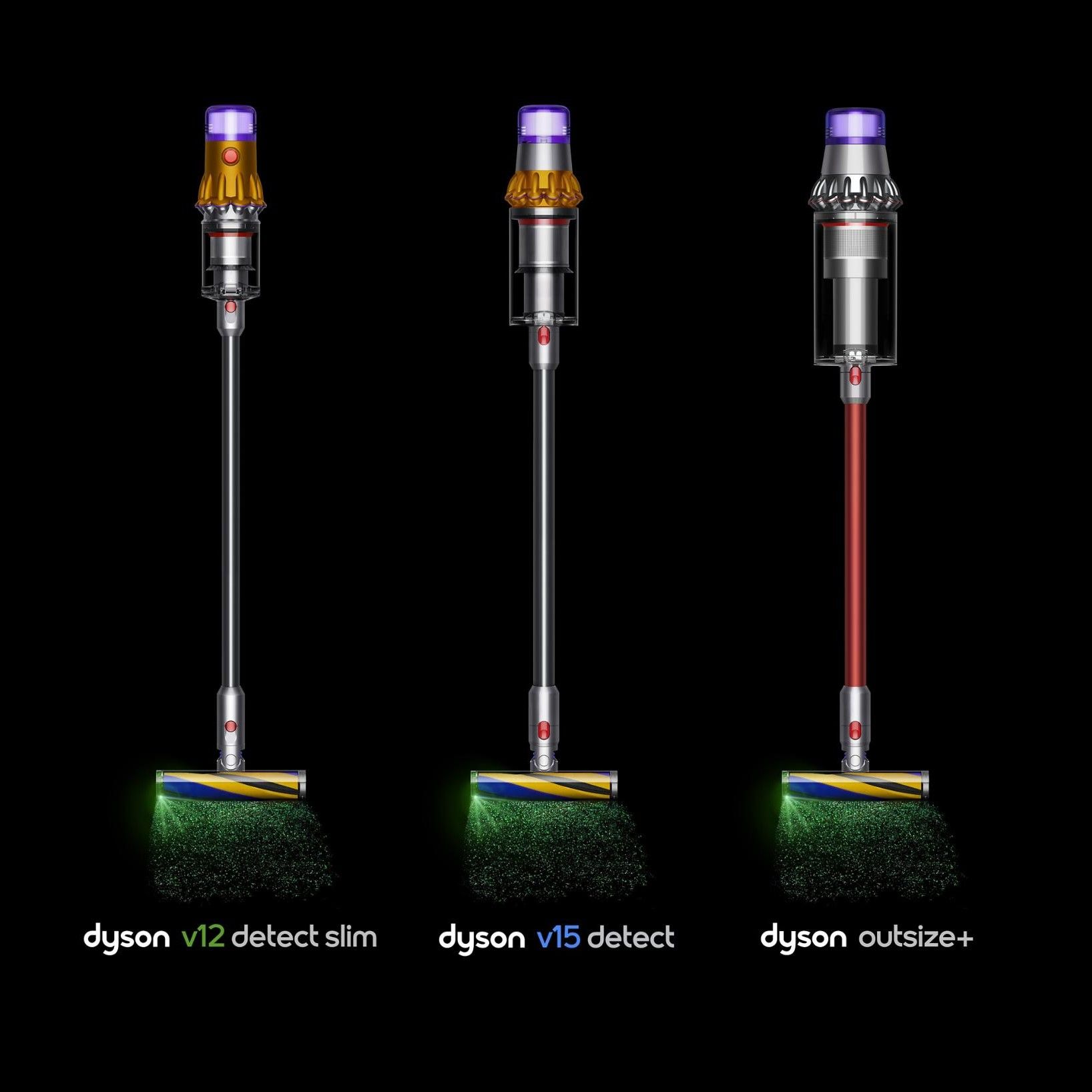 Dyson is the only manufacturer that we know of that offers the laser and the Piezo sensor technology. Following the release of the Dyson V15 Detect, it has also released a series of similar variations now dubbed the Laser Vacuums, most specifically, a version of the Dyson Outsize + with no Piezo sensor, but a half-gallon dust bin and two hours of runtime, and the new Dyson V12 Detect series, which is lighter but has a significantly smaller dust bin at just .01 gallons and less suction prowess. It does have a lower price tag of about $100, and a continuous operation button, as opposed to the traditional trigger.
Others like Shark, however, have mastered auto-adjusting suction functionalities while Tineco has its own special tech to showcase how clean, or dirty your floors are. These come in at much lower price points so if you don't want all of the Dyson capabilities in one, you can make a saving with picking your chosen tech on an alternative brand.
Real Homes verdict: should I buy the Dyson V15 Detect?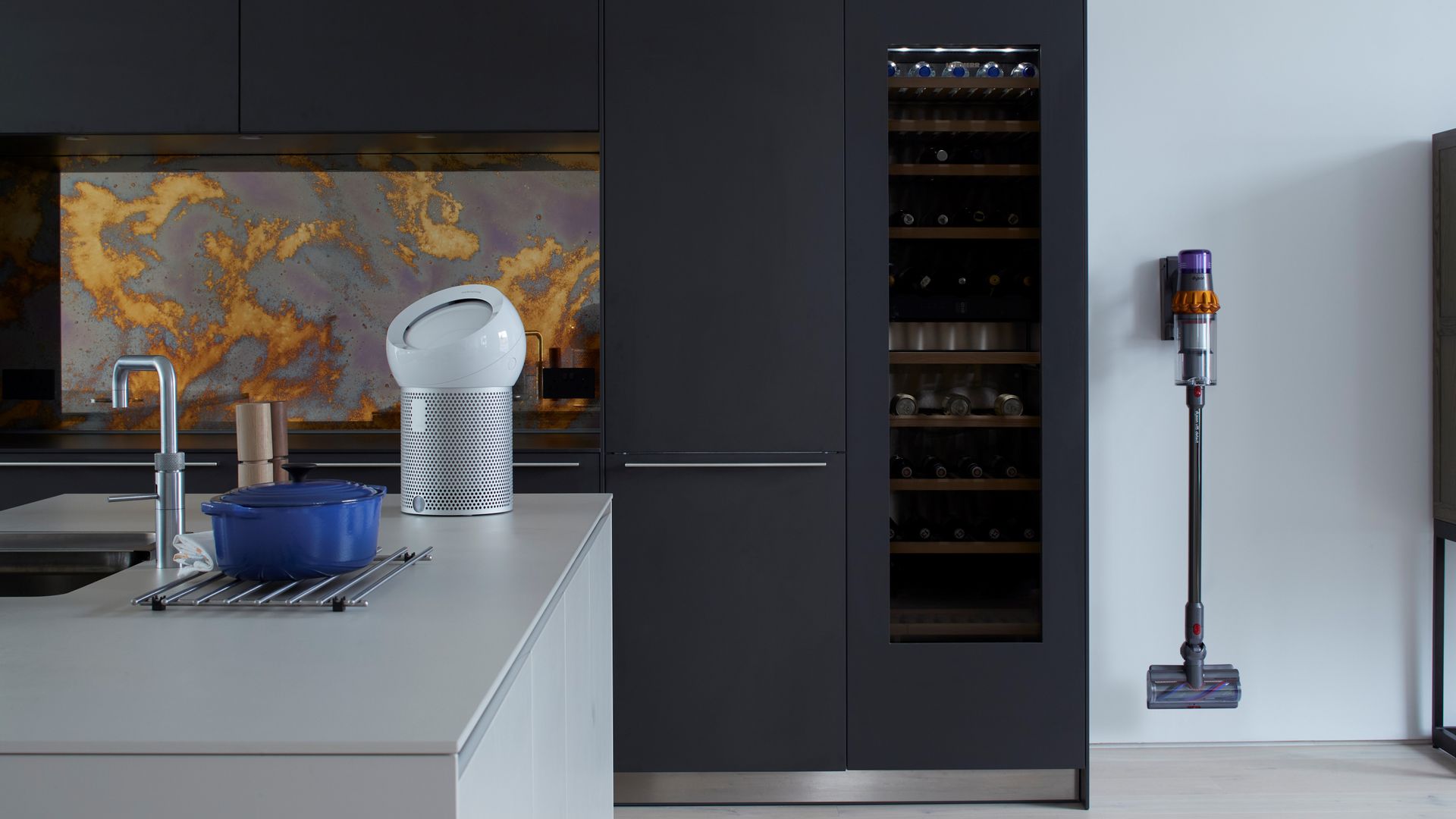 The Dyson V15 Detect is a fantastic vacuum that pushes the boundaries of what to look for in a vacuum. The green laser and Piezo sensor almost gamify vacuuming, while delivering a high-level clean. However, I have some concerns about its reliability, given my issues with the Piezo sensor. Fortunately, Dyson has been swift to replace my malfunctioning units, but a little more indirect as to why this kept occurring.