It's likely that you've heard of the 'Henry' and some may even already own one but if you're yet to welcome one into your home, our Henry HVR160 review would be worth a read. They sure are a useful vacuum cleaner to have around. No mess is too big for these guys, even if it is to tidy up after a DIY project.
I've been really fortunate to have the Henry HVR160 move in to my home for the last couple-of-months. It is one vacuum cleaner which I'm not afraid to use to clean anything and everything. From vacuuming the carpets, rugs and kitchen tiles to reaching up to the ceiling and picture rails for the regular household cleans, and sucking up plaster dust and small bits of rubble from our ongoing house reno (the end is in sight), this Henry vacuum has had his work cut out for him. Keep reading to hear how we all got on then, check out our best vacuum cleaner guide to see where this one sits.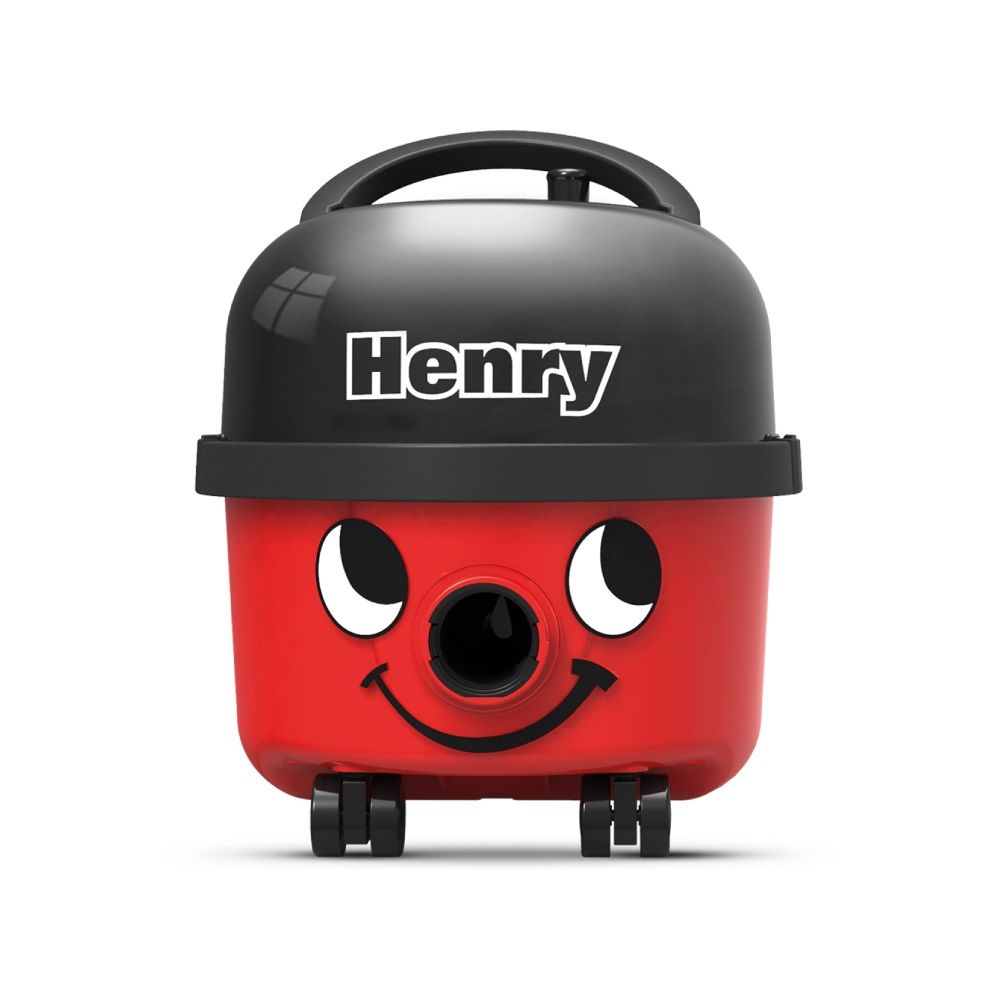 Product spec:
What's in the box?
- Main unit
- 3-piece stainless steel tube set
- Combi floor tool
- Flo-Max hose
- Tapered adaptor
- Crevice tool
- Dusting tool
- Brush and mattress tool
- 2x Hepaflo bags
If at anytime you need a Replacement Henry Kit, if can be bought directly from Henry for £44.99
Capacity: 6 litres
Cleaning range: 26.1 metres
Motor power: 620w
Weight: 7.5kg
Dimensions (unit): 32 x 34 x 34.5cm
Available colours: red, blue, green and yellow
Who will it suit?
Family's, DIYers and / or cleaners will find the Henry HVR160 very useful to have round the home.
Delivery, unboxing and set up
I was like a giddy child in a sweet shop (not much has changed) when the Henry HVR160 arrived by courier. It was obvious what it was in it's bright red box and familiar smiling face, and I couldn't resist reaching for the scissors to open it up.
The first thing I came to upon opening the box was the Owner Instructions. These are half-a-dozen, double sided pages of coloured images which shows how to assemble, use and clean the Henry vacuum – it seemed easy enough to follow, although I was fairly confident I wouldn't need to study it much. Next up was a plastic bag with the Tapered Adaptor, Crevice Tool, Dusting Tool and Brush and Mattress Tool,which all seemed useful to have. The Combi Floor Tool was wrapped separately, and the Flo-Max Hose was lose. Beneath these was a cardboard layer which, when removed, unveiled the red Henry HVR160 I had chosen and his 3-piece stainless steel tube set.
Having used and seen a Henry vacuum cleaner before, I knew just how he should look to be ready to use so set up was mega easy. If, however, you need some help with this then the assembly instructions are really clear to follow. The bag was already in situ so all the required set was to connect the 3-piece tube set, secure that to the hose and then subsequently secure that to the main unit. With no battery to charge, or mapping of our floorplan it was ready to use straight away.
Performance
The suction of the Henry HVR160 is pretty epic. Admittedly the attachment I used/ use the most was the combi floor tool, but I have also tried out the dusting tool and brush / mattress tool which is essentially 2-in-1 to see how these work with all 620 watts of power.
The floor tool is suitable for use on carpets and hard floors which transitions well between the two. You can switch-up the suitability by pressing on the switch on the floorhead; pressing down will lift the brushes, pressing up will release the brushes. It's best to do this with your foot to save bending down and it's also quiet stiff. You also have the option to increase or decrease the suction power of the floorhead (and other accessories) by turning the gauge clockwise or anticlockwise on the stainless steel tubing. I used the higher suction power for rugs and carpet, and the lower suction power for hard flooring.
Taking the Henry HVR160 up the stairs was a challenge, to be honest. We have a steep, narrow staircase so lugging the vac up the stairs with it's big hose was pretty cumbersome. However, the cable was long enough to be plugged in a socket next to the stairs for me to use on my ascent up to the top. It was not the easiest to use cleaning the steps because of the size (and this is one of the smaller Henrys). What I found for a work around this was to keep the vac safely on the floor at ground-level or first-floor and move up / down the stairs with just the flo-max hose. This was great for getting around the edges of the stairs, and I also did deploy the dusting tool for using on the banisters and along the top of the skirting.
The brush and mattress tool was used on some of our upholstered furniture. The brush easily slides on-and-off so you can convert it as and when you need. I used it without the brush so it was able to tuck into the sides of armchairs and sofas etc. It was useful, but I found it quicker and just as effective to not use the attachment. If I'm honest, just using the hose was good enough for me.
Now I've not be able to test to see how the Henry HVR160 gets on cleaning a car because we rarely get the chance to park outside our house (the joys of living in a terraced house). This doesn't mean that it can't do the job, but is just a consideration if you live in a flat or don't have a driveway because although the cable is 10 metres long it just won't be long enough (or safe enough) to have this laying around.
Cleaning, maintenance and storage
The Henry HVR160 is a bagged vacuum cleaner, which means that all the debris it sucks up goes into a bag. I'm a big advocate of this since there has been too many times when I go to empty a vac and it ends up all over the floor and my foot – it's very annoying, to say the least. The bag removal is really easy; just unclip the top, remove the filter and lift out the bag. Simple.
A new bag can then be fitted which is equally as easy but, if you need, the Owner Instructions are there if you need to refer to it. You can buy replacement Henry HepaFlo Filter Bags (pack of 10) for £9.99 at Amazon which are mega affordable, especially since they can take 6 litres of debris (which is a lot) – I have yet to empty our Henry, and we've been using it as our second vac for 6 weeks.
The floorhead and brushes may need a de-fluff, too. This will, of course, depend on the surfaces you are using your Henry but I found that it was easy enough to just use my hand to release any debris I didn't want dragged along my floors over a length of time.

Henry HVR160 does come with onboard storage for some of the accessories, but not all of them. I secured the tapered adaptor, crevice tool and dusting tool onboard, but the brush and mattress tool was left behind so I've been keeping this in a memorable, safe, out-of-reach place. A thing to note, too, is that this vac isn't the most compact. By the time is has the tools and hose with floorhead clipped on, there's a lot to it so it'll need a corner of the room or large cleaning cupboard to stow away.
How does it rate online?
The Henry has been around for years, decades even which is a vouch of confidence that it is a good egg. On the myhenry site where you can buy the Henry HVR160 (and his friends) direct, it has scored an overall rating of 4.8-out-of-five stars. I have not seen so much praise for a vacuum cleaner before. Recent comments are that they are 'delighted with this powerful cleaner', 'superb, my carpets look and feel so much cleaner' and it's 'excellent, well-designed, well-made, a brilliant vacuum'. It's not easy to find any negative comments but what I have seen is that one customer has said that the cord and hose are a bit of a nuisance, and another doesn't like the smirk.
Over on Argos, this Henry has scored 4.9-out-of-five stars and has 98% of customers recommending it. Bearing in mind there are 4155 reviews this really is very good. I've taken a look at the reviews which gave this vac a rating of one to three stars, and they generally agree with one another that it is heavy and bulky and not as good as the previous Henry's they've owned (I'm not sure what these were). The higher scoring reviews rave about how powerful and robust it is and what a bargain it is, too.
Also available on Currys PC World and AO.com (and then some), overall the Henry HVR160 is a very popular vacuum cleaner which the vast majority of customers are very pleased with.
How does it compare with other vacuum cleaners?
The Henry HVR160, in my eyes, is one of a kind. They're aren't many bagged, cylinder bagged vacuum cleaners to chose from (apart from another Henry / Hetty / George / Charles or James) so it's difficult to compare it will other vacuum cleaners. Although having said that, a couple of years ago I reviewed the Hoover Telios which has a similar price point and spec to the Henry HVR160 which is easier to move around at ground level, but doesn't have the same suction or hose and cable length as Henry.
Perhaps it would be a fairer comparison to make between the Henry Cordless HVB 160, which we also reviewed. They both have the same 6L capacity, same 620W power and very similar dimensions but the Cordless HVB160 is lighter at 6.38kg and (of course) doesn't have a cable. They look very similar, too, so if you want to ditch the cord then the cordless Henry would be a good shout.
Real Homes verdict: should I buy the Henry HVR160?
I'm a big fan of this guy so would absolutely recommend you buying it, especially since it has a very appealing price tag of between £120 - £150. He's been really useful to have around the home, especially for meal-times and DIY-times. Nothing is a challenge for this Henry.
BUT. If you have a steep, narrow staircase and don't have the option to park your car outside your house then you'll want to consider having the best cordless vacuum or best handheld vacuum you can find to take care of vacuuming these areas. The Henry HVR160 is bulky and the hose does get in the way somewhat. Plus the cable will restrict you from venturing outside, or working your way around the home uninterrupted by a tugging plug. With this in mind, if you ever fancied a second vac to take on cleaning jobs which you don't fancy your main vac doing, then this is it.
If you know you want a Henry and this guy hasn't ticked all your boxes; don't worry – I'm in the progress of updating our Henry vacuum guide which means that I am getting hands-on-experience with as many Henry's as I can fit in my home so I can share my findings with you (aren't I lucky?!)
About this review – and our reviewer
Jennifer (Jen) Oksien is our Large Appliance editor who has reviewed too many home appliances and mattresses to count over the years. She was sent the Henry HVR160 to review at home to find out how it performs across the various floor-types with varying amounts (and types) of debris. Her three-bed house has hard wood flooring and limestone tiles downstairs, and a relatively new carpet running up the stairs, across the landing and into the three bedrooms making it the perfect space to review vacuum cleaners.
We are not given any compensation for our reviews, but we may be gifted the product meaning that we can test it over a greater length of time, and update our reviews if required. We also receive affiliate commission for some products brought through our site.