Vacuuming is a chore we'd rather forget at the best of times – pet at home or not – but finding the best vacuum for pet hair can really help you out if your pet moults constantly. Whether your home is carpeted or has hard floors, we've found the best models to ensure your floors are fluff-free. Browse more of the best vacuum cleaners in our guide.
Find out more about how to choose a vacuum cleaner in our buying guide. Or if you're looking for a cheap vacuum cleaner deal, we've got lots.
What is the best vacuum for pet hair?
Not all standard vacuums are good at picking up pet hair, and depending on the animal you have, some hair is more prone to moulting and sticking to carpets, furniture (and everything else for that matter).
Our best vacuum for pet hair is the Dyson Light Ball Animal upright vacuum cleaner. It's flexible, lightweight, powerful, and comes with attachments to make your job easier. But, we think the Miele Complete C3 Cat & Dog vacuum cleaner is a close second.
Alternatively, if you're after a cordless model, the incredibly powerful Vax Blade 2 Max is your best option, or those after a robot vacuum for pets should consider the iRobot Roomba 980. Find out more about all of them below.
How to buy the best vacuum for pet hair
QUICK LINKS TO BUY A VACUUM FOR PET HAIR
When choosing the best vacuum for pet hair, there are a few things to consider.
Flooring
First, what type of flooring do you have? If your pets tend to moult throughout the house, it can be beneficial to opt for a vacuum that is adaptable to all floor types such as carpet and hardwood or laminate floors.
Corded or cordless?
Also, consider what spaces you will need to vacuum. Dyson's ball technology is great for getting into corners and under furniture, while a cordless vacuum will make it easier to get to those hard-to-reach areas and also allow you to vacuum your car.
Bagless?
Some may prefer a vacuum cleaner with a bag, but it's worth bearing in mind that you'll have to keep buying new bags, making it more expensive in the long run. While a bagless cleaner can be messier to empty, if it's a lightweight model you can lift the machine to your bin.
Capacity
If you've got more than one pet, check the vac's capacity so you don't have to empty it too often. Naturally, the smaller and more lightweight the vacuum, the smaller its capacity.
Noise level
Consider this if you have a little one at home all day who naps or a pet who doesn't like loud noises.
Brand
Most of the major vacuum brands such as Dyson, Miele and Vax have now introduced specialised vacuums for pet hair, which have much stronger suction and often feature allergy filters for those who are particularly sensitive. They'll also stop the hair from simply being pushed around the carpet and releasing irritants into the air.
Don't miss our guide to how to vacuum like a pro (yup, there are techniques to get it done quicker and better). Take a read of our 50 best home cleaning essentials for product recommendations to help keep your house clean.
THE BEST VACUUMS FOR PET HAIR
1. Dyson Light Ball Animal Upright Vacuum Cleaner
Best vacuum for pet hair you can buy: a powerful vacuum for all floor types
Specifications
Best for: Manoeuvrability
Bagless: Yes
Capacity: 1.6ltrs
Noise level: 80dB
Power: 700w
Reasons to buy
+ Lightweight + Three different power settings
Reasons to avoid
- Requires emptying frequently
Dyson is known for its powerful vacuums, and the Light Ball Animal Upright vacuum cleaner is no exception. This is regarded as the best vacuum for pet hair you can buy.
Manoeuvrability
Let's start with manoeuvrability: the small head and roller ball technology allow it to glide easily across all floor types, and it's flexible enough to get into corners and under tall furniture for a thorough clean (note that the head is quite bulky which means it won't fit under lower furniture, and you'll need to swap to tools for this). For anyone who's never used a Dyson with roller ball technology, don't under-estimate just how light it can feel in your hand. And this particular model, at just 7kg, is around the average weight for a vacuum so you won't feel like you have to lug it about. Another plus point is its long cable, at just over 10m; handy if you have a large house. Like other uprights, it's not ideal for cleaning stairs, upholstery and curtains, but the extendable wand does make those vacuuming jobs easier – more on that below.
Suction power
This Dyson's suction power is consistent, thanks to its bagless cleaning technology. There are three suction modes: one for picking up large debris, one for stubborn dirt and one for deep pile carpets, and this carpet does cope well with picking up both small and large particles, which not all carpets cope well with. The good news? It's pretty quiet, despite its power.
Pet hair removal performance
Suction power aside, it's the Tangle-Free Turbine Tool with its counter-rotating heads that really makes it effective at cleaning up pet hair. The tool is designed never to tangle, which allows it to release more hair and dirt into the canister – and means you won't have to be constantly picking pet (or human) hair out of the brush head before you start vacuuming. Its efficient filters mean that allergens stay in the canister – ideal for pet-owning allergy sufferers.
The attachment options, including a combination crevice tool and upholstery brush, and turbo upholstery brush, also make cleaning up pet hairs from upholstery and curtains a simple task. There's a useful stair cleaning tool, too.
Ease of use
The downside of some upright models is that it can be fiddly to clean anything that's off the floor, but this model has an instant release, extendable wand that quickly retracts into the body of the vacuum. And on-board tool storage means every tool is always to hand. Useful if your cat likes to sleep on the back of the sofa or your dog moults so freely that even the curtains need a regular vacuuming.
This Dyson is pretty easy to empty once you get used to the push mechanism, but it's worth noting that the canister has a smallish capacity of just 1.6ltrs, so you should expect to be emptying it more regularly than some of our other buys.
Shop more vacuum cleaners at Amazon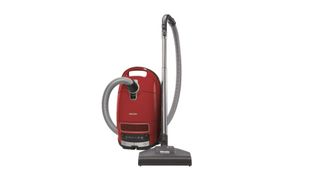 2. Miele Complete C3 Cat & Dog Vacuum Cleaner
Best vacuum for pet hair and allergies: a filtered vacuum to reduce the symptoms of allergies
Specifications
Best for: Allergies
Bagless: No
Capacity: 4.5ltrs
Noise level: 79dB
Power: 900w
Reasons to buy
+ Filter traps dust + Extra-long cord
Reasons to avoid
- The bag needs changing
The Complete C3 Cat & Dog PowerLine cylinder vacuum cleaner by Miele is designed for those who tend to suffer with allergic reactions to dust mites and pet hair, making this the best vacuum for allergy sufferers.
AirClean filter
The filter system should mean carpets and homes in general feel fresher, and this is thanks in large part to the AirClean filter system, which filters 99.9 per cent of fine dust from the air, and has a charcoal layer that helps absorb odours. The filter has a useful TimeStrip, too, which tells you when it needs to be changed.
This vac also has a special bag fleece, which retains more fine dust and small particles than a normal bag. Combined with an auto-shut mechanism that closes the bag when the vacuum is opened for emptying and prevents dust from escaping back into the air, this is a good choice for allergy sufferers and neat freaks alike.
Turbobrush
As for picking up hair and lint, the Turbobrush attachment's beater brush is really effective. Reviewers do note that it's very powerful, making vacuuming shag pile carpets and area rugs a little bit of a challenge. However, you can change the settings on the vacuum cleaner to suit the floor type with the conveniently placed foot controls.
Attachments
As you'd expect for a vacuum cleaner of this quality, there's a useful selection of attachments including a crevice nozzle, upholstery nozzle and dusting brush. They're all usefully stored inside the body of the vacuum cleaner, which is a time- and effort-saving feature we approve of.

Ease of use
This vacuum cleaner has a large operating radius of 12m (the one-touch retractable power cord is 7.5m long), meaning you can clean large rooms and long hallways, without the need to constantly change plugs. At just 5.4kg, it's a light vacuum that will make vacuuming up and down stairs easier than with heftier or upright models. When you're done cleaning, a handy foot pedal lets you wind in the cable without having to bend over. The only downside? You have to change the bag when it's full, although its capacity is a decent 4.5litres.
Shop more vacuum cleaners at John Lewis & Partners
3. VAX Blade 2 MAX
Best cordless vacuum for pet hair: the absolute best for suction, battery power and getting into those hard-to-reach areas
Specifications
Best for: Cordless
Bagless: Yes
Capacity: 0.6ltrs
Noise level: 79dB
Power: 40V
Reasons to buy
+Sleek and lightweight design+Has a light so you can see underneath furniture+Great at sucking up hairs
Reasons to avoid
-When on max, can be loud
The 2-in-1 Vax Blade 2 MAX has almost three times more suction power than any of their older cordless vacuums, making it the best cordless vacuum cleaner for pet hair (and owners who don't have the budget to stretch to a Dyson).
Battery life
This is always the first thing to look out for when you're buying a cordless model, especially if you are planning to use it all over a larger than average home. The Blade's battery lasts on the standard setting for around 45 minutes and on maximum for around 15 minutes. Charge time to take it back to full power is around two hours 45 minutes. Not bad.
Suction power
So, if you're using it on standard power for 45 minutes, what's it like to use? Well, on its lowest setting, it's not a good as you might hope. It is, however, really effective on its higher setting, even on fluff-ridden carpets and for picking up larger debris from hard floors. However, needing to use it on maximum power to get the job done does mean your vacuuming time is limited to just 15 minutes or so, which (for us) makes it a great pet hair trouble-shooting second vacuum cleaner, but not one to efficiently service the entire house.
2-in-1
The Blade 2 Max can be quickly changed into a handheld cleaner. This is useful when you have pets who shed their hair on stairs, in the car and on upholstery. Or, of course, you could use it for quickly picking up spillages on kitchen work surfaces.
Bin capacity
As you'd expect from a handheld, cordless cleaner, the bin capacity won't match our top corded picks. The bin is just 0.6ltrs, so will need emptying regularly. On the upside, it's removable, which means easy emptying. Plus, as it fills, it doesn't lose suction power.
Ease of use
Always important, this model weighs just 3.2kg, or just 2kg as a handheld. This is about what you'd expect for a cordless vac, but is, of course, much lighter than our heftier top picks. A feature we do really like are the DustTracker LED headlights, which are perfect for highlighting all that pet hair under the sofa that you couldn't see in plain daylight. Other attachments include a crevice tool, dusting brush and the neat tool caddy. As for storage, this vacuum has a wall-mount, a real bonus for small homes or if this vac is to be kept in a kitchen utility cupboard for charging. What wasn't popular was the noise levels when at maximum power.
Shop more Vax products at Amazon
4. Shark DuoClean Corded Stick Vacuum
Best vacuum for stubborn pet hair: you won't miss a hair with the motorised pet turbo brush tool
Specifications
Best for: Stubborn pet hairs
Bagless: Yes
Capacity: 0.49ltrs
Noise level: 80dB
Power: 450w
Reasons to buy
+ DuoClean technology + Compact and easy to store+ Perfect for those easy to reach areas
Reasons to avoid
- Small bin
If you don't want to lug around a big and bulky vacuum (who does?), then the Shark DuoClean vacuum cleaner is lightweight and easy to manoeuvre, plus its thin body makes it easy to store. In fact this is one of the best vacuums for pet hair if you're after a vac for quick cleaning jobs.
Lightweight for easy manoeuvrability
For those who aren't as able or just like a lighter load, this vacuum is effortless to use – unusually for a corded vacuum it's incredibly light at just 4.8kg, and the slim body also allows it to get into more hard-to-reach areas such as underneath the sofa. With one click, the flexible wand bends in the middle, too, so you won't have to.
Ready to put it away? The DuoClean folds down to half its size, creating a completely freestanding unit. Ideal if your home doesn't have tons of storage space. What else do we like? The extra long, 10m cord is useful. This might be a fairly small vac, but its cord means it can tackle large spaces.
The downside of its size? you'll have to empty the canister more frequently than some of our other pics: at just 0.49 litres, it's on the very small size.
Handheld cleaning
What you lose in canister size, though, you win in the handheld department. This stick vacuum cleaner quickly converts to a lightweight, powerful handheld vacuum cleaner, which is really useful for when you want to clean stairs or raised surfaces, including furniture and curtains. It makes it a viable option as a vac for tackling pet hair-ridden cars, too.
Tackle carpets and hard floors
So how does it perform on surfaces? Shark's DuoClean Technology allows you to switch from carpets to hard floors without swapping heads. The brush head itself has two brush rolls, which are specially designed to draw in large and small debris from carpets while lifting fine, stuck-on dust from hard floors. That means you won't spread mess with this vacuum cleaner, as you do with inferior models.
Allergen capture
Shark's Anti-Allergen Complete Seal captures and traps 99.9 per cent of dust and allergens inside the vacuum; you will, however, need to ensure the filters and canisters are regularly cleaned.
Downsides?
At 80dB, it's not the quietest of the smaller pet hair vacuum cleaners we've reviewed, but it's more or less on a par with our larger models.
Shop more Shark vacuum cleaners
5. Dyson V8 Animal Cordless Vacuum Cleaner
Best vacuum for pet hair in small spaces: all the power of the Dyson Light Ball with a slimmer frame
Specifications
Best for: Small spaces
Bagless: Yes
Capacity: 0.5ltrs
Noise level: 82dB
Power: 21.6V
Reasons to buy
+ Slim frame + Quiet
Reasons to avoid
- Limited battery life
The Dyson V8 Animal is one of the best cordless vacuums on the market, and users love how easy it is to use. As a result it is one of, if not the best vacuum for pet hair. Without the worry of tripping over cables and not being able to reach certain areas without changing sockets, you can quickly and easily glide around your home with this Dyson. It does have limited battery life, but it is good enough to clean a three bedroom house with ease and it is quick to charge if it runs out of juice. Those who have cats will find this vacuum particularly helpful as you can use this vacuum on upholstery as well as flooring, and it's also ideal for cleaning cars, so those that take the dog out in the boot don't have to worry about the mess.
Shop more vacuum cleaners at Very
6. Sebo Automatic X7 Pet Vacuum Cleaner
Best classic upright vacuum for pet hair: a reliable upright vacuum cleaner which tackles tough jobs
Specifications
Best for: Classic upright design
Bagless: No
Capacity: 5.3ltrs
Noise level: 80dB
Power: 890w
Reasons to buy
+ Lots of attachments + Computer control system for the best clean
If you can't see yourself getting on with some of the new cordless vacs, then this classic upright vacuum designed for pet hair might be the perfect choice for you. In our opinion, this is the best vacuum for pet hair if you want a solid and reliable bit of kit. It has a great range of attachments that allow you to easily pick up pet hair on all types of floors, upholstery and get to those hard-to-reach areas such as stairs. It is a little heavy, but it effectively picks up pet hair in just one stroke, meaning you won't have to go back and forth repeatedly.
Shop more vacuum cleaners at Amazon
7. Bosch Athlet Pro Animal Vacuum Cleaner
Best vacuum for pet hair for flexibility: a flexible cordless vacuum for stress-free vacuuming
Specifications
Best for: Flexibility
Bagless: Yes
Capacity: 0.9ltrs
Noise level: 74dB
Power: 1800w
Reasons to buy
+ 60 minute run time + Ideal for upholstery
Reasons to avoid
- Difficult to change attachments
This cordless vacuum for pets by Bosch is the excellent companion for big homes with lots of pets. In fact this could be the best vacuum for pet hair to clean larger spaces. You'll have complete flexibility around the home with a long battery life of up to 60 minutes so you can do a thorough job in every room. It also comes with lots of different attachments including a pet nozzle, which can be a little tricky to dismantle and change, but overall, this vacuum works well on both floors and furniture. That longer battery life also means there's very little need to charge it, and you can use the vacuum to clean the car.
Shop more vacuum cleaners at AO
8. iRobot Roomba 980
Best robot vacuum cleaner for pets: for an effortless fluff-free home
Specifications
Best for: Robot
Bagless: Yes
Capacity: 0.6ltrs
Noise level: 70dB
Power: 230v
Reasons to buy
+ High-efficiency filter + Multi-surface detection
Reasons to avoid
-Loud-Small capacity
The iRobot Roomba 980 is one of the most efficient robot vacuum cleaners on the market with its intelligent sensor that can detect different surfaces so that it changes its cleaning method as it moves from carpet to hardwood flooring, for example. It works wonders on picking up debris such as dust, pet hair and crumbs, and it can be controlled from your smartphone, or by Alexa or Google Home Assistant via smart speaker. In terms of battery life, it can run for up to two hours before taking itself back to its charging station for some juice. Some may think it's a pricey choice, however, Roomba has been at the cutting edge of robot vacuuming smarts for years, so expect to get plenty of features for your money including a 10 times suction boost on the last model, multiple room navigation and dust trapping down to as small as 10 microns.
Find more iRobot products at Amazon
9. Vax Power Pet Vacuum Cleaner
Best budget vacuum for pet hair: a budget vacuum cleaner which is compact and easy to use
Specifications
Best for: Budget
Bagless: Yes
Capacity: 2.2ltrs
Noise level: 78dB
Power: 800w
Reasons to buy
+ Pet odour filter + Sits on stairs
Reasons to avoid
- Suction not as strong
For those who need something reliable that will get the job done, this Vax Power Pet Vacuum cleaner is compact, easy to use and affordable. We think this is ideal for those on a budget that want an affordable vacuum that can clean up pet hair. The Vax is reasonably light, therefore perfect for vacuuming the stairs or cleaning out the car. It has a designated pet hair nozzle, and while not as powerful as some of the others on the list, it is reliable and will get the job done. The style of this vacuum also makes it easy to store away when not in use.
10. Vax H85-GA-P18 18V Handheld Cordless Vacuum Cleaner
Best handheld vacuum for pet hair: the best pet vacuum for quick jobs
Specifications
Best for: Handheld
Bagless: Yes
Capacity: 0.3ltrs
Noise level: N/A
Power: 18V
Reasons to buy
+Lightweight+Easy-to-use+Long run time+Easy to empty
Reasons to avoid
-May be too small for some
The best vacuum for pet hair if you want to do the job quickly, this handheld vacuum from VAX easily sucks up pet hairs from upholstery. It's also convenient to use if you're doing a quick job as it's cordless and bagless, and thanks to its handy integrated crevice tool you'll be able to reach those hard to clean areas such as the folds of your stairs. One charge gives the machine up to 20 minutes of run time, which is plenty if you're vacuuming your living room seating or car boot. Emptying the machine is a doddle because of the easy empty Gator mouth; simply hold the machine over the bin and press the button.
Shop more vacuum cleaners at Littlewoods
11. Hoover H-Free 2-in-1 Lightweight Pets Cordless Stick Vacuum Cleaner
Best affordable vacuum for pet hair: an affordable handheld vacuum perfect for small homes (and small pets)
Specifications
Best for: Affordable Handheld
Bagless: Yes
Capacity: 0.7ltrs
Noise level: N/A
Power: 22V
Reasons to buy
+Affordable handheld vacuum+Easy to store+Works effectively
Reasons to avoid
-Sometimes necessary to remove hair from vacuum end -Quite easy to accidentally hit the 'off' switch
An affordable alternative to the more popular cordless vacuums, the Hoover Freedom Lite 2-in-1 Cordless Stick Vacuum Cleaner is perfect for quickly clearing up animal fur, though it is probably better suited to households with smaller pets that don't moult too much. It effectively tackles a variety of floor surfaces, picking up hair, crumbs and other debris, thanks to its variety of interchangeable heads.
12. Swan SC15822N PowerPlush+ 3-in-1 Turbo Vacuum Cleaner
Best lightweight vacuum for pet hair: weighing just 2.4kg, this lightweight cordless vacuum is great with pet hair
Specifications
Best for: Lightweight
Bagless: Yes
Capacity: 0.5ltrs
Noise level: 80dB
Power: 21.6V
Reasons to buy
+Two interchangeable heads+Lightweight+Comes with a wall mount+Washable HEPA Anti Allergen Filter+22 mins of run time
Powerful and practical, this cordless vacuum cleaner is ideal for pet owners as it features two interchangeable heads for a professional clean: a PowerPlush head to pick up hair without clogging; and a Turbo head for a deep clean. The machine has a one touch power button and an indicator light for real-time battery status, and it can be easily manoeuvred around your home and upstairs thanks to its self-propelled motorised nozzle and swivel steering. For us, the best part is that it's super lightweight at just 5.5lbs, meaning it can easily be used in conjunction with the extension wand and lifted to reach hard-to-clean spots. One of the best lightweight vacuum cleaners for those with allergies as well as pets, we think.
Shop more stick vacuum cleaners at Robert Dyas
MORE ON KEEPING YOUR HOME CLEAN: