Finding the best vacuum for pet hair is essential if you live with a furry friend. Vacuuming is a chore we'd rather forget at the best of times – pet at home or not – but it can be a nightmare if your pet moults constantly. Whether your home is carpeted or has hard floors, we've found the best models to ensure your home is fluff-free. Some also feature in our list of the overall best vacuum cleaners, so you know you are on to a winner.
So how do they differ from other models? Well vacuums designed with hair removal in mind will often feature a motorised brush head to really work fluff up off carpet and upholstery. They might also include different filters to tackle the hair and allergens that come with pets.
In terms of style and type, you can get stick, cylinder and upright vacuums designed for pet hair so this will come down to your own preferences. Where available, we have also listed the noise level – something your pets will thank you for keeping to a minimum.
Read more top tips on choosing a vacuum for pet hair at the bottom of this page.
What is the best vacuum for pet hair?
QUICK LINKS TO BUY A VACUUM FOR PET HAIR
Not all standard vacuums are good at picking up pet hair, and depending on the animal you have, some hair is more prone to moulting and sticking to carpets, furniture and everything else for that matter.
Our best vacuum for pet hair is the Dyson Big Ball Animal 2. Its cleaning power is hard to top and it is super easy to use, with great manoeuvrability. We also rated its upright cousin – the Dyson Ball Animal 2 (yes, we are also confused by Dyson's naming conventions).
Alternatively, if you're after a cordless model, the incredibly powerful Vax Blade 2 Max is the best option, or those after a robot vacuum for pets should consider the Dyson 360 Eye. Find out more about all of them below.
THE BEST VACUUMS FOR PET HAIR
Best vacuum cleaner you can buy: especially brilliant for pet-owners, this vacuum is a great all rounder
Specifications
Best for: All-rounder
Type: Cylinder
Bagless?: Yes
Cordless?: No
Weight: 7.9kg
Capacity: 1.5ltrs
Noise level: 80dB
Reasons to buy
+Powerful removal of dust and pet hair+Easy to move, use and empty+Great on all surfaces including hard flooring
Reasons to avoid
-Quite rigorous carpet cleaning might make it hard work for some
For a large house with a few pets, we highly recommend the Dyson Big Ball Animal 2. Simply the best vacuum cleaner around, its clever brush heads pick up all the hair our furry friends leave behind, without getting tangled up, and the motorised brush bar gets out stubborn dirt from muddy paws.
Pet hair extraordinaire
This cylinder model is perfect for quick but thorough cleaning. It features a pneumatic head that automatically adjusts between floors for maximum efficiency around your home. From stubborn dirt to hair-ridden carpets, it gets it all. Standard power mode does a mean job, but there is a max mode for the worst dirt (we are talking muddy walk with a moulting German Shepherd).
If your pets are constantly wrecking your carpet with muck, this really does bring it up looking good as new.
Attachments for every task
From rotating heads to lift hair on the stairs to the turbine head for dust on hard floors, the tools will help you out. The standard crevice tools will grab those bits of fluff and dirt that escape into corners too. The hose is long, meaning you have good reach wherever you need to clean.
Manouevrability
Anyone with pets will know that vacuuming is a race against time with the dog trying to play with the brush and the cat threatening to leave home at the noise. So our reviewer was impressed by just how quick and easy this model was to use. The signature ball offers max manoeuvrability. While it isn't the lightest, the small cylinder is much easier to carry than some of its well-known competitors.
If you do prefer an upright however, we also rated the Dyson Ball Animal 2 highly which is the upright version of this machine.
Shop more Dyson vacuums at Amazon
Best cordless vacuum for pet hair: the absolute best for suction, battery power and getting into those hard-to-reach areas
Specifications
Best for: Easy cleaning
Type: Cordless stick
Bagless?: Yes
Cordless?: Yes
Weight: 3.2kg
Capacity: 0.6ltrs
Noise level: 79dB
Reasons to buy
+Sleek and lightweight design+Has a light so you can see underneath furniture+Great at sucking up hairs
Reasons to avoid
-When on max, can be loud-Lower setting means longer running time but suction is much weaker
The 2-in-1 Vax Blade 2 MAX has almost three times more suction power than any of their older cordless vacuums, making it the best cordless vacuum cleaner for pet hair (and owners who don't have the budget to stretch to a Dyson). It stands up to the best corded vacuums too – a great option for small spaces. No wonder we rated it our top cordless vacuum overall.
Battery life
This is always the first thing to look out for when you're buying a cordless model, especially if you are planning to use it all over a larger than average home. The Blade's battery lasts on the standard setting for around 45 minutes and on maximum for around 15 minutes. Charge time to take it back to full power is around two hours 45 minutes. Not bad.
Suction power
So, if you're using it on standard power for 45 minutes, what's it like to use? Well, on its lowest setting, it's not a good as you might hope. It is, however, really effective on its higher setting, even on fluff-ridden carpets and for picking up larger debris from hard floors. However, needing to use it on maximum power to get the job done does mean your vacuuming time is limited to just 15 minutes or so, which (for us) makes it a great pet hair trouble-shooting second vacuum cleaner, but not one to efficiently service the entire house.
2-in-1
The Blade 2 Max can be quickly changed into a handheld cleaner. This is useful when you have pets who shed their hair on stairs, in the car and on upholstery. Or, of course, you could use it for quickly picking up spillages on kitchen work surfaces.
Bin capacity
As you'd expect from a handheld, cordless cleaner, the bin capacity won't match our top corded picks. The bin is just 0.6ltrs, so will need emptying regularly. On the upside, it's removable, which means easy emptying. Plus, as it fills, it doesn't lose suction power.
Ease of use
Always important, this model weighs just 3.2kg, or just 2kg as a handheld. This is about what you'd expect for a cordless vac, but is, of course, much lighter than our heftier top picks. If you struggle lugging round a heavy vac, this really can't be beaten.
A feature we do really like are the DustTracker LED headlights, which are perfect for highlighting all that pet hair under the sofa that you couldn't see in plain daylight. Other attachments include a crevice tool, dusting brush and the neat tool caddy. As for storage, this vacuum has a wall-mount, a real bonus for small homes or if this vac is to be kept in a kitchen utility cupboard for charging. What wasn't popular was the noise levels when at maximum power.
Shop more Vax products at Amazon
Best upright vacuum for pet hair: another great buy from Dyson for upright users
Specifications
Best for: Upright fans
Type: Upright
Bagless?: Yes
Cordless?: No
Weight: 7.34kg
Capacity: 1.8ltrs
Noise: 80dB
Reasons to buy
+Powerful suction so great on carpet and hard flooring+Ball makes it easy to move+Long cord
Reasons to avoid
-Can be noisy-It isn't the lightest to move
If you have pets, love a Dyson, but prefer an upright model to the cylinder style above, we rate the Dyson Ball Animal 2. Its clever brush heads pick up all the hair our furry friends leave behind, without getting tangled up, and the motorised brush bar gets out stubborn dirt from muddy paws.
All flooring, all debris
Be it mud on kitchen tiles or fur bedded into your carpet, this vacuum cleaner gets to work with ease. The suction is powerful so it does the job quickly, but you might want to turn it down a bit for carpet as it can be harder to push. It won't scatter dirt around and gets right to the edges of the room.
Tools
The Dyson Ball Animal 2 comes with a two-in-one tool for dust and cobwebs, a stair tool and a turbine tool that is tangle-free – perfect for handling all types of pet hair. The latter will help get fur (and other debris) off upholstery, too.
Ease of use
The low profile head and telltale ball make swishing this beauty round almost enjoyable. A long cord means you won't be slowed by having to change sockets and the handle gives you plenty of reach when cleaning stairs and upper corners. It isn't the lightest but the neat design isn't too hard to carry and it stores away nicely.
Shop more Dyson vacuums at Amazon
Best bagless Miele vacuum: this one goes out to all the Miele-loving pet owners out there
Specifications
Best for: Easy emptying
Type: Cylinder
Bagless?: Yes
Cordless?: No
Weight: 8.71kg
Capacity: 2ltrs
Noise: 76dB
Reasons to buy
+Powerful bagless convenience+Great on pet hair+Handles all surfaces like a pro
Reasons to avoid
-Quite heavy-Expect a workout if you don't turn the suction down on carpet
Dyson aren't the only ones who can make a great bagless vacuum for pet hair as the Miele Blizzard CX1 Cat&Dog PowerLine shows. Not everyone is team Dyson, and we love this bag-free version from Miele, known for their top-quality engineering.
Pet hair and allergies
Dried mud and pet hair are easily thwarted by this model that carries an Allergy UK-approved HEPA AirClean filter. If you have pets and allergies this model will get rid of nasties and is easy to empty so you don't need to worry about being triggered by emptying it either. The self-cleaning function is particularly impressive – we've always said that vacuum cleaners need cleaning too. What's more, it has the biggest dust tank of all the bagless models on our list and second biggest after its bagged Miele sibling, the Miele Complete C3 Cat&Dog (more on that below).
Ease of use
The suction on this model is great and it has a good range of tools, all neatly stowed in the body of the vacuum cleaner. Switching between settings is simple – just flip the foot control to adjust brushes or retract the cable.
While it isn't the smallest, it is a neat design that is easy to transport and store. That said, when it is in high suction mode on carpet, you might notice its weight and strength, so we recommend turning it down so the foot glides more easily.
Manouevrability
Easy to move with a telescopic tube, people with back problems won't find this vacuum hard to use. However, it is on the weighty side, so if you have lots of stairs, you might prefer a lighter model – for a large bungalow though, it would be perfect.
Best multifunctional vacuum cleaner: feels like an upright, works like a cordless and converts to a handheld
Specifications
Best for: Those who can't decide what type they want
Type: Upright style that converts
Bagless?: Yes
Cordless?: Yes
Weight: 5.7kg
Capacity: 0.6ltrs
Noise: 72dB
Reasons to buy
+50-minute battery life+Versatile cleaning styles+Floor illumination+Battery can be charged separately
Reasons to avoid
-Long hair can get tangled-There are lighter cordless models
So, you know you want a vacuum that is tough on pet hair, but you can't decide what style you want? Well the Shark DuoClean Powered Lift-Away with TruePet is perfect for anyone who wants to give cordless a go but likes the cleaning style of their cylinder or upright.
A new breed of vacuum cleaner
If a stick vacuum cleaner is a speedy greyhound, an upright a reliable Labrador and a cylinder a compact but sturdy bulldog, then this vacuum is the perfect mongrel. Pictured above in upright mode it is well suited to those who want the agility and convenience of a cordless vacuum but would prefer an upright to push than a stick. A simple click and lift and the cylinder detaches – you can either carry that around as you do the stairs, or set it down while you push the foot over your flooring.
TruePet tech
It is in the name that this is designed for pet owners so how does it cope with the hair and dirt? Very well is the answer. The foot and attachments lift hair with ease and the boost button ups the power for getting engrained dirt from floors. Our reviewer noted that long hair does get tangled in the brush, but this can be easily removed.
Power and charging
The battery life is on the generous side for a cordless at 50 minutes. This gives you plenty of time to whizz around and you can buy a spare batter to charge while the other is in use. The power is impressive and it is surprisingly quiet.
Boost mode shortens the battery life but if you are the kind of person who cleans little and often, it will suit you well. The light helps illuminate dust and debris so you won't miss a thing.
Shop all Shark vacuum cleaners on Amazon.
6. Dyson V8 Animal Cordless Vacuum Cleaner
Best vacuum for pet hair in small spaces: all the power of the Dyson Light Ball with a slimmer frame
Specifications
Best for: Small spaces
Type: Stick
Bagless?: Yes
Cordless?: Yes
Weight: 2.6kg
Capacity: 0.6ltrs
Noise level: 82dB
Reasons to buy
+Slim frame +Versatile and easy to use+Light
Reasons to avoid
-Limited battery life -Small dust tank
The Dyson V8 Animal cordless vacuum cleaner is one of the best cordless vacuums on the market, and users love how easy it is to use on both carpets and hard floors. As a result, it is one of the best vacuums for pet hair.
All-round performance
There's always the worry with cordless vacs that they won't have the oomph to tackle debris like clingy pet hair, but this one has a couple of useful features on its side. One is its direct-drive cleaner head, which pushes the bristles deep into the carpet, which makes for efficient hair – and dirt – removal. In case it's a toss up between this model and the Dyson V6 Animal, this vac offers 150 per cent more brush bar power, albeit it at a higher price.
What else? Like the other Dysons on our list, it captures allergens and expels clean air, which is a vital feature to look out for in a pet hair vacuum cleaner, particularly if you suffer from allergies.
The V8 easily converts into a handheld vac, making it ideal for switching from carpets and hard floors to stairs, upholstery and the inside of the car.
Battery life
Its digital motor gives you up to 40 minutes of usage from full charge; or seven minutes of high suction for tougher areas. With the motorised floor tool attachment, the battery will provide up to 25 minutes use. So, as with other cordless vacuums that work best on their maximum setting, this is best suited as a second, extra vacuum cleaner for a larger house – although we think it'll suit owners of small homes down to the ground.
Ease of use
This vacuum cleaner weighs just 2.6 kg, and has a canister capacity of 0.6 litres, so while it's super easy to manoeuvre, you'll need to factor in regular emptying, particularly if you'll be using it to pick up larger debris (think: clumps of mud off your wellies after a dog walk) as well as pet hair.
On the upside, the bin emptying mechanism is easy to work and hygienically pushes out dust and debris so you don't need to touch it.
There's a docking station for easy storage and charging; recharging to full power takes up to five hours.
What's in the accessory kit?
There's a mattress tool for those who often find the cat or dog (or both) on the bed; the soft dusting brush is useful for gently removing dust from flat surfaces, curtains and furniture. There's also a useful extension hose for cleaning hard-to-reach areas. Our favourite tool? The stubborn dirt brush, with stiff bristles designed to remove stains. Dog owners, you know what we mean.
We have not reviewed this in person, but read our review of the Dyson V8 Absolute for a similar model. You can also see all of our favourite Dyson cordless vacuums.
Shop more vacuum cleaners at Very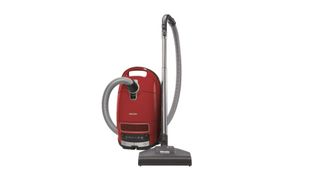 7. Miele Complete C3 Cat & Dog Vacuum Cleaner
Best vacuum for pet hair and allergies: a filtered vacuum to reduce the symptoms of allergies
Specifications
Best for: Allergies
Type: Cylinder
Bagless?: No
Cordless?: No
Weight: 7.26kg
Capacity: 4.5ltrs
Noise level: 79dB
Reasons to buy
+Filter traps dust +Extra-long cord +Comes with a good set of tools
Reasons to avoid
-Additional tools are expensive-Not the most effective with larger dirt/debris
The Complete C3 Cat & Dog PowerLine cylinder vacuum cleaner by Miele is designed for those who are sensitive to dust mites and pet hair, making this the best vacuum for allergy sufferers.
AirClean filter
The filter system means carpets and homes in general feel fresher. This is thanks to the AirClean filter system, which filters 99.9 per cent of fine dust from the air, and has a charcoal layer that helps absorb odours. The filter has a useful TimeStrip, too, which tells you when it needs to be changed.
This vac also has a special bag fleece, which retains more fine dust and small particles than a normal bag. Combined with an auto-shut mechanism that closes the bag when the vacuum is opened for emptying and prevents dust from escaping back into the air, this is a good choice for allergy sufferers and neat freaks alike.
Turbobrush
As for picking up hair and lint, the Turbobrush attachment's beater brush is really effective. Reviewers do note that it's very powerful, making vacuuming shag pile carpets and area rugs a little bit of a challenge. However, you can change the settings on the vacuum cleaner to suit the floor type with the conveniently placed foot controls.
Attachments
As you'd expect for a vacuum cleaner of this quality, there's a useful selection of attachments including a crevice nozzle, upholstery nozzle and dusting brush. They're all usefully stored inside the body of the vacuum cleaner, which is a time- and effort-saving feature we approve of.
There is a wide range of extra attachments available including a parquet floor tool which is less likely to scratch wood and an extra-large hardwood floor brush to speed up the cleaning in large homes. They are quite expensive (the most expensive brush is just shy of £100), but for a machine that is built to last, it is worth investing in the extras for the most professional job possible.
Ease of use
This vacuum cleaner has a large operating radius of 12m (the one-touch retractable power cord is 7.5m long), meaning you can clean large rooms and long hallways, without the need to constantly change plugs. The extra long hose will make vacuuming up and down stairs easier than with heftier or upright models. When you're done cleaning, a handy foot pedal lets you wind in the cable without having to bend over. The only downside? You have to change the bag when it's full, although its capacity is a decent 4.5ltrs.
Shop more vacuum cleaners at John Lewis & Partners
8. Dyson Light Ball Animal Upright Vacuum Cleaner
Best vacuum for pet hair for mavoeuvrability: a powerful vacuum for all floor types
Specifications
Best for: Manoeuvrability
Type: Upright
Bagless?: Yes
Cordless?: No
Weight: 6.9kg
Capacity: 1.6ltrs
Noise level: 80dB
Reasons to buy
+Lightweight +Three different power settings
Reasons to avoid
-Requires emptying frequently -Not great under furniture
Dyson is known for its powerful vacuums, and the Light Ball Animal Upright vacuum cleaner is no exception. This is regarded as the best vacuum for pet hair you can buy.
Manoeuvrability
Let's start with manoeuvrability: the small head and roller ball technology allow it to glide easily across all floor types, and it's flexible enough to get into corners and under tall furniture for a thorough clean (note that the head is quite bulky which means it won't fit under lower furniture, and you'll need to swap to tools for this). For anyone who's never used a Dyson with roller ball technology, don't under-estimate just how light it can feel in your hand. And this particular model, at just under 7kg, is around the average weight for a vacuum so you won't feel like you have to lug it about. Another plus point is its long cable, at just over 10m; handy if you have a large house. Like other uprights, it's not ideal for cleaning stairs, upholstery and curtains, but the extendable wand does make those vacuuming jobs easier – more on that below.
Suction power
This Dyson's suction power is consistent, thanks to its bagless cleaning technology. There are three suction modes: one for picking up large debris, one for stubborn dirt and one for deep pile carpets, and this carpet does cope well with picking up both small and large particles, which not all carpets cope well with. The good news? It's pretty quiet, despite its power.
Pet hair removal performance
Suction power aside, it's the Tangle-Free Turbine Tool with its counter-rotating heads that really makes it effective at cleaning up pet hair. The tool is designed never to tangle, which allows it to release more hair and dirt into the canister – and means you won't have to be constantly picking pet (or human) hair out of the brush head before you start vacuuming. Its efficient filters mean that allergens stay in the canister – ideal for pet-owning allergy sufferers.
The attachment options, including a combination crevice tool and upholstery brush, and turbo upholstery brush, also make cleaning up pet hairs from upholstery and curtains a simple task. There's a useful stair cleaning tool, too.
Ease of use
The downside of some upright models is that it can be fiddly to clean anything that's off the floor, but this model has an instant release, extendable wand that quickly retracts into the body of the vacuum. And on-board tool storage means every tool is always to hand. Useful if your cat likes to sleep on the back of the sofa or your dog moults so freely that even the curtains need a regular vacuuming.
This Dyson is pretty easy to empty once you get used to the push mechanism, but it's worth noting that the canister has a smallish capacity of just 1.6ltrs, so you should expect to be emptying it more regularly than some of our other buys. If you don't have the budget and space for the best buy Cinetic model in this list, this vacuum is the perfect alternative.
Shop more vacuum cleaners at Amazon
9. Shark DuoClean Corded Stick Vacuum
Best vacuum for stubborn pet hair: you won't miss a hair with the motorised pet turbo brush tool
Specifications
Best for: Stubborn pet hairs
Type: Upright stick
Bagless?: Yes
Cordless?: No
Weight: 4.7kg
Capacity: 0.49ltrs
Noise level: 80dB
Reasons to buy
+Great with hair, dust and large debris+Compact and easy to store+Perfect for those easy to reach areas
Reasons to avoid
-Small bin
If you don't want to lug around a big and bulky vacuum (who does?), then the Shark DuoClean vacuum cleaner is lightweight and easy to manoeuvre, plus its thin body makes it easy to store. In fact this is one of the best vacuums for pet hair if you're after a vac for quick cleaning jobs.
Lightweight for easy manoeuvrability
For those who aren't as able or just like a lighter load, this vacuum is effortless to use. Unusually for a corded vacuum it's incredibly light at just 4.7kg, and the slim body also allows it to get into more hard-to-reach areas, such as underneath the sofa. With one click, the flexible wand bends in the middle, too, so you won't have to.
Ready to put it away? The DuoClean folds down to half its size – ideal if your home doesn't have tons of storage space. What else do we like? The extra long, 10m cord is useful. This might be a fairly small vac, but its cord means it has the oomph to tackle large spaces.
The downside of its size? You'll have to empty the canister more frequently than some of our other picks as at just 0.49 litres, it's on the small side.
Handheld cleaning
What you lose in canister size, though, you win in the handheld department. This stick vacuum cleaner quickly converts to a lightweight, powerful handheld vacuum cleaner, which is really useful for when you want to clean stairs or raised surfaces, including furniture and curtains. It makes it a viable option as a vac for tackling pet hair-ridden cars, too.
Tackle carpets and hard floors
So how does it perform on surfaces? Shark's DuoClean Technology allows you to switch from carpets to hard floors without swapping heads. The brush head itself has two brush rolls, which are specially designed to draw in large and small debris from carpets while lifting fine, stuck-on dust from hard floors. That means you won't spread mess with this vacuum cleaner, as you do with inferior models.
Allergen capture
Shark's Anti-Allergen Complete Seal captures and traps 99.9 per cent of dust and allergens inside the vacuum; you will, however, need to ensure the filters and canisters are regularly cleaned.
Downsides?
At 80dB, it's not the quietest of the smaller pet hair vacuum cleaners we've reviewed, but it's more or less on a par with our larger models.
Shop more Shark vacuum cleaners
Best robot vacuum cleaner: a robot vacuum cleaner with powerful suction
Specifications
Best for: Robot cleaning
Type: Robot
Bagless?: Yes
Cordless?: Yes
Weight: 2.4kg
Capacity: 0.33ltrs
Noise: 70dB
Reasons to buy
+Detects drops+Great suction +Good battery life
Reasons to avoid
-A little noisy as it moves between surfaces-Small dust tank-Can't be your sole vacuum
The Dyson 360 Eye is a good choice for households with lots of pets and little time. It won't replace your standard vac but you can pop it on when you take the dog out, or while you are at work and come back to a fur-free home.
Handling hair
It can often feel like you need to vacuum three times a day when you have a hairy pet. Nobody has time for that, so a robot vacuum cleaner to do it for you could fit the bill. The suction on this one is really good and it gets right to the edges of the skirting with ease.
Cleaning schedules
You can operate this vacuum cleaner by just pressing the button on top, but the remote control options are what really sets robot vacuum cleaners apart (and the reason you get one in the first place). This model is app-controlled too. You can create a cleaning schedule in there or connect to your voice assistant – "Alexa, clean up all that dog hair".
It uses mapping to clean the space in the most efficient way, won't bump into things and on the rare occasion it gets stuck, it can call for help. If you have different surfaces in your home, you will be please to know it can cope with a 2cm ledge between rooms.
A good investment
At over £700 this is a lot for what needs to be a second vacuum. But for the sake of saving a lot of time on frequent pet hair removal, we consider it worth the investment. It has a good battery life or 40–90 minutes, will return to its dock if it needs more and is thus largely self-sufficient.
See all of the best robot vacuum cleaners for more options.
11. Bosch Athlet Pro Animal Vacuum Cleaner
Best vacuum for pet hair for flexibility: a flexible cordless vacuum for stress-free vacuuming
Specifications
Best for: Flexibility
Type: Upright cordless
Bagless?: Yes
Cordless?: Yes
Weight: 3.3kg
Capacity: 0.9ltrs
Noise level: 74dB
Reasons to buy
+ 60 minute run time + Ideal for upholstery+Converts to a smaller handheld
Reasons to avoid
- Difficult to change attachments-It converts to a handheld but you have to carry the tank on your shoulder which can be hard to get used to
This cordless Bosch Athlet Pro Animal vacuum for pet hair is an excellent companion vac for big homes with lots of pets.
Cleaning power
Like the others on our list, this vacuum for pet hair is designed to tackle all floor types, and it has a HighPower Brush that works at around 5,000 revolutions a minute for thorough cleaning of carpets. Its SensorBagless™ Technology is a sensor-controlled performance monitoring system, built in to ensure an outstanding level of cleaning – and to keep maintenance to a minimum. Bosch also claims that these features means this vac can clean faster than some of its comparable corded vacuum cleaners.
There are three power levels: one for easy cleaning jobs (on maximum run time); one for normal cleaning jobs (on medium run time) and a turbo level for difficult cleaning jobs (and a reduced run time). As always, we'd bargain on using the turbo setting for maximum cleaning satisfaction, especially on carpet.
Attachments
This cordless vacuum also comes with useful attachments, including a Pro Animal nozzle, which can be a little tricky to dismantle and change, but which picks up pet hair well. The manoeuvrable nozzle attachment helps the vacuum move easily around and beneath furniture, while the upholstery and crevice tools are useful for vacuuming pet hair off furniture and curtains.
The alternative handheld
Finally, there's a shoulder strap for when you convert it into a handheld. It's an unusual feature we really like, meaning you can transport this lightweight (3kg) vac, plus a mop and bucket back to the utility cupboard in one, easy trip. However some people might find this a little hard to get used to and prefer the basic handheld cordless stick vacs like the Dyson V8 above.
Ease of use
It has an impressively long battery life of up to 60 minutes, so you can do a thorough job in every room. Charging time is short, too; just three hours to take it to 80 per cent, or six hours to 100 per cent charged.
There's an LED light that tells you when the filter of the fairly small (0.9ltr) dust container needs cleaning – it's easily washable, so no follow-up costs on dust bags are required.
This vacuum cleaner has a solid, freestanding function, so it's easy to store, and charging is flexible as a result, too.
Shop more vacuum cleaners at AO
Best efficient robot vacuum cleaner: an effortless and quiet way to get rid of pet hair
Specifications
Best for: Hands-free cleaning
Type: Robot
Bagless?: Yes
Cordless?: Yes
Weight: 4kg
Capacity: 0.6ltrs
Noise level: 70dB
Reasons to buy
+High-efficiency filter +Multi-surface detection +Smart compatible (Alexa and Google)
Reasons to avoid
-Loud-Small capacity-Pricey for what will be a second vac
The iRobot Roomba 980 is one of the most efficient robot vacuum cleaners on the market (it's our top pick in our best robot vacuum cleaners buyer's guide, in fact). But is it at picking up pet hair? Read on to find out.
A quick clean for pet hair
We're not for a minute suggesting that a robot vacuum is the top pick for tackling pet hair; however, as a second vacuum cleaner that can tackle pet hair on both carpet but particularly on hard floors while you're out, or asleep (although at 70dB, it's not quiet-quiet), it's a real time saver. It does the vacuuming so you don't have to.
Smart cleaning
With its intelligent sensor that can detect different surfaces so that it changes its cleaning method as it moves from carpet to hardwood flooring, it works wonders on picking up debris, such as dust, pet hair and crumbs. Its compact design and low profile means it can get under most low-slung furniture, too, while the Cliff-Detection Sensors stop it falling down stairs.
Cleaning power
There are no traditional beater brushes on the Roomba, so don't expect this vacuum cleaner to do the job of a powerful, corded vac with motorised brush heads; however, it does have a spinning side brush to force debris into its path so that nothing gets missed, and the brush-less extractors do prevent tangles caused by pet hair, meaning it won't get itself in a pickle while you're out (unless there are cables in the way).
Having said that it's particularly effective on hard floors, the AeroForce cleaning system with Carpet Boost does increase performance on carpets and rugs. Plus, the efficiency filter captures 99 per cent of allergens, making it a good choice for allergy sufferers.
Ease of use
The Roomba can be controlled at the push of a button, from your smartphone, or by Alexa or Google Home Assistant via smart speaker. The iRobot HOME app doesn't just let you plan your cleaning schedule from your phone; it lets you check the status of the vacuum's process, and you can select a custom cleaning preference. We like the vacuuming smarts.
In terms of battery life, it can run for up to two hours (impressive), keeping track of its location, and using a highly efficient cleaning pattern, before taking itself back to its charging station for some juice. It really is the ultimate in hands-off cleaning, but for the deep clean a pet owner needs you will want to use a multi-tooled classic vacuum cleaner for the furniture and areas a robot can't reach.
Find more iRobot products at Amazon
13. Swan SC15822N PowerPlush+ 3-in-1 Turbo Vacuum Cleaner
Best affordable vacuum for pet hair: weighing just 2.4kg, this lightweight cordless vacuum is great with pet hair
Specifications
Best for: Affordability
Type: Cordless stick
Bagless?: Yes
Cordless?: Yes
Weight: 6kg
Capacity: 0.5ltrs
Noise level: 80dB
Reasons to buy
+Two interchangeable heads+Lightweight+Comes with a wall mount+Washable HEPA Anti Allergen Filter
Reasons to avoid
-Shorter battery life than our other cordless models-Less powerful than more expensive models
Powerful and practical, this cordless Swan SC15822N PowerPlush+ 3-in-1 Turbo vacuum cleaner is ideal for pet owners who don't have the budget for a Dyson.
Cleaning tools
It features two interchangeable heads for hard floors and carpets: a motorised Turbo head with LED lights and an engineered bristle roller for a deep carpet clean; and a PowerPlush head to pick up hair without clogging.
Allergy sufferers
The washable anti-allergen HEPA filter is a feature we've come to expect from vacuums for pet hair and this one doesn't disappoint. There's a mess-free dust canister release, and the accessories include a crevice tool, and an upholstery tool.
Ease of use
The self-propelled motorised nozzle and swivel steering mean it can be easily manoeuvred around your home and up stairs, but for us, the best part is that it's super-lightweight at just 2.4kg (only 500g heavier than our handheld vac above), meaning it can easily be used in conjunction with the extension wand and lifted to reach hard-to-clean spots, too.
This vacuum for pet hair has a one-touch power button and an indicator light for real-time battery status. Talking of which, the motor will run for 22 minutes, and we like that the recharge time is fast at just 3.5 hours.
Finally, the wall mount makes storage easy.
Value for money
As with most things, you get what you pay for, so don't expect this to have the performance of a more expensive model – or one that's corded. However, for this price, we think it's a good buy.
How to buy the best vacuum for pet hair
When choosing the best vacuum for pet hair, there are a few things to consider.
Flooring
First, what type of flooring do you have? If your pets tend to moult throughout the house, it can be beneficial to opt for a vacuum that is adaptable to all floor types such as carpet and hardwood or laminate floors. If you have carpet, you will want a vacuum with a good brush to lift the hair from the pile.
Corded or cordless?
Also, consider what spaces you will need to vacuum. Dyson's ball technology is great for getting into corners and under furniture, while a cordless vacuum will make it easier to get to those hard-to-reach areas and also allow you to vacuum your car.
What about robot vacuum cleaners?
A robot vacuum cleaner is great for the floor but you will need a secondary vacuum to do a thorough job of the rest of your home. If your pet ever gets on furniture you will definitely need a vacuum with brushes and attachments to help remove fur.
Got a dog that barks at the vacuum making cleaning a headache? Then a robot vacuum could be the solution. You can pop it on when you and the dog are out for stress-free cleaning.
Bagless?
Some may prefer a vacuum cleaner with a bag, but it's worth bearing in mind that you'll have to keep buying new bags, making it more expensive in the long run. While a bagless cleaner can be messier to empty, if it's a lightweight model you can lift the machine to your bin.
Capacity
If you've got more than one pet, check the vac's capacity so you don't have to empty it too often. Naturally, the smaller and more lightweight the vacuum, the smaller its capacity.
Suction power
This is one of the most important features of a good vacuum cleaner. Unfortunately, not all manufacturers list the suction power of their machines with a standard unit of measurement such as airwatts (AW), making it hard to compare models. Instead of listing the power of various models in different units we have only included vacuums that have exceptional suction power so you know you are getting the best. Vacuums with bad suction have not made it onto this list.
Noise level
Consider this if you have a little one at home all day who naps or a pet who doesn't like loud noises.
Brand
Most of the major vacuum brands such as Dyson, Miele and Vax have now introduced specialised vacuums for pet hair, which have much stronger suction and often feature allergy filters for those who are particularly sensitive. They'll also stop the hair from simply being pushed around the carpet and releasing irritants into the air.
Don't miss our guide to how to vacuum like a pro (yup, there are techniques to get it done quicker and better).
Or if you're looking for a cheap vacuum cleaner deal, we've got lots of those, too.
About our reviews and our vacuum cleaner reviewer
Our vacuum reviewer is Sarah Warwick, a homes, property and interiors writer with 20 years experience in the industry. Sarah is a serial house revamper who has written for nationals, magazines and websites. She gives the vacuum cleaners she reviews a serious run for their money over various surfaces, from floors to upholstery.
MORE ON KEEPING YOUR HOME CLEAN: