Designing a living room? What's the first thing to consider when buying living room curtains? The impact their design, texture and colours will have on the rest of the space – and your windows in particular.
Large prints and brighter shades tend to look more contemporary and draw attention – perfect if you want to make a focal point of a beautiful window. Smaller prints and paler colours will have a subtler, more traditional effect, allowing other furnishings to take the spotlight.
Fabric choice is also key: heavier fabrics aren't just ideal for colder months or draughty rooms, they will make a living room feel cosy and inviting all year round. Wispy sheers, by contrast, will filter out bright sunlight in summer but allow light in during even the greyest of days.
Do you need your living room window dressings to provide privacy, too? If so, consider matching them with sheer panels, blinds or shutters; this has the added bonus of creating a luxurious, layered look.
There are two further options when buying curtains: ready to hang or made-to-measure; we have found the best of each to give you inspiration for dressing your living room windows.
1. Merge indoors and out
Ideal for both modern living rooms and more traditional spaces, the Ordesa fabric from the Andalucia collection by ILIV is inspired by watercolours of forest scenes. The hand-drawn, digital print on co-ordinated velvets and weaves gives this fabric a lovely weight, so it hangs perfectly.
Shown here in Jade, the ideal shade for linking indoors with the garden, they also come in Carbon, Mulberry and Sapphire, and cost from £19.35 per metre.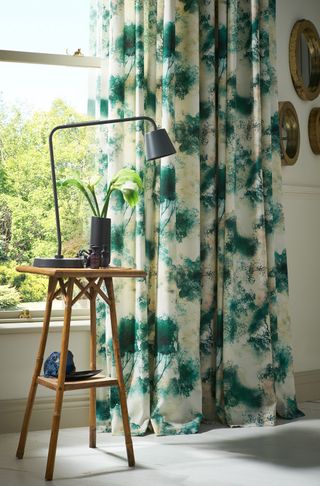 2. Brighten dark rooms with delicate hues
If your living room is east- or north-facing, it's likely to suffer from a lack of natural daylight. Hanging a pale-coloured curtain fabric can boost light levels, while a delicate pattern like this will create a restful feel. Picking out the fabric's bolder accent colours in cushions and upholstery will give the space a more contemporary finish. Inspired by Japanese blossom branches, this Floris Soleil silk blend curtain fabric from Romo is £95 per metre and comes in four colourways.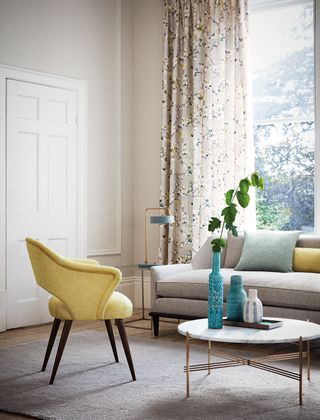 3. Use velvet curtains to add luxury
Velvet curtains hang beautifully due to their weight, have a sumptuous sheen and a tactile quality that will give even a small living room window an opulent feel. Maximise the living room's light levels by fitting a long enough pole or track to ensure they pull right back to the edge of the window's frame when open.
Curtains 2 Go's Premium Velvet Royal Blue made-to-measure curtains have a light-filtering lining as standard; there's also a blackout option, perfect for bedrooms. Prices start from £56.45 per pair.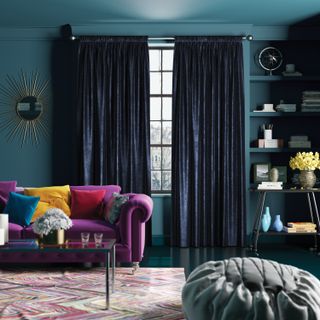 4. Coordinate with a smart stripe
Stripes are a classic design that are easy to match with other motifs for a layered scheme. Wider stripes tend to create a more traditional finish; pencil thin stripes are more contemporary-looking. Multi-coloured designs like this give you lots of options for updating your scheme in the future – simply pick two or three shades from the design and echo them in accessories and furniture in different proportions. Mikado curtain fabric, £82 per metre from James Hare.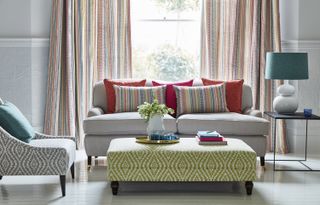 5. Go for retro style
Want to draw attention to a large window or beautiful view? A bold print at your windows will give your living room a focal point. And, if you're a big fan of Mid-century modern style, you'll love these Elements Emmott ochre eyelet curtains from £20, Dunelm. There are nine sizes to choose from and they come ready to hang with a modern eyelet header. Team them with grey, ochre and white accessories to complete the look.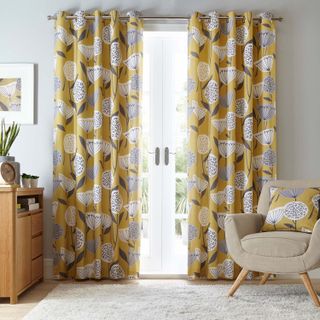 6. Add a burst of colour
Bold living room colour schemes have made a definite comeback, and an easy way to achieve this is by hanging curtains and sheers in the same strong shade. Put them in a neutral room to make a feature of the window wall, or match your walls' paint colour to the fabric for maximum impact. These Mariam orange eyelet curtains, £18 a pair at Ikea, are teamed with their Hildrun pink dotted sheer curtains with a slot heading, £6 a pair. Both come ready to hang.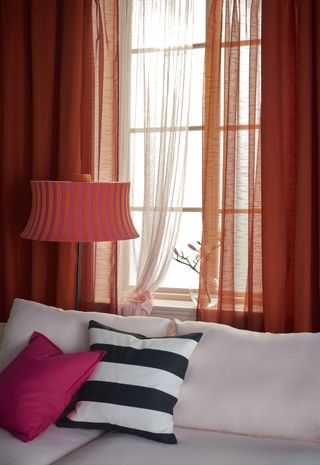 7. Design a tailored look
If you want your living room to look smart and formal, choose a fabric with a graphic repeat design and ensure the curtains finish at floor level rather than drape down on to it. Pick a wall paint colour that complements rather than contrasts with the curtains for a tranquil feel. These cotton-mix Studio G Castello geometric jacquard curtains in indigo are available in nine sizes with an eyelet header. Also available in Charcoal and Mushroom, and with matching cushions. Prices start from £69 a pair.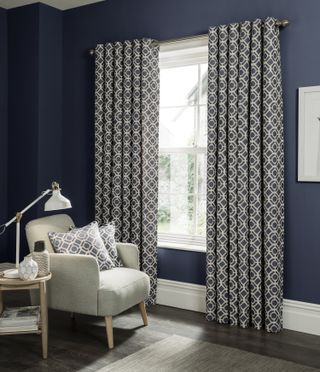 8. Be inspired by nature
Large-print fabrics inspired by nature are an interiors trend that shows no sign of going away, with this subtle Fern print in Sandstone by George Spencer Designs, £144 per metre, an easy to live with choice for contemporary and traditional living rooms alike. Create a restful living space by coordinating the curtains with furniture in similar, natural colour tones, and add a touch of glamour with accessories in gold and amber.
Looking for more living inspiration?