Looking for living room curtain ideas? Choosing curtains can be a bit of a faff right? So many colors, patterns, materials, you've got different rods, different rings, different lengths. Where do you even start?
Well, might we suggest right here with our guide to living room curtains. So what's the first thing to consider looking for curtains? The impact their design, texture, and colors will have on the rest of the space – and your windows in particular. With the right living room ideas, you can dress your windows with space-changing ease.
Yvonne Keal, senior product manager at Hillarys, says: 'Curtains can completely change the look and feel of your living room without the cost of updating the entire space. Pick a striking new pattern for a bold look or for a more relaxing ambiance hang some voiles. Window treatments should satisfy three key elements, privacy, practicality, and personal style.'
'Living rooms usually have larger windows like bay windows so you have the opportunity to create a focal point in your room. Dressing a bay window with bold curtains will not only create a beautiful space but will also help insulate your window against chilly draughts.'
1. Create the illusion of more space with floor-length curtains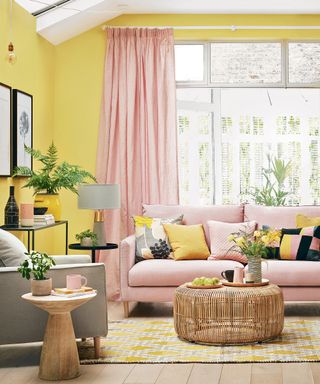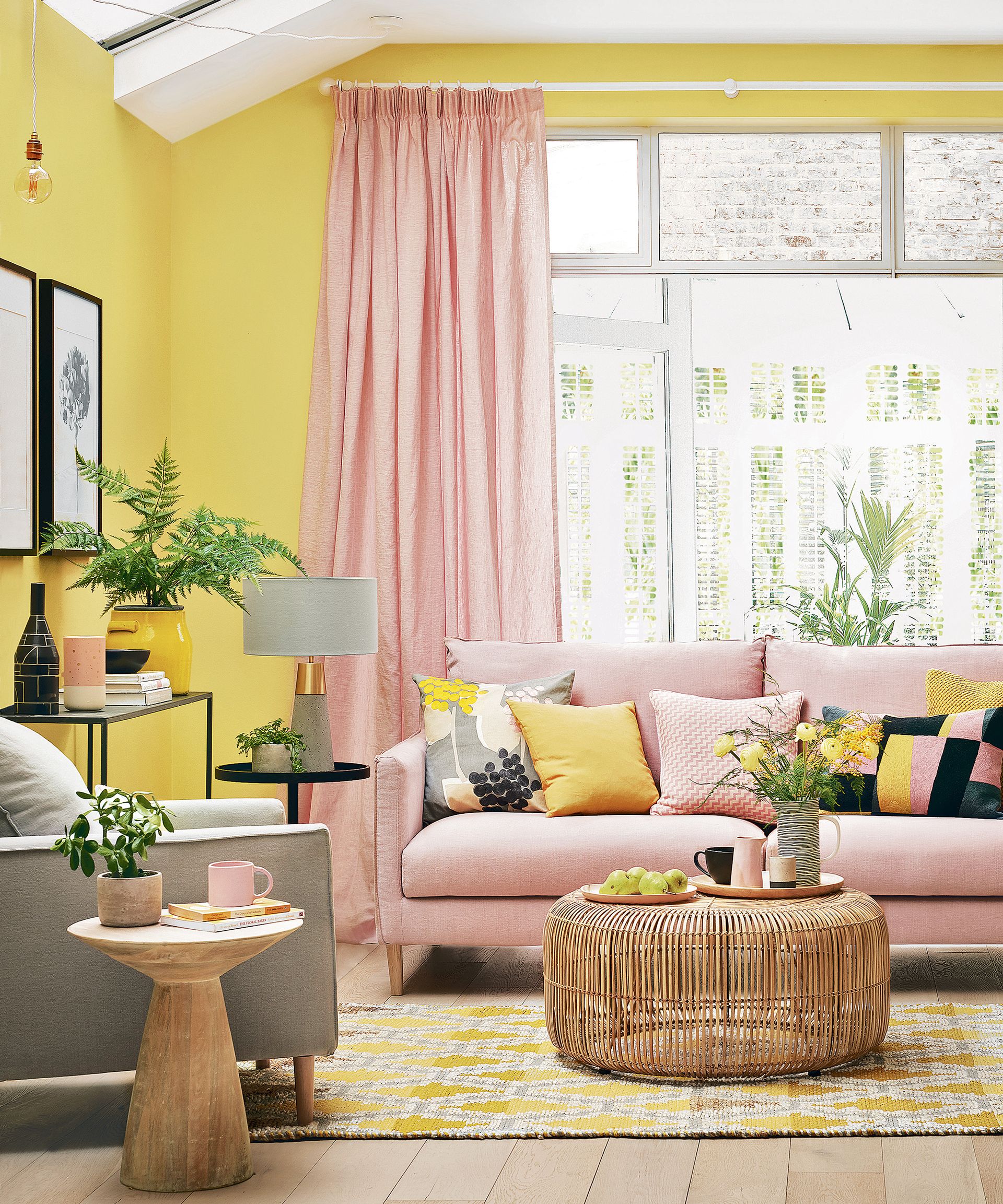 Looking for a magical living room window treatment idea? Trick the eye and create the illusion of added height with full-length drapes.
Chris Harvey, interior expert, Stelrad, says: 'If you want to create instant elegance on a budget, adding floor-length curtains is a tasteful choice which can be done affordably. Off-white and light neutral shades are a great choice to not only create a high-end feel but to brighten up the room and create the illusion of more space.'
And if you're wondering how to measure for curtains – take a peek at our DIY guide for beautifully dressed windows.
2. Express your personality with your curtain design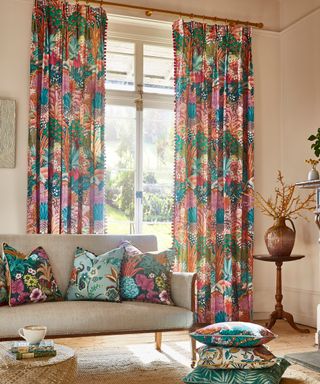 Whether you want to nail the maximalist trend in your living room or prefer a more pared-back, minimalist aesthetic, frame your view of the outside world with curtains that reflect your character.
Rebecca Drury, co-founder, MissPrint, says: 'Colorful or patterned curtains are an ideal way to inject some character and personality into a living room. Don't be afraid to go bold with your color choice, a yellow or blue will really make a feature out of your windows, and brighten up a space, whilst a monochrome pattern will offset and add detail to a living area in a more subtle yet still impactful way. Make sure you plan your curtain choice carefully, opt for a shade or pattern that will sit well with other textures in the room like your sofa or key furniture pieces. Your curtains will naturally draw the eye in the room, so you'll want to make sure they're right!'
As shown here, inspired by the bold and colorful palette of Indian summers, the Maharaja Collection from Prestigious Textiles offers a series of conversational print designs featuring hand-painted elephants, statement trees, and multi-tonal abstracts. Further capturing the theme, the collection incorporates cleverly disguised birds, henna-inspired florals, as well as textural embroideries for a painterly effect. Introduce a haven of color to any space with an uplifting palette that emulates the blossoming nature and grand festivities of India.
3. Balance patterns and textures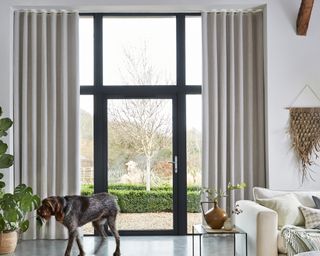 Channel an organic approach with quiet patterns and tactile textures on curtains, for a relaxed beige living room idea grounded in mindfulness.
Nicola Brumfitt, marketing director at Prestigious Textiles, says: 'Use patterns and textures to create a talking point within a room. Working with embroideries and weaves in a muted color palette can keep designs interesting without being over the top or too dominant. Softer, warm hues and natural tones are ideal to keep a space feeling airy and light, whilst polka dots, jacquards, metallics, and sheers can also elevate a setting. Don't be afraid to mix several different designs and textures to lift a simple color scheme across curtains, throws, or table accessories.'
Worried about maintaining your neutral lovelies? Fear not - we've got the low down on how to clean curtains successfully without taking them down, whether you have a steam cleaner or not.
4. Bring sunshine shades indoors to radiate warm energy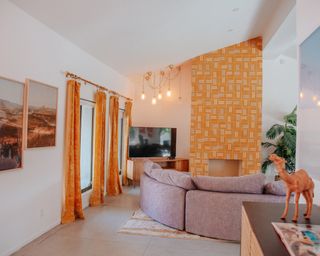 Inject cheerfulness and optimism into a yellow and gray living room with sunny-side-up drapes that pour honeyed happiness all over your scheme… Learn how to hang curtains, and switch up your space this weekend!
Angela Boswell, founder, the drape, says: 'A living room is the heart of a home. As the epicenter for the family and for company, it is important that the room reflects the design style of those who will use it most. Working with designer Claire Thomas, on Highball House, the directive was colorful. The Textured velvet drapes in Honey Gold are a fantastic color. The fabric is a blend of rayon and cotton with a slight crushed texture to it, inviting light to dance and reflect off of it.'
5. Go With Custom Drapes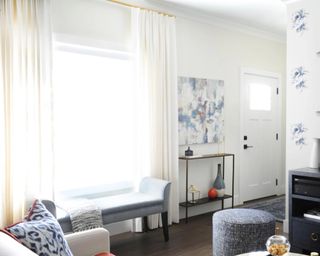 Say adios to ill-fitting window treatments that are too long, too short, or not quite the right color, and instead opt for windows that are dressed their best with a one-off, tailored design (we love the luxe textile drapery options from Holly Hunt).
Maria DeCotiis, interior designer, says: 'Custom window treatments are an investment. Like those made-to-measure red carpet ensembles, custom treatments are handcrafted by a professional workroom with more skill and care than a machine and better materials than you'll find in retail. Naturally, the investment is higher. However, this splurge is ALWAYS worth it: Higher quality fabrication and materials mean they last longer, stretching your investment over many, many years.'
'Having a perfect fit with your window's shape means you'll love them longer, there's less wear and tear, and the whole space looks high-end and complete. We have an infinite number of fabric options in patterns, colors, and textures that aren't available in retail. This includes performance fabrics, blackout curtains, and more. The option for specialty details is infinite too - the type of pleat, adding a band, trim, or tassels, etc. We can get creative and personal!'
6. Floral focus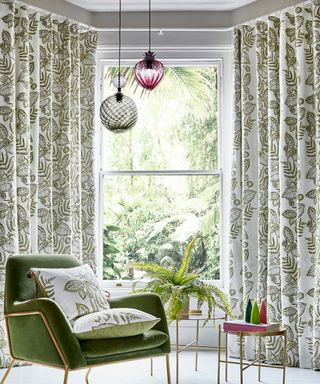 Wondering about creative ways to bring nature into your urban home? Grow an 'interior garden' in your lounge with botanical designs blooming with color and pattern.
Brumfitt says: 'Go global with floral inspiration to add a further layer to any green living room. Use floral fabrics and tropical décor to create a tranquil sanctuary that naturally connects the indoors with the outdoors. From soft green palm prints to terracotta color schemes, a serene feel can be achieved through gentle use of flowers, especially when featured on curtains which can perfectly frame a window and connect the interior design to the garden.'
Like what you see? Inspired by the original tropical landscapes and vibrant culture of Sri Lanka, the linen-look collection of Jacobean florals and stylized trees is bursting with color and style. Featuring painterly textures and intricate embroideries, the collection incorporates stunning Jacobeans, ornate damasks, and a complimentary mosaic tile, for truly captivating interiors. Rich hues of emerald, gold, and navy, Sri Lanka, by Prestigious Textiles is rich in pattern and color for uplifting home décor.
7. Keep things bright and breezy with sheer drapes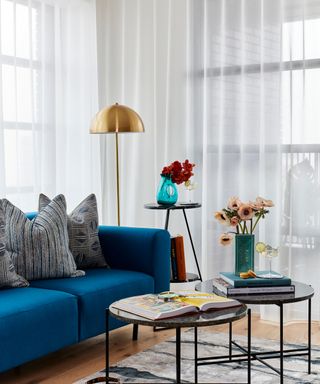 Do you have an apartment living room overlooking a bustling street? If you're after some privacy but want to max out natural daylight, opt for floaty sheers that add a subtle layer of texture.
An easy way to provide soft relief to any room, sheers are the perfect way to allow natural daylight to subtly filter through and create a calming ambiance, perfect for the upcoming summer months.
Poppy Peace, group creative director, Milc Interiors, says: 'Natural light is a huge part of how we live and so utilizing windows and dressing with curtains or blinds can enhance the overall look of a living room.'
June Griffith, founder, Garden Furniture UK, says: 'Pick sheer curtains for the living room if you want to have a simple yet classy look. It will go with any design aesthetic of the room. You wouldn't have to go through a lot of confusion about choosing the perfect curtain.'
'These curtains provide the perfect feel to the living room making it look calm and airy with a minimalistic appearance. They even let enough amount of daylight get through your room all while providing you with the much-needed privacy.'
8. Incorporate different pattern scales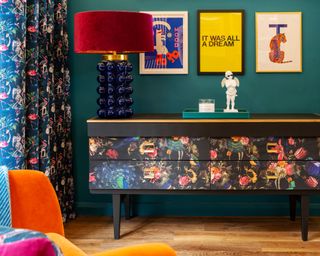 Color and maximalism are popular living room trends this year. Creating the perfect balance when mixing colors and patterns can be achieved by experimenting with different scales for layered interest.
Ann Marie Cousins, AMC Design, says: 'When styling different patterns together (pattern clashing), think about the scale of each pattern as it's important to layer them and add a combination of different sizes. Large prints will immediately draw the eye so opt for this pattern on a sectional sofa, armchair, or rug as these tend to be the statement pieces in a room. Pair this with smaller patterns which work perfectly for curtains or blinds as well as decorative items such as lampshades or scatter cushions.'
9. Max-out sunlight in a small living room with tiebacks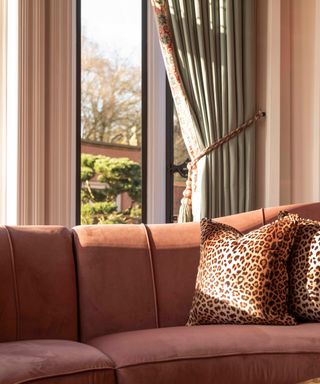 Harvey says: 'If you are working with a small living room space, the way you dress the window can have a big impact on how big or small the room feels. Using curtain tiebacks is a simple way to open up the room and let as much sunlight through as possible, brightening up a dull space. Opting for this instead of blinds or shutters means you are maximizing the natural daylight and creating a more open feel.'
We adore Anthropologie's stunning collection of fun, unique, and decorative curtain tiebacks for a modern twist on a traditional window dressing accessory.
10. Contrast your curtains with your wall color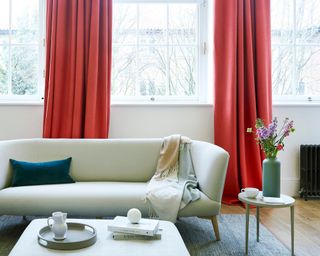 Juliette Thomas, director & founder, Juliettes Interiors, says: 'Adding curtains to a modern living room immediately adds a level of luxury and softness - and is a great opportunity to make a statement in your interior design. Opt for a colour which contrasts with your wall colour, so if your palette is neutral, go for something dramatic and choose a contrasting shade. Pair this with similar colours in your soft furnishings like rugs and cushions. For a more traditional look, add a pelmet or if you are hoping to achieve a more contemporary look, style the curtains with an elegant curtain pole.'
11. Consider the impact of the fabric design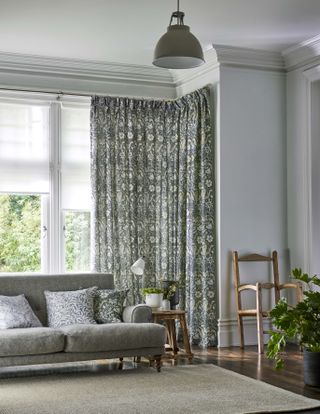 Large prints and brighter shades tend to look more contemporary and draw attention – perfect if you want to make a focal point of a beautiful window. Smaller prints and paler colors will have a subtler, more traditional effect, allowing other furnishings to take the spotlight.
12. Choose the right weight for your fabric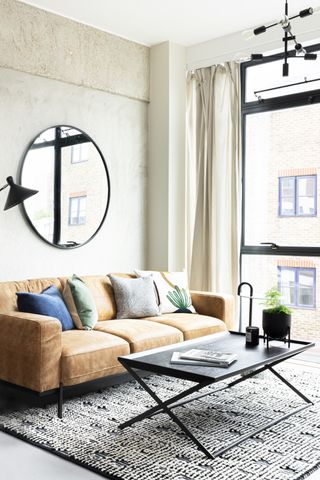 Fabric choice is key: heavier fabrics aren't just ideal for colder months or draughty rooms, they will make a living room feel cozy and inviting all year round. Wispy sheers, by contrast, will filter out bright sunlight in summer but allow light in during even the greyest of days – ideal for making a north-facing living room feel brighter.
For more tips, find out how to design a north-facing living room.
13. Do your curtains need to provide privacy?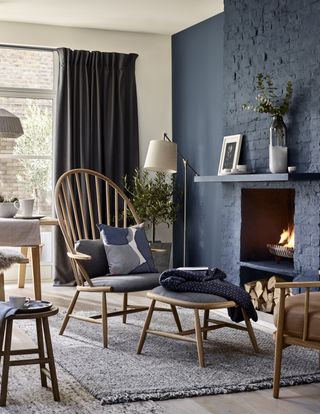 Do you need your living room window dressings to provide privacy, too? If so, consider matching them with sheer panels, blinds, or shutters; this has the added bonus of creating a luxurious, layered look.
We're a swoon for the inky indigo hues, and rustic textures in this John Lewis & Partners living room, featuring floor-length curtains and drapes.
14. Which size curtains?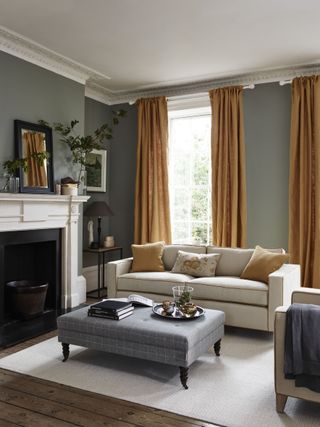 When choosing curtains, you will want to consider your window's shape as well as its size. If you've got a bay window, the curtains will need to be a little bit wider to fit all the way around, and if you've got tall windows, don't forget to measure the length and choose curtains at least a few inches longer than the window itself. Hanging curtains at a living room window that finishes at waist height? Take them to the floor for a modern look that exaggerates your window's proportions.
The warm saffron hues of these curtains by Neptune, contrast beautifully with the mossy gray walls for an added two-tone dimension.
15. Will your curtains keep out the light and cold?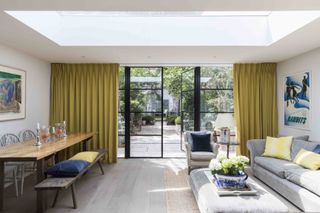 Think about the function of your living room curtains, as well as what they look like. Is it particularly cold in your living room? If so, lined curtains will help insulate the room, and work as blackout curtains. If you have a north-facing living room or if it's dimly lit you will want to go for light, sheer curtains that diffuse natural light.
16. Consider the design of the curtain top's effect on your room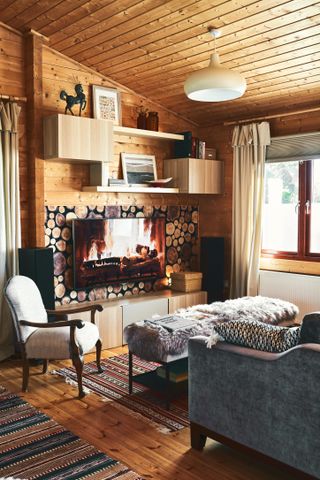 Check what type of curtain top you need. Pencil pleat curtains come with little hooks, which although a little frustrating to fasten in place, allow for a neat and uniform drape across the window. If you have a curtain rail, then you can choose to go for curtains with eyelets, which are much easier to hang but must be the right length to avoid pockets of light appearing at the top of the window.
And of course, you'll need a curtain rod. Happily, installing curtain rods doesn't usually require a professional's help.
17. Which style – contemporary or traditional?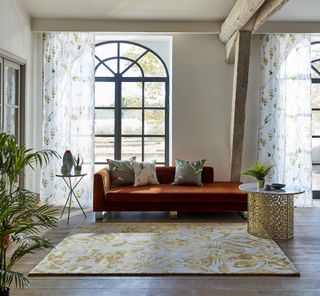 The rest is down to style taste: traditional living room or modern? If your living room is fairly neutral, then you can afford to go for bold patterns and colors and create a focal point in your living room. But if you prefer to keep things simple, then opt for colors that complement your overall color scheme.
18. Merge indoors and out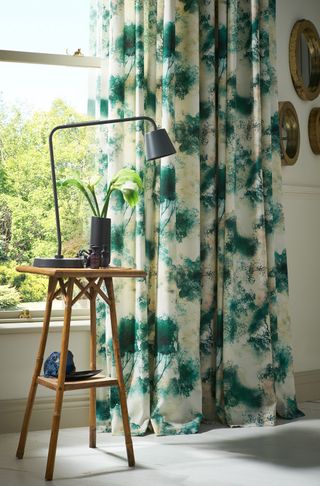 It might sound obvious but think about what is on the other side of your window. If you are blessed with a gorgeous leafy view, pick curtains that are going to enhance that. Choose natural colors and shapes that will work with the greenery outside, and turn your lounge into a mindful sanctuary of all things green and good.
19. Choose two tone curtains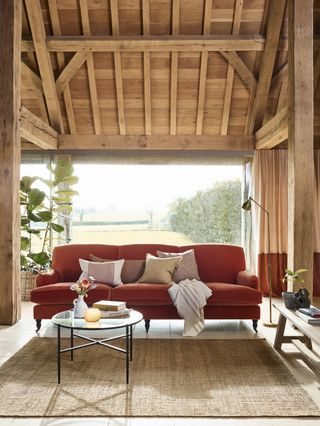 Are you a fan of the two-tone living room trend, but want to take a more subtle approach to decor? If you're a bit of a seamstress then you could add some fabric to the end of some shorter curtains to extend them. Choose a color similar to a key piece of furniture in your living room to suit the color-blocking style that's been doing the rounds and make sure the lighter shade matches well in some way. Darker colors always work best on the bottom half though so do bear that in mind.
20. Match your curtains to your armchair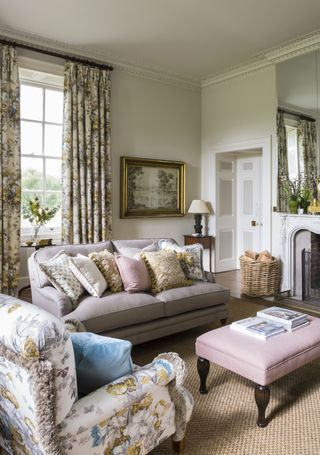 Yes really! We love how this looks, it really creates some cohesivity, and matching the curtain design to an armchair is a great choice. Then, have a couple of cushions covered in the same fabric to scatter on the plain gray sofa - so the look gets pulled through the rest of the scheme. Choose a few plants too to break up the look and to create balance.
21. Add a decorative element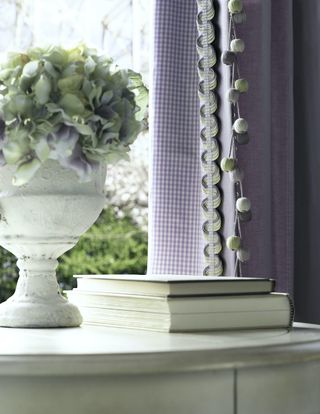 If you love your existing curtains but would love to give them a bit of a refresh then consider adding a fancy trim! You can get pom-poms, beading, and braids in similar colors that can either be sewn on – if you're handy with a sewing machine or use Wundaweb and iron them on instead. You'll be amazed at how much difference they'll make to your living room.
22. Love rustic style? Add a textured curtain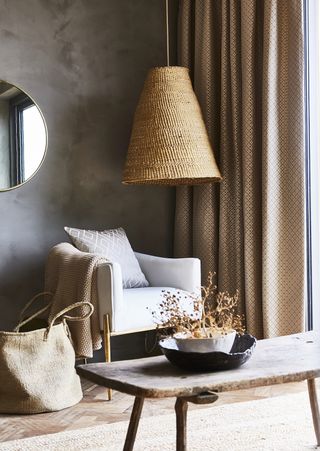 If you're a big fan of textures whether that means rattan lampshades, linen upholstery, silk cushions, rustic wood furniture, or tufted rugs, choosing curtains that have that same tactile quality will be key. They don't need to necessarily 'feel' textured as long as they look like they have one. These curtains shown give that impression and their color really enhances the overall look of the rustic living room as they add warmth visually.
23. Mix stripes and florals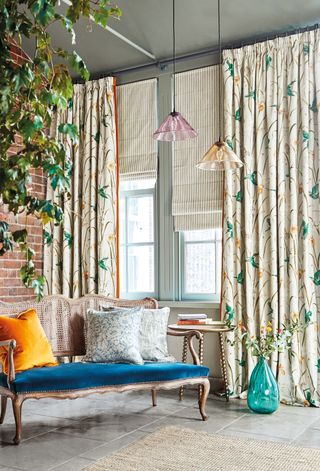 Sometimes curtains aren't enough - you may be overlooked by neighbors or your windows are huge and you'd like to be able to harness the light better. This is where using blinds and curtains comes in. Using the two layers will elevate the look and help to control the light during the summer months also. Teaming stripes and florals work brilliantly for this kind of look.
24. Let your curtains be the focus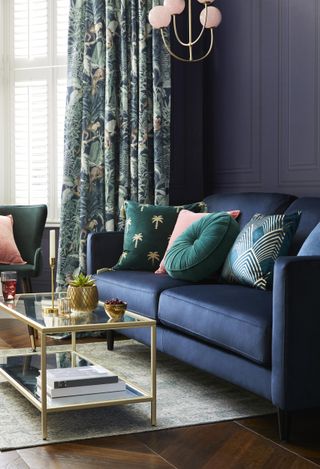 If you're in love with a certain fabric design for your curtains and it's a full-on pattern then go for it! Let them be the focal point of your living room and the way to make the scheme work is to use plains pretty much everywhere else. Plain walls, sofa, and chairs will create enough balance and then pop in some patterned cushions. Choose living room paint colors for walls in a color from the curtain design – this will help to pull the look together. Add in some gold pieces for extra glamour.
25. Or make a statement with plain curtains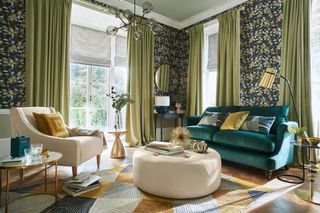 As much as a patterned wallpaper can create a standout scheme, there are other elements that are key to the overall look. For example, in this living room, the plain green curtains are actually really important to how this looks proportionately. They create a balance and split up the busy floral wallpaper idea which could overwhelm the room alongside the plain yet stylish furniture.
26. Give your curtains two uses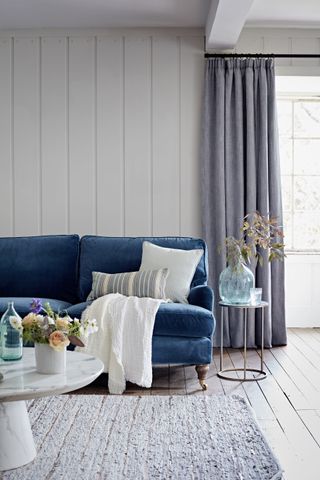 These lovely denim-looking curtains add serenity to this calming blue living room scheme, and they are also blackout curtains. This can be an extremely useful option to consider especially if you have guests to stay often and your sofa converts to a sofa bed. They may cost a bit extra initially but they will be worth their weight in gold.
27. Distract from a high ceiling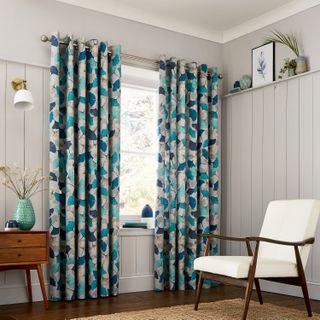 High ceilings can be a blessing and a curse, and when you already have tongue and groove paneling that's visually elongating your view then a pair of bright and bold curtains can distract your eye perfectly. Keep the rest of the scheme neutral and accessorize with a few pieces in the same colors as your print.
28. Add in more color to your scheme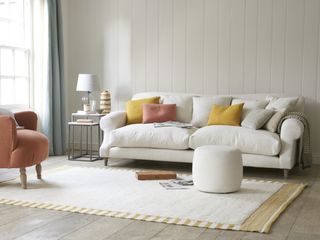 If you have an existing white living room scheme, with a few colored cushions you can lift your living room visually by choosing a pair of curtains in a new color. Make sure they are of a similar tone to the colors you are already using so they blend well. You could even use the same fabric as the cushions - maybe a slubby linen or a cozy velvet.
29. Brighten dark rooms with delicate hues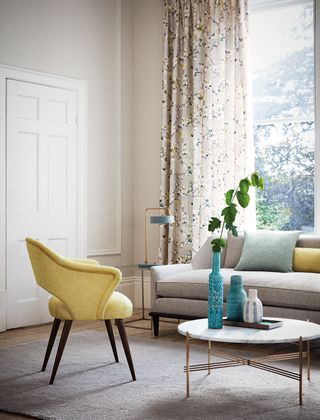 If your living room is east or north-facing, it's likely to suffer from a lack of natural daylight. Hanging a pale-colored curtain fabric can maximize natural light, while a delicate pattern like this will create a restful feel. Picking out the fabric's bolder accent colors in cushions and upholstery will give the space a more contemporary finish.
30. Use velvet curtains to add luxury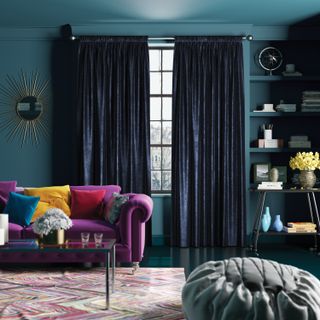 Velvet curtains hang beautifully due to their weight and have a sumptuous sheen and a tactile quality that will give even a small living room window an opulent feel. Maximize the living room's light levels by fitting a long enough pole or track to ensure they pull right back to the edge of the window's frame when open.
Maybe time to invest in that dreamy best velvet sofa too?!
31. Coordinate with a smart stripe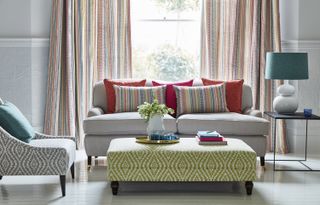 Stripes are a classic design that is easy to match with other motifs for a layered scheme. Wider stripes tend to create a more traditional finish; pencil-thin stripes are more contemporary-looking. Multi-colored designs like these fun, rainbow-striped curtains in Mikado fabric by James Hare, give you lots of options for updating your scheme in the future – simply pick two or three shades from the design and echo them in accessories and furniture in different proportions.
32. Go for retro style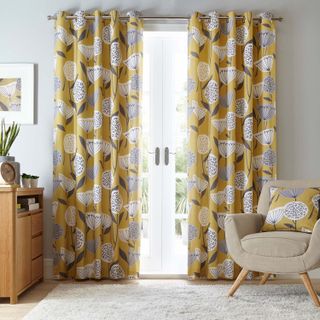 Want to draw attention to a large window or beautiful view? A bold print at your windows will give your living room a focal point. And, if you're a big fan of Mid-century modern living room ideas, pick something with a retro vibe and classic 70s colors.
33. Add a burst of color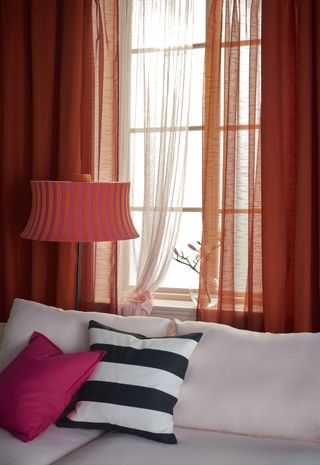 Bold, colorful living room ideas have made a definite comeback, and an easy way to achieve this is by hanging curtains and sheers in the same strong shade. Put them in a neutral room to make a feature of the window wall, or match your walls' paint color to the fabric for maximum impact.
34. Design a tailored look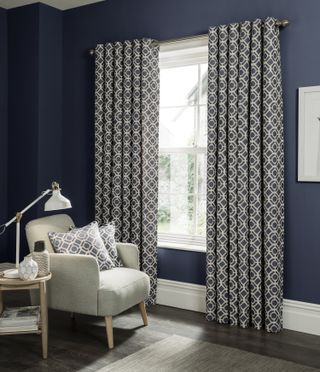 If you want your living room to look smart and formal, choose a fabric with a graphic repeat design and ensure the curtains finish at floor level rather than drape down onto it. Pick a wall paint color that complements rather than contrasts with the curtains for a tranquil feel.
What curtains are best for a living room?
Whichever you like the best – is one answer to this question! Though of course there are variations and it mostly depends on what kind of style you are going for – period or contemporary? Period properties lend themselves to more elaborate designs - heavier fabrics like velvets and linens and floral prints - some may be lined too if the house is older and has original sash windows. If you live in a Victorian house you may want to recreate the look from that era for example.
For modernistas, curtains tend to be crisper, more tailored with stripes, retro prints, or textured plains. Fabrics could have different finishes like sateen style or floaty toiles.
What curtains make a room look bigger?
A lot of this depends on how you hang them – go high and mount them above the window frame to create a more spacious feel – sleek, floor-length panels will allow the eye to flow from floor to ceiling and will give the illusion of height. Also, extend the rods out past the width of the window frame, this will 'expand' the curtains and trick the eye!
Choosing bold patterns will also draw attention to the curtains rather than the size of the room – so if it's on the small side then choose large patterns. Dark shades tend to make a room feel smaller so go for a lighter brighter look.
Do I have to match my couch to my curtains?
This is a question we get asked often at Real Homes and it is a personal choice, but if you love color and pattern it's definitely worth a go. Check out point no. 2 above to see an example of how it can work perfectly.
We asked Lee Clarke, founder of Warner House his view on it; 'More is more; and matching sofa fabrics with curtains and blinds immediately adds character and personality to a room, especially when it incorporates bold patterns and bright colors. Layering fabrics in this way can also bring warmth and depth to a space.'
'However, when using the same fabric design for more than one element of a room, it is important to introduce different textures and fabrics where possible, in order to break up and give definition to the scheme. Cushions are a great way to bring in different designs and patterns, as are ottomans and lampshades. Trimmings add decorative detail.'