We don't all have the luxury of a spacious living room. In fact, they are often more likely to be small and boxy. For that reason, clutter can build up rapidly making storage ideas for small living rooms key to maintain a calm and stylish space that is a pleasure to be in.
It's no secret that this room works hard. Not only acting as an area to relax in for all of the family, but often doubling up as a play zone for kids or even a home office... Thankfully there are so many small living room ideas to keep yours stylish. And, for the functional part, whether you opt for floating shelves, clever coffee tables or even built-in storage options, you'll be sure to find the perfect level of organisation for you.
The experts at Scandinavian brand String Furniture say, 'The key is to never overlook 'dead' space and utilise every nook and cranny. Picking the right storage for your living room space is vital.'
1. Clear the floor of clutter and zone the space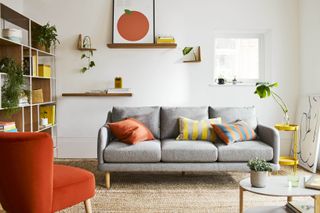 Make your living room storage work hard for you by using it as a divider at the same time, something that works very well in a small space that's also open plan. Not only are you using it for storage, but it's acting as a 'wall' too.
In this case, choose a unit that doesn't have a back, that way you can see through it and it won't block the light from one space to another. Natural is key to all gorgeous living room ideas after all.
2. Add a modern touch with floating shelving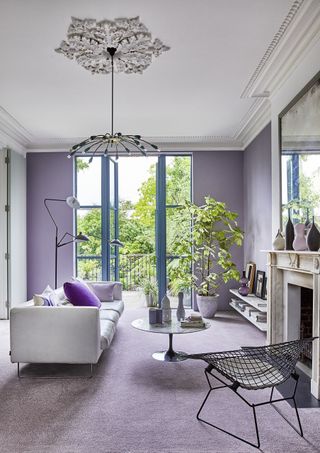 Keeping your living room floor clear is key when your space is small, and this is where floating shelving ideas work brilliantly. You can keep them simple and only hang a couple as shown, which gives them the feel of a low sideboard and doesn't distract from the rest of the scheme.
White works well and can be tied into the existing scheme, before hanging them make sure you double check the gap you'd like in between, if you want to use them for storing books and keepsakes ensuring the gap works for your needs is essential.
3. Use open storage for ease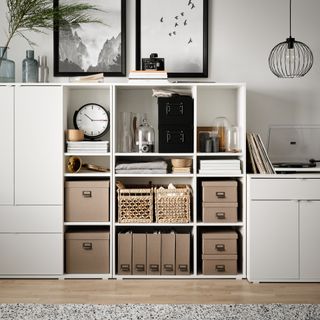 As much as we tend to conceal our trinkets away, sometimes it's nice to create a feature out of our favorite pieces with open cabinetry. Of course, if you do this, you need to keep them super tidy and not go overboard on quantity – easily done.
Choose a storage unit that has different sized sections for more visual appeal and for the option to put a more eclectic display together if you want.
4. Think outside the box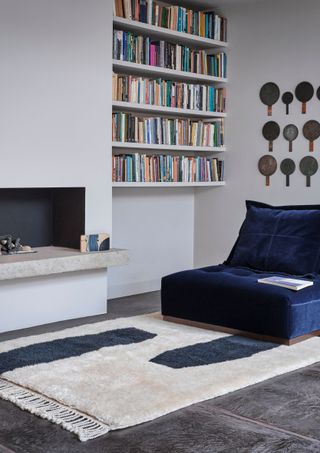 Asking a joiner to put up a few shelves for you is always worth the cost involved even if you're more into budget living room ideas and unconventional ideas often create the most stylish results. Leaving a gap underneath a bookshelf for instance gives the impression of more space, and white paint will always help a room feel bigger. Keep your books tidy and of similar heights to keep your library organized.
5. Go high and low
Varying the heights of your storage will create an interesting design feature and of course, more space to keep your essentials in. We love the idea of using a wardrobe and adapting it to suit your needs. The shelving side is ideal for keeping things in and if you work from home you can keep work items in there too.
6. Use dead space around the TV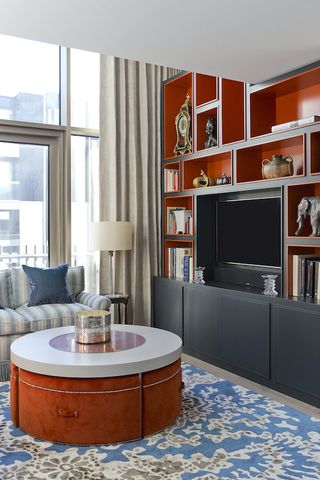 When your living room is small, it pays to use up every inch of space for storage. The wall that holds your TV is a good one to use because you already have some storage in place for your media items. Using blocks works really well and adding in color so it ties in with the rest of your scheme will create a cohesive feel. Use the different sections to create display areas as well as for books and records.
7. Streamlined designs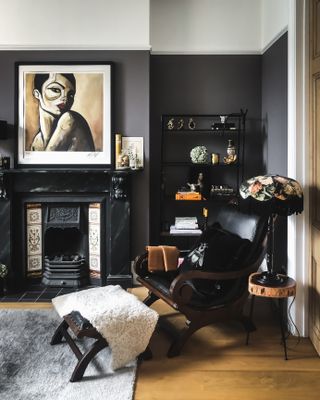 If you want your small living room storage to feel less 'there' then opt for designs made from metal and in a similar color to the rest of your scheme so they blend rather than stand out.
When you have a dark scheme like this living room you can be clever with the objects you place on it – in that you can use them as accent colors to make the space zing. Gold and tangerine look particularly spectacular against jet black as does white. This is one of the most modern small living room ideas also if you're keen for a contemporary finish that is far from cluttered looking.
8. A coffee table as the centerpiece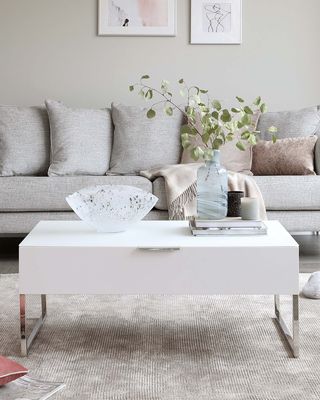 We asked Johanna Rieser, Buyer at Danetti for her advice when choosing the right storage for your small living room and what one piece she feels is the most important:
'You want to put your seating in first before you start thinking about the size of your coffee table. It's all about considering the space and those proportions. And do consider a coffee table with storage functionality if you want to keep things tidy; a table with drawers is perfect for storing away remotes and magazines.'
9. Expansive shapes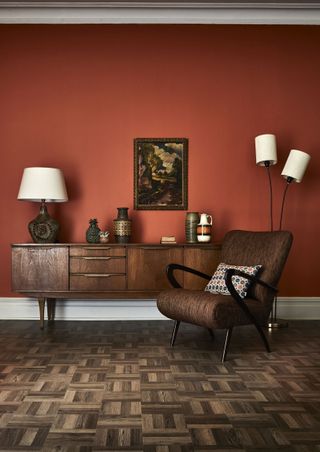 If your living room is narrow, go for long and low pieces like this retro sideboard. They're a beautiful option because they come with slim tapered legs and their low profile means they don't visually take up much space. However, inside they do have plenty of storage available as they come with a mixture of drawers and cupboard space and of course you can utilize the space on the top too.
10. Play with height for pizzazz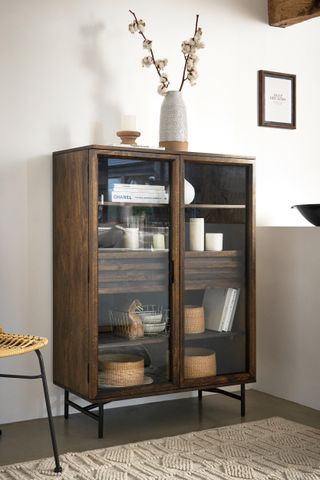 For a room that's compact and more of a square shape, a taller, more narrow piece like this display cabinet would be ideal. Again, anything on legs is a good choice because it enables you to see under the unit which tricks the eye into thinking the room is larger.
Glass fronted designs are also a great way to display pieces that add personality. Plus, you won't be losing anything in a hurry. The glass will help reflect light around the living room and making use of the surface also with dried flowers, vases and more will add more height and pizzazz.
11. Practical pouffes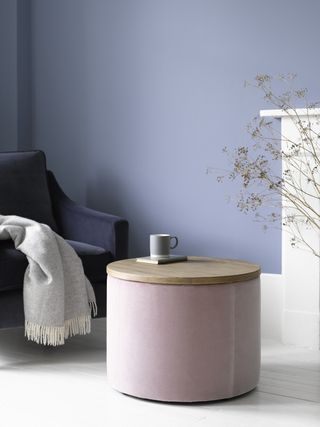 Simple yet oh-so-effective, the humble pouffe can be used as a side table or small coffee table if you choose a design that has a hard top – then you can use it for cuppas, candles, vases or even a lamp and store magazines, and a throw or two inside. Choose a color that complements the rest of your scheme and don't forget you can choose the fabric on occasion too.
12. Making use of alcoves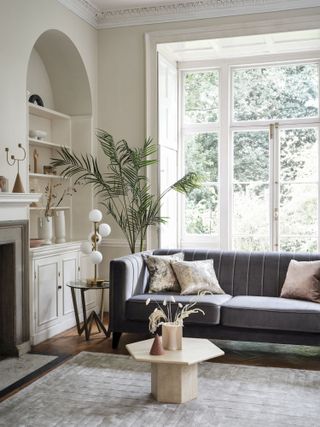 When space is tight, having built-in storage ideas added to your living room is a great idea. Alcoves naturally lend themselves to this and it's worth asking a joiner to create a cupboard that will fit at the bottom then shelving above. It can all be painted to match the rest of the living room color ideas in your scheme so it blends in seamlessly. Using a mixture of shelving and cupboard space will always give you more options.
13. Double up for comfort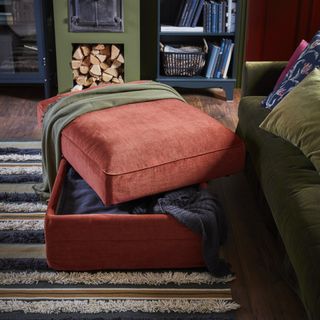 You can't beat a footstool – not only do they work as an extra seat and somewhere to rest your feet on, but they are an invaluable storage piece to have in a small living room.
Always choose one that has storage inside, most do, and they are actually larger inside that you think. You can keep throws, cushions and bedding (if you have a sofa bed) in them and utilize the top – you could keep a tray on it for example that could hold a candle, vase and books.
14. Be clever with the space you do have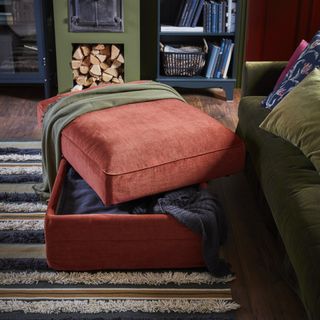 If you really are struggling for storage ideas in your small living room then look at what you can change that will enhance your space – even if your sofa is already pushed up against the wall. Sometimes we can't see the forest for the trees and it's blue sky thinking that we need to adopt.
This genius idea encompasses the sofa whilst also giving you tons more storage. Shelves and cupboards abound and add a decorative aspect that's also dramatic due to the inky blue shade it's painted in.
15. Invest in antiques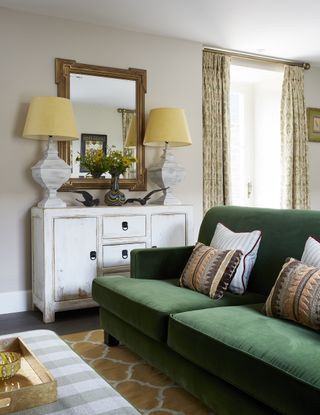 One-off finds are most definitely worth investing in, they add character and warmth to a scheme just by their very nature. And they don't need to be large, this simple slimline console is perfect for small living room issues.
Narrow pieces will fit into even the smallest of spaces and can still store enough things to be useful, and of course, you can use them for lanterns, a vase and some ornaments.
How do I add storage to my small living room?
Firstly, you look to see what you already have and consider the layout of your living room as it stands now. Sometimes a quick shuffle of key pieces like the sofa and armchairs can help, then you can see what you need and where. Look for pieces that are both practical and stylish as they make finding storage solutions more bearable. And, a beautiful way to keep your favorite items? The key is to source storage that has double use – a coffee table with a drawer or at least a shelf, a pouffe with a lid and cabinets that could be wall-mounted – for style and functionality all-in-one.