In need of some stylish living room wall ideas? A blank wall, in our opinion, is a sad wall. So we've brought together all our favorite living room wall ideas to inspire you to get decorating that empty space. And minimalist, don't you go anywhere because when we say wall ideas, we don't just mean busy gallery walls and colorful feature walls, there are plenty of subtle ways to bring some interest to your blank spaces.
Decorating with living room ideas is such an easy project you can do yourself and can bring in so much personality. There are loads of budget-friendly ways to revamp a wall too if you are just after a quick, cheap living room update.
John Linden, interior designer, MirrorCoop, says: 'If you're looking for traditional living room wall ideas, consider hanging a tapestry or an oil painting. Tapestries are especially beautiful when hung above a fireplace. Oil paintings can add a touch of elegance to any room, and they come in a variety of styles to suit any taste. If you're looking for more modern living room wall ideas, consider using metal wall art or glass wall sculptures. These contemporary pieces can add a real wow factor to your space.'
'Whatever style you choose, make sure your living room wall decor reflects your personal taste. Don't be afraid to experiment until you find the perfect look for your home.'
So whether you are after some stylish ways to cover up some not-so-pretty inherited wallpaper, or want to add some beachy vibes with shiplap, we have plenty of gorgeous living room walls to get you inspired.
1. Dazzle walls with multicolored woven plates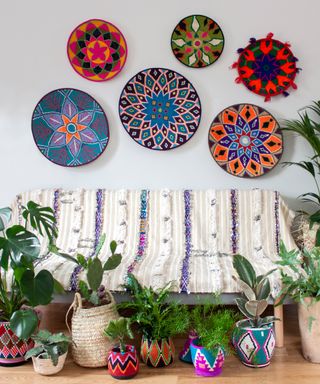 Perfect for a jungalow scheme or boho living room, brighten up a bland space with a selection of colorful wall plates in mixed sizes and patterns. An easy update that will add instant impact and wow factor.
MadeTerra's Seagrass hanging wall decor baskets blend woven patterns and harmonious combinations of colors and patterns, to add a beautiful touch of natural beauty to your home.
2. Or choose monochrome designs for a more subtle approach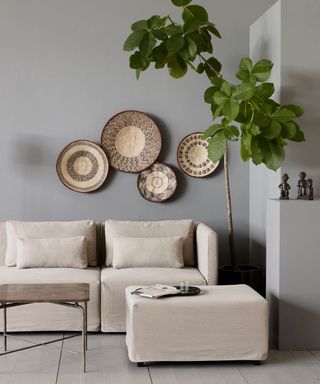 Natural wall baskets in assorted mono designs add another dimension to this minimalist, gray and brown living room scheme.
3. Grow your space with a living wall idea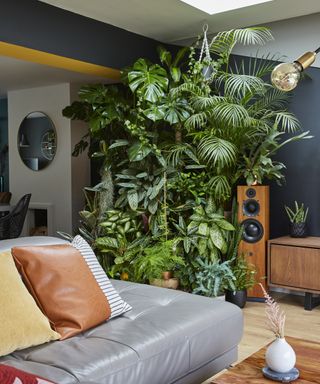 Bring the outside in with a fresh, living wall idea that will give your entire scheme a verdant lift. With green topping the charts as the most popular living room color in 2022 and the biophilia trend thriving in modern homes, why not get your plant babies in on the act with a 'vertical garden' effect using real or faux (if you'd prefer a low maintenance option) species of succulents, trailing plants, and whatever you fancy popping into the green living room mix.
Paul Alder, founder of Vistafolia, says: 'Whether you want a background for your Zoom calls, or simply a calming atmosphere to relax in, using an artificial green wall in your living room is an innovative way of doing this whilst keeping maintenance to a minimum.'
If you're craving a green-fingered DIY, weekend project, create a living wall with our ultimate how-to guide.
4. Hang a mirror, mirror on the wall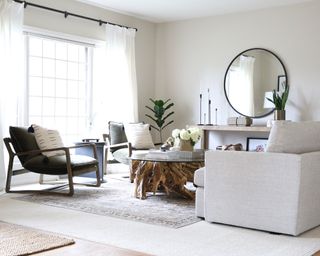 Bounce the light and open up your modern small living room with a shapely reflector on the wall. Choose an oversized round or oval design for a chic look, like the Metal framed oversized round mirror from West Elm.
Anna Franklin, interior designer and founder of Stone House Collective, says: 'Mirror ideas are a fun way to break up traditional wall decor such as artwork and have multiple purposes. In addition to adding a unique element to the wall, a mirror can create the illusion of a larger space, as well as reflect light into darker areas of the living room when placed strategically.'
'My favorite go-to's are round mirrors with a sleek frame, or a statement piece with a natural element for a frame, such as rattan.'
5. Create a striking feature wall with wallpaper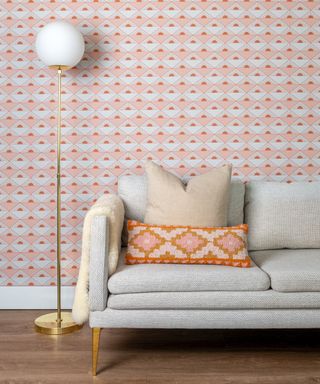 Add pattern and color on walls with an energizing wallpaper idea for an affordable and quick living room update. There's a style, pattern, and color to suit every style taste bud! We love this retro geo design for a mid-century modern living room update.
Elizabeth Rees, founder of Chasing Paper, says: 'Wallpaper instantly transforms a space, whether you use it to highlight a feature wall or install on every wall for the most impact. If you prefer a maximalist feel, install a bold wallpaper print on one wall, and select one color within the print to paint the remaining walls. On the other hand, you can select wallpaper with a subtle print in a neutral color that will keep the living room interesting, but doesn't overwhelm the space.'
6. Switch things up with neon lighting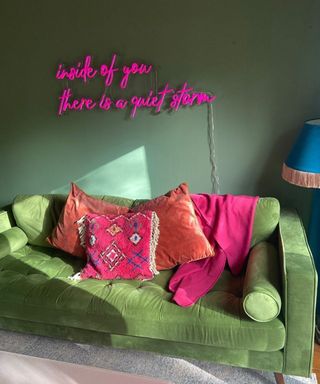 Make a statement with a personalized lighting design that says it all. Save big bucks by making your own DIY Neon LED rope sign and dare to go full glow...
Jess Munday, co-founder, Custom Neon, says: 'When transforming your living room walls, use bright colors and wall lighting to enhance the space's ambiance and create a fun and soothing aesthetic, like with the use of an LED neon sign. You can either light up your favorite piece of artwork, favorite quote, or even your family's surname!'
7. Install color contrast shelves in an alcove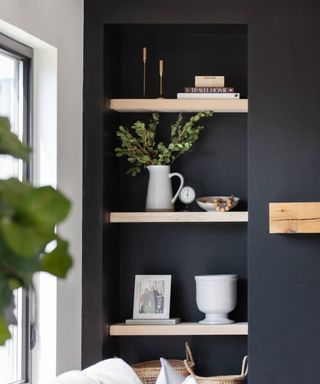 Shelfie time. Forget hiding away all those lovely bits and bobs in a cupboard… Instead, curate styled vignettes of pretties on open or floating shelving ideas. The more you look, the more you see is our philosophy…
Shown here, we adore how these gorgeously rustic, eco-friendly shelves from Dakota Timber Company, provide a striking contrast to the black living room walls. This lovely idea not only looks fab but makes the best use of the alcove space, turning it into an attractive storage nook.
8. Utilize baskets as a fun storage idea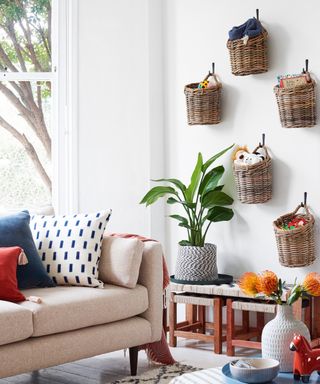 Turn living room storage ideas into a charming focal point by displaying an assortment of baskets at staggered heights. As demonstrated here, woven baskets hung on hooks provide handy storage for toys, whilst adding texture and interest to an otherwise blank, white wall.
9. Paint a two-tone wall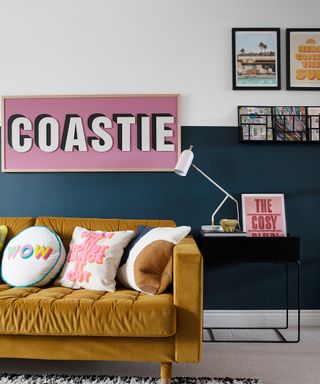 In a small living room, divine and conquer with a modern wall paint idea that plays with contrast and scale. We're a swoon at the oversized, statement typography print that really gives this two-tone living room scheme a punch of graphic pink.
Justyna Korczynska, senior designer at Crown, says: 'If you're looking for injecting some color and creating a focal interest on your walls you can go for two-tone paint effect and paint all your walls half-and-half. It works best in medium-sized and smaller rooms as it would lose its impact in a large open space. With high ceilings, you can put a darker color at the top to visually level the height of the room, but in a room with lower ceilings, is better to keep the darker colors at the lower half of the wall.'
10. Try a rug or textile as wall art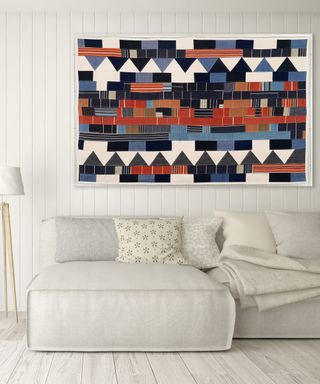 Don't just walk all over it. But try hanging a statement rug (or quilt) as wall art for a contemporary twist. It's not just artwork that can add subject, form, and color to walls. Choose an abstract modernist design for a simple, Scandi living room vibe, or wanderlust away with a nomadic inspired design featuring an ethnic pattern.
Try Etsy for a delectable range of modern textile wall hangings by talented indie makers. In fact, a recent Etsy report says we can expect to see the tufted wall art trend take over our homes this year.
11. Create a (minimalist) gallery wall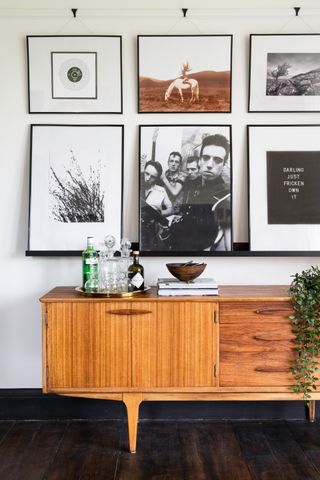 Let's start off with the classic way to decorate a blank space – a gallery wall idea. It's by far the easiest living room wall idea and can upgrade a space in just a few hours. Gallery walls as a trend have stuck for years now, but the most stylish ways to do them do change from time to time, and right now, we are seeing less of that 'throw everything at your wall, prints, photos, framed and not framed,' very eclectic look and more of a minimalist approach.
It just looks more... sophisticated and expensive, despite being able to recreate the look for under $100. The key is to pick a color scheme so there's a cohesive feeling to all the prints, then stick to just two or three frame sizes and create clean lines within your layout.
Becki Owens, Becki Owens Living, says: 'Art is one of the easiest and most effective ways to update a space. I always feel like a space isn't complete until it has some pretty artwork to add color and give it personality.'
'A gallery wall is one of my favorite ways to display art. It can be clean and simple or eclectic and whimsical.'
12. Frame a gallery wall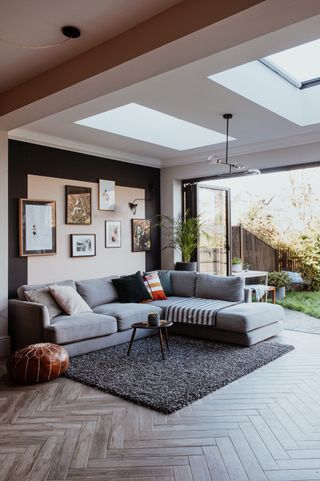 We love how this gallery wall has been framed with a border of black around this lovely soft peachy hue. It makes this area of the open plan living room feel cozier and smaller even, which isn't a bad thing here. The prints all work with the monochrome color scheme, but there's an informality there too where the prints overlap with the border, it's just a more interesting layout than if they all sat neatly within the framed edge.
Check out the affordable yet coveted art platform and online shop DROOL, for an array of art styles ranging from bold prints, neutrals, abstracts, and typography.
13. Expose a brick wall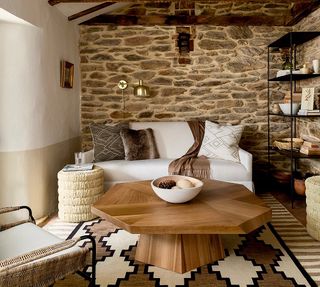 Exposed brick walls have long been seen as a holy grail of interiors, the perfect solution for creating a stylish, yet understated, feature wall in your living room. For some lucky homeowners, stripping away ugly drywall is all it takes to reveal a beautiful brick wall that lends itself to a range of interior styles; from country to industrial.
This is a project you could do yourself (follow our guide to creating a feature brick wall), however, if you are a DIY novice or unsure what lies behind your plaster wall we would recommend asking a professional for advice.
And if you don't fancy exposing the literal building blocks of your home, why not just fake the look with wallpaper? Check out Wayfair they have loads of realistic, affordable options.
14. Get creative with grouped mirrors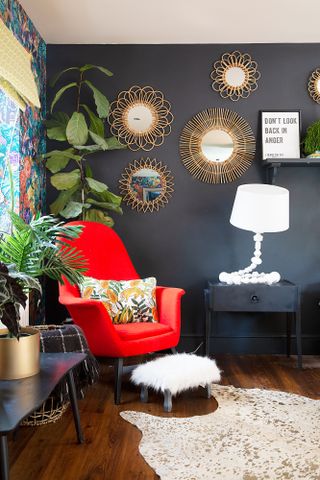 Mirror walls and displays are a really on-trend take on the gallery wall and are perfect for living rooms that either lack natural light or have a darker color palette. A cluster of mirrors looks super stylish and brings in that all-important texture, but from a practical perspective, they also bounce more light around a space making it feel larger and brighter.
Try Anthropologie for a lust-list selection of shapely mirrors to enhance your space.
15. Paint your blank walls black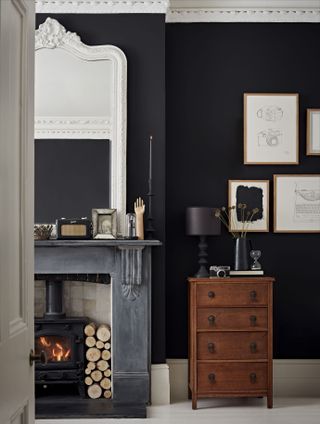 We couldn't ignore paint. It might seem like a very basic living room wall idea, but if you go bold with your colors it can totally transform your room. Black living room ideas are having a bit of a moment and we think paired with a creamy white sleeper sofa and wooden furniture to warm it up, it's a look that can work in any living room.
And if you want to just test out the dark side, why not try one wall to start with and hang some lighter colored prints in light wooden frames on top to tone down all that black. Give it a go.
16. Bring in texture with a shiplap wall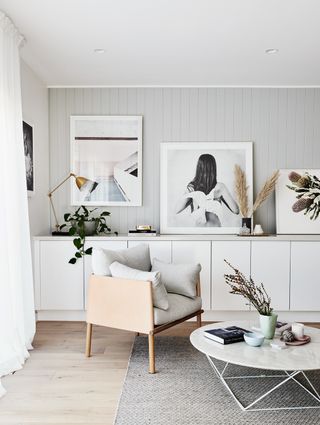 Ah, shiplap, you can't scroll very far through Instagram without seeing some lovely light-filled, beach house interior, filled with rattan furniture, and of course a shiplap wall.
They just instantly give a room a more laid-back coastal feel and are a great way to cover a sad-looking wall. You can actually create a DIY shiplap wall yourself too using wood boards or you can pick up a kit (check out Lowe's for cheap options).
17. DIY herringbone paneling on your living room walls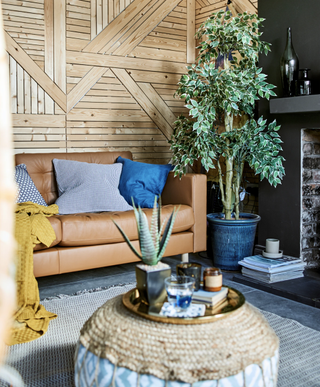 And for something a bit more unique, check out this cool herringbone design. Again, really easy to DIY using boards and nails. In this living room, the boards have been left bare so you get that lovely natural texture but for a more subtle look, you could always paint it to match your other walls, so you still get that accent wall just in a more cohesive way.
18. Cover a living room wall with shelving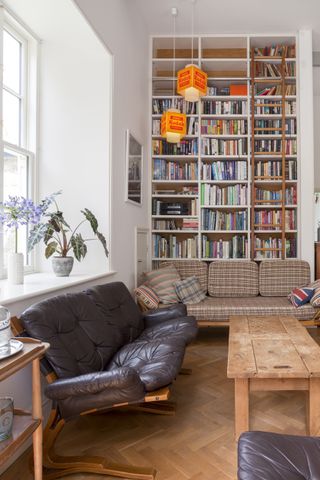 Break up the monotony of all white walls with a wall of shelving for books and beyond. Not only does it give you some added storage space, but it's also an opportunity to add some decor and personality to your living room.
Go floor to ceiling to really make your shelving a feature and learn how to organize a bookshelf like a pro to make them more of a feature of the room. Try laying some horizontally to create a more relaxed feel, add in some houseplants, and dot around some more decorative items like candles and vases.
19. Mix shelving into a well curated gallery wall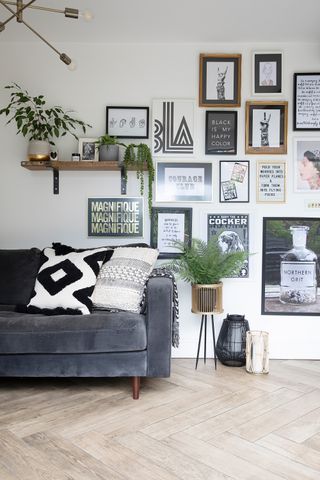 In a more neutral or rustic living room, where bold colors aren't going to work with your aesthetic, you really want your wall decor to be adding texture. And one way to do this is to bring plants into your gallery walls.
Hang a shelf as part of your design to give the wall a 3D element and then perch your greenery there. Position larger houseplants underneath to bring in even more of that lovely natural texture.
Top tip to take from this living room: don't be afraid to bring your prints further down the wall. A load of prints just sitting floating in the center of the wall can look a bit awkward.
20. Pick one piece of statement artwork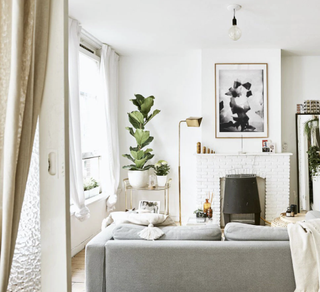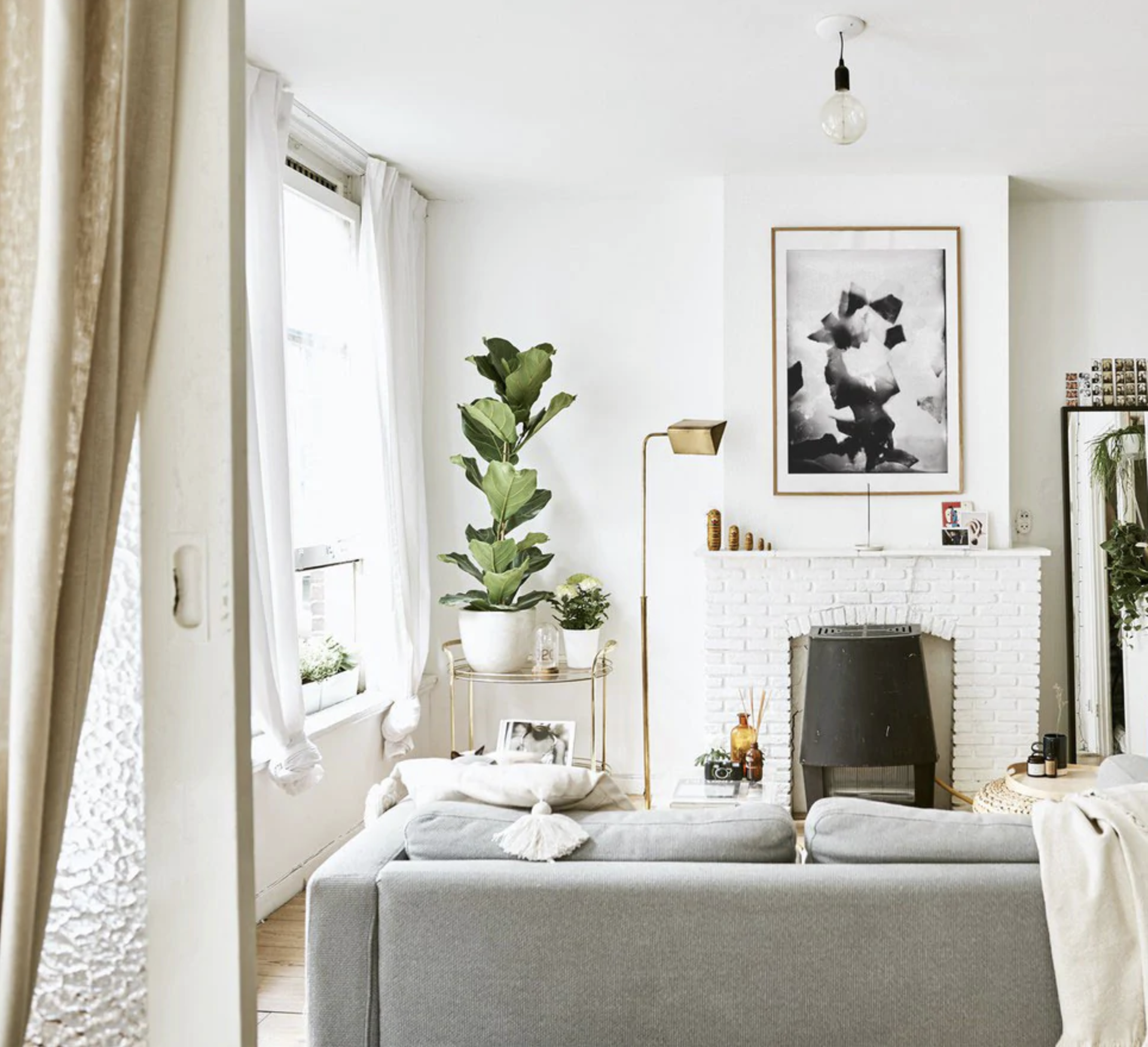 If you aren't willing to part with your white living room ideas, sometimes all that's needed to break up that sea of blank space is a single piece of artwork. And it needn't be super bold or colorful either, just go big and position it somewhere it's going to be the focus – above a fireplace or over the sofa would work best, an area of the room the eye is immediately drawn to.
Farah Marhi, style expert at Designer Looks Furniture, says: 'Specifically for wall art, I am a huge fan of glitz and glam and love mixing and matching different pieces! My personal favorite is using a mix and match of neutral colors with gold and silver accents. For example, the Gold Glimmer 2-Piece Canvas Art can act as your centerpiece wall art in your space, and then you can add in this gold Beaded Wall Mirror from Designer Looks Furniture over your sofa or on a different wall to help bring a bit more light and the illusion of a bigger room to your space.'
21. Combine wallpaper and prints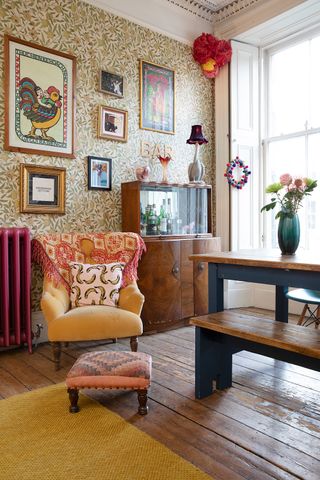 We've talked a fair bit about hanging prints, and using wallpaper in your living room too, but why not combine both for a bang-on-trend maximalist lounge aesthetic. We love the contrast in this living room with the very traditional wallpaper and then cool, quirky prints.
There's is a bit of a color scheme going on with the warmer tones too which actually tones down the look and keeps it feeling more curated and sophisticated.
Which wall should be the accent wall in a living room?
The best wall to make your accent wall will depend on the layout of your space and if you have any original features. If you have a fireplace in your living room, that's already an obvious focal point so enhancing the wall above that with prints or paint would be a good choice.
If you don't have any particular features in your space, just see if any walls stand out. When you walk into the room are your eyes drawn to a particular space? Or try sitting on your sofa and deciding do you want to be able to see your accent wall while you are in the most used part of the room or would be behind your sofa work best. Also, think about where your furniture is, you'll want an accent wall to be mainly unobstructed so it doesn't feel too busy.
What design tips will add instant impact to living room walls?
Alex Liepman, founder, DROOL, shares his top design tips:
'Utilizing colorful, uplifting wall art can be used to play into the maximalism trend. Additionally, coordinating living room walls with multiple pieces of art and playing around with off-kilter placements of frames can really create a unique space.'
'Utilizing colors can draw attention to your wall art and instantaneously create a vibe in the space. This can be done by either combining colors such as multiple pieces of artwork with blue hues or completely mixing and matching colors to create an abstract look.'
What are the simplest and quickest wall decor ideas?
Carol Joseph, interior designer and architect, Saint-Gobain, advises:
Decorative mirrors: 'This can be a fun and quirky way to have some fun with your living room. It can also be a fun way to give a good visual to all the nooks and crannies of your room.'
Wall shelving: 'A wall shelf is a great way to add a lot of functionality to your living room. It is also a great way to provide a lot of storage to your living room. You can use it to display things or you can put it up against the wall and it will serve a dual purpose as a storage space.'
Wall planters: 'These wall planters are a great way to add a bit of greenery to your living room. They also look great, especially if you've got a trendy and modern living room.'
Oversized clock: 'The oversized clock is a fun and simple way to add some color and style to your living room. It is also a great way to add some function to your living room.'