Looking for grey living room design ideas? Grey comes in a multitude of shades, some warm and some cool, and because of this it can be a tricky colour to get right. Choose the wrong the shade and your room will feel cold and uninviting, but layer your greys in the right quantities and your living room is suddenly the epitome of chic, modern styling.
If you love the idea of using grey in your living room but don't know where to start, check out these tips and advice on getting it right, every time.
Looking for more advice on how to design a living room? Check out our in-depth advice feature.
1. Layer up different grey tones
Use just one shade of grey and your room can feel flat and dull so it's important to layer the shades, one on top of the other. Start with a base layer, a grey that really inspires you, and add different shades through furniture, soft furnishings and accessories.
This John Lewis Croft sofa is deep and dark and works well against the backdrop of dark wall and cooler living room flooring. The throws and cushions in grey add texture too.
2. Choose grey living room furniture
Don't limit your love affair with grey to just wall colour, if you love this hue consider new furniture pieces in this shade to add a modern edge to your living room. Storage units are a great way to add in grey, and particularly good when you don't want wood or white melamine.
This bookcase also has a fold down desk making it perfect for a small home office in your living room. By Cuckooland.
Check out more living room storage ideas.
3. Mix grey with metallics
There's nothing so glamorous as some beautiful gold accessories which, of course, pair well with a base palette of greys. Use different grey shades layered throughout the living room for your neutral backdrop, retaining the focus on the metallics and any other colour you choose to introduce. Keep it soft or add bold, bright accents; just ensure they don't detract from the shine and sparkle of your metals.
Olivia, Blogger at Lust Living, has the most stunning living room pairing Cloud Burst from Crown Paints on the walls with some beautiful gold metallics. Gold coffee table is West Elm.
4. Create the perfect backdrop with grey living room walls
With its charm and appeal lying in the ability to offer the best neutral base for interior décor, grey is the ideal shade with which to decorate your living room walls. Using a grey wallpaper or paint won't intrude on the brighter accent colours if you use them; darker greys give them depth; paler greys help them to pop.
Check out more of our favourite paint colour schemes for living rooms if you are still in need of inspiration.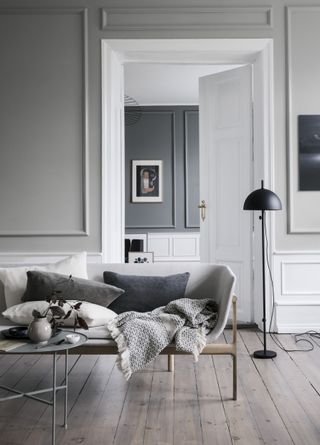 5. Try a monochrome colour scheme in a living room
Black and white doesn't have to be a boring combination – when teamed with a pale grey, it can look exceptionally striking. Use soft greys on your living room walls, particularly when you want to accent details and original features, then add a mix of darker greys with black and white accessories. Mix them up to get the full impact of this dramatic scheme.
6. Choose a simple (but chic) grey sofa
We all love on-trend colourful sofas but sometimes we want to keep it simple and uncomplicated. That's where a grey sofa really comes into its own. It suits all styles of living room, from country cottage to industrial to contemporary, and anything in between. Give it some life and add a few strong accent colours or simply layer your greys for a more monotone feel.
Need some help finding your perfect sofa, grey or otherwise? We've put together the ultimate guide to choosing a sofa.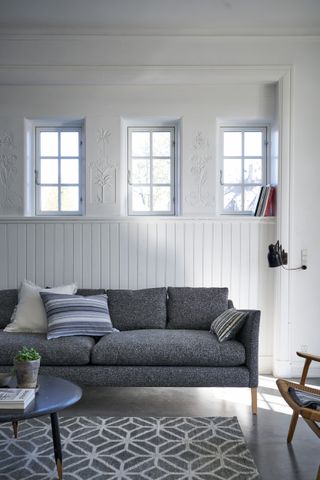 7. Add drama with a dark grey living room
If you're not one to shy away from being bold and daring, then go for a dark grey scheme in your living room. Painted on the walls and even the ceiling too it can act as a striking basis for bright colours and rock and roll décor. You'll need to get your living room lighting right to make the space useable at night, but these darker charcoals make a room feel exceptionally moody and atmospheric.
Love this look? Check our more of these dark and atmospheric decorating ideas.
8. Warm up grey with golds and greens
Greens and botanical prints work effortlessly with grey tones as shown here in this bright, light living room. The homeowner has paired a subtle shade of grey with golds and greens allowing the features to shine, with a bold print that doesn't impinge on the lighter feel of the space.
Kimberly, from blog Swoon Worthy has used Dulux Dusted Moss 2 on the walls and accented the space with a yellow tub chair by Oliver Bonas and a gold sunburst mirror from eBay.
We have loads more green living room decorating ideas if you are after more inspiration.
9. Mix soft grey with pretty pastels
Use soft warm greys and mix them with pastels for a pretty colour living room scheme. Prevent it from feeling too sweet and sugary by accenting with darker, moodier shades seen here with black and white cushions and dark wood table. The result is a calm living room suitable for the whole family.
Blogger, Arianna, has created a sumptuous, cosy space packed full of texture and warmth. The wool throw is from The Future Kept; art work from Desenio; and a selection of cushions including pretty pink ones.
If you love the look of this grey living room, go and have a look at these pastel decorating ideas for more ways to work candy hues into your home.
10. Make dark grey feel warm and cosy
If you opt for a darker, charcoal grey on your walls yet don't want the living room to feel all doom and gloom, lighten the space by using white based art work. Include pops of colour through your soft furnishings and make the most of your cosy feel by adding layers of sheepskins for warmth and texture.
11. Paint a feature wall grey
Create a quirky focal point in your living room with some grey based wallpaper. It's such an easy way to introduce colour into your room but still focus on the neutral hues of grey colours. You can be as mad and outlandish as you like, or keep it simple and elegant; the choice is yours.
This striking wallpaper from Woodchip and Magnolia features ink dipped artwork on a mid grey background and gives the living room a true pop of eclectic colour. For a similar look that's a bit more personal, paint your walls grey and add your own gallery wall.
For tips and tricks on adding your own gallery wall, check out our guide.
12. Add texture for an on-trend look
Palest greys and darkest blacks come together with stark whites to create the nomad look which has become rather popular in the last few seasons. Mix up your greys with a black and white pattern in shaggy textures. Add some natural materials like rattan and wicker plus lots of house plants, and you have a very on-trend living space.
The Kilim chair is the perfect monochrome piece in this look from Maisons du Monde. Add berber cushions, a grey and white chair plus a grey berber rug to complete the look.
Love the vibes of this living room? Go and get some more inspiration from these brilliantly boho design ideas.
13. Don't ignore the floor
When you're not sure how to start designing a grey living room, look down. The floor is often the best place to begin when you're building a scheme and if you want to include grey, this is a great kicking off point. Build up your look layering rugs, furniture and accessories to create the living room which suits you and your family perfectly.
Here, the simple grey floor is a blank canvas for layering a couple of patterned monochrome rugs, which add a softness to the Mid-century style.
14. Luxurious look? Put marble in the mix
Marble isn't particularly revolutionary when it comes to home decor, we know, it's pretty much an essential in the age of Pinterest and Instagram. But there is a reason we all so in love with is swirly, opulent, qualities, marble just brings elegance into a space like no other material. Give a grey living room a lift with a few pale marble accessories, the smooth finish works perfectly with lots of different shades of grey.
15. Set a cool tone in your living room
Due to its versatility and fashionable standing in the interiors world, grey must be one of the easiest shades to work with. Creating a living room which feels cool and crisp is easy when you use a piece like a darker grey rug to anchor the space. When you feel like a change in accent colour, no need to invest in a new rug every time, the neutral shade always works.
But... just in case you do fancy investing in a new rug, check out our pick of the best rugs for your living room.
16. Play around with multiple shades of grey
Grey doesn't have to mean monochrome, or matching all the grey items. Grey actually has surprising range, from warm, greenish hues to grey so light and cool it's almost white. Try combining a warm grey paint colour with a cool sofa to recreate this look.
17. Add layers of comfort to create an inviting appeal
Grey living rooms look smart and elegant, agreed. But they can look a little cool and unwelcoming, too, if you don't pile on the layers of comfort. You can do this with a faux fur throw or a deep pile rug, and sticking to the grey-ish colour palette will only add to the elegance. We love this room, with the lightest touch of petrol blue-grey giving it a subtle lift.
18. Add interest to a grey living room with a mural
Before we go on to talk about the many positive points of adding prints and murals to a grey living room, can we just appreciate the artful layering in this living room?That's how it's done, people!
Anyway, yes, murals – a great way to add even more texture to a living room with a limited colour palette. They are also a fab option if you are decorating a rented home, because you can choose to hang a mural rather than paste it permanently to your wall.
In this small living room, the use of a mural also expands the space as it stops an expanse of white wall making the room feel boxy.
For more wall mural ideas, check out our feature. Find more small living room ideas in our design gallery, too.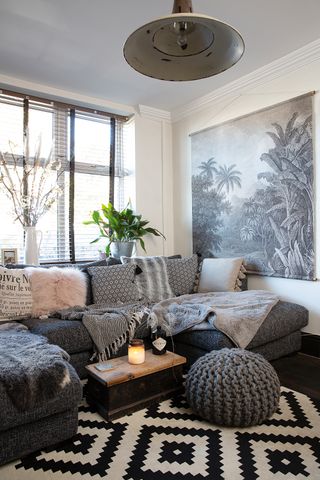 Read more: