You may have heard the word 'Japandi' being bandied about in the world of interiors over the last few months, but what really is it?
Well, as the nam would suggest Japandi is Scandi and Japanese styles intertwined, bringing the elements we love from both and creating a super stylish result that centres on simplicity. It brings together the beautiful modern lines of Scandinavian design with the stunning elegance of Japanese design. The colour palette is mainly neutral which ties in really well with the minimalist elements of this trend and you'll find it to be functional yet welcoming, lots of textures and light woods. Have a look below and see how you can incorporate it into the five main rooms of your home...
For more interior design ideas for 2020 (and going into 2021) head over to our gallery.
1. The Japandi living room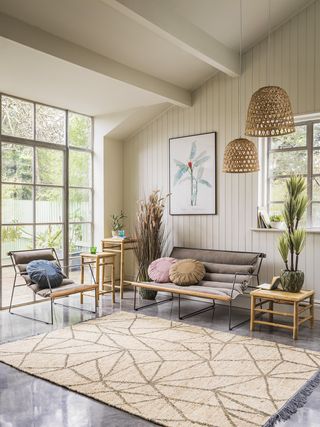 Light and airy is key with Japandi style, and this living room is a great example of how fabulous it can look! The walls are painted in a lovely pale stone which will glow when the sun pours in. Rattan lampshades teamed with bamboo furniture will really invoke this trend, other pieces can be modern and combining materials like metal and heavy duty cottons will add interest. Finish with a big cosy subtly patterned rug made from natural materials and some unusual plants.
Check out more lovely living room ideas in our gallery.
2. The Japandi kitchen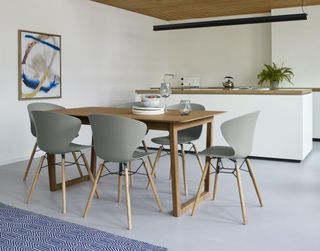 You can easily incorporate Japandi style into your kitchen ideas, and the key element here is the matching wood. It really does help to bring the whole look together and it looks so modern! The streamlined white kitchen area teamed with the clean lines of the table and chairs make it all easy on the eye and we love the playful addition of the patterned rug and art work in an otherwise super plain space.
3. The Japandi bathroom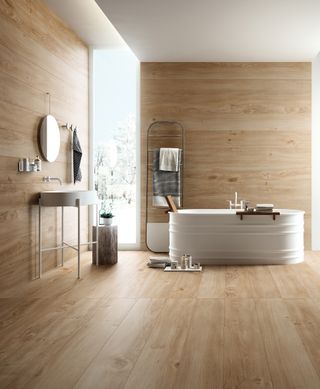 Oh gosh, where to start with this beautiful bathroom! Believe it or not, this isn't actually natural wood, but instead it's wood effect porcelain tiles complete with a textured surface and finish. It certainly helps to create a fabulously stylish Japandi style bathroom and is uber practical. We love the curvy ridged bath and sink, they contrast perfectly with the angular lines of the floor and wall tiles. Keep your accessories minimal - this is a strictly no clutter trend!
Find more minimalist bathroom ideas like this one in our full gallery.
4. The Japandi bedroom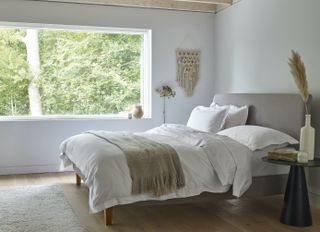 Although this look is minimal you can still have a sumptuous cosy bed! Just keep it minimal colour wise, it's about textures in the bedroom – 100% Egyptian cotton bedding teamed with slubby wool mix throws. Add a cosy rug for that moment you slip your feet out of bed in the morning and keep your walls simple aside from a macrame wall-hanging or two, finish the look with some pretty dried flowers in an earthenware vase.
5. The Japandi home office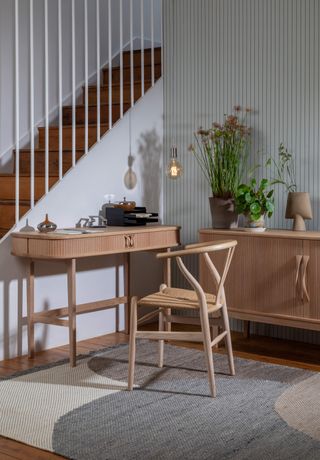 As there's more of us working from home now, we mustn't neglect our home office spaces! They too can have the Japandi treatment and look how stylish this corner is! Low key lighting and beautifully crafted furniture are key – the 'less is more' philosophy works really well with this trend - invest in stunning pieces that will stand the test of time instead of buying more for less. This office area is zoned by the woven rug which also adds a touch of block pattern to the scheme.
We have loads more home office ideas in our feature so check those out too.