Looking for the best sleeper sofas? We know that finding a good sofa bed can sometimes feel like a tall order, especially when you're trying to tick the boxes of comfort, affordability, style, and find one that's the perfect size for your space!
But never fear, our best sleeper sofas edit is here to help you out, making shopping for this multipurpose piece of furniture far easier, whatever your space, style, or budget.
So whether you're in search of a family-friendly sectional sleeper sofa, a spacious queen sofa bed, or a compact twin futon, you'll find options to suit your home and lifestyle in this list.
And if you decide a sleeper sofa isn't the right option for you, just head over to our best couch guide to find more great seating options.
---
The best after-Christmas sales on sleeper sofas
Why you can trust Real Homes Our expert reviewers spend hours testing and comparing products and services so you can choose the best for you. Find out more about how we test.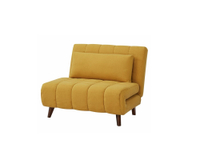 Zipcode Design New London Upholstered Accent Chair | Was $365.99, now $289.99 (save $76) at Wayfair
You can get this chic small sleeper sofa with a fabulous 20% off in Wayfair's after-Christmas sale event. In three great color choices too this is a deal worth treating yourself to.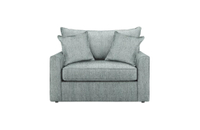 Trayce Chenille Twin Sleeper Chair | Was $1,419.95, now $1,277.95 at Raymour and Flanigan
Doubling up as a super stylish love seat, this sleeper sofa is deal if you have a small living space. It may be smaller than your typical sofa bed, but this one has a mattress. Big win with 10 percent off!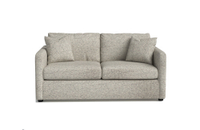 Godwin 69'' Upholstered Sleeper Sofa | Was $1400, now $1140 (save $260) at Joss and Main
Classic and timeless this sleeper sofa is ideal for having in place of any couch. It's comfy enough to sit back and relax in in-front of the TV, and will equally give your guests a great night's sleep.
The best sleeper sofas of 2023
In this context, we think size matters, so we've split this round-up into sections for the most popular sleeper sofa sizes; twin, full, queen, and sectional sleeper sofas, although it's worth bearing in mind that often sofa bed mattresses come up a little shorter (and possibly narrower) than a standard mattress size.
If you're looking for a multifunctional sit-and-sleep option for a smaller home then make sure to check out our edit of the best sleeper chairs you can buy for some great single sleeper options.
---
Best twin sleeper sofas
If space is at a premium then a twin sleeper sofa could be for you, with these compact sofa beds or chair-and-a-half beds offering some of the smallest footprints. Guests will get on average a 38" x 75" sleeping area, and you'll get the benefit of multifunctional furniture that, in most cases, won't break the bank.
1. Mercury Row Imani 81.5'' Square Arm Sleeper
Sofa: H34 x W81.5 x D34'' | Bed: Twin | Upholstery options: 10
This futon-style twin sleeper sofa folds flat to create a cushioned sleeping surface, whilst in seat form, its streamlined design and velvet upholstery brings a luxe look on a budget. If you're looking to use your sofa bed for some R&R as much as for overnight guests, then this option also offers an easy way to kick back and relax, with the adjustable split backrests able to be reclined independently to offer the ideal angle for lounging.
---
2. Zipcode Design New London Convertible Chair
Sofa: H33 x W41 x D37'' | Bed: Twin | Upholstery options: 3
If floor space is at a premium then this contemporary fold-out chair bed delivers both contemporary style and a twin-sized sleeping area, with the seat and backrest unfurling to offer a generous sleeping area with a very small footprint. Available in statement yellow upholstery or two useful gray options, it's the perfect fit for a modern home.
---
3. Bellona USA Sleeper Sofa-in-a-box with Storage
Sofa: H31 x W79 x D33'' | Bed: Twin | Upholstery options: 6
Bringing new meaning to the term multifunctional, this contemporary sleeper sofa combines seating, storage, and sleeping in one. When guests come to stay simply fold down the backrest to form the twin-sized sleeping area, whilst, when in sofa form, the seats lift up to reveal hidden storage that's perfect for stashing guest bedding. Seating may be firm, but if you want versatility – and affordability – this option offers both.
---
4. Raymour & Flanigan Trayce Chenille Twin Sleeper Chair
Sofa: H36 x W52 x D37'' | Bed: Twin | Upholstery options: 11
A twin sleeper sofa that offers a dedicated pull-out mattress rather than a futon-style approach, the Trayce sleeper chair is designed to deliver big on comfort. The chair-and-a-half disguises a gel-infused memory foam mattress within its compact frame, whilst the blocky design makes for timeless styling that will suit a wide range of decors, and, with eleven upholstery options to choose from, there are some great neutral colorways.
---
5. Lovie 63'' Sleeper Sofa Bed
Sofa: H26 x W63 x D37'' | Bed: Twin | Upholstery options: 80+
There's nothing more frustrating than finding a sleeper sofa shape you love only to discover the upholstery options let it down. Thankfully the Lovie pull-out sleeper has over eighty fabric choices on offer, so the odds of finding a color you like are firmly in your favor. Plus, the waterfall skirt, welted detailing and mailbox arms offer a great combination of classic and contemporary design that will make this sofa bed easy to blend into a wide range of decors.
---
Best full sleeper sofas
Offering a roughly 53" x 75" sized sleeping area, a full sleeper sofa can sleep two guests comfortably, whilst still delivering seating that's in proportion to a smaller room.
1. Joss & Main Aliana 69'' Square Arm Sleeper
Sofa: H28 x W69 x D36'' | Bed: Full | Upholstery options: 8
This compact sleeper sofa has curves in all the right places, with rounded cushions and slim, gently sloping arms that enable a full-sized pull-out mattress to be tucked into its frame without it taking up too much floor space. We love the neutral upholstery options that nail just the right shades of mottled grays and ecru.
---
2. Raymour & Flanigan Trayce Full Sleeper Sofa
Sofa: H36 x W72 x D37'' | Bed: Full | Upholstery options: 10
The Trayce sleeper sofa comes in three size options, the compact twin-size sleeper chair-and-a-half, a more spacious queen sleeper sofa, and this full-sized version which offers a good-sized sleeping area along with enough seating for three. Guests should also be more than happy with the pull-out gel-infused memory foam mattress.
---
3. Birch Lane Godwin 72" Sleeper Sofa
Sofa: H33 x W72 x D36'' | Bed: Full | Upholstery options: 70+
This low-armed design offers another full-size sleeper option that has been carefully crafted not to take up too much space. As well as over seventy upholstery choices, with this option, you also get a wealth of matching furniture to create a coordinated living room suite, with loveseat, armchair, ottoman, and standard sofas available to complete the look.
---
4. Crate + Barrel Barrett Full Sleeper
Sofa: H36 x W70 x D30'' | Bed: Full | Upholstery options: 100+
At its finest in a velvet upholstery, the Barrett sleeper sofa also offers over one hundred alternative fabric choices, allowing you to tailor this contemporary design to your exact vision. And, if you're willing to invest a little (well, maybe a lot) more, then it also comes in a leather version. Plus, there's one of the widest selections of coordinating furniture to choose from.
---
5. Antoinette 76'' Sleeper Sofa Bed
Sofa: H37 x W76 x D37'' | Bed: Full | Upholstery options: 110+
If you're looking for a classic design, then this rolled arm sleeper sofa could well fit the bill. The scroll arms do mean it will take up a little more space, but its measurements are still pretty compact considering there is a full-size pull-out mattress hidden in its depths. The hundred-plus upholstery options include linen and cotton options that are perfect for adding some farmhouse style, and the sofa comes complete with the two toss pillows included.
---
Best queen sleeper sofas
On average, a queen-sized sleeper sofa will offer your guests a super spacious 60" x 80" worth of mattress or futon space. You'll find our top five below, or you can check out our dedicated queen sleeper sofa round-up for all of the options worth considering.
1. Lark Manor Lourenco 77'' Square Arm Sofa Bed
Sofa: H34 x W77 x D37'' | Bed: Queen | Upholstery options: 40+
If you're looking for a queen sleeper sofa that isn't going to take up too much space in your living room, then this compact 77" sofa bed could be a winner. And the good news is it's also one of the most affordable we've come across. The squared frame is available in over forty upholstery options, and the timeless design works well in either a modern or more traditional home. Plus, that queen-sized innerspring mattress will give guests plenty of sleeping space.
---
2. Wayfair 87'' Square Arm Sofa Bed
Sofa: H32 x W80 x D37'' | Upholstery options: 10+
The squared arms and clean silhouette of this three-seater sofa bed make it a versatile option that will suit either a modern or more traditional interior, and hiding a queen-size innerspring mattress, it's likely to be a hit with guests too. Toss pillows are included, and there are over sixty upholstery options to make coordinating with your decor easy.
---
3. Novogratz Brittany Queen Sleeper Sofa
Sofa: H36 x W73 x D33'' | Upholstery options: 4
Another contender for the most affordable queen sleeper, the Brittany sleeper sofa is also the most compact sofa bed on this list, yet still manages to hide a queen-sized pull-out memory foam mattress under those seat cushions. The stylish design, with a fluted backrest and curved armrests, is also available in four on-trend shades; mustard yellow, dark forest green, navy blue, and charcoal gray.
---
4. Blu Dot Diplomat Queen Sleeper Sofa
Sofa: H30 x W80 x D30'' | Upholstery options: 4
If a modern look is for you then the Diplomat sleeper sofa is a great option for a minimal or contemporary home. The ingenious design sees the entire top half of the sofa seat lift up and flip over to form a futon-style sleeping surface with queen-sized dimensions. Plus, we love that track-style wooden base that's finished in a walnut-veneer.
---
5. Birch Lane Carly 93'' Slipcovered Sleeper Sofa Bed
Sofa: H29 x W93 x D41'' | Upholstery options: 60+
Nothing says relaxed living quite like a slip-covered sofa and we love the laidback look of the Carly sleeper. The simple skirting makes for unfussy detailing and that wide 93" frame means there's plenty of room to kick back. Plus, of course, the queen-sized pull-out mattress makes for an equally generous sleeping space.
---
Best sectional sleeper sofas
Generally made up of modular seats, a sectional sleeper offers a versatile solution for putting up overnight guests, and gives you the space to spread out. Some options enable you to add more seating as room size or budget allow, and others offer hidden storage underneath a chaise section. Find more options in our full sleeper sectional round-up.
1. Novogratz Perry Storage Futon Sectional
Sofa: H33 x W87 x D61" | Upholstery options: 1
Curved lines and dark grey velvet upholstery make this sleeper sectional a stylish addition to the living room or home office. It also works harder than just offering a multipurpose sit/sleep solution, disguising hidden storage underneath the chaise section that's perfect for stashing guest bedding out of sight. The backrest also allows for three lounging options; upright, reclined, and fully flat for sleeping.
---
2. Burrow Block Nomad Sofa
Sofa: H33 x W85 x D35" | Upholstery options: 5
Burrow takes a different approach to the sleeper sectional with the Nomad sofa, creating a modular sofa design that you can transform into guest bedding with the addition of the brand's sleep kit. Designed to combat the often thin mattresses of the classic pull-out sleeper, the kit includes a memory foam topper and a custom sheet set designed to fit all Nomad sofa configurations perfectly, a quilted blanket, pillow, pillowcase, and an eye mask. Read our full Burrow Nomad sofa review for our tried and tested verdict.
---
3. APT2B Avalon 2pc Sleeper Sectional
Sofa: H30 x W107 x D65" | Upholstery options: 60+
This stylish sleeper sectional is available in over 60 upholstery options, making finding a look that suits your decor an easy job. We love the velvet options that pair well with any of the 3 leg finishes; pecan, espresso, and natural wood. Guests will also be happy with your choice, with a full-size, 5.5" thick innerspring mattress hidden within the sleeper sofa's solid wood frame.
---
4. iNSPIRE Q Parker Convertible Sofa
Sofa: H35 x W87 x D50" | Upholstery options: 3
Another 'quick to convert' option, the mid-Century inspired Parker sofa disguises a pull-out extension under the main seat, meaning you can transform your seating into guest bedding, or just kick back with your feet up in a few easy moves. The tapered walnut finish legs lend a traditional touch and the chaise section lifts to reveal hidden storage under the seat.
---
5. Ashley HomeStore Salado 2-Piece Storage Sleeper Sectional
Sofa: H38 x W84 x D59" | Upholstery options: 1
Want a sleeper sectional that allows you to truly recline? The Salado not only offers an extendable pull-out section hidden under the main seat to allow you to put your feet up, but also comes with adjustable headrests that fold down when not in use and lift to provide tilted support when you're ready to relax. Plus, the extended section offers plenty of space for overnight guests to bed down, and the sofa even includes USB charging ports for your devices.
---
What are the best sleeper sofas to buy?
Sofa beds come in two main types; futon sofa beds which unfold so that the seat and backrest of the sofa bed create the sleeping surface, and pull-out sofa beds where the seat cushions are removed and the mattress pulls out from the sofa base whilst the sofa frame remains static.
The best option for you is likely to depend on which factors are most important to you; from affordability to comfort to the breadth of upholstery options available.
Futon sofa beds tend to be much more affordable, more contemporary in design, more compact and have shorter lead times. On the flip side they are usually made from solid foam, so offer a firm sitting and sleeping experience which is less likely to be suitable for everyday use, the bed is low to the ground once extended and upholstery options can be limited.
Pull out sofa beds in comparison are more expensive, and can take up more room once extended. But they generally offer a more comfortable seating experience - akin to a 'proper' couch, although the bed mechanism will likely make them a little less soft than your regular sofa - and the dedicated mattress offers a sleeping experience most similar in height and comfort to a regular bed. Pull out beds also tend to have more upholstery choice and bespoke options available - such as mattress type and cushion filling - although this can mean longer lead times.
How to choose the best sleeper sofa for your home
How often will it be used as a sofa or bed?
If it's to be used more as a sofa, cushion comfort and upholstery durability will be your primary concerns. Used regularly as a bed, you don't want to just think mattress comfort, but how easy it is to pull out and put away, too.
How comfortable is the mattress?
For occasional overnighters, you don't need to go to town but a good quality - for example, memory foam - mattress will give guests the classic 'bed' comfort they'll welcome. You can also increase the comfort levels - and protect your sofa bed - by adding a mattress topper to your sofa bed. Check out our round-up of the best mattress toppers on the market for ideas.
How many sleepers?
Comfort isn't just about the surface but the elbow room, too. So, check the proportions of the sleep surface.
Want more practical advice on choosing a sofa bed? Head over to our comprehensive guide for all the information you need.
Are sleeper sofas comfortable?
Most sleeper sofas are intended to be used as both occasional sleeping and seating spaces, so they often won't have quite the same comfort levels as a dedicated couch or bed.
That said there are still comfortable options out there, although how comfortable you find any seat - or mattress - can often be down to personal preference.
As a rule futon sofa beds tend to be much firmer for both sitting and sleeping, which some people enjoy, but generally most find a pull out sleeper sofa with a dedicated mattress the most comfortable option.
With a pull out sofa bed you also generally get more options to tailor the couch and mattress to your preferences, so you are more likely to be able to choose the type of filling your seat cushions have, and the type of mattress you prefer, from budget coil spring all the way up to a pocket spring or memory foam mattress that may rival that which you have on your bed.