It's not all doom and gloom when summer decides to pack its bags, ready for a return next year. Fall and winter have their advantages too. Chic fashion, warmly-spiced foods and a chance to be more experimental with our decorations and fireplace ideas to name a few.
So we're definitely allowed to get excited about the change in the seasons – even if it means making some adaptations to our home to accommodate for the change in climate to make them cozier, comfier and warmer.
And nothing says cozy, comfy and warm like fireplace decor, so whether you have a mantelpiece you want to spruce up or you're looking to add a new fuel burner to your home, here are our favorite looks to get you inspired.
Fireplace ideas to fall in love with
'Not only do fireplaces lend a certain charm to a space, they have great sensory appeal. The noise of crackling flames and the smell of freshly cut wood conjure up the pleasure of relaxing indoors with a hot beverage on a crisp winter's day.' says Louise Wicksteed, design director, Sims Hilditch.
1. Decide whether you want to restore or replicate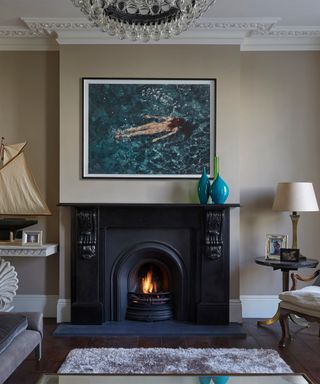 'Decide whether you would prefer a restored antique fireplace, salvaged from another property, or whether you would like to create your own based on your research of the property and the kind of look and feel you aspire to for your home or room.' says Owen Pacey, founder of Renaissance London, and antiques expert.
'Restoration can be a hugely gratifying and challenging process, from sourcing to installation, but the result is a true piece of history among the fabric of your home. Alternatively, specifying a reproduction fireplace gives you the freedom to create something entirely new. It can be made to look old while incorporating all the detail and personalization you could wish for.'
2. Be brave and employ a bold paint color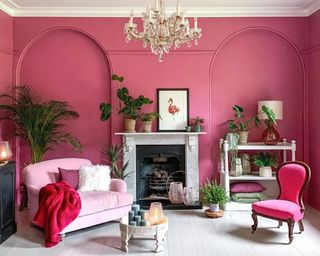 While we often associate fireplace ideas with traditional fall decorating schemes in brown cream, and perhaps a bit of classic green – this pink decor is a fancy and feminine contrast to the white marble mantelpiece and black fireplace insert – and we are here for it!
'When it's raining outside I sit in this room! It's the happiest color which changes through the day with the light and casts a beautiful rosy glow in the evening. I never tire of it.' says Instagram home renovator, Kate Hollingworth.

Want to inject the same punchy pink color in your interior spaces? Choose Farrow & Ball's Rangwali, inspired by the powder thrown at India's Holi festival.
3. Turn a disused fireplace into a 'shelfie'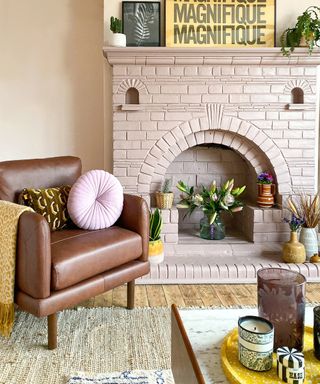 Just because your fireplace isn't actually in use, doesn't mean you can't make it a lovely focal point of your lounge as a shelving idea. Think statement slogan prints, potted succulents, flowers and ceramic vases.
Another idea for blocked-up fireplaces is to pile up the logs – they don't look out of place, they don't draw the eye too much and yet they perfectly fill what would otherwise be a great gaping hole in your lounge!
4. Add statement ceiling lighting to brighten a fireplace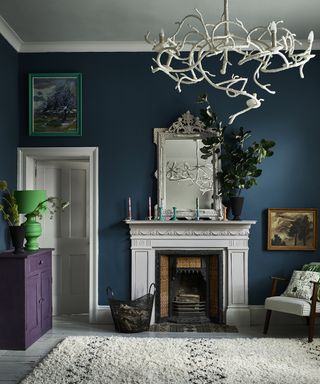 As well as the burning embers that glisten from your fireplace idea, additional light will definitely be needed in your sitting room. So it's essential that you supplement this space with additional living room lighting ideas – especially when you're not heating your home with your wood, gas or electric fire.
While glass chandeliers are a go-to for instant glamour, this branch-like ceiling light will create a lovely silhouette come night time. We also love the neon green lampshade and candles and mirror above the mantelpiece for ultimate Gothic vibes.
5. Create a home library around a fireplace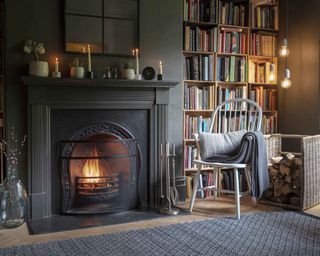 While you're probably reading this on a mobile or laptop – it's probably best to take a break from your screen every now and again. But if you feel as though your hands are idle, picking up a book from your home library idea is a great place to start.
By adding a fireplace idea, you can create a warm and idyllic environment that you can nestle in for hours on end. This spindle chair has been layered with cushions and throws that act creature comforts, but you can easily swap this out for a deep-set armchair or rocking chair design. The rattan log basket behind you is in easy reach to top-up your fire.
6. Invest in low lounge seating to gaze at your fire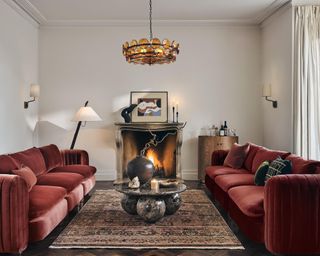 A fireplace idea needs comfortable seating – because no one enjoys sitting hours on end getting warm while sat a hard chair, right?
As well as adding a luxurious Art-Deco inspired feel to the room, this Vivienne modular sofa from Soho Home in Velvet Cinnamon comes with pleated-stitch detailing, cylindrical legs and a wrap-around back. The low lounge sitting position means it is ideal for cozy evenings in, with a bottle of wine or a short, but strong cocktail.
But if you can't blow the budget on this luxury brand, our best sofas edit has some good suggestions. Make your scheme work extra hard with a piece of art in print and/or abstract sculpture form placed on the mantelpiece.
Kids sat on the floor needn't be left out when it comes to fancy seating. A luxurious and ethnic-inspired rug gives them a front-row seat in front of the fire.
7. Make a multifunctional hub, centered around the fire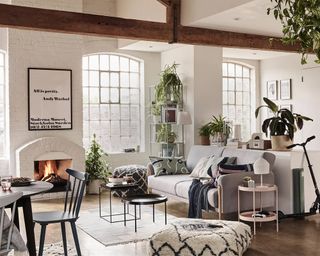 With many of us working from home recently, we've thrown everything but the kitchen sink at our living room spaces to create a cozy den that we can work and play hard in. This scheme includes cushions, throws and footstools galore, but most importantly everyone benefits from the fireplace idea no matter what they're doing.
'We demand a lot from our living rooms. No longer just for relaxation, it's a space with many roles – often doubling up as a home office, a place to catch up with family, video chat with friends, and even somewhere to eat. Added to that, our homes have also got smaller over recent years,' says Jennifer Morgan, interiors editor, John Lewis & Partners.
'As we navigate these new ways to live, this central hub of our home needs to be many things – intuitive, functional, stylish and homely, with clever storage and smart technology. This multi-functional living room works hard, helping you achieve that all-important balance.'
8. Create a romantic and vintage feel with floral wall art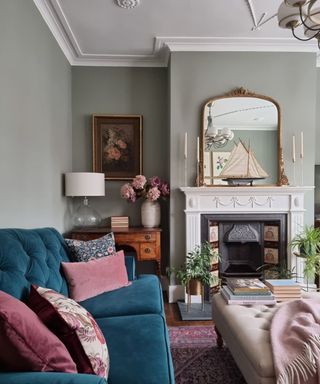 Nothing feels more homely than freshly-cut flowers and floral wall decor ideas so let this be the foundation for your fireplace ideas.
'It's all in the detail for me...this beautiful piece of art has completely transformed this corner of my living room and I can't stop staring at it,' says Elle Hervin, otherwise known as Instagram home renovator, @elle_the_home_bird.

'I grew up surrounded by the arts. My mum was a potter and painter. My brother, a musician. And my granny was a published author. So, art is really important to me. When the lovely Hana from French Art Shop asked if she could send me a piece from their vintage collection, I thought I'd died and gone to heaven. They source and stock the most beautiful artwork...and actually I'd just really love it if I could move to France and they gave me a job.'
In Elle's scheme, the walls have been painted in Farrow & Ball's Pigeon and the fireplace in Wimborne White.
'I am in love with it. It's the perfect shade of blue, green and grey and gives the room a more aged, vintage feel which let's face it, is all I'm here for folks.' she says.
9. Introduce a fireplace to add interest under the stairs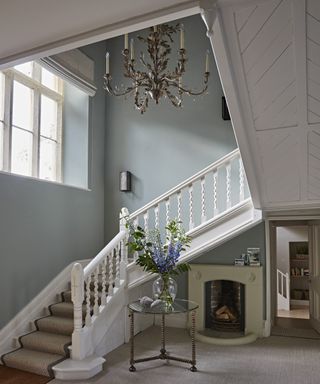 If you're looking for a fireplace placement that's a little different, you could consider hallway ideas. Making a great first impression to guests and providing respite from the cold outdoors, this under-the-stairs feature serves a multitude of purposes.
Create a real family feel by using it to prop up family photos and add a clear glass table to pop your keys or display a vase of flowers.
10. Protect your loved ones with a fireplace fender
If you're worried about crawling toddlers getting too close to your fireplace or guests gravitating towards an unfamiliar space, a fireplace fender may be on your shopping list.
This piece of furniture was used traditionally to create a safe area around the open fire, but more recently has been used in interior design as an decorative feature to add interest. We love the contrast that this velvet pink decor provides to the cream and blue living room ideas.
Flecks of pink can also be picked up in the painting above the fireplace idea, which gives this hue a sense of cohesion, rather than being randomly chosen.
11. Add a velvet bed to warm up a bedroom fireplace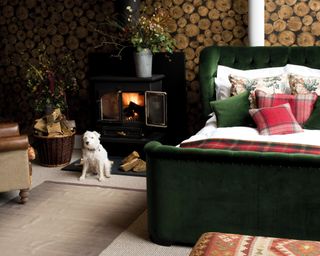 If you're incorporating a fireplace idea into a bedroom, you'll no doubt want to make this space as cozy as possible with tactile textiles and furniture. Soft and luxurious, we love the glamorous and suave vibes that velvet has.
To style this space, choose the best bed frame design that you can afford, making sure to use the space carefully, so that your fireplace ideas still stand out. Silk and wool mattresses will guarantee a comfortable night's sleep, along with the warmth from the fire.
12. Create an idyllic reading nook next to the fire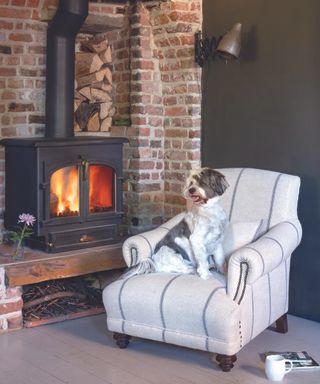 Install a country-style reading nook idea in your home by placing your fireplace next to a cozy armchair. This distinctive and deep Climping chair with a classic scroll arm and castor foot is by Sofas & Stuff and is something we'd sink into in an instant.
Featuring stud details for aesthetics and a bolster cushion for your pet pooch to snuggle up with you. Made with organic 100% flax linen with either red or navy stripes, it is both stylish and eco-friendly.
13. Put the spotlight on your fireplace with wall lighting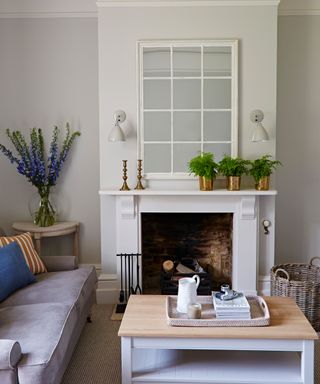 Neither too country, nor too contemporary, this fireplace idea set in this period property oozes country weekend retreat vibes. During the day, this home pours with light, and at night, the fire and wall lights and framed grid mirror idea get to work to create a glowing atmosphere.
Set in rural England, this home benefits from little light pollution because of the lack o street lighting – meaning all of the focus is in the home.
14. Create a dark and dramatic games room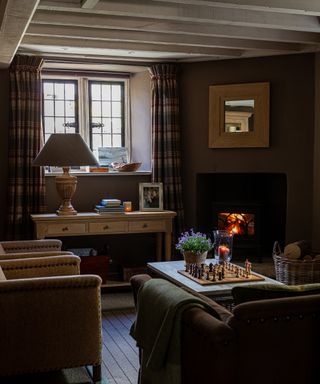 We've focused quite heavily on light spaces so far, but dare you go to the dark side? This fireplace idea is a perfect cozy and cocooning den that would be perfect in a games room (anyone else getting Cluedo vibes? Minus the crime of course!) or a place to sit for after-dinner drinks or a night cap.
Soothing chocolate brown decor works with lighter wooden tones to give this space a comforting feel. The check-patterned curtains are the perfect window treatment idea for a cozy country cabin atmosphere.
15. Pair with a bar cart for sultry speakeasy vibes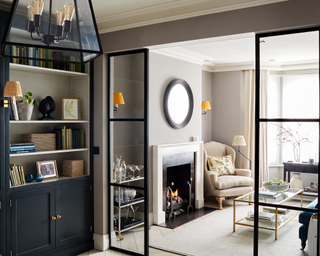 After an extensive period of not inviting guests into our homes, we've had a craving to catch-up whenever we can. But with everyone booking up the coolest bars in town, it might be hard to grab a reservation for your favorite drinks spot.
Instead, why not pair your fireplace with a bar cart and be the hostess with the mostest. Plays homage to the roaring twenties, with a roaring fireplace idea. There's no dress code, drinks don't come at a premium, and you can bet your bottom dollar that the company is going to be great! A gold glass coffee table is the perfect addition for guests to place their glasses.
16. Go for a kitsch maximalist space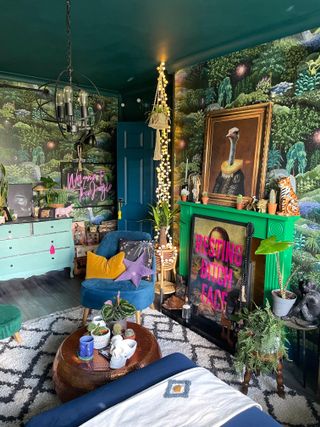 Fireplace ideas don't have to be neatly curate schemes. If you're a 'more is more' (and then some) sort of person, an eclectic and maximalist scheme like this one might be, er...more up your street.
To emulate this scheme by Pixie of @eclecticHunkydoryHome, start off with a busy printed wallpaper, then clash with a brightly colored fireplace, mix up your door paint and go crazy with kitsch framed prints for a rebellious feel.
There are absolutely no hard and fast rules here, so there's no need to find all your bits and bobs all at once. In fact - half the fun is going out sourcing your furnishings slowly over time and seeing how your fireplace ideas evolve.
17. Or go modern traditional with lots of accessories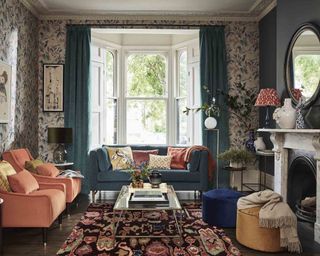 If perusing thrift shops and weekend upcycling isn't your thing, you can take a more conventional route to creating a modern traditional maximalist feel. A floral printed wallpaper, combined with a colorful pleated lampshade, velvet furniture and an unapologetic approach to clashing patterns all contribute to a whimsical and well-thought-out scheme.
Ironically, by choosing a relatively plain marble fireplace design, its stylish simplicity helps it stand out from the visual noise.
18. Consider the flooring in the room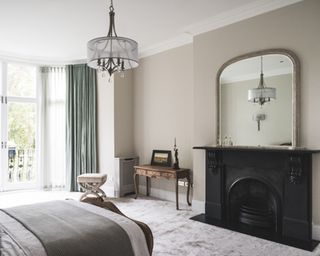 'When it comes to installation, this often depends on flooring,' says Owen Pacey, founder of Renaissance London and antiques expert.
'The first thing I ask is what period the building belongs to or where the property is. Take a Georgian house for example, the ground floor and first floor are normally marble whereas the basement will be stone or slate. If someone comes to me looking for a first floor fireplace in a Notting Hill flat, I'll know exactly what they need.'
19. Keep your fireplace minimalist and chic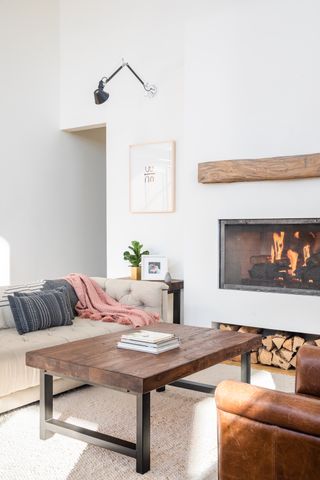 If you prefer a more contemporary look in your space, opt for a fireplace that lies flush to the wall. You can still add a mantle if you want to have somewhere to decorate, just install a floating shelf or wall mount a reclaimed beam for a more rustic living room.
20. Evaluate the size and scale of your fireplace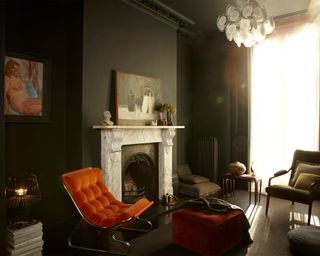 'The scale of your fireplace should depend on the scale of your room. If you have lots of space and high ceilings, you may wish to opt for a tall fireplace with an overhanging mantel, an ornate overmantel and a wide hearth extension,' says Pacey.
'If your space is smaller, such as in a bathroom or guest bedroom, you may wish to opt for something flusher to the wall, focusing the detail on ornate jambs or tiles around the grate.'
'Where sizing is concerned, it's important to never take the mantle to the end of the chimney breast. Always bring it in by a few centimetres each side and don't be scared to go slightly larger than you may have originally thought.'
'I would always recommend bringing in a fireplace fitter to measure the space for you, however, to avoid any mistakes. When installing a fireplace, it's important to note that there are no regulations to line a chimney – your chimney only needs to be lined if it is leaking.'
21. Be bang on trend with white exposed brick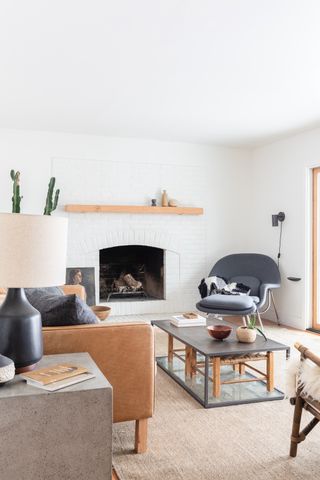 Exposed brick is a classic trend and we can't see it going out of style any time soon, but there is a new trend emerging for white brick walls. They are cleaner and less of a feature than raw brick and can modernize a fireplace instantly using just paint.
Our advice on how to whitewash a fireplace will have you giving your space a glow-up in no time at all!
22. Choose a fire that suits the room's architecture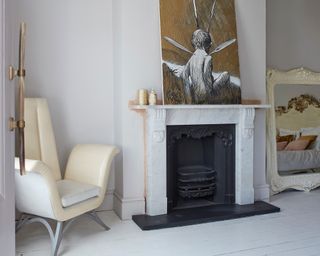 'Choosing the right fireplace requires some thought. Consider the architectural era of your home. I always advise sticking to whatever fireplace style is local to that area. This is for aesthetic, rather than practical reasons,' says Pacey.
'Something from the wrong era will stick out like a sore thumb. For the new builds it is harder to find an original piece that works but we make bespoke contemporary models too.'
'These are what we call a 'bolection' style of fireplace – they have very clean lines which take inspiration from antique fireplaces typical of the unfussy English aesthetic. They sit very well in a more modern environment.'
23. Build log storage under a fireplace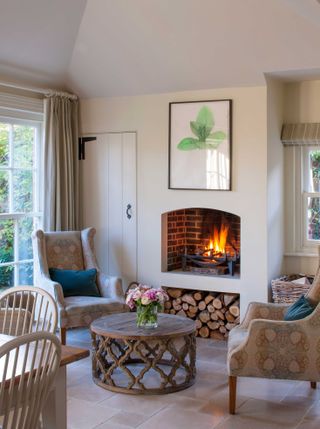 We love this simple, fuss-free fireplace and the log storage underneath is not only a handy addition but looks really stylish too. This living room is on the traditional side, but this style of fireplace would look amazing in a modern, minimalist space, with the logs adding some warmth and texture.
24. Choose a style that'll suit your home's era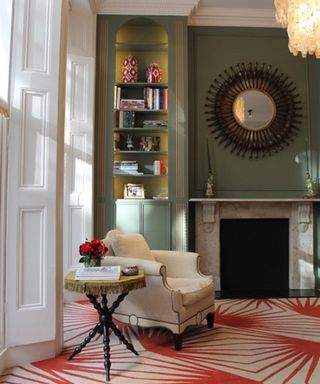 'I'd always recommend sticking to the period of the house when looking to purchase a fireplace. This ensures that the styles align and the fireplace will look like it's always been there,' comments Pacey.
'The ground floor of Victorian properties always used to have a marble or slate fireplace and later on in the Edwardian era, slate became much more popular. My go-to material would always be marble, however, as it is generally very durable. If you're thinking of inserting something functional and/or decorative inside your fireplace, I generally like to stick to original cast iron inserts or a freestanding basket.'
'Depending on when your home was built, you may wish to match, for example, period architecture with period furniture. Fireplaces differ from decade to decade, aesthetic movement to aesthetic movement, and even in different boroughs of London.'
'The original fireplaces in Harley Street's grand terraces will differ greatly to those found in properties at St James's Gardens in Notting Hill. So, if you're seeking to create an authentic, historical look, do your homework and you'll learn lots about the area and history of your home in the process.'
'A key recommendation that so many don't consider when refurbishing a house is that the fireplace should always be installed before the flooring. The perfect time for installation is after the walls have been plastered as the fireplace fits perfectly with the hearth.'
25. Paint a fireplace to contrast your walls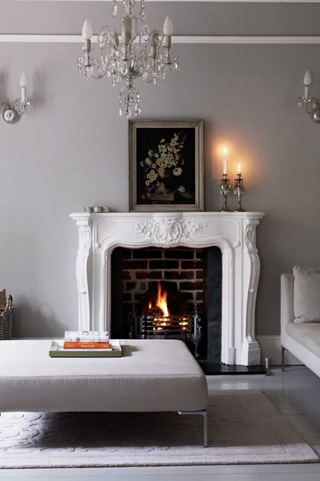 If you have more of a traditional fireplace that is looking on the tired side, give it a fresh new look for fall with a coat of paint. Pick a color that's going to contrast your walls so it becomes more of a feature in the room. That doesn't have to mean going for a bold color – here this clean, bright white still pops against the light grey of the walls.
26. Decorate your mantel with the seasons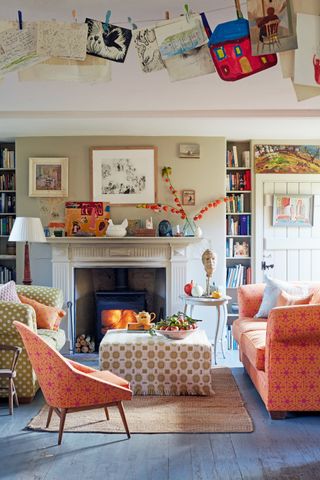 An empty mantle is a sad mantel. That's prime decorating space that could be put to use, bringing color, texture and personality into your room. Change up the decor with the seasons too – for fall you obviously want to go for warm hues, dried flowers and even the odd pumpkin and for Christmas go with all the greenery, berries and glowing candles.
27. Keep your fireplace chic and simple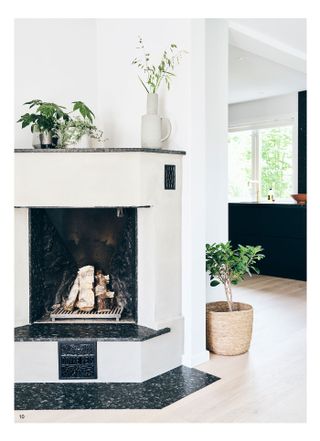 If you prefer a cleaner, more minimalist look in your home keep your fireplace design really simple. This modern fireplace idea almost blends into the wall and the black marble brings some interest but still looks sleek and sophisticated. Keep the mantle decor to a minimum with just a few houseplants to add some color.
28. Fake fireplace tiling with a DIY stenciled paint design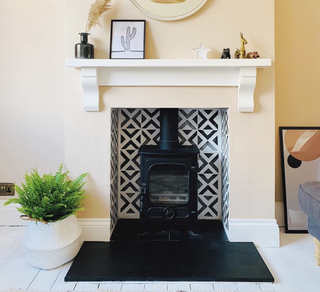 If you want a quick, cheap DIY fireplace update, check out Negi of @negi.at.home's transformation. This is all done just using paint, stencils and apparently a fair bit of patience, but the result is SO worth it.
'I always get asked about the tiles behind the fireplace - it's actually a painted on stencil!' says Negi.
'This was done on less than £50 (although I had some of the paint already). I'm going to continue finishing rooms this year on a shoestring as spending is limited by something important we're saving up for - our wedding.'
29. Mix and match eras to create an artsy feel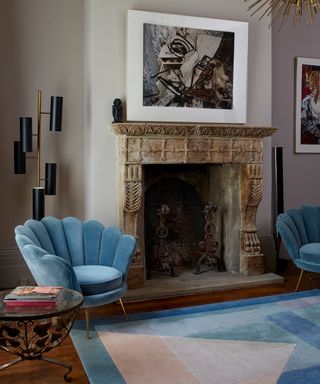 Whether you are paying the mortgage or sending your landlord a large proportion of your monthly income in rental fees, your interiors should reflect your personality! So there are no hard and fast rules when it comes to mixing and matching furniture and eras.
In this scheme, the original fireplace has been partnered with Art-Deco inspired scallop chairs and a modern Scandi style color-blocked rug design.
How can I make my fireplace look nice?
'When it comes to choosing a specific style, we take into account the aesthetic of the home, as well as the client's personal preference,' says Wicksteed.
'We tend to opt for a more classic look; a Jotul log burner is a great choice as it works well in both city and country homes. We suggest seeking a specialist to size up the stove in relation to the room in question and to assist in choosing a material which will be durable. Cast iron would be our suggestion as steel can distort under high temperatures.'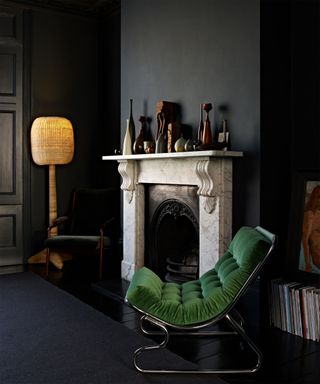 Where can I install a fireplace?
'You can install a fireplace absolutely anywhere, we have even installed fireplaces in the garden. I have a fireplace in my bathroom and I think it really adds character.' explains Pacey.