Express your home's eclectic side with a boho living room look that embraces all things layered, fun, and unexpected.
Chuck out the rule book (fear not - we've got some gorgeous ideas to spark your imagination) and take a styling adventure with fresh living room ideas that explore a fusion of natural materials, color, pattern clashing, and quirky finds.
Make your boho lounge-and-laugh living room a unique space that reflects everything you love, complete with comfy surprises and wild flair.
Chris Harvey, Interior Expert, Stelrad, says: 'If you love boho decor, then you've probably dreamed of a boho living room filled with an eclectic mix of colors, textures, and exciting accents. Boho decor is as unique as the person decorating the room, so no two spaces will be exactly alike. With lots of bright colors, natural textiles, and eclectic charms, the boho-style decor is popular among people who consider themselves free spirits.'
1. Layer bold patterns over warm neutrals in a boho living room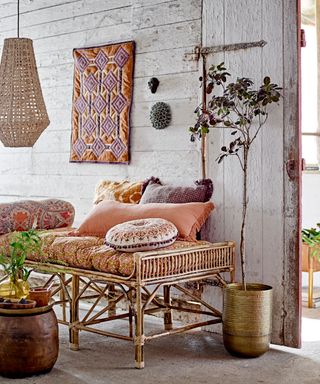 Grace Baena, Interiors Curator at Kaiyo, says, 'When creating a boho style living room, start off with a palette of warm neutrals. Typically, this interior style is a combination of neutral colors (warm shades of off-white to brown), accented with pattern mixing. These loud patterns can consist of any colors you want, and they can all be different, although you do want to tie in a little consistency across them through one or two main colors.'
'The most common ways to incorporate these loud patterns are with throw pillows, blankets, and rugs. These should be the last items that you purchase, because it is much easier to create a consistent vision when you start with the warm neutrals incorporated everywhere else - like your couches, wall color, round coffee tables, flooring, etc.'
2. Bring nature indoors with plantspiration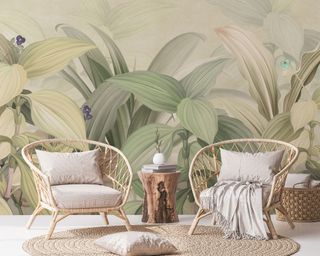 Take a jungalow approach with creative ways to bring nature into your home, and root your living space in nature with tactile materials that celebrate beauty in imperfection. Let natural inspired neutral tones like off-white and sand, blend with soothing green shades like sage and mint, for a relaxed alternative to the generic, go-to boho brights.
Amy Stansfield, content creator, Wallsauce.com, says: 'Embrace plant life. Choose tropical, green plants and display them in terracotta pots or macrame woven hangers. If you can't help but kill plants, choose a custom-made floral wallpaper (from Wall Sauce) or fabrics.'
She continues: 'It's all about sustainable décors such as items made from wicker, rattan, wood, and hemp. A circular, woven rattan rug, a large wicker lampshade, and a wicker winged back '70s chair.'
3. Get crafty with DIY macrame plant hangers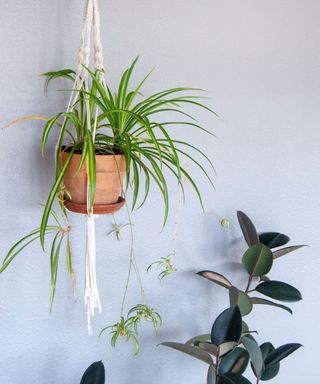 Boho living rooms always need a little macrame magic! Craft your own with this Macrame Plant Hanger DIY Kit by Set it Down at Etsy. With all the materials and instructions included, it's super easy to craft your own planter for your boho living room. (Bonus: USA-made, female-founded, eco-friendly, and recycled packaging.)
Hang a selection of planters with a variety of plant species and textures at different levels, combined with DIY plant stands to up the interest and fill your space with verdant freshness.
4. Mix and match accessories with all the trimmings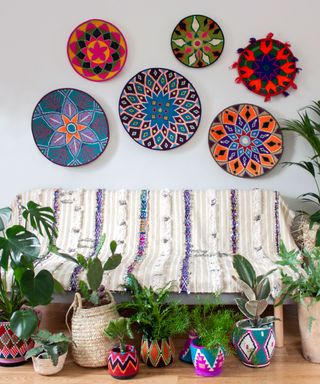 If ever there was an interior style that reveled in pattern clashing, it's boho style. For a quick living room update that can be switched up every season, introduce variety through soft accessories like scatter pillows and throws - you don't want to overwhelm your entire space, it's more about adding bright delighting color and pattern pops as accents. For added playfulness and tactility, choose designs with fringing, tasseled, and pom pom trims - now that's what we call a pattern party!
Richard Petrie, home expert at Thomas Sanderson, says: 'The key to using decorations for a bohemian style interior, is to mix and match. Curtains, throws, and pillows with fringing really capture the playful essence of the style embracing that "more is more" philosophy in your living room.'
Lily Wili, founder, Ever Wallpaper, says: 'If you're looking to add a boho touch to your living room, there are a few things you can do. One option is to add some colorful textiles, like pillows or rugs. You can also use plants and flowers to create a natural vibe or hang some interesting artwork on the walls. Whatever you choose, make sure it reflects your personal style.'
5. Replicate an Instagram inspired boho look on a budget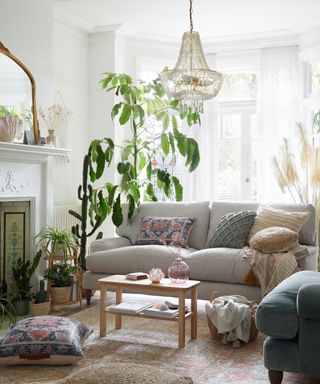 Have you spent hours scrolling through Instagram, looking at your favorite interior design accounts, wishing you could replicate the same boho style in your home, and ultimately wondering how to achieve a living room update on a budget?
Nick Drewe, trends and money-saving expert, WeThrift, provides his top tips for transforming your space without breaking the bank: 'Bohemian interior styles are defined by a lack of real structure or rules; a carefree layout combined with layered patterns and textures.'
'A quick, easy and affordable way to recreate this look is to give your existing furniture a new lease of life with slipcovers, as this will add a splash of color and texture to sofas and chairs. DIY furnishings or a DIY coffee table can also add to your carefree bohemian interior. From macrame wall hangings to crochet chair covers and homemade light shades, there are plenty of easy and affordable ways to add a boho feel to your home. The addition of indoor plants is another essential in boho design, and will add another dimension to the room.'
6. Play around with lighting to set the perfect mood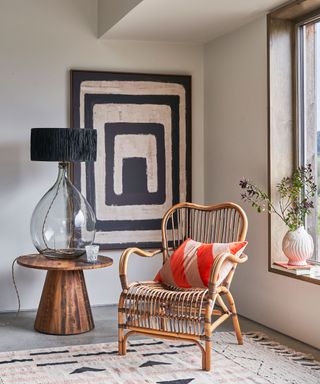 Create an enticing, almost exotic ambiance with a layered approach to living room lighting ideas. Boho spaces definitely like to steer away from the clinical glare of a headache-inducing, too bright ceiling fixture.
Home experts at Thomas Sanderson, say: 'Soft, ambient lighting will unify your bohemian interior, creating a calm and welcoming feel.'
'Try to stay away from overhead fixtures by decorating with standing floor lamps and table lamps in the living room instead.'
'Don't forget to make the most of your natural lighting too by hanging some voiles, or using shutters to really let the light seep through.'
7. Create a boho living room that electrifies happiness and energy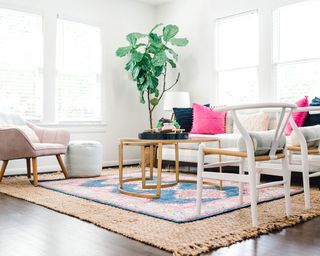 Full of life, culture, and wanderlust appeal, bohemian-styled interiors express unique personality as no two rooms are the same.
Petrie shares his advice on how to create a boho-inspired living room that exudes warmth and character by mixing colors, textures, and patterns:
'The great thing about bohemian interiors is there are no rights or wrongs when it comes to colors, textures, and patterns.'
'Although warm and earthy colors like browns, greens, and grays are often used as base colors, you can combine these tones with bright shades like fiery oranges or electric blues for that pop of color.'
'Feel free to mix patterns and textures that conventionally might not go together; this is what makes the style so unique.'
8. Channel boho luxe with a mono palette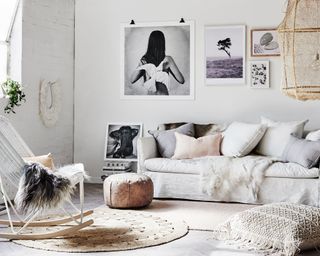 Mono schemes are a key living room trend, so why not take the best of both approaches by incorporating this chic and timeless palette into a modern living room idea for a pared-back aesthetic, that oozes Scandi calm and serenity.
As shown here, elevate this simple color scheme in sensory appeal with mixed materials like rattan, relaxed linen, jute, macrame, and faux fur. A travel and natural world-inspired gallery wall idea in themed mono tones adds depth and another dimension to walls, for a balanced look that's bright and breezy, yet full of contrast and interest.
9. Celebrate a '70s boho revival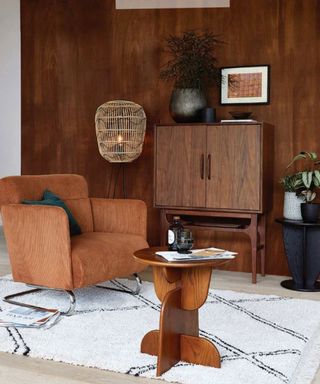 Remember the '70s the first time around? Fear not, for a modern zhush, it's au revoir to the smell of damp incense and sheepskin, in favor of a richly dapper, refined look and feel… Well bonjour, there midcentury modern coffee table with walnut tones…
Trend experts at La Redoute say: 'Escape and indulge in rich velvet upholstery, have fun with deep fringing, opt for opulent tones of deep green, orange, and brown, and enjoy a trip back in time with an updated twist.'
10. Choose 'lived-in' pieces for an authentic edge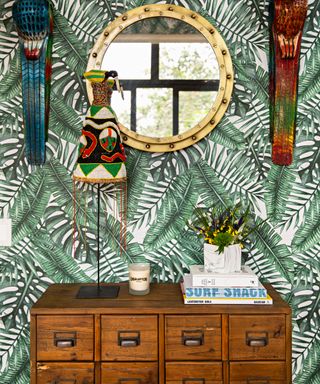 Peti Lau, an international interior designer, and Kaiyo's trend expert, says: 'Boho style homes are one of my favorites, and are continuing to become more popular. To create the perfect boho style, I use eclectic textiles such as a flat weave rug from Kaiyo which I mix in with rustic style furniture for a "worn-in look".'
'I don't use materials or furniture that are too new or shiny, instead, I use materials that have an aged aesthetic. I used pops of color for lighting fixtures and vintage, antique, or pattern tiles to help curate a boho style. Additionally, adding greenery to a room helps to bring this vision to life with lively pots and planters.'
Why not try a creative coffee table alternative too?
11. Add organic shapes with statement lighting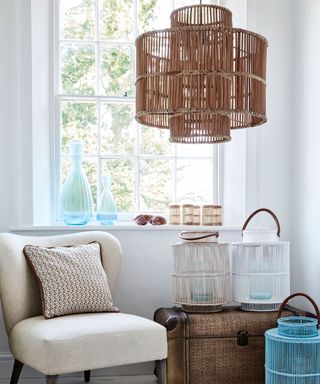 Mitchell Elworthy, founder, and director, of The Lighting Outlet, says: 'Try out a beautiful large natural rattan shade, like the Sawyer rattan woven cane boho pendant, on your center hanging pendant light to add a complex shape to your luxe boho living room. Placed hanging low over your coffee table, it makes for a conversation piece as well as provides an intimate setting.'
12. Add warmth and texture with a statement rug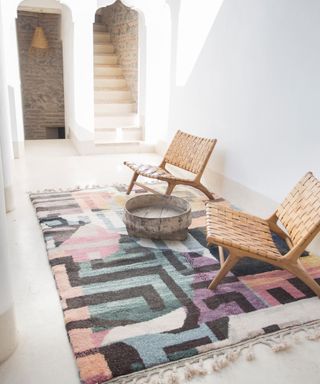 Kristina Williamson, founder of Ouive Rugs, says: 'Rugs are an essential part of creating a boho look as they add warmth, texture, and pattern. A living room rug idea with a neutral tone can help unify a space, while a more colorful or pattern rug can act as the focal point of a room.'
'Layering rugs is also a great way to build up a boho vibe adding complexity and playfulness. Moroccan rugs, in particular, are a popular choice for this look because their organic and often asymmetrical patterns make a great base for a more eclectically curated space.'
What is a boho living room design?
In essence, a boho look can be whatever you want it to be - it's all about expressing your home's unique personality through mixed textiles, materials, color, pattern, art, and unexpected combinations.
Boho schemes can be bright and maximalist; earthy and rich with a color palette that explores warm terracotta and mustard, or pared-back and subtle, full of natural materials.
What are the most popular boho home decor items?
Boho style is all about layering a variety of textures, colors, and patterns. The easiest way to do this is through boho chic decor picks like mix-and-match throw pillows and throws. Choose designs with tassel, fringed, or pom pom trimmings for a playful, tactile edge. A statement patterned rug and house plants galore are also popular boho essentials.
Robert Johnson, a founder of Sawinery, says: 'Not only visually, but also tactilely, boho-chic living spaces must be rich and enticing. Rich textured components like leather-like materials, fringes, leather, wool, thick fabrics, burlap, woven herbs, and wood can give your area an organic vibe.'