Velvet sofas are definitely having a moment – in fact, they have been having a moment for a while now. It's easy to see why, too. Featuring plush, tactile fabrics that are perfect for sinking into, as well as attention-grabbing colours ranging from hot fuchsia to deep green and just about everything in between, a velvet sofa is guaranteed to be a striking centrepiece in any living room.
Find more of the best sofas in our buying guide, and be sure to use our guide to choosing a sofa to ensure you're shopping for a quality item which suits both you and your space.
The 6 best velvet sofas
Why you can trust Real Homes Our expert reviewers spend hours testing and comparing products and services so you can choose the best for you. Find out more about how we test.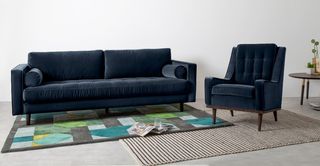 We've made our love of the Scott sofa very clear in the past, so it's no surprise that it's top of our pick of the best velvet sofas. We just love the slightly Mid-century design – it's enough to give a slight retro feel to a room without it meaning you can't mix in other styles. It also comes in a few sizes – a 2 seater, 3 seater, a 4 seater chaise sofa, and a huge corner sofa. There are also plenty of lovely velvets to choose from too, if this dark blue isn't your vibe.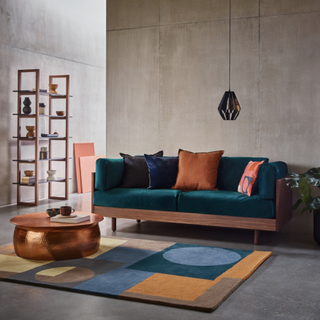 If you are after a velvet sofa with a bit of a twist this Habitat offering would be right up your street. You get all the glamour and the luxury of velvet sofas, but then there's this really cool walnut base that makes it a bit more unusual. We know this won't be for everyone but we see so many similar designs when it comes to velvet sofas, that this really caught our eye. It has great reviews too – with shoppers saying it's really comfy, really roomy and amazing quality.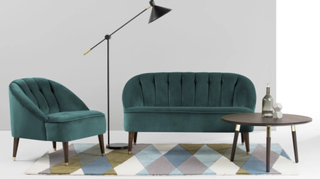 If you are after a velvet sofa for a small living room design, this Made sofa would be ideal. It's only 130cm wide so could fit into the tiniest of rooms, plus the shape is perfect for small spaces too. It has high legs and a low back, which is great. Of course, it also looks gorgeous; we love the teal velvet and the hint of gold on the feet. It comes in nine colours, all stunning and there's a chaise lounge and armchair to match too (both would be amazing in a bedroom).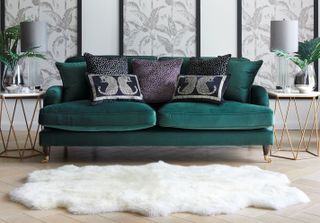 Like a more traditional sofa? This pick has classic lines and details, and will look happily at home in a traditional scheme. The bottle green velvet gives it up-to-date style, though, so you could mix it with more modern furnishings without creating a clash. We've fallen for this gorgeous velvet in a shade that teams beautifully with gold accents as well as other botanical shades. But do make sure you check out the eye-catching blue alternative too, or opt for a classic grey if you are after something more subtle.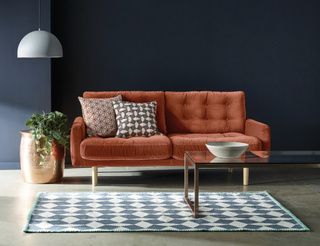 Ah an orange velvet sofa – we think they might be the new blush pink velvet sofa. What we love about these dark, burnt oranges is that although they do add a pop of colour, the warm hue is still quite neutral, so it's not going to totally overwhelm a room – it's a good colour to go for if you want a change but don't want something to clash with all your existing decor.
Love the shape but not too sure on the orange? There are 23 other fabrics and colours to choose from and you can order samples to test out first.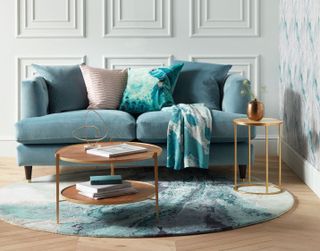 A Chesterfield sofa is never going to go out of style – it's a classic – so you know you are investing in something with longevity. This John Lewis velvet sofa will suit literally any space. Its buttonback details tips it slightly into the more traditional style, but it would still be at home in a modern room. Its simple design and neutral colour options mean you can always add throw cushions to blend it even more with your style.
Oh and you can pick from literally hundreds of colours and materials for your upholstery. Above the Chester has been upholstered in Lucca Soft Teal Velvet but do go and have a look at the huge selection you can choose from.
Read more: