Small space dwellers rejoice, because our modern small living room ideas prove just how much you can do with even in the tiniest of floor spaces. We get that decorating when space is limited can be a challenge – how much furniture can you get away with? What layouts are going to work best? Which colors are going to 'expand' the space? How do you make a tiny living room still feel fresh and modern? Well, fear not, because we cover all those questions right here.
For us, modern style lends itself so well to smaller spaces because it's often very simple, minimal and functional. You don't want a small living room to feel cramped, or too busy, it's nice to have clear floor space and allow furniture to breathe.
That being said, there are of course many many takes on 'modern' from the super sleek to more relaxed, boho looks. But whether you are a die-hard Modernist or looking for a more laid-back take on the style, your sure to find some inspiration here, as well as some clever tips on expanding your square footage.
'It is possible to live large in small spaces, you just have to know how.' says Jen and Mar, founders of Interior Fox. 'Create a backdrop with a striking mural, a simple design ensures the pattern feels the room without dominated the whole scheme. Size up your lighting solutions, and oversized pendant or table lamp gives the space a more luxurious feel while providing ample amounts of light. Finally, people think they need to shop small when looking for furniture, take the sofa for example, a bigger sofa can actually make a small living room feel cozier and bigger.'
For plenty more tips and ideas to create your perfect small contemporary living room just keep on scrolling...
1. Opt for multifunctional furniture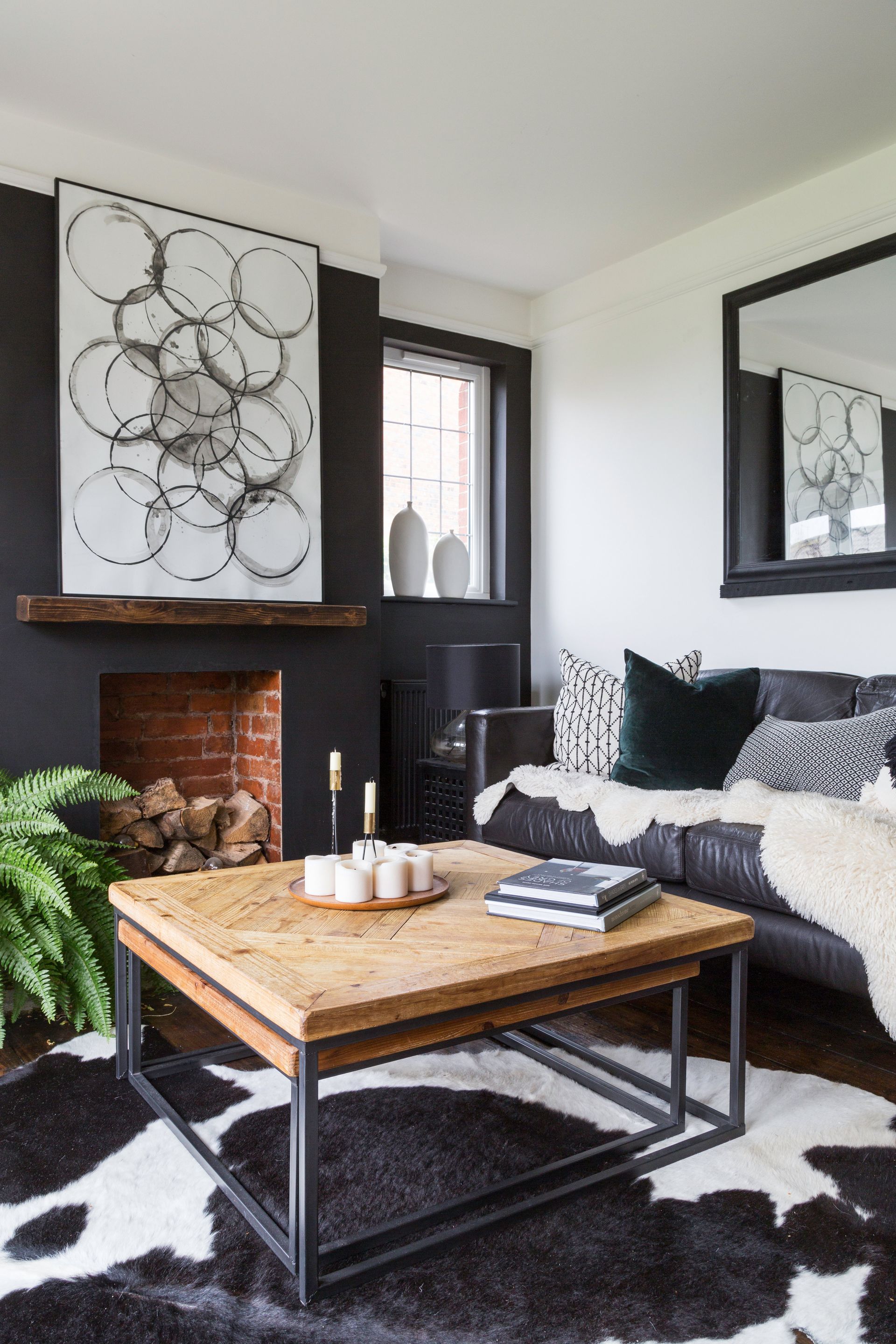 No matter what style you are going for, in a small space your furniture has to work extra hard. If you can pick pieces that can double up to serve two purposes, or add some extra storage or surface space then definitely do so. You don't want to cram loads of furniture into your room so choose multifunctional pieces like a storage ottoman or - if you want the flexibility to host overnight guests - consider one of the best sofa beds rather than a classic sofa. Or you could opt for nesting coffee tables that you can pull out and move around the room when you need to but don't take up lots of floor space and interrupt the traffic flow.
2. Make sure your storage is spot on
Another essential for a small modern living room – storage. Storage is key to creating that minimalist, clutter-free vibe that's at the core of modern style. That doesn't mean to say everything needs to be stored away behind doors, go for a mix of open and closed storage – say a book shelved to add decor and personality and then a coffee table for drawers to keep the less aesthetically pleasing things like remotes and cords.
3. Pick the best layout
There's a tendency with small living rooms to push everything up against walls to reveal as much floor as possible. However, if you are after an airy, modern feel to your room, a sea of floor space in the center isn't always the best way to go.
Pull that furniture away from the walls and leave some space behind. Floating your furniture in this way will give the impression the room is wider than it is and also create more flow to the room, and more light too.
4. Switch a sofa for armchairs
Whilst our round-up of the best sofas of the year may have you tempted to cram in a two-seater, sometimes the best thing to make a modern small living room feel bigger is to forgo the sofa altogether. Now before you gasp in shock at the thought of not having a sofa to binge watch Netflix from, think about how much space you could save if you instead went for a couple of really deep cozy armchairs and footstool.
That lack of bulk in the middle of the room would really open up the space, giving it a more minimalist, contemporary feel. Plus, it would more light to flow around, instantly creating the allusion the room is larger. Just be sure to add in some throw pillows and blankets so the room doesn't feel too formal.
5. Disguise the TV
Let's be honest, a TV can ruin the modern vibe you are trying to create. In a small living room, it can be tricky not to make that black hole on your wall the focus, but a simple way to disguise is to add a dark feature wall. Paint your walls the same color as the TV. Simple. And we say the same color but really what we mean is to use darker colors so the TV blends seamlessly into the walls.
We like how is this small modern living space a wooden mantle has been added to soften up all that black and the built-in storage breaks up the color.
6. Add a feature wall with panelling
Paneling is a great way to bring texture and interest into a smaller living room without actually taking up any space. Vertical, shiplap paneling looks lovely in more modern homes, adding a touch of character while also giving the allusion of more height.
7. Choose and oversized rug
A really simple trick to make a room feel bigger is to lay down an oversized rug. You don't want a tiny rug sat in a sea of floor, you want something big enough so that it doesn't break up the space and expands underneath your furniture.
A rug is also perfect for floating your furniture around as we mentioned earlier – use the dimensions of your rug to arrange furniture rather than the edges of the room. You could even then layer a smaller rug on top.
8. Display artwork and prints strategically
In the past, we have recommended approaching busy wall decor in a small space with caution, however, we've also many a time expressed our opinion that a blank wall is a sad wall. If you want to add prints or a gallery wall to a small living room then do so! Just be sure not to just float a group of prints in the middle of the wall, going floor to ceiling like you see here gives the room height.
9. Pick a limited color palette
Now, we aren't saying you can't add color to a small living space, but you do want to keep the room feeling too busy, so sticking to a strict color scheme will help. Opt for a neutral backdrop by keeping walls and ceilings white and bring in pops of color with throw pillows, rugs, blankets and accessories.
We very much approve of this monochrome scheme with the hints of pale pink. The warmer hues just soften up the contrast between the black and white and looks lovely with the pale wooden accents too.
10. And don't be afraid to go dark in a small modern living room
While it might be typical to go for a lighter color scheme in a small contemporary living room, don't shy away from darker hues if that's more your vibe. Going for a charcoal grey or a dark blue paint on all four walls and even the ceiling blurs the edges of the room and can make a space feel bigger. It further adds to that intimate atmosphere you can encourage in a small living room.
11. Maximise natural light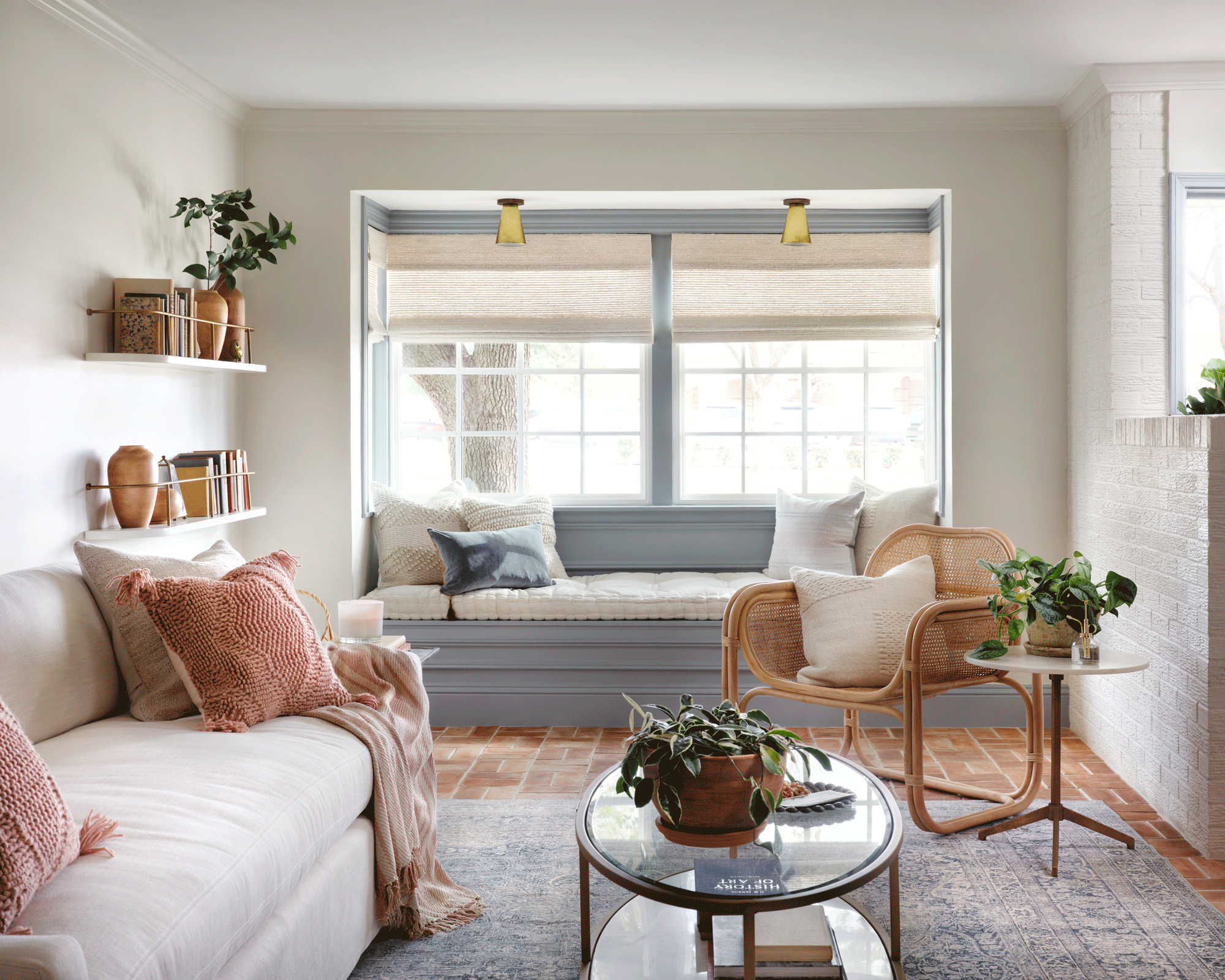 Natural light can hide many a sin in a small space so let in as much of it as you can. It will instantly make the space feel bigger, brighter and airer. Stay away from heavy curtains and dark blinds and instead opt for light floaty, semi-sheer materials that can add privacy but are still going to maximize all that lovely light.
12. Incorporate stylish mirrors
We all know that mirrors can help even the smallest of spaces feel bigger. Choose a larger statement mirror to hang on your main wall to reflect maximum light around the room, or create more of a feature by grouping a collection of mirrors together. You could also pick a large leaning mirror to prop up in a corner to create the impression of a more open space.
13. Embrace the coziness with plenty of texture
Sometimes the best way to make the most of a small living room is just to embrace the coziness of those tiny dimensions. Enhance them even by layering up soft textures and keeping your seating close to create a really inviting den-like space. Keep it feel modern by choosing a simple grey and white color palette and adding in some statement artwork and accessories.
14. Think about lighting
You can make a living room feel instantly more spacious with clever layered lighting. You want it to be on multiple levels so the eye is never drawn to a particular source, instead, you just get this all-over lovely glow. For a modern look opt for something simple and wall mounted so you aren't taking up any of that precious floor space and adding some interest to the walls.