Designing a small living room can feel like an impossible challenge. How do you start to choose furniture for a tiny space? How will you fit ever in all the living room furniture that's essential without making it feel cramped? And which seating and storage choices should you include? Will there be room for occasional tables, or a desk now we are all working from home a whole lot more? Worry no more! With our guide to the right furniture choices and great small living room layout ideas, you can put your small space dweller troubles behind you...
1. Opt for multi-tasking furniture in a small living room
'You can maximize space in a compact living room by investing in multifunctional furniture.' explain Jen and Marr, founders of Interior Fox. 'An ottoman footstool is a great place to start, it works as additional seating for when guests visit, it creates extra storage, and best of all, a place to put up your feet at the end of a long day.'
Furniture that performs two functions in one is a key ingredient of a successful small living room scheme. Instead of having to accommodate two pieces there's only a single design to fit in – leaving more of the floor clear – yet you don't lose out on any of the functions. Try these:
In place of a coffee table, consider a storage footstool. The latter is coffee table and comfortable footrest in one, plus the lift-up lid reveals capacious storage inside.
If you need a desk in a small living room, opt for a narrower console table instead. It's more than enough desk space for a laptop and, when you're not working, it can be used for table lamps and display. Think about positioning it behind a sofa as an alternative to against the wall, freeing up space around the sides of the room for other furniture.
Choose upholstered cubes that work as both occasional tables or extra seating as required. They're easy to slide away under a console table or alongside seating when not in use.
2. Incorporate built in storage in a small living room
Individual storage furniture designs such as a bookcase, a TV unit, a cupboard for films or music, etc, can fill up a small living room, making the seating area cramped. Instead, swap the whole shebang for one bespoke combination of shelving, drawers and cupboards along a wall that's home to all your stuff.
'The possibilities are endless when you go bespoke. Creating furniture for your living room that is designed to fit seamlessly means that every inch of the room is catered for.' continues Jen. 'Try a built-in cabinet or low-profile media unit for a stylish alternative to a tv stand, it provides additional space to stow away items out of sight, while creating a clutter-free living room to relax in.'
And with the room's storage taking the form of a single piece of furniture, don't be afraid to go high for this element as it won't prove overpowering. The least frequently used items can be kept at the top.
If you have items you don't want on display to stow in the living room, look for modular designs that allow you to put together the combination of open and closed storage that suits what you need to store.
Look, too, for designs specially made for small spaces that might include features such as a pull-down desk or other useful extras.
3. Select the right furniture shape for a small living room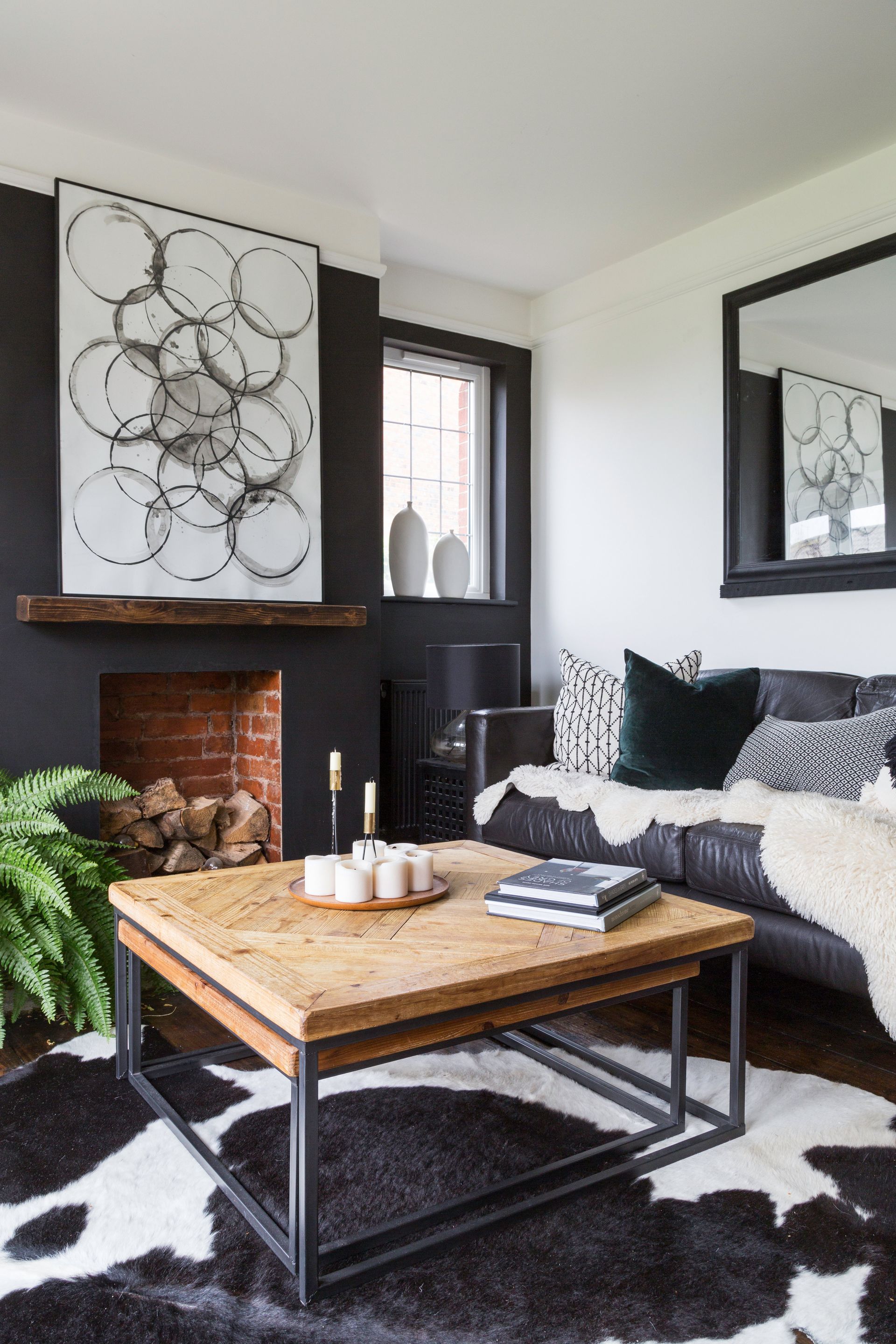 It's not just which pieces you choose that are important in a small living room. Their shape and material can also help make the space feel larger.
Look for furniture you can see beneath whether that's a sofa or armchair, bookcase, footstool, and so on. More floor on show equals a more spacious impression. Look, too, for slim legs on these designs rather than bulky feet. Metal legs for seating or side tables are stylish, or try Mid-century inspired tapered wooden legs.
Pay attention to the overall shape of items. Scrolled arms demand space that isn't going spare in small rooms and intrude into circulation areas. Look for slim, upright, squared-off arms.
4. Choose the right sofa for small living room
You might think that in a small living room, you need to opt for a small sofa, but if you want to create a room that's comfy, cozy, inviting and seats as many people as you can pack in, don't be afraid to go bigger with your sofa. Pick a sectional that's going to hug the walls of the room and add to that cocooning feel you can choose to embrace in small spaces. Pick a light color so it doesn't visually take up the space in the room and keep the rest of the furniture in the room minimal.
If your living room would just become a huge sofa if you tried that approach, inside opt for a love seat that's going to be just as comfy but take up as little space as possible. Look at the shape and the depth of seat cushions and angle of the back of seating. A more compact and upright seat can be equally comfortable and leave room for a coffee table in front where a slouchy design is a space-guzzler.
5. Pick the best furniture materials for small living rooms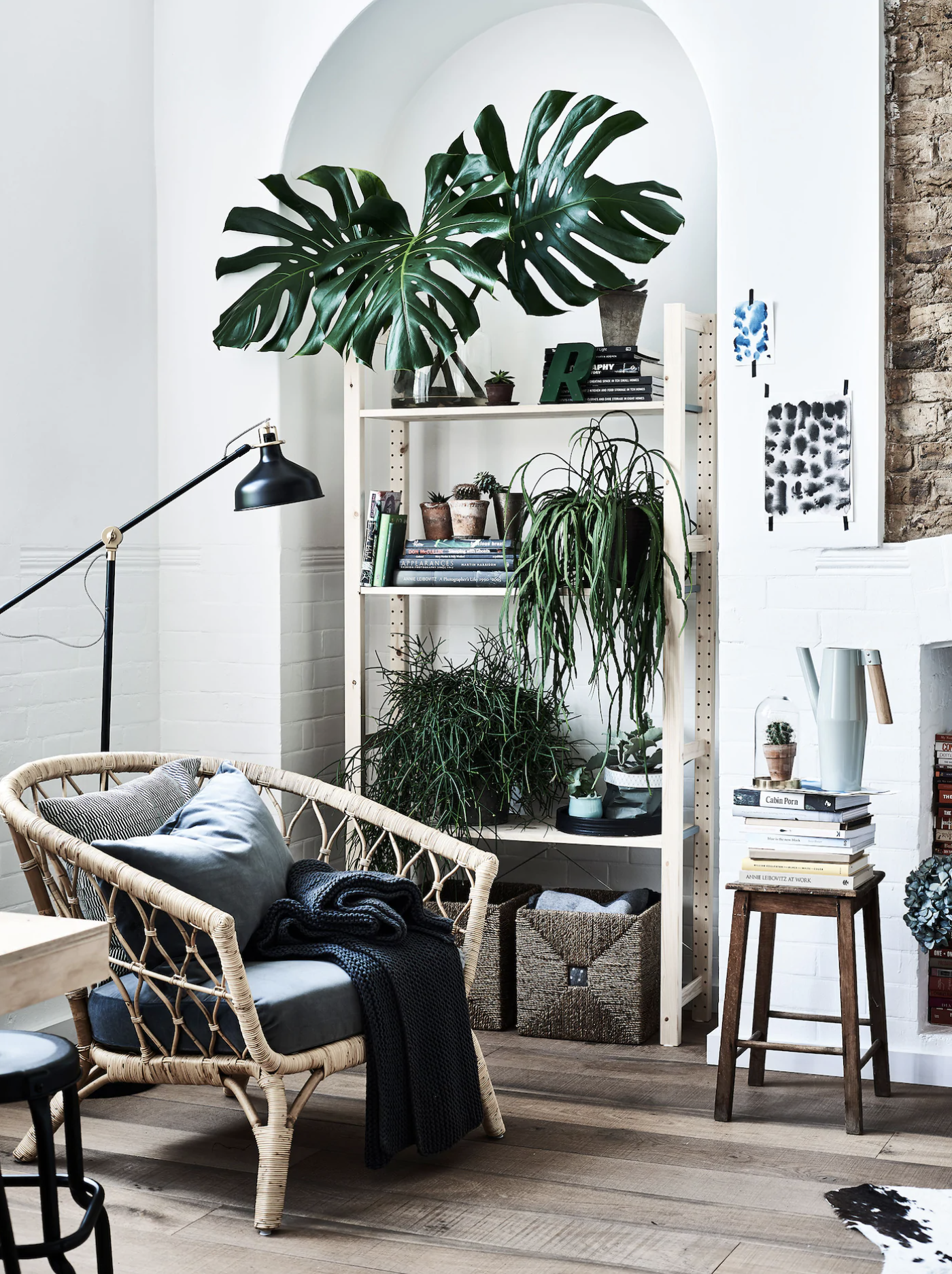 If you're incorporating wood furniture, be aware that dark woods can look heavy in a small room where the same size piece in a light wood is visually less imposing.
Painted wood or MDF cabinet furniture in white, cream or light grey is also a space-stretcher. Consider shelving painted in the same shade as the wall behind so it disappears into the background.
For occasional tables materials such as glass or acrylic can lessen their impact without reducing utility. An acrylic side chair is also handy as extra seating that doesn't seem to fill up the room.
How should furniture be laid out in a small living room?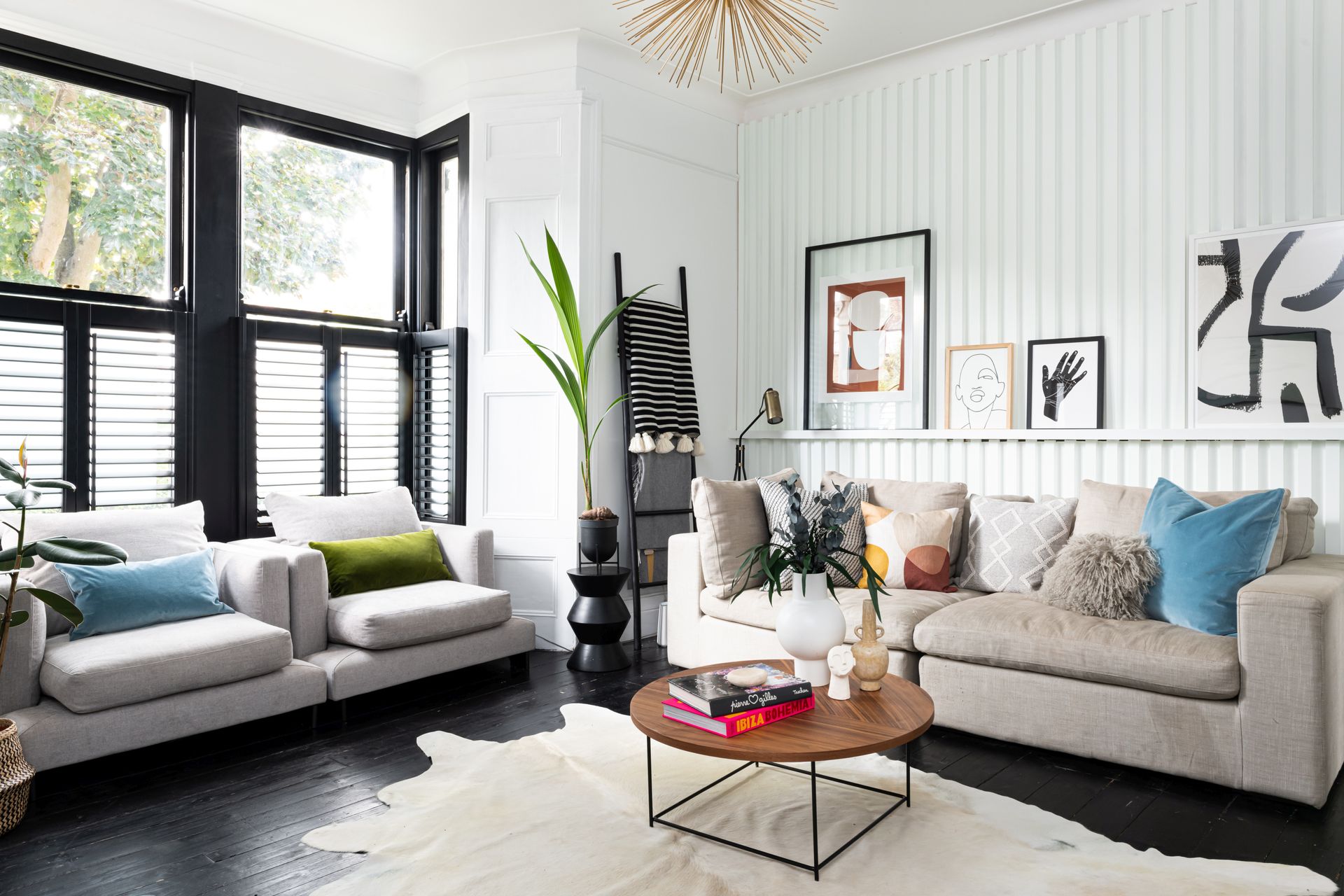 Getting the layout of your small living room right can be just as space expanding as picking the right furniture. There's this tendency, especially in smaller spaces, to keep all the furniture up against the walls to leave as much floor space visible as possible. And while we would recommend this kind of layout if your living room is really really tiny, our top tip for a small living room layout is give your furniture room to breath. Pull it away from the walls and give yourself some room to walk around your furniture, it will actually create the allusion of a bigger space, even if less floor space is visible.