Color blocking walls is a key way to add in depth, interest and of course, color into your home with paint. Unlike wallpaper, color blocking gives your the freedom to design your space exactly as you want it. You choose every color, every shape and every angle, so the look is always personal and bespoke.
And if you're sat there thinking you don't even know how to paint a room and you don't have the steady hands for such an artistic feat, think again... With the help of some essential masking tape, a ruler and a pencil, all of these ideas are easy enough for even the most novice of DIYers.
So from colorful kids bedroom ideas, to ways to revamp your panelling and add some organic shapes into your home, we've compiled the best ideas so you can get inspired.
Color blocking walls to add depth
'After spending the last 18 months cooped in our homes, we're eager to open the windows and doors of our homes and let the world in. Color has been on the rise, and will continue to be in the centre of interior design in 2022,' says Sophie Hill, Marketing and Insight and Innovation at Rothley.
1. Work your panelling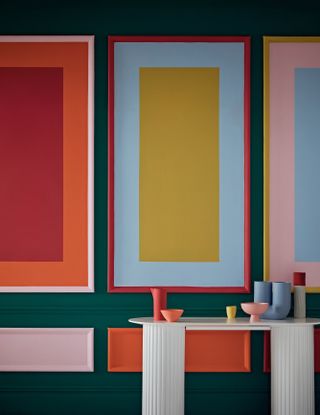 DIY panelled walls have had a bit of a moment recently, and this paint effect by Crown just takes the design to a whole new level.
If you have panelling like this, use it as a frame to go wild with color and turn your traditional style space into a contemporary statement.
Simply apply masking tape in a slick straight line and paint for a seamless finish.
2. Clash colors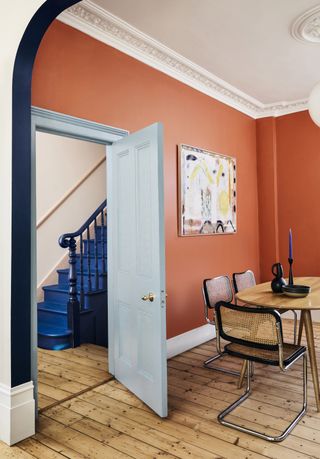 When decorating our homes, we all too often forget about the woodwork. If you're blessed with traditional coving and oak doors like this, put them in the spotlight by painting them in a contrasting shade to the rest of your walls.
This pale blue by Mylands also helps to connect the room to the blue staircase, creating a home that visually flows.
3. Play with stripes in a kid's room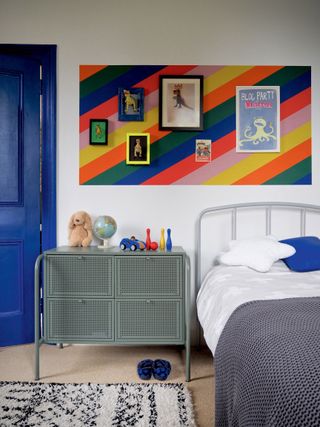 If there's one room where you can go all experimental with color, it's a kids bedroom. This striking feature by @melanielissackinteriors is a fun and funky way to embellish and frame a gallery wall. Match up the colors of your paints to the colors in your art prints for a statement feature they'll be proud to show off to their friends.
'The most striking color combinations are achieved when you use colors that are opposite on the color wheel like yellow and blue or red and green. These are called complimentary colors,' says Justyna Korczynska, Color Consultant at Crown.
4. Round up shapes and colors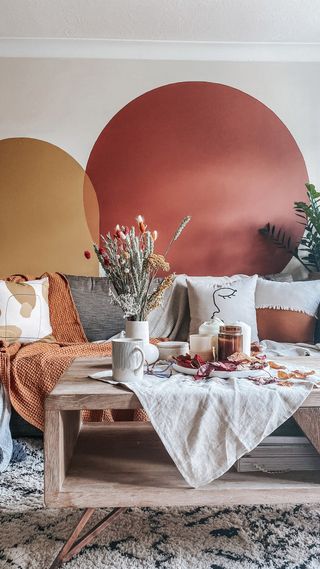 Soft curves and rounded edges bring an organic, soothing feel to a space, and this curvy feature by @elleyhome is a perfect example. Contrasted against the sharp lines of the wooden furniture, this larger than life deep orange circle is reminiscent of the sun, bringing warmth and tranquility to the space.
Top tip– to draw out the perfect circle or semi circle, attach a piece of string to the central point, tie a pencil to the other end, pull the string tight and draw. You can buy special curved masking tape for the perfect paint finish too.
5. Add pattern underfoot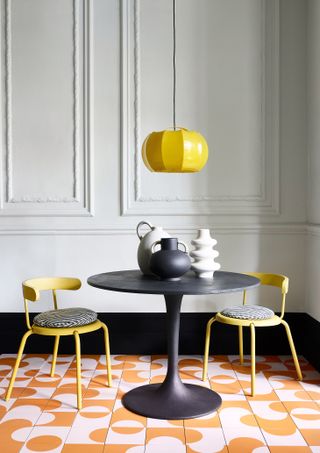 If your floor tiles are looking a little tired but you don't want the cost or faff of replacing them, give them a face lift with a statement pattern. This abstract paint design by Annie Sloane is retro and quirky, instantly uplifting the whole space. Simply paint all your tiles in one color, then paint a contrasting shade in any shape you like over the top. This kitchen flooring idea is an easy an inexpensive route to a super personalised space.
Top tip – always ensure to buy specialist floor paint for your floors. This will provide a less slippy finish, and should be more hardy to stand up to wear and tear. For extra protection, apply a specialist floor sealant too.
'As greys and neutral hues are taking a back seat, interior enthusiasts are embracing color as a way of injecting personality and giving a space a new lease of life,' says Sophie Hill, Marketing and Insight and Innovation at Rothley.
6. Frame mirrors with color blocking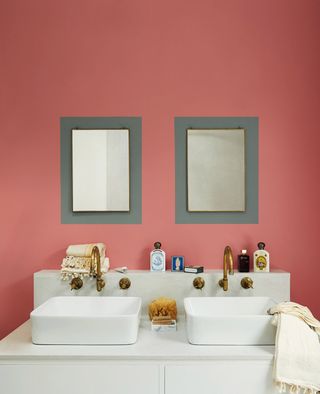 Give your bathroom mirrors some extra interest by painting a frame onto your wall. This is a great way to revamp your look sustainably, using what you already have and giving it a new spin.
All you need is your existing mirrors, some left over paint, and masking tape and you're good to go. We're loving this fail safe color combo of pink and grey by Earthborn.
7. Create a splash back effect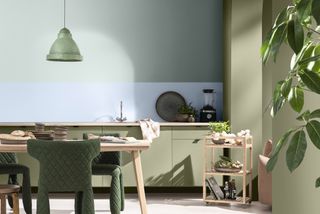 A kitchen splashback is often the finishing touch for a kitchen, working to pull the whole scheme together. You can get the look with paint by drawing out a simple horizontal line above your cabinets and painting above and below in different shades.
This soft blue, Bright Skies by Dulux, adds to the nature inspired scheme of this kitchen and breathes a breath of fresh air into the space.
'Blue tends to draw in the light, creating a restful space for the eyes and allowing our minds a moments peace in – often – hectic lives,' says Dominic Mylands, CEO at Mylands Paints. Making this soft shade the perfect hue for a busy kitchen.
Always use a specialist kitchen paint as this will stand up to splashes and stains.
8. Paint the walls to match the floor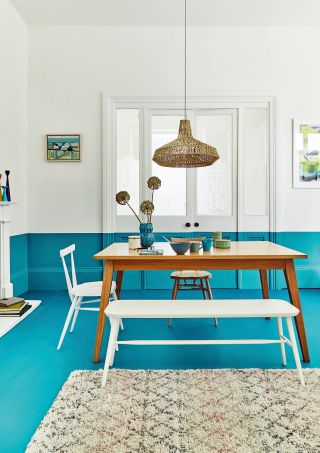 Matching the floor color to the walls creates a strong statement like in this kitchen paint idea. Painting the lower third of the wall in the bright color with a neutral shade above helps create a feeling of loftiness in the room. Highlight your woodwork by continuing the color across architraves and doors in a seamless band. Use a laser level to ensure you get a horizontal line – try the Dewalt red self levelling cross line laser level from Screwfix.
9. Go big and bold with geometric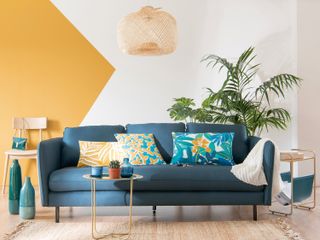 Have a blank white wall and want to liven it up without spending a fortune? Add a large area of vivid color in a strong geometric shape (using masking tape to achieve super straight lines), then place a bolt of a contrasting tone against it – the juxtaposition of these will create a cool statement.
We love how the modern lines of this sofa from Maisons du Monde work with the simple block of vibrant color behind it – try Valspar's Premium Blend V700 in Golden Beet for a similar shade.
10. Take bright paint colors outside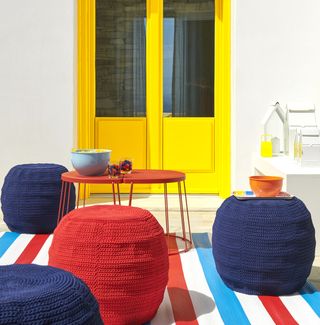 Achieve a striking alfresco space with some bold blocking. The classic combination of punchy primary colors against a crisp white background instantly lifts a space.
Add
pattern and interest with textured floor cushions for a place you'll love to relax in. These outdoor pouffes, side table and outdoor rug from Ikea are perfect as an inexpensive way to transform your outdoor space. For a similar door paint, try Rust-Oleum Universal all-surface paint in Canary Yellow from Homebase.
11. Use paint to create a focus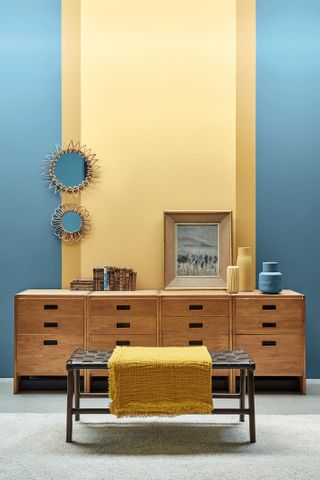 Instead of using an oversized piece of art for your wall, create an area of interest by painting a section of wall behind a favourite piece of furniture. Increase its impact by painting a darker outer area then a slightly lighter shade inside to 'frame' the paint effect.
Love this hallway idea? Find more hallway paint ideas to inspire your space.
12. Create eye-catching shapes with paint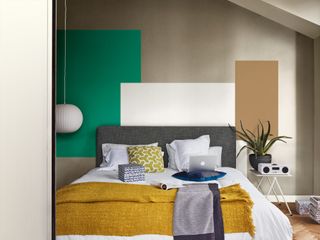 In a bedroom with few architectural features, you can be more daring with the pattern created by the colour blocking, while unexpected colour combinations will give your walls punch and character.
Recreate the paint effect in this room by keeping, in the main, to a similar palette of tones, then add a surprise splash of strong colour. Mixing square blocks with geometric triangles only amplifies the effect.
Find more paint ideas for bedrooms to find your perfect colour scheme.
13. Paint a statement ceiling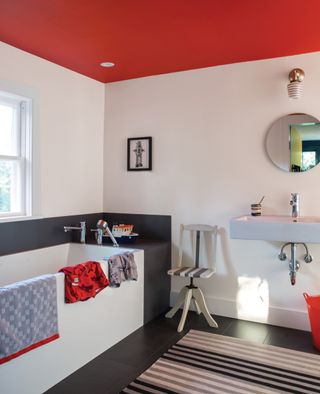 Statement ceilings are officially a thing. Reimagining your space as having five walls rather than four can bring a whole new dimension to decorating. Patterns and textures are being used along with muted tones, but we love the impact of having a strong paint colour overhead, particularly in a bathroom where daring colour choices are limited. Find more paint ideas for bathrooms if you need still more inspiration.
Not sure where to start with painting your ceiling? We have a simple step-by-step guide to painting a ceiling to help you out.
14. Get creative with patterns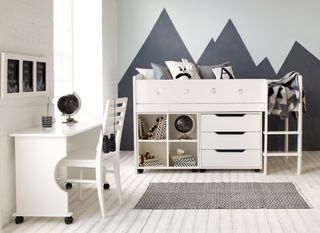 Encourage your little explorers by using large triangle shapes to make mountain ranges as a backdrop to their room scheme. For this look, try using a dark paint against a paler background.
For a similar effects and lots more inspiration, check out our inspiring paint ideas for kid's bedrooms.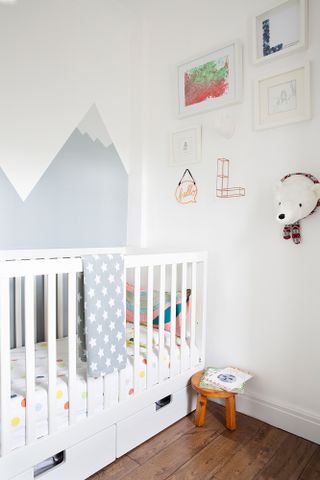 15. Brighten up your window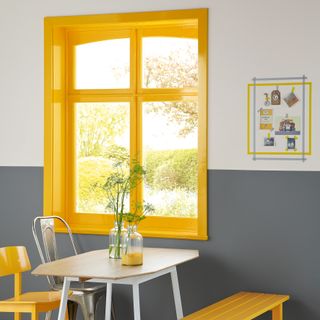 Make a feature of your windows by edging them in a vibrant shade. This look can work with any colour offset against your walls – but you can afford to go bold and really make them pop. Use a fine-headed brush for precise painting.
Check out our guide to see how to paint timber framed windows.
16. Mix and match your wallpaper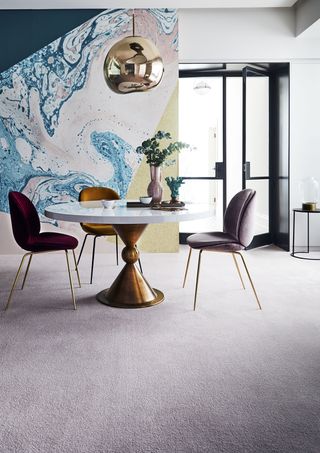 Colour blocking doesn't have to stop at paint, get creative with different patterned wallpapers. We love how this swirly, fantastical marble print looks with pops of gold and teal. You can find similar prints at John Lewis.
17. Choose complementing colours for a subtle look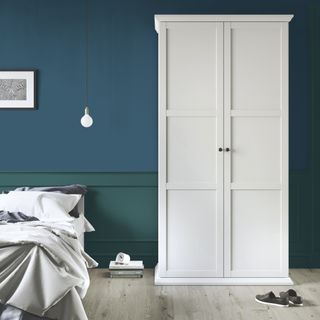 Seeee, colour blocking doesn't have to be all about crazy colours from opposing sides of the wheel. If you are after something more subtle choose similar colours, or colours that have a similar tone. Here Antibes and Miltown from B&Q's GoodHome range, have been used to to create a gorgeous backdrop for the simple white furniture. Oh and did we mention that this paint starts from just £8!!
18. Use colour blocking to fake a headboard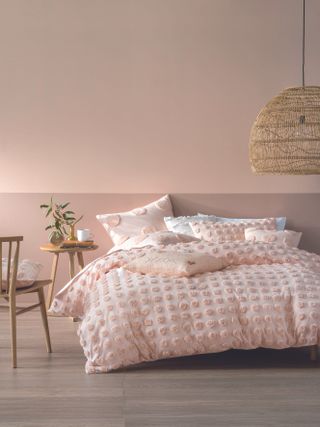 No headboard? No problem. Look how in this bedroom, colour blocking has not only been used to add a load of interest, but by painting a darker pink a quarter of the way up the walls there is an illusion of a headboard. Pure magic.
Love this bedroom? Well you are going to want to check out these pink room design ideas too.
19. Colour block with contrasting pastels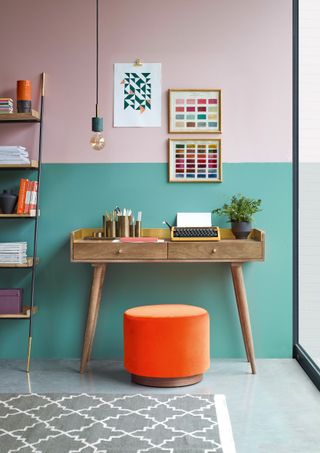 If you want to create plenty of contrast with your colour blocking but don't want anything too bold, use pastel hues. We love the combination of Turquoise Blue and Confetti from Little Greene. The Mid-century styling and some sharp black lines help to ground the look – and those pops of vivid orange? Colour blocking perfection.
20. Go for harmonising paint tones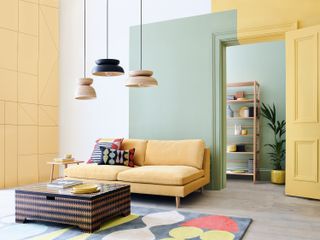 Create a calming scheme with hues which sit alongside one another on the colour wheel. Yellow and green are a perfect example as they work beautifully together. Used over a wall and woodwork, they can cleverly inject this block feel but with a lighter touch. Picking out one of the shades with a large piece of furniture, such as this velvet sofa from Habitat, to contrast against the background will bring the scheme together perfectly. For similar paint colours, try Sunrise and Flagon, both Crown.
21. Go for on trend pink and yellow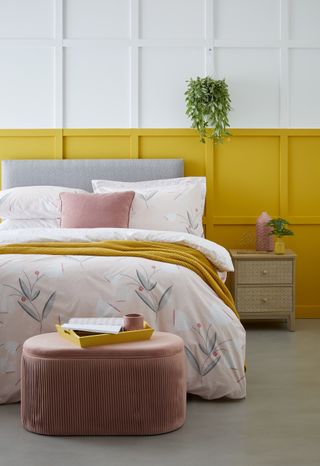 Want to bring this bang on trend colour combo into your bedroom? Just pick a lovely sunny yellow (something like Farrow & Ball's Citron) and paint half the wall behind your bed. Create the contrast by picking our some pink bedding and then complete the look with a vivid yellow throw to create contrast. Total spring update in just a weekend.
22. Use colour blocking on furniture revamps, too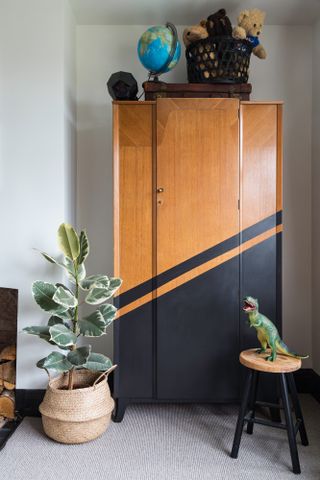 So you're keen on the idea of a geometric paint effect but don't want to go overboard. We present to you: an upcycling project you can get done in an afternoon! Choose a piece of furniture that needs a bit of love, then try out a design in a colour of your choice. We love the bold colour-block effect on this wardrobe, perfect for adding a bit of drama to a kid's room. And doesn't the black contrast gorgeously with the beautiful original wood?
Take a tour of this monochrome home for more statement ideas.
How do you color block walls?
The key ingredient for colour blocking walls is masking tape, otherwise known as painters tape.
This is the easiest way to create crisp, sharp lines. If dividing your room into two colours, stand back and visualise where you want the divide to be. Mark the area with pencil, and then use a leveller and a ruler to mark out the line in pencil. Lay masking tape along one side of the line, ensuring you press down firmly to get rid of creases and air bubbles.
Then you can paint directly onto the tape, and fill the entire side of the wall. The best part is peeling away the tape to reveal your perfectly sharp, straight line - it's so satisfying.
Then (once it's completely dry) repeat on the other side, applying masking tape to your newly painted wall and painting your contrasting shade right up to the edge of your previous colour.
Peel the masking tape away carefully, stand back and admire your bespoke masterpiece.