Our bedrooms are where we sleep and recharge, so it is worth spending a bit of time to create a space that we love in both comfort and decoration. The bed is key of course, and this can be upholstered in plain or printed fabrics to add a splash of colour.
Walls can be wallpapered and painted and there's a fabulous selection of brightly coloured rugs and carpets – yes carpet is back! Or if you're on a budget but want a new scheme then change it up with new bedding, cushions or accessories ready for the new season.
Whatever your budget, or however much time you have to update your scheme, here is a round-up of some of our favourite bedroom decorating ideas for children's rooms, guest rooms, teens and the master bedroom.
1. Maximise light
Glorious sunlight streaming in will help you wake up in the morning, but don't forget the all important mood and reading lighting for night time. It goes without saying that switches in reach of the bed are a must.
Wall lights are having a resurgence currently, which is great as it means there's loads of cool designs to choose from! We love the classic design of John Lewis's Tobias Resto wall light in pewter/antique brass, and as you can see here, it will work in a traditional home as much as a contemporary one. Place each side of the bed so you can both use one for reading at night. (All other items also John Lewis).
2. Dramatic wallpaper
One of the best ways to add a decorative element is to choose a bold allover print wallpaper.
This eye-catching design is called Muse from Graham & Brown, and it really sets the scene in this beautiful master bedroom. The rest of the scheme perfectly complements the wallpaper. The plain pink Willow bed from Button & Sprung gives the look a balanced feel which stops the room from feeling 'overdone'. Pick grey and blue accessories finish off the look.
3. Striped carpet for a small bedroom
Most of us grew up with carpet, then wooden floors became more popular, but cosy carpet is now making a comeback and there are plenty of modern designs around now that work really well in bedrooms. Stripes are great for making a room seem larger than it is, especially thinner stripes like the 100% wool Camden carpet in Mulberry Stripe from Carpetright.
4. Bring the outside in
Plants are really good at absorbing the CO2 in the air and purifying it, and they can also aid sleep. So the more plants you have inside your house the better.
Seen here is a selection of plants and vases from Marks & Spencer, the chair is called the Hudson, the rug is the Modern Geo, and the throw is from the Supersoft range, fresh greens make for a lovely calming spring feel in a bedroom.
5. Colour blocking
Why paint walls a single colour when you can paint them two! This unusual paint effect looks great, and the postcards on the yellow wall combine the colours for a cohesive look.
Choose colours of the same tone, that way the colours will draw the eye equally, the green paint is called Stokes Forest 2035-40 and the yellow is Rainforest Dew 2146-50, both are from Benjamin Moore and are priced from £20.50 for 0.94 litres.
Top tip: make sure you mask off the sections well so you get a clean line.
6. Decorate with cushions
Cushions with printed or embroidered designs look fabulous with plain bedding. They lift the scheme and add that decorative element. Choose colours that match the rest of your scheme, for example, these soft grey designs look great on the pale pink bedding.
Everything seen here is from the Grey & Willow collection at House of Fraser.
7. Painted headboard
If you love painting why not design your own headboard for a totally unique look? This amazing piece of artwork was painted using six of Crown's fabulous colours: Lavender Cupcake matt emulsion, Feeling Fresh and Fuchsia Fizz, both Bathroom mid-sheen, Splash of Pepper kitchen matt, Scrumptious feature wall matt and Pier View Period Collection matt.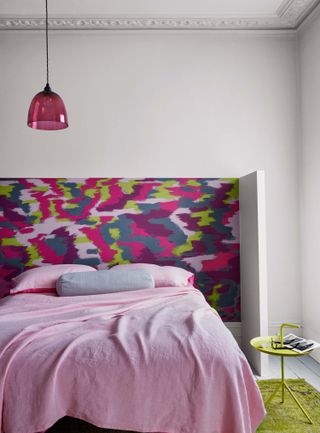 8. Statement lampshade
If lots of colour isn't really your thing but you fancy a tiny pop of it then why don't you just have one bright item in your room? This Salamander lamp by Pooky has an interesting glass base and the bright shade really tops off the look perfectly. The rest of the scheme is neutral allowing the lamp to be the star of the show.
9. Make the bed the focal point
If you love a neutral scheme but fancy making a statement in a different way then consider a bold coloured bed and a couple of matching accessories. The result can be quite dramatic whilst still retaining an elegant feel.
This striking bed is the Sandridge in matt velvet Mallard from Willow & Hall. It's plush finish gives a textural quality and the shape is grand, yet stylish.
10. Geometric prints
Get graphic and add some retro style prints and shapes to your bedroom. It's a bold and beautiful style that works really well in modern homes.
Seen here is an exciting new range from Sainsbury's Home. It's called Helsinki and it includes bedding, lights, cushions and accessories. Yellow and black are also big colour trends for this year so you can't go wrong!
11. Print clash
If you love pattern and colour then this decorating idea's for you! This gorgeous Superfresco easy wallpaper in green palm leaves is from Wilko, and the bedding, lamp and accessories are from George Home. The look can be broken up with a plain coloured cushion or two placed on the bed and a neutral floor.
12. Traditional wood panelling
For a more traditional look consider panelling. It's pretty easy to do and the result is fantastic. It's ideal if you have high ceilings that you want to split up, you can paint the panelling in a contrasting colour to the walls. This Edwardian design is from The English Panelling Company, it can also work in a more contemporary setting as the lines are clean and simple.
13. Patterned pendants
Co-ordinate your lighting with the rest of your scheme, to pull the look together and give a cohesive feel. The stripes on these striking hand-painted blue and cream May pendants from Original BTC look great with the stripy bedding, and the smart modern design combined with two different sizes together gives a fresh stylish look.
14. Add wall art
So you've painted your walls, they look great but something is missing – artwork! Hanging prints or canvases is the perfect way to finish off a room. Match the colours to your existing scheme so they tie in visually, that way they will enhance the room rather than take over.
This Panda fine art print is made to order so it can be created to your own specifications and size. Colourfast inks are used so there's no chance of fading if you hang it on a sunny wall.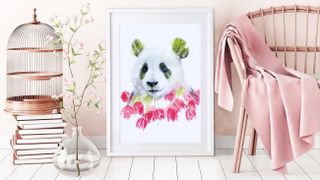 Bedroom ideas for children's bedrooms: great ideas for girls, boys, teens and tots
When you are decorating a child's bedroom remember how their tastes and needs might change as they grow. A simple colour scheme can be accessorised with lots of decorative elements that match their tastes, to be swapped and changed as they grow. If you are going to choose a design to last, make sure you use durable paints that can be wiped clean, or re-decorating will be a necessity before you are ready.
Alternatively, you might relish the challenge of a complete overhaul every few years. In which case, you can take advantage of the many wall mural, paint effect and themed decorating scheme ideas out there.
15. Garland
Kid's rooms need to be more transitional than adults so use decoration that is easy to put up and take down as they're moods change. Try using a simple colour scheme as a backdrop for accessories.
This super cute Feathers garland in pink, yellow and green is by Ella James and has beech wood feathers dipped in pretty paint colours. Hang above the bed for an eye-catching touch.
16. Bold bedding
Decoration doesn't always mean getting the paintbrush out. You can quickly add elements by simply buying new bedding that has a colourful print or hanging things from the walls. This white painted bedroom looks great with Christy Junior's Blast Off single duvet, star cushion and moon cushion.
17. Mix & match wallpaper
More often than not we only use one wallpaper design in a single room, but actually using two that have the same coloured background can be a really effective option. Both of these are from the Jack N Rose Junior Collection by Galerie Wallcoverings, £29.95 per roll, and look great teamed with white painted walls and floor in this classic boy's bedroom.
18. Encourage learning: blackboard walls and colourful shapes
Blackboard paint is a great way to add an interactive element to the walls, but remember that kids love colour too! So, make the most of it and add as much as possible as it's great for their learning and mood-enhancing properties!
These jolly pouffes and rug by Dash & Albert are both made from polypropylene which means they're easy to wipe down – ideal for kids rooms! If you fancy a chalkboard wall then you can buy the paint from B&Q.
19. Feature wall for little adventurers
This simple wall is easy to achieve with two paint colours and some masking tape, for similar colours try Attingham Blue and Steel Drum, both from Crown Paints. The mid-sleeper bed and roll-out desk from Little Folks Furniture don't detract from it as they're white – keep furniture neutral in this instance so the feature wall becomes the main focus.
20. Wall mural
Wall-to-floor murals are becoming increasingly popular, and they're a great way to add a decorative aspect to a child's room. They come in panels and are easy to apply. This design in a little girl's bedroom is called 'Unicorn Bridge' by Danny Flynn at Wallsauce, they have a wide range to choose from so there's something for everyone – including adults!
21. Bedroom flooring ideas for kid's rooms
Kids rooms especially, need good hard-wearing floors. It's used a lot for playtime but needs to be versatile and easy to care for. This Series Wood professional 12mm laminate flooring in white oak from Flooring Direct is light and airy yet with a rustic element, and it's neutral quality will ensure it works well with any colour palette.
22. Modern trophy heads
All kids love animals making wildlife themes a great choice for children's bedrooms. Audenza's beautiful Giraffe Head will look striking against a plain coloured wall and will appeal to boys and girls of all ages. It's handmade from paper, cotton and steel wire so has an authentic charm.
23. Furniture you can draw on
For a discerning teenager this awesome Nidi Graphic children's wardrobe might break a few of your house rules about vandalising the furniture! They can write and draw all over the doors to their heart's content – and best of all it's wipeable! Pens are included plus a wipe, and the range also includes desks, perfect for working maths sums out on!
24. Window films
A quick and easy way to add a decorative touch is to use window film. It's very effective and can be easily removed if you rent, or you want to try a new design after a while. These can be a great option if your bedroom faces a busy road and requires a little more privacy.
The Cheery window film is made to measure and would work well in a baby or toddler's room. It's from Purlfrost and they have a wide range of other designs for both children and adults.
25. Beautiful blinds
Window dressings are like the finishing touch to the rest of the scheme, pulling together all the other shades you have chosen. This Story Time Big Wide World Sea blind, £25 per m by iLiv, illustrates imaginary worlds in the minds of children. The blind has lots of different colours in it so you can pick out the blues, greens and reds to co-ordinate accessories to match. The design is charming and will be ideal for an adventure loving girl or boy.