There's a reason why grey bedroom ideas are so popular. Grey is and will always be the most perfect color choice for a bedroom: light tones are calming and restful, deep tones are dramatically cocooning – and both look fab in daylight and under cozy lamplight. Grey bedrooms also suit both contemporary and period homes so whatever your style you will find looks here to inspire...
It's just about choosing the right grey (or greys) for your bedroom color scheme. You'd think it was a straightforward job, but anyone who has typed 'grey paint' into Google will know just how many options are out there. When picking a grey, think about the size of your room, the amount of natural light it gets, the overall vibe you want it to have. You also want to think about what colors you want to pair with your grey and that can help you decide on what tones you want to go for.
'Grey harmonizes well with almost every other hue, making it an adaptable neutral and giving good reason for its popularity, especially in bedrooms.' says Helen Shaw, Director of Benjamin Moore. 'When opting for a grey living room scheme, make sure you opt for a harmonizing undertone to create a cohesive look to your scheme. Tonal greys are a perfect option for anyone looking to add an accent color, as a complimentary grey with a matching warm or cool undertone can be chosen to create a harmonious look. Alternatively, pair grey accessories with brilliant white walls, the go to shade of white often has a blue undertone, works great with grey to create a crisp and clean look that is contemporary – perfect for minimalist spaces.'
Grey bedroom ideas
'Grey is one of the most versatile colors; it is made from black and white but can be mixed with any other pigments to achieve a different look,' says Francesca Wezel, colorist and founder of Francesca's Paint.
'It's a fantastic background color and pairs well with almost every other color, especially teal and mustard yellow.'
1. Choose the right shade of grey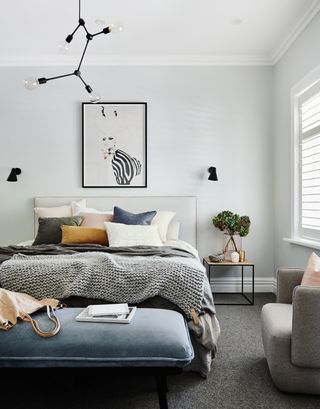 Picking the right shade of grey is a must, and when considering which shade to use for your grey bedroom, think about the natural lighting in the room. Strong, warm greys (they'll have a tinge of yellow in them) will work well in an east or north-facing room that has a naturally quite blue light and needs warming up to feel inviting
A bedroom that gets lots of sun – such as a south or west-facing room – and that naturally has a yellower light will look good with a subtle cool grey shade.
Take inspiration from this grey bedroom idea and create a laid-back look by adding texture, contemporary lighting, and soft muted hues to a pale grey backdrop.
2. Pick a griege tone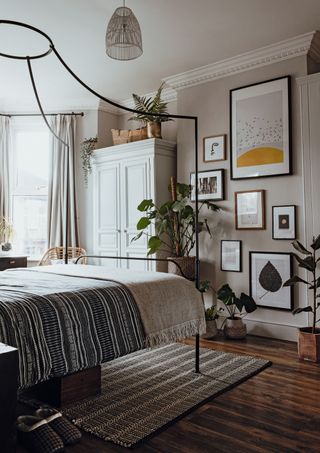 Beige has not always been the most popular hue, it's had a bit of a bad rap and being a bit blah. But it's making a comeback! And the most stylish way to embrace this neutral is to go for a grey-toned beige – a greige if you will. This is a great color if you want to create a soft feel that going for a straight-up grey. You can make it feel fresher and more contemporary by pairing it with sharp whites and darker greys.
3. Enhance cool toned greys with blue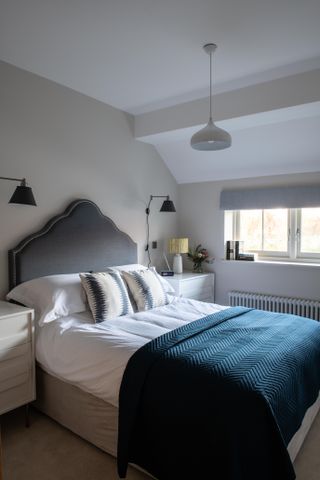 And on the opposite side of the spectrum, if you like your greys to be cool-toned, enhance those tones even more by pairing it with blue. Pick a pale steely grey for your walls and then layer up those icy hues with darker greys and blues in the form of your bed linen, throw pillows and upholstery too.
4. Add texture with a grey headboard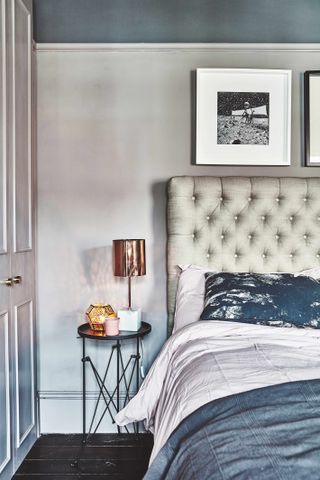 A headboard just adds an instant sophisticated, hotel vibe to a room, and they are a great way to bring some softness into a grey bedroom. Match an elegant button-back grey headboard to the wall behind if you don't want your headboard to take too much of the focus, and then layer up those lovely textures with plenty of pillows and soft-hued bedlinen. We love the mix of pink and deep blue brought in with this bedding.
5. Add color to a grey bedroom with bedlinen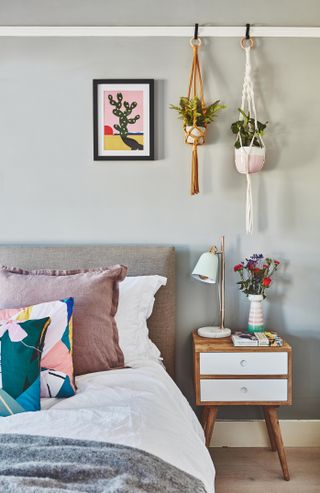 How dreamy is the grey and white bedroom? It feels so fresh and vibrant. Now that is thanks to the lovely light grey on the walls, the contrast with the white woodwork, but mainly because of those lovely pops of color brought in with the bed linen, throw pillows, and houseplants. Grey can be a bit of a flat color, but you can easily rectify that by adding in just a few pops of color.
6. Add a gallery wall to a grey bedroom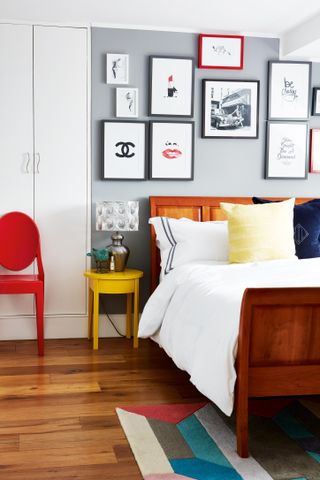 Another really easy way to bring some color into a grey bedroom is with a gallery wall. Bright colors really pop against grey so opt for prints that have hints of color in them and then bring those colors into the rest of the room like you see here with the red in the rug and the chair.
7. Contrast white walls with grey woodwork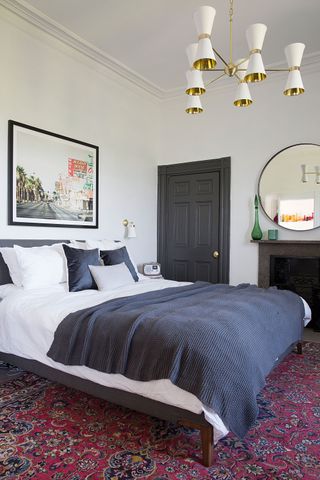 Add a touch of grey to an all-white bedroom by painting your doors, woodwork and fireplace (if you have been blessed with one) in a deep charcoal. Bring in the same grey tone with your accessories too to add more depth.
8. Create a cocooning feel in a small bedroom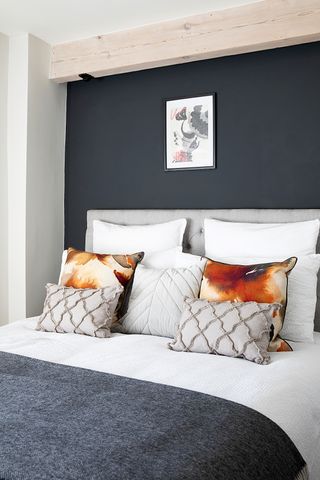 Think dark, dramatic greys aren't for small bedrooms? Think again. While we all have this tendency to automatically paint smaller rooms white to make them appear bigger, dark hues can actually have the same effect because they can blur the edges of the room. Plus you also can that lovely cocooning feeling like you can see here, achieved by just painting the one wall above the bed.
9. Layer up matching tones in a grey bedroom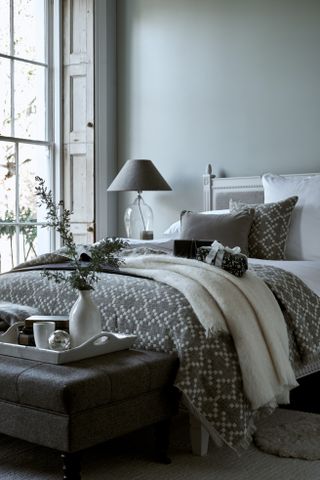 For a sophisticated look, layer the same shade of grey in an assortment of fabrics – look for those that have an interesting surface pattern like grey bedroom wallpapers and textured fabrics. The white pillowcases in this grey bedroom, plus the taupe lampshade and soft cream throw prevent the overall look from feeling flat.
10. Choose a dark, moody shade for an on-trend look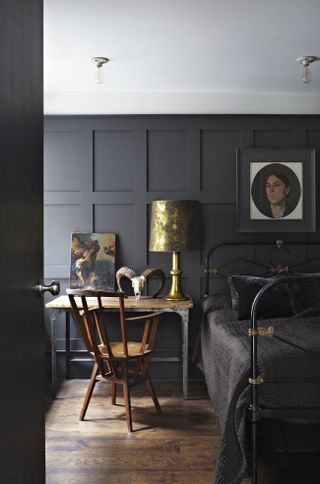 Give your grey bedroom a period look by adding smart panelling behind your bed. Farrow & Ball's Railings paint is at the darkest end of the grey colour spectrum and works well on walls and woodwork to create a dramatic, enveloping feeling, which is ideal if your bedroom is solely used for rest and relaxation, but not so good if it's a space you need to do your make up (in which case, install good bedroom lighting).
Be inspired by more dark decorating ideas to transform your home.
11. Bring in grey with soft furnishings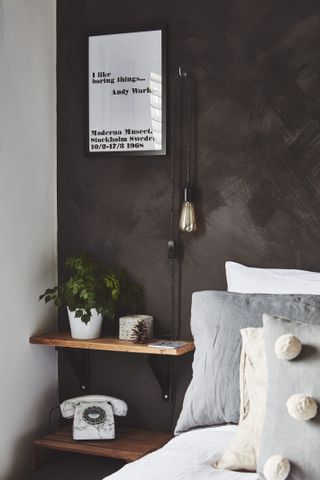 Textiles - cushions, bed linen, curtains, blinds - are a great way of introducing the color of the moment into your home without making a big commitment. A dark grey blind could look cold teamed with bright white walls, but adding a lampshade and bedspread in warm taupe and bedding in soft grey makes the overall effect warm and inviting.
12. Up the glam-factor by teaming grey with gold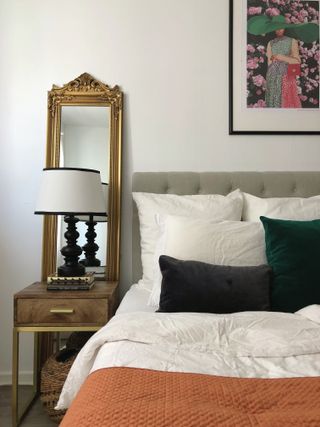 Who says grey bedroom ideas can't be glamorous as well as simple and sophisticated? Not us. We are all about that pop of gold from the gorgeous mirror in this space, paired with the soft grey headboard – Italian chef's kiss from us.
13. Opt for a grey and white bedroom color scheme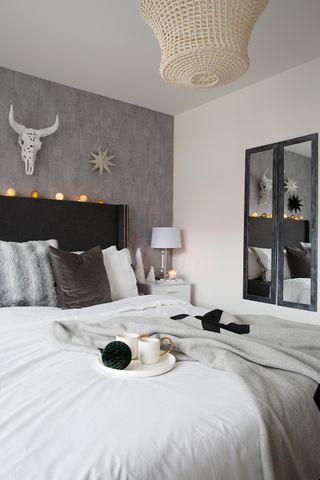 If you're worried about dark grey walls feeling too oppressive, then think again. Copy this grey bedroom idea and contrast those darker grey with a really crisp fresh white. Keep the majority of your walls white, pick white bed linen and white furniture too, then add pops of grey to match your feature wall with your soft furnishings.
14. Choose a subtle grey feature wallpaper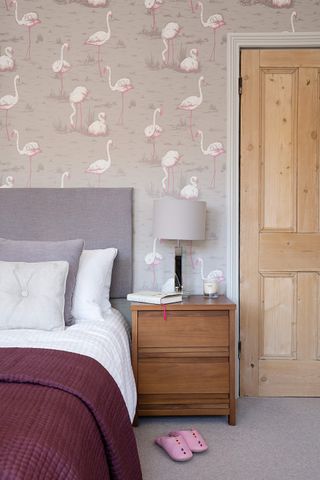 Grey wallpaper or wall murals are a great way to add pattern to your room without being overly in your face. Wallpaper is a really easy way to introduce a second color too – take this gorgeous flamingo prints, you just get a touch of warmth with the pink which you can then bring in elsewhere in the room too to create a lovely cohesive look.
15. Bring peachy tones into a grey bedroom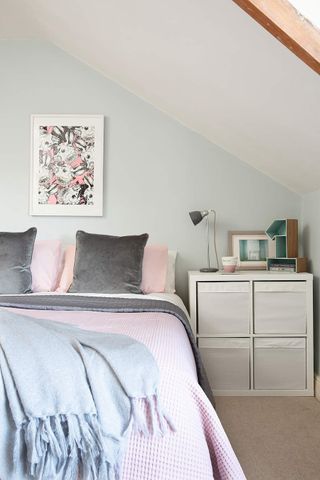 Speaking of warmth, adding touches of warm neutrals and peach will give a room that's dominated by grey a welcoming appeal. Love the idea of grey but not sure it'll work in your room? Limiting the grey to curtains and a lighter shade for bed linen is a good way to half-commit – plenty of impact with minimal outlay.
16. Mix grey with pale woods for a soft look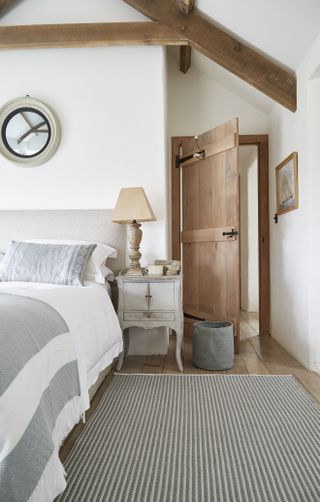 We are obsessed with this grey bedroom. Just look at all those lovely wooden shades and how they work perfectly with the light greys! Obviously if you aren't blessed with lovely wooden beams you can still get those natural materials into your bedroom. Look for bare wooden bedside tables and a headboard, plus wooden lamp stands are easy to find too. If you are after the real thing check out eBay.
What colors go with grey in a bedroom?
What colors go with grey will depend on the shade of grey you have chosen. A safe option is white – white and grey bedrooms are a classic and suit any style of home too. Just make sure you pick the right white for your grey. If you have opted for a warmer grey choose a creamier white and for a cool toned grey you what a crisp brilliant white.
You can pair grey with bolder colors too. Pink is a popular choice, as is yellow, as the both warm up the coolness of grey. You could also embrace those cool tones by pairing grey with blues or greens.
Just make sure you order lots of testers so you can see how your color combinations look in the lighting of your bedroom.
How do you accessorize a grey bedroom?
Grey is such a lovely neutral color, making grey bedrooms really easy to accessorize, there's not really much you can do wrong. Grey works with both silver and gold if you want to add some metallics, greenery looks great in a grey bedroom if you want to add some texture, and as we have mentioned plenty of shades work with grey if you want to add some color with your accessories.
How do you make a grey bedroom cozy?
The easiest way to make a grey bedroom feel cozy is to layer up the textures. Pick out textured bedding in something like linen that's going to have a lovely, laid back look to it, and then pile up the throw pillows. Add a rug so it's cozy underfoot and make sure you have plenty of soft light sources. In terms of color scheme, stick to lots of different grey shades and add in a few darker hues too for extra coziness.