If you're looking for modern white bedroom ideas then you've certainly come to the right place. A white bedroom is a classic choice and an enduring favorite for both minimalists and color-lovers alike.
As bedroom ideas go, white is just such a versatile color to decorate with, it's great if you want to create a clean, neutral space but also the perfect canvas for brighter color schemes. Plus, it's the ideal color for a small bedroom idea too (interior design 101) that needs that brightness to feel more light and airy.
'Your bedroom should be the ultimate place for rest and relaxation,' says Adam Brown, director of The Painted Furniture Company. 'An all-white bedroom scheme will create a serene and calm retreat that feels both fresh and relaxing. Anything inspired by nature is the perfect way to warm up a white décor scheme, try adding touches of wood with furniture pieces and accessories. Traditional, painted bedroom furniture in shades of ivory or natural stone with details such as real wood tops and knobs will add further interest whilst complementing this look.'
Kickstart your new color scheme whether you opt for an all-over white bedroom or use it as a blank canvas for accents and textures. Starting from scratch? Perfect your bedroom design using our practical guide.
1. Choose a Scandi style white bedroom that never dates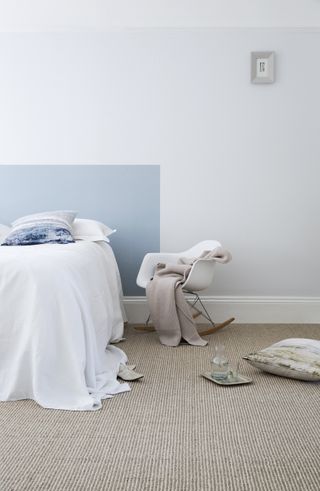 The Scandis have got it just right: white bedrooms that feel cozy and welcoming. Looking for an easy formula Scandinavian bedroom idea for your own bedroom?
Choose white-painted wall paneling, a deep pile rug or two, and plenty of light-reflecting furniture. It's a practical, easy-to-keep-clean look, too, making it ideal for a teen bedroom idea as well as an adult one.
2. Add warmth to a white bedroom with fabrics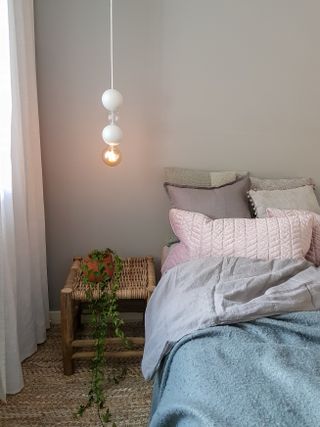 If your bedroom is north- or east-facing, it won't get that much warm light. That's not necessarily a problem if you're up and out with the lark, but if you tend to spend time in your bedroom, especially at the weekend, you'll want it to feel warmer and welcoming. You can do this by layering your white bedroom color scheme with warm pastel tones in fabrics and upholstery.
For more tips on pastel decorating ideas, see our gallery; for advice on how to make a dark room brighter, don't miss our guide.
3. Tone down a bright room with an off-grey white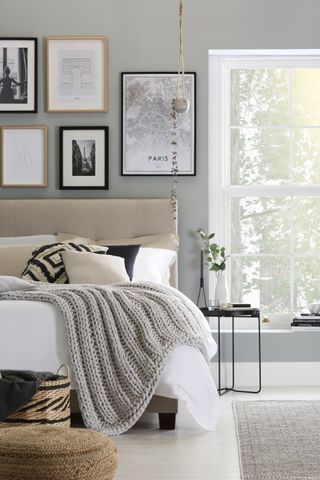 Grey has longevity, and as such is still a good safe bet in any space. If you want a room that's light and bright, going for the palest of shades for your grey bedroom idea – in other words, one that's just off-white – will enhance your space most. Warm it up with chunky knit throws and cushions and bags of natural texture.
4. Stretch space with white walls and mirrors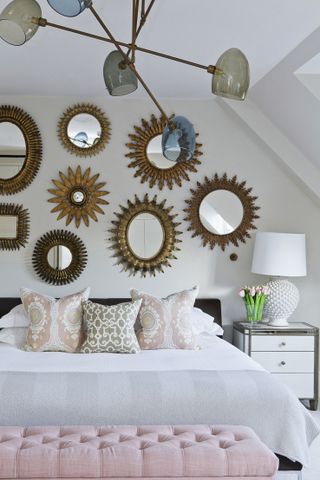 Whether your room is small, light-starved or just lacks eye-catching period or architectural features, adding a gallery wall idea will up the interest in a white bedroom. Here, mirrors perform both a practical and decorative role, reflecting light while making a fabulous focal point.
5. Add comfort to a white bedroom with texture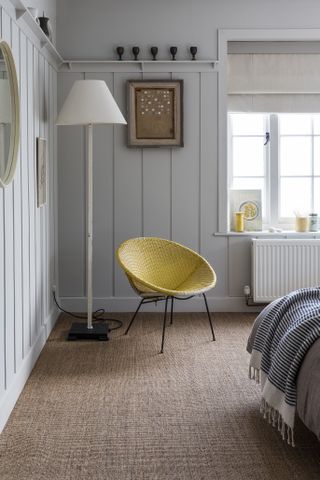 If you're going for an all-white bedroom, texture is a must. You can introduce it in a number of easy ways: with natural flooring (which also adds nice, warm tones); with wall paneling (which is perfect for adding interest to a boxy, featureless room); and with bedding in a touchable, stroke-able material.
Read more about how to choose natural flooring in our advice guide.
6. Make ceilings feel higher with a statement headboard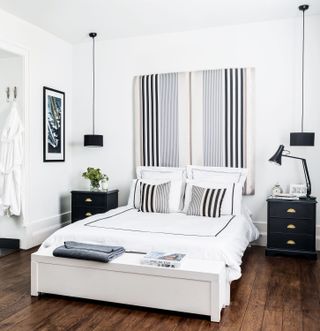 Here's a good trick: vertical stripes can make a room with a low ceiling feel taller. Don't want striped wallpaper? You can achieve the effect with an upholstered or painted headboard – or even a storage headboard idea. Clever.
7. Create a focal point with a white wallpaper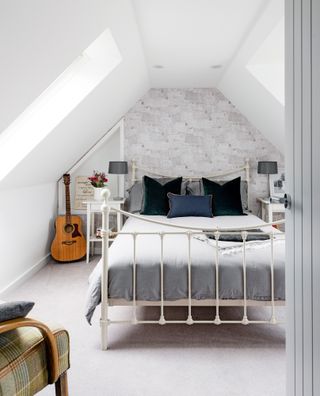 If you're set on an all-white bedroom scheme but really want to add interest and focus, you can achieve that with a white or off-white wallpaper idea.
Photo-realistic ones that mimic bricks, paneling and fabrics will give you a contemporary feel, but traditional designs will look beautiful, too.
8. Pile on the comfort (and color) with cushions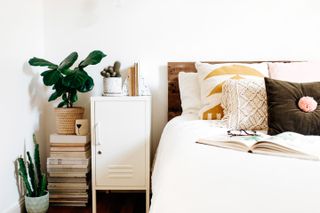 If you are easily bored by bedroom paint color ideas, a white bedroom is the way to go, because it's such an easy color to update, merely by swapping cushions and throws from one room to another... which makes it a great choice for anyone on a budget, too. Can't beat a bit of home swapping.
9. Decorate a white bedroom with gold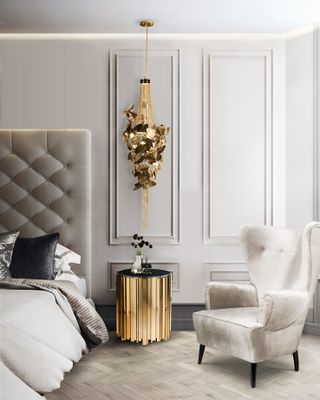 If you want a glamorous boudoir more than a run-of-the-mill bedroom, matching white bedroom decor with gold is an easy option. But be cautious – the odd mirror idea or picture frame, a lamp or two, or a gilded ornament is enough; this is a look that's easy to go overboard on.
10. Mix patterns and plains for interest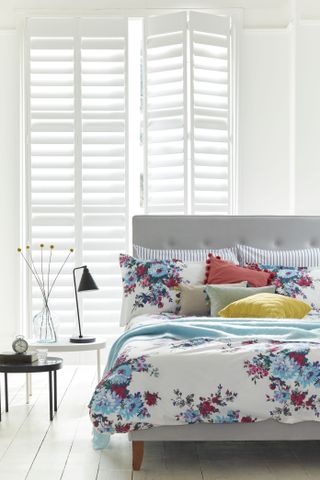 Want a rustic bedroom that's packed with interest? You can achieve it easily with an all-white bedroom scheme by mixing patterns and prints – find out how in our guide.
11. Choose a statement bed in a white bedroom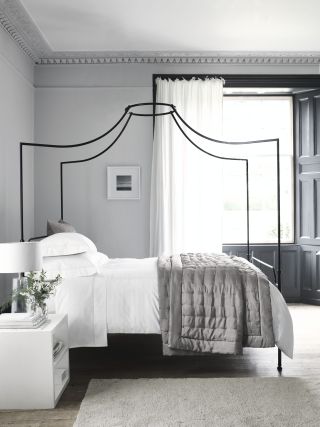 With white bedroom decoration, it's easy for there to be a lack of focus, which is where your bed comes in. Choose a statement bed, whether for its shape, headboard, upholstery or frame color and the room will have a focal feature.
12. Combine with greys for a contemporary appeal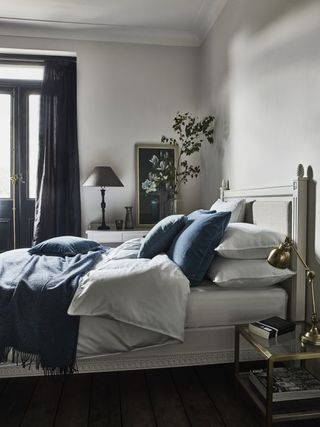 If yours is a bright, south- or west-facing bedroom (lucky you), you might want to tone down the daylight in your bedroom. You can do this with deep, contemporary greys; add a touch of petrol blue for a smart finish.
13. Add a splash of color with bright bedlinen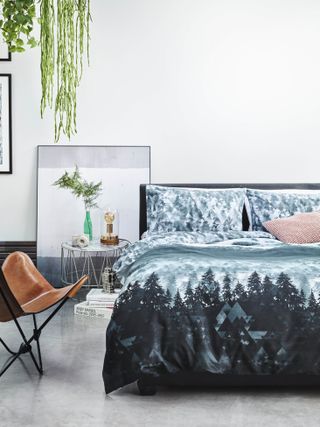 Remember what we said about white bedroom ideas being easy to change up on a regular basis? You can do it with bedlinen: simply choose three sets that are utterly different from each other and you have a new bedroom every week...
Find more of the best bedding in our buyer's guide.
14. Make a focal point of the bed with a coronet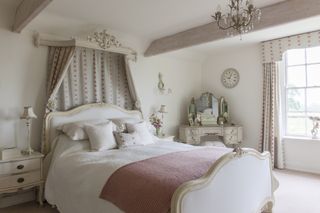 Looking for white bedroom ideas that will suit a traditional style? A period-style bedroom really suits a warmer white that can tone beautifully with cream furnishings.
Adding a vintage-style coronet above the bed will give the space grandeur, too, but the swathes of fabric will take it from stately to cozy, too – just what you want in a bedroom.
15. Combine with a bold primary for kids' rooms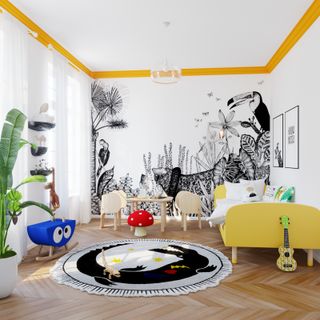 Looking for a winning kids' room idea? Children's bedrooms are perfect for a white color scheme – easy to keep the walls clean, and so simple to brighten up with the odd splash of bold color, whether in painted moldings or in furniture or bedding.
16. Paint an exposed brick wall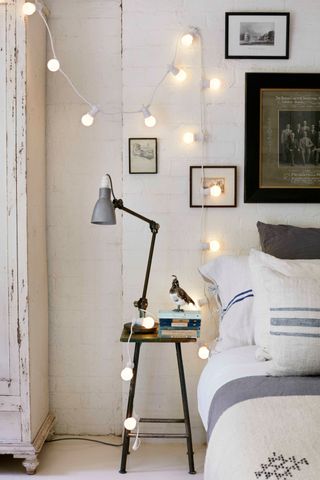 If you are lucky enough to be blessed with an exposed brick wall in you bedroom, try painting it white. The texture of the brick will add load of interest to an otherwise all white bedroom.
If your bedroom doesn't come with a conveniently already exposed brick wall, you can create on yourself, with time and patience, just have a read of our guide to exposed brick walls to learn how.
17. Soften the look of a white bedroom with pastels and cream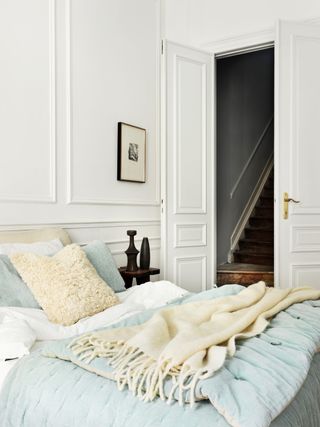 White and cream must never be seen, right? Wrong, actually. We think when done in the right way these two colors actually work really well together – the more yellowy tones add warmth to an all-white room without interrupting the overall white bedroom color scheme. Mix in some really pale pastels too just to add a touch of contrast.
18. Decorate a small white bedroom with a peg rail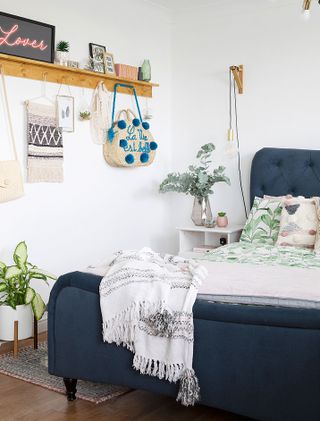 Looking for white bedroom ideas for a small room? It can be tricky to get decoration into a small room because you feel like everything has to be functional. That's what we love about peg rails though they are pretty and they are practical.
In this look, a bedroom shelf idea is used to create a feature wall of prints and decoration and then the pegs are used to hang bags, which also add some nice color and texture to the space.
19. Pop in some black for a monochromatic scheme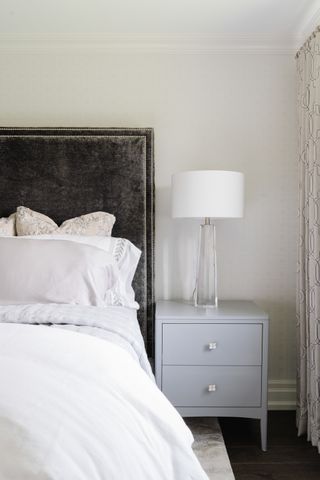 For a strong look add in some black, if you don't want it to be jet black consider using it in a softer way, like a black velvet headboard. The nature of the fabric will be more gentle on the eye and the texture will add a sumptuous feel. Mix it with a barely-there gray and keep the rest crisp white.
20. Love minimalism? Then choose an all white scheme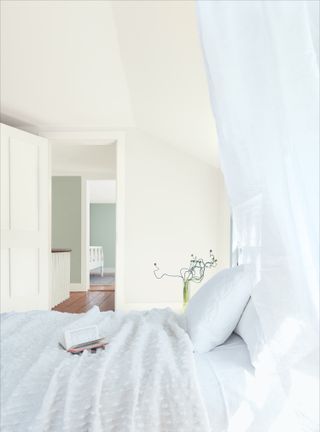 There's nothing more restful than an all white bedroom, and if you love being minimalist white definitely lends itself to that feel. Opt for all white bedding and drapes, and if you have floorboards keep them natural to add a touch of warmth.
21. Ground a large white space with pattern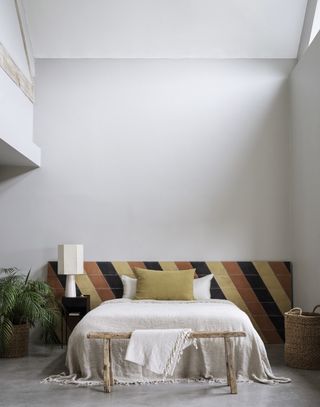 This clever idea creates a focal point in this high-ceilinged white bedroom. Using tiles as a headboard is an idea that you may not have considered, but we love it – it's the perfect way to introduce pattern and it's oh-so-modern.
Keep the rest of the scheme simple and add in textures like rustic wood and rattan for a tactile element.
22. Add interest with wood, slubby fabrics and a knitted blanket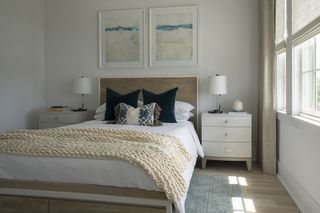 'While some people find white rooms to be too stark and cold, others find it bright and refreshing but often struggle with how to add warmth. I would say, add layers of whites to a space to warm it up.
Layering bright white with off-white and creams still maintains the freshness of a space, but it also gives it some dimension. Also adding texture to the fabrics and materials in a room helps it feel warm and inviting,' says Brad Ramsey, owner and principal of Brad Ramsey Interiors.
23. Paint your shiplap white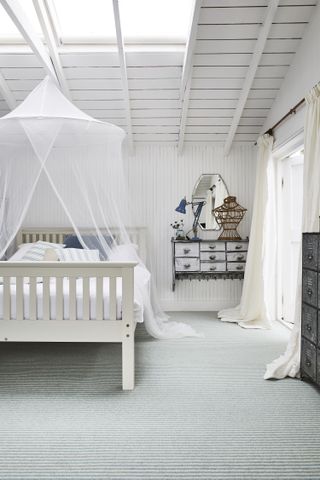 If your bedroom is up in the eaves then paint the ceiling fresh white to match your walls. A shiplap wall is a fabulous way to add texture and character to a scheme so embrace it if you can.
It creates a stripy feel and we love how the carpet mimics the walls and ceiling. Vintage pieces add charm and a hint of blue gives the space a nautical touch. Find out how to create a DIY shiplap wall over on our guide.
24. It works well in a farmhouse bedroom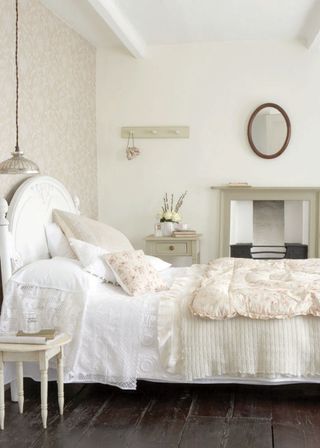 'White is one of the most versatile colors you can use in your decorating. It is timeless despite trends for stronger colors or dramatic wallpapers. It spans classic and contemporary schemes and can be used as both a striking main color or a quieter highlight, on all four walls or contained to just the ceiling or the woodwork. Fresh, vital, and uplifting, white comes in many nuances and hues,' says Ruth Mottershead, creative director at Little Greene.
25. It suits the modern rustic trend perfectly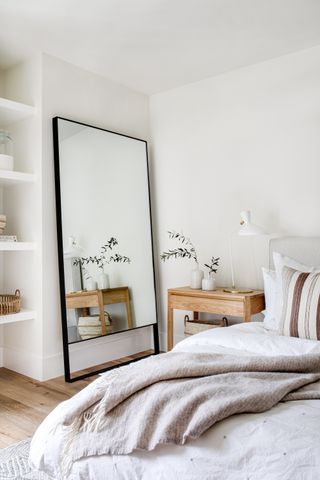 The modern rustic trend is easy on the eye with a modern element that suits those who love using wood in their schemes. It's about texture sure, but you can add in sleek metal pieces too like a contemporary black floor-standing mirror.
Of course, all this look needs is a background, and white is the perfect color for this – fresh and crisp, the clean lines complete this look.
26. Soften walls with a barely there pink
Believe it or not, this isn't white-white, but a soft white with a hint of pink, the result is a more gentle shade that's easier on the eye. Accents of dark gray work brilliantly on the door and skirting.
Don't forget you can learn how to paint floorboards – it's a fabulous update that doesn't take long to do. Finish the look with a hint of another color – could be yellow or a soft pink to add another shade to the mix.
27. Team white with pale blond wood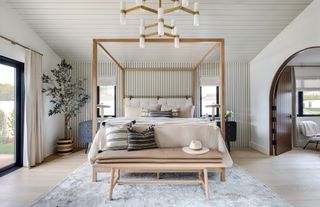 Pale blond wood is a white scheme's best friend if you want a contemporary look. This grand four-poster keeps the airy feel of the space and helps to distract from the low ceiling.
Use the same colored wood throughout the room – note the flooring is very similar, and add in a pale rug. Bedside tables in black add contrast but keep them modern in style too.
28. Choose earthy natural tones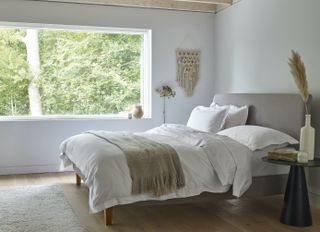 'For a calm, collected and chic look, paint your walls in a warmer shade of white and bring this to life with furniture and accessories in tonal shades – think off-whites, creams, taupes, and earthy tones.'
'Opt for natural textures such as linens, natural and bleached woods, rattan and macrame to add a tactile and comforting vibe. With your bedding, go for high-quality white cotton sheets like Egyptian cotton and layer this with soft accessories in wool and linen to evoke a cozy feel. For a bolder look, why not introduce pops of black, grey and metal, which will provide an edgier feel,' say Emily and Jonathan Attwood, founders of scooms.
29. Make the most of existing architecture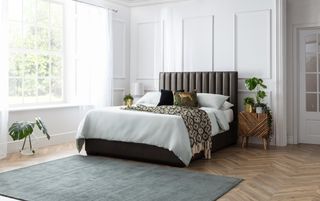 In a period property, you may well have beautiful coving, deep skirting boards and classic paneling. These look great painted white as it has the ability to enhance those detailed architectural elements.
This apartment-style bedroom is large and therefore the paneling creates interest and texture whereas plain walls might look too bare and clinical.
30. Team crisp white with oatmeal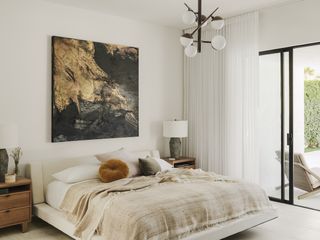 Combat the starkness of white with tones of taupe, stone and oatmeal, each of them will soften the overall feel but retain the light and airy scheme.
Create a dramatic focal point with a bold and dramatic piece of art or a striking feature wall idea, there's nothing better than a white wall to display it on. Choose accessories with darker elements like the globe pendant and stone-based table lamp.
How can I add warmth to an all white bedroom?
'Some rooms (particularly north-facing) can feel a little cool, so we recommend opting for whites with a yellow or red undertone to warm up the space. They also help to balance the natural light that is coming into the room. Warm whites such as Simply White, create a soft glow and welcoming mood. You can also add a mirror on the wall, which can help to bounce off the light in the room,' advises Helen Shaw, director at Benjamin Moore UK.
'Adding texture to the fabrics and materials in a room helps it feel warm and inviting. Who can't resist a white bouclé chair? Highly textured white fabric is one of the warmest and most yummy fabrics in a bedroom,' says Brad Ramsey, owner and principal of Brad Ramsey Interiors.
How can I make my white bedroom look better?
'White is often one of the most difficult shades to choose, mainly because there are many nuances and hues so finding the right tone of white can be a challenge! Many people make the mistake of using a 'Brilliant White' but this can be very harsh, too bright, and often a little sterile so I would certainly steer clear of pure white and recommend considering 'off-whites' - whites with an undertone of another color, or soft neutrals, these will be easier on the eye and more complementary within a design scheme.
I would recommend using warmer shades such as 'Eau de Violette' (red based) and 'Capuchin' (ochre base) in a bedroom for warmth and tranquility,' says Ruth Mottershead, creative director at Little Greene.
Helen Shaw, director at Benjamin Moore says:
'Whites and off whites affords you the ability to switch out little details as your taste (or the seasons) shift, providing a brand-new space with little effort each and every time. Highlighting focal areas such as bookcases or woodwork in a complementary color draws the eye, adding interest.
Whether you're opting for a contemporary or traditional scheme, keeping the main canvas white allows you to build on the scheme with accent colors used in accessories.
Why not consider pared-back, dusky pastel shades which are wonderfully soothing and feel tranquil. Shades such as soft pinks or a sage green bedroom idea can create a feeling calm and work well with a palette of white.
Is a white bedroom calming?
'Warm muted whites (which have both grey and yellow undertones) are stunning in all-white spaces, especially when layered with natural colors and textures in throws, pillows and fabrics. They are especially suited to spaces with a lot of natural light to create a soft, calming feel,' adds Helen.