Searching for the best bedding brands? Let's face it, there's nothing dreamier than a fresh set of sheets. And by fresh, I mean new. If you're looking to change up your bedding set, here's where to shop.
Switching up bedding is one of my favorite ways to make my sleep space feel brand new. There are so many different styles out there, from plain ones that can be layered with complementing pillows and throws, right up to bold and bright ones that command all the attention in the room. Oh and, FYI, there's no better time to shop as Cyber Monday has begun and there are already a whole slew of bedding deals to dive into.

Whether you're looking for that luxe feel or just want to make an impact, we've done all the hard work of scrolling through the internet for you for all the best bedding sets. From affordable ones that you might find in your local mall (shout-out to H&M), to specialized bedding brands such as Parachute and Brooklinen — we've got you. Oh, and there are also organic and eco-friendly brands, too. Ready to get your bed looking as beautiful as Kourtney Kardashian-Barker's? Thought so.
The best bedding brands in 2023
The prices below were correct at the time of publishing this article.
Best affordable bedding brands
These mid-range bedding brands are nice and affordable, offering unique on-trend sets that you can pick up online. Their ranges change by season so that you can keep your room up to date. You can buy more than just bedding and sleep stuff from these brands, too. So, at the same time, you can pick up some cute bedroom decor, some storage... you get the idea.
1. Amazon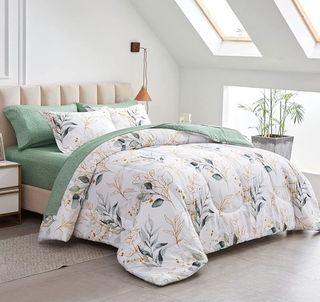 With Amazon, the question becomes, "What does it not sell?" The retailer is your one-stop shop for everything for your bedroom — sheets, comforters, mattress protectors, toppers, pillows, throws, and the list goes on, and it's also particularly budget-friendly. Quick, Prime shipping doesn't hurt either. Reinforce your picks with the extensive network of reviews (confirm authenticity with photo reviews) and bestseller lists to get a feel for what's trending. It's got a real high-low mix ranging from Amazon Basics, Mellanni, Utopia Bedding, California Design Den, and Madison Park, to name a few.
2. Anthropologie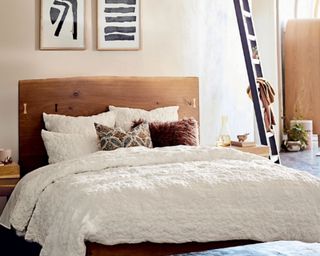 Anthro's vibrant selection of beautiful bedding will have your space looking like a catalog. Make a statement with their printed duvet covers, embroidered shams, and hand-sewn quilts, or layer up your bed with throws and decorative pillows. Browse through the tremendous selection of colors and textures. Verdict — every piece feels special. It's the perfect place for Boho chic and feminine bedding with flair.
3. Bloomingdale's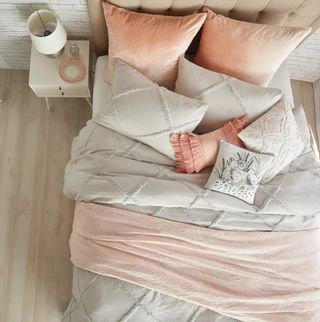 If you're after designer, Bloomingdale's has all the biggest bedding names in one place, including special exclusives you can't get anywhere else. That's not even including their reasonably priced private label brands including Hudson Park Collection, for hotel-inspired looks, or Sky, which has a youthful feel to its lineup. Save on Bloomingdale's branded basics or splurge on their designer counterparts. Matouk, Frette, Sferra, and Ralph Lauren are just a few labels we'd snap up for our snooze space.
4. Frontgate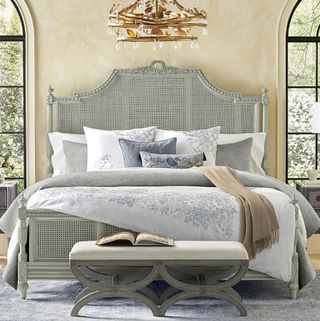 Frontgate's bedding selection is much more curated, but each bedding piece packs that much more of a punch with rich fabrics, beautiful embroidery, and opulent details. You can even snag down pillows and comforters, and the retailer also carries Matouk and Eastern Accents, in addition to its own range of duvets, quilts, sheets, and pillows.
5. H&M Home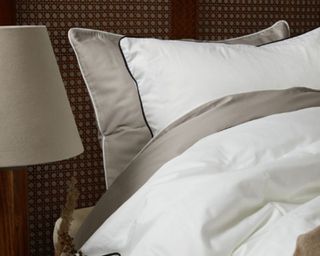 Originally known for its affordable fashion, Swedish brand H&M's bedding offering has grown extensively over the past few years, becoming a firm favorite with interior lovers (me!) for its on-trend affordable furnishings. It has a core range of linen duvet covers, as well as inserts, that tend to come in the season's must-have colors. From fashion-conscious ginghams to leopard print spots, you can bet on H&M to jump on the current TikTok interior trends.
6. La Redoute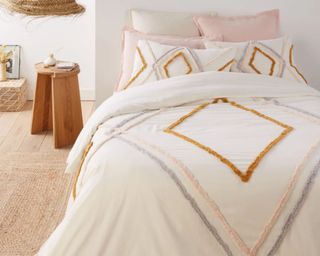 French online retailer La Redoute is a great place to browse for covetable furniture and homeware — often at refreshingly great prices thanks to its sales. The products are also some of the most Instagram-friendly out there, with trending colors and themes taking center stage. Offering a mix of generally more affordable own-brand products plus some well-known sleep brands, there is a great mix of basics, quirky patterns, and good-quality bed linen you won't find anywhere else. Just be sure to check the sizes as they're not listed in Twin, TwinXL... you get the idea. It also stocks durable bed frames, divans, headboards, mattress toppers, and protectors, so you can curate your sleep space with items from one place.
7. Macy's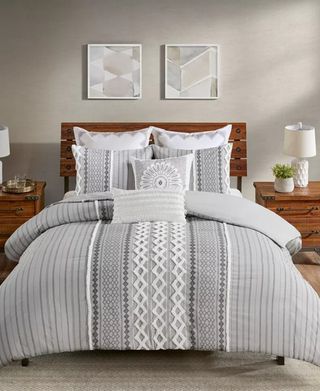 Macy's offers a massive bedding selection, much of it private label, like its Charter Club, Hotel Collection, or Martha Stewart Collection lines, as well as special collaborations with fashion brands like Juicy Couture, Lauren Ralph Lauren, Christian Siriano, and Calvin Klein, among others. Macy's frequently has one-day sales and longer-running home sales that can have bedding reaching up to 80% off, though typically you'll find savings of 20-50%. Its bedding basics and more decorative pieces can suit people at all life stages, from colorful children's bedding and whimsical prints galore to dorm bedding that will let your teen put his or her full personality on display, and of course, more sophisticated options for the primary suite. Similarly to La Redoute, you'll find the extras here like mattresses and toppers.
8. Nordstrom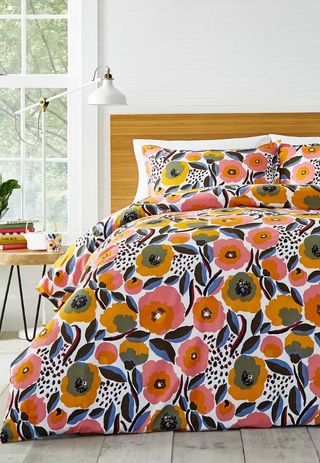 If you love Nordstrom for its fashion, the retailer's home selection will not disappoint, with a perfect mix of designer names, up-and-coming brands, and of course, the in-house label: Nordstrom at Home, for foundational items like pillows, comforters, and high-quality sheet sets. Like Bloomie's, Nordstrom also sells Matouk, as well as DKNY, Boll & Branch, Bole Road Textiles, Peri Home, Pom Pom at Home, and Marimekko.
9. Target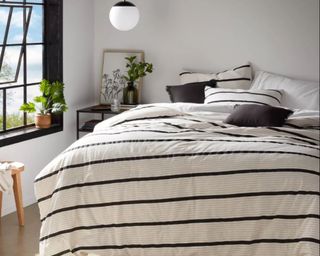 Target has always been a reliable source for all your dorm room essentials. You can literally grab everything you need for less than 50 bucks. Threshold (Target's own line) has nailed a collection of cheap sheet sets in fun prints and designs, from florals to geometrics, and they aren't bad in quality at all. The perfect pick-me-up to take to college, your new place or to keep for when friends come to stay, they've got great value bedding basics you can rely on. Chilly apartment or college bedroom? Look out for those heated throws!
10. Serena & Lily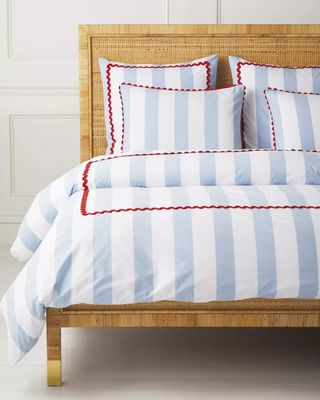 Serena & Lily offers far beyond (bedroom) furniture and rugs, but also tantalizes with an expansive bedding selection that caters to those looking for a relaxed, yet elevated coastal chic vibe. The Positano Linen Collection is a perennial standout, while print-seekers will love the delicate gingham, toile, and floral prints peppered throughout the collections of duvets, shams, quilts, and sheets. Serena & Lily also offers a 60-day bedding promise to test out the bedding and offers free shipping and returns.

11. Wayfair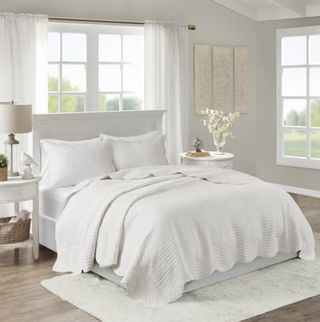 Wayfair is another example of a home site that has absolutely everything, catering to all styles and all budgets. Wayfair has excellent filtering options that let you shop according to color, pattern, material, warmth layer, product styles, and a host of other categories, so you can find what you're looking for faster. It's also useful to know that Wayfair is almost always running sales, making it a great time to browse the sale sections to see what's on markdown. For that "snuggled in" feeling, it's a great place to shop for weighted blankets, and for sleepovers, dash over for a daybed cover. If it's your first time shopping on the site, have a look at brands like Wayfair Basics, Union Rustic, and Latitude Run.
The best specialized bedding brands
These retailers specialize in bedding and sleep — some even sell mattresses in a box, mattress toppers, pillows, duvet inserts, mattress protectors, and other accessories. This means these sheets are of super high quality, but they do come at a high price tag. We've listed each brand's most affordable sheet set, just so that you can get an idea of the price. If you want to splurge on a set that you want to last for years to come, then here's where to shop.
12. Brooklinen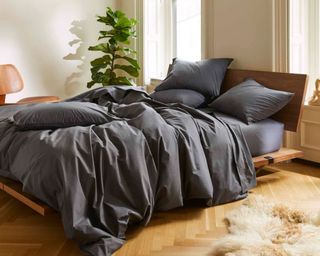 A big-time (award-winning) favorite, Brooklinen has everything you need for a restful night's sleep —and a stylish one. With sheet sets, shams, comforters, pillows and toppers in every material and colorway imaginable, there's something for everyone. Not many brands, I believe, get the balance between quality and style, right. You might have to spend a little more on a set, but it will last you for longer. Plus, don't forget that if you sign up for their newsletter you get 10% off and free shipping on orders over $100.
13. Parachute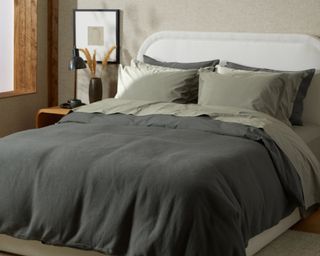 Designed with ultimate relaxation in mind, Parachute offers a curated collection of bedding essentials that raise the bar when it comes to comfort. Think breezy linen sheets, cool cotton, and plush pillow top mattresses you just want to trust fall into. The vast choice of colors on offer is just as chic for an effortless-looking bed you'll struggle to get out of. With a commitment to ethical manufacturing, you can snooze with peace of mind. Eco-warriors, be assured that you've got free carbon-neutral shipping and returns, too. Plus, if you're looking for a celebrity-inspired look, it's well-documented that Ashley Tisdale loves the brand.
14. Ettitide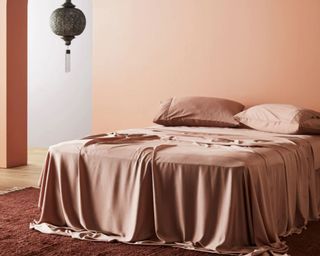 Despite its rapid regeneration, bamboo fabrics can get a bad rap for excessive chemical use during production. Not Ettitude, though. The eco-friendly bedding company created its own special process, dubbed Clean Bamboo, that uses a non-toxic solvent and recycles 98% of the solution up to 200 times to turn raw bamboo into the silkiest material. Seriously, the brand's sateen sheets, made completely from bamboo viscose are among the most buttery-soft we've slept on, while the bamboo mattress protector is both breathable and waterproof!
The company operates according to the 17 sustainable development goals part of the UN's 2030 Agenda for Sustainable Development. Just last year, Ettitude sheet sets saved over 275 million gallons of water and prevented 875 thousand kilograms when compared to cotton, and nearly 80,000 plastic bottles were recycled to make the down alternative comforter. They also achieved carbon neutrality in 2021 and are working to become plastic-free.
15. Sunday Citizen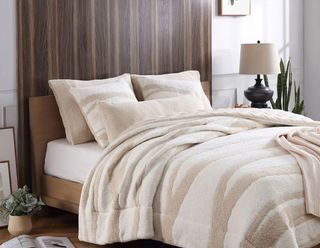 Sunday Citizen was born out of catering to hotels wanting luxury blankets that could withstand the t