The best bedroom storage ideas do not have to be purely functional. There are so many stylish options out there that you really are spoilt for choice, which can make it hard to choose. Panic not – we have everything you need if you are looking to turn your bedroom from a cluttered mess to the ultimate space for relaxation.
The type and amount of storage you need for your bedroom completely depends on what kind of items you need to store and how much space is available. Most of us need some sort of clothes' storage, which may be in the form of drawers, wardrobes, rails or even under-bed storage boxes. You may also be looking for a bedside table or other ways to store things like books, glasses or chargers that you will want near the bed. Finally, don't forget the miscellaneous items that don't have a home elsewhere, or things like bedlinen and out of season clothes that might be best stored in something like an ottoman at the end of the bed.
Before you buy your bedroom storage solutions, start by having a big clear out and sending unwanted items and unworn clothes to the charity shop – because that old saying 'less is more' really counts, especially if you are looking for storage for a small bedroom.
Read through our great guide to bedroom storage ideas so you can create the ultimate organised bedroom.
1. Maximise space with an upholstered ottoman
Ottomans are a great way to hide away extra bedding and blankets – and upholstered ones have a look of real elegance, especially if they're covered in a stroke-able fabric, such as velvet. Pop one at the end of the bed or beneath a window where it can also be used as a seat.
This ottoman from Brissi is a lovely dusky pink and is the perfect bedroom storage option for a glam scheme – for a similar option in velvet try the Chatsworth.
2. Invest in wardrobe storage
While a wardrobe is a pretty obvious bedroom storage idea, go the extra mile and find one with added rails, racks and shelves so that everything has a specific place – it will help you be more organised, especially during the early morning dash!
The Tuscany Wardrobe from Willis & Gambier is a beautifully crafted premium double wardrobe that has a shoe rack, full size mirror, hanging rail, shelf, cufflink tray and tie (or scarf) rack.
On a budget? Try Ikea for a range of customisable choices. Simply adding pull-out baskets or hanging clothes organisers will help streamline your storage.
3. Stuff lying around? Buy bedroom storage baskets
Forever useful, baskets are a no-effort choice for storing everything from magazines and books to spare throws and scarves. Stow them atop a wardrobe, place them at the foot of the bed or use them to corral makeup on your dresser. They come in a range of colours and materials to suit each and every bedroom design scheme.
We particularly love this raffia basket in natural and white, £85, from Ross & Brown. Its lovely shape has a charming appeal and its generous size makes it a versatile choice.
4. Get extra surface space with side tables
Although more often seen in living rooms, table nests can be very useful additions to a bedroom for adding a surface as and when you need it. Use them instead of a bedside table and pull out the smaller one for lazy weekend mornings – perfect for tea and toast!
The Worthing nest of tables is a set of two made from solid oak with smooth triangular tops, £269, from Mood Collections. The triangular shape also means it will neatly tuck out of the way if you are short of space.
5. Build storage into your bedside table
A list of bedroom storage ideas would not be complete without the humble bedside table. Find one with drawers, cupboards or some kind of storage, perfect for hiding away odds and ends like reading glasses or medication.
For lovers of modern style the Cairn pink bedside table, £199, from Made is perfect, and this design is really clever. It's made from three stackable, modular storage trays which enables you to create the height and amount of space you need, and to add or remove them as you wish. Seen here in pink, it also comes in grey.
6. Chest of drawers? Go for width or height
Every bedroom needs a good sized chest of drawers, with taller designs being best for smaller bedrooms with little floor space, and wider ones ideal for large rooms. When choosing a chest of drawers, be sure to pick one with strong drawers and good quality runners or you will soon find that daily use takes its toll.
The Azalas five-drawer wide chest from Barker & Stonehouse ticks all the boxes. It also has a lovely real wood veneer top which is perfect for displaying a pretty vase of flowers, or your favourite perfumes, lotions and potions. It is part of a wider range which includes wardrobes.
7. Doubling up as a home office? Find a stylish desk
With more and more of us working from home, the bedroom can often be the place that doubles up as mini home office space. You will need to think carefully about creating enough added storage for stationery and paperwork, as the last thing you want to see before bed is a mounting to-do list.
The stunning Treviso Desk by Matthew Hilton for Ercol, £1,595, could even be used as a dressing table; it has two handy drawers and plenty of work space. Seen here in oak with a clear matt finish, you can also purchase it in a walnut.
8. Save space with a hanging rail
If you're looking for minimalist style bedroom storage ideas and are great at keeping tidy, then why not opt for a hanging rail, such as the Clerkenwell solid oak hanging rail from Soak & Sleep? Its multi-purpose rail means you can hang things from the two rails at the top: one for hangers; the other for scarves and ties. The handy shelf is ideal for shoes or neatly folded jumpers.
This is a sound option if you have a separate dressing room or walk-in wardrobe and just want to lay out outfit options for the next couple of days in your bedroom, to avoid a morning panic.
One of the best ways to keep unsightly bedroom clutter hidden is to invest in a bed that has storage underneath, especially if you have a small room with few storage options. The type of storage bed frame you go for will depend on what needs storing. An ottoman is perfect for items you don't need day-to-day or for bulky things that you may struggle to cram into under-bed drawers.
The Bencatel ottoman bed from Wayfair has easy lift up storage that will give you oodles of space elsewhere. Use it for duvets, bedding, pillows, cushions and seasonal clothes.
10. Display stuff in a contemporary storage trunk
Acrylic storage containers are a popular choice in not just kitchens and bathrooms but bedrooms too. If you love to display your items yet keep them dust free take a look at this super modern transparent Treasure Trunk from The French Bedroom Company. Made from clear acrylic, it's perfect for storing your favourite shoes, or those beautiful coffee table books you like to read in bed. And it also makes a great alternative to a bedside table!
11. Use vertical space with a shelf ladder
When searching for bedroom storage ideas, think outside the wardrobe/chest of drawers/bedside table-shaped box. Shelf ladders suit most rooms and are a great way of displaying and storing all sorts of things without taking up tons of floor space – or causing you to put your hands in your pocket for a carpenter to build shelves for you.
Crafted from spruce, the Aldsworth shelf ladder costs £165, from Grace & Grey.
12. Small bedroom or corner to fill? Try a tallboy
If space is at a premium then a tallboy is a great option. Slim enough to fit into the tightest corner, they often come with different depth drawers, which is really handy. If you live in an old home with lots of alcoves or awkward nooks and crannies, you will be pleased to know you can find a tallboy to fit nearly any space.
The Larsson Tall Chest of Drawers from Neptune is hand-finished with intricate carving and comes in a wide choice of lovely colours; seen here in Antique Salt.
13. Invest in a storage bed
If space really is tight, you might need to be creative with how you create storage for your room. Of course the bed is the most important piece of furniture in a bedroom, so if you have space for nothing but a bed, make sure it is stacked out to the max with storage spaces.
We love the fantastic four poster king-size bed from Vox4You, available from Cuckooland. It has a fabulous amount of storage and is super stylish to boot. There is an enclosed space behind the head, shelves above the bed and around the frame, and a closed container in the lower part of the shelving unit for blankets and pillows. There's also an option to have a raised mattress solution for storing items underneath.
14. Use wall space for shelving
A great tip for keeping tidy is to have everything off the floor. Shelves are obviously ideal for this – hang your shelves next to the bed for easy access, or a bedside table alternative. Another great thing about shelves is that they can be a feature in themselves, so not just for storing but displaying too.
These PUNCHed white shelves from Anthology Five look great with plants and books on them. Made to order from high quality aluminium with a satin powder-coated finish; other colour choices include orange and yellow.
15. Tidy away makeup in a dedicated desk
Who knew you could actually get a purpose built makeup desk? No more frantically searching for your mascara while getting ready! An idea solution for those without a dressing table.
The compact White makeup desk with mirror from Sue Ryder. has four compartments for storing makeup, accessories and jewellery and a good sized mirror for applying it every morning. It comes in white with a contemporary design ideal for modern style lovers and could be a handy option if you don't have room for a dressing table and a bedside table.
16. Pick a spacious shoe storage solution
We all have too many pairs of shoes, so why not keep your favourites neatly stacked? Throwing your favourite pairs at the bottom of the wardrobe will not do them much good, so look for special boxes to stack them individually, or a show tower.
The YAMAZAKI white tower steel shoe rack from Black by Design has five tiers, so you can quickly find which ones you want when rushing to get ready. Its slim profile means it can fit into small spaces and there's a handle so you can move it around.
17. Make the most of your bed with drawers
Some beds come with in-built drawers, but even if you don't want to buy a new bed, you can find drawers that roll away under your existing bed. This really is the perfect way to maximise that space under the bed and a great place to store spare towels, bed linen or shoes. Some drawers come with dust covers or lids, others are just a good place to slide away all of those vacuum packed textiles.
There are plenty of underbed storage drawers to on the market, but if you can't find some you like why not have a go at making them yourself? We love these simple but effective drawers by Medina Grillo of @grillodesigns which are made with a few planks of wood and some castors.
18. Create depth with a glazed bedroom storage cabinet
Glazed bedroom storage cabinets aren't just useful as wardrobe or cupboard storage or display – the fact that you can see right to the back of them makes your storage look more transparent, and less like it's dominating a space, just as a mirrored wardrobe would.
The FlummeryStorage Cabinet from Loaf is made of solid reclaimed fir recovered from old buildings and has a brushed white finish; the interior is painted in a lovely inky blue.
19. An armchair is not just for sitting
The humble armchair is much underrated in a bedroom, but is actually a piece of furniture that we all use quite a lot for laying out the next day's clothes or for keeping that extra throw handy for those nights when it gets chilly. An armchair is also the perfect spot to place all of your throw cushions if you don't like them in the way when you go to bed.
We like the Rose armchair in High Tea deepest velvet, from £440, available at Perch & Parrow.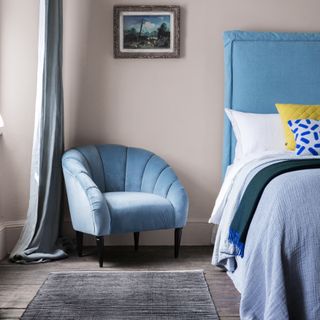 20. Don't forget about jewellery storage
Loaded with bling? Leaving all of your jewellery tangled in a box or tray means an untangling mission every time you want to wear your favourite necklace, so you might need dedicated jewellery storage.
The clever Illuminating LED Armoire from Beautify has so many great elements. It's slim for a start, so ideal if your room is small; it has an illuminating mirror and a touchscreen dimmer; you can hang all your jewellery in it, from necklaces to earrings; and there are four shelves for makeup, nail varnish and skincare pots. It also has a single drawer that's large enough to hold a hair-dryer, £92.99, available at Domu.
21. Add storage above the bed
Remember those 1970s melamine up and overs? Maybe you're still harbouring one... Here's how to drag the look into the 21st century and make the most of every inch of potential storage space. It keeps the room looking streamlined and you can match the bedroom storage units to your existing scheme. You can even create wardrobe hanging space as well as hidden shelves and lights can be integrated so it's a great option to consider.
The Contemporary Willow Bedroom from Neville Johnson, offers a sleek, fitted over the bed storage.
22. Build in a window seat in your bedroom
Window seats with storage beneath are definitely worth considering if you want to maximise the space you have around an otherwise unpopulated window. They also give you somewhere to sit and read – or you can use the top to keep neatly folded throws on. Go for a made-to-measure fitted option, or find a suitable bedroom storage bench that fits the space, but remember that you may need to swap long curtains for blinds or shutters to make it work.
The Shaker range from Sharps offers a fully fitted, bespoke bedroom storage solution.
23. Don't forget under eaves storage opportunities
If your bedroom is in a loft conversion, maximise what is usually wasted space by opting for bespoke fitted storage under the eaves. Cupboards are an easy fit, but drawers or shelving can help make the most of the space.
Shoe storage and drawers are the best use of space in this loft bedroom by Barbara Genda Bespoke Furniture.
24. Pack – then hide – bedroom storage bags
If you have space under your bed or at the bottom of the wardrobe then use vacuum storage bags to keep clothes clean and dust-free. This means seasonal clothing, spare bedding and towels are not wasting valuable cupboard space.
The Vacuum Storage Totes from Lakeland have a handle at one end so you can easily pick them up and the clear plastic sides mean you can quickly see what's in each. Once filled and the inner bag is sealed, vacuum out the air and zip up the outer bag to ensure they only use minimal space.
25. Neat and tidy? Open plan storage is for you...
The appeal of open storage is that you can see everything straight away. The downside is that you need to keep it tidy! Think you can? Design a system to suit your needs.
The ELVARLI system from Ikea has some great elements and you can mix and match them to create a bespoke storage system; prices start from £366 for two sections.
26. Keep bedside items tidy in an over-the-bed pocket
Keep knocking over your phone/tablet in your sleep? Or do you enjoy writing in your diary before bed, but the pen keeps rolling off the bedside table? Thankfully, there is now a great storage solution for these woes.
The Bedside Pocket by Gyrofish fits easily onto your bed and keeps everything tidy, from headphones to stationery and gadgets. For similar items, check out Amazon.
27. Choose a headboard with storage
A storage headboard is a nifty bedroom storage idea if space is at a premium. Simple examples feature a couple of shelves either side of the bed, but to make the most of every inch look for full-width nooks for bedtime ephemera. You can get headboards with cupboards built in which are great if you still want something to sit up against when sipping your morning cuppa.
The Biface headboard from La Redoute offers a combination of shelves on the front and sides.
28. Build a shelf round your radiator
Radiators – great for keeping you toasty but somewhat of a hindrance when you don't have much room to place your furniture. So, while a radiator may be stealing precious wall space for a chest of drawers or wardrobe, turn that into a positive by investing in a radiator cover with a shelf. If you can't find one you like, build one yourself, or even just install a shelf above (remembering to leave room for heat to rise).
What's more, a radiator cover is perfect in a child's bedroom to protect them from the hot metal.
29. Save space with a slimline console table
Another useful piece that works in other small rooms is the good old console table. You can use yours for displaying your favourite pieces – table lamps, books and picture frames, for example – and their narrow depth means they work brilliantly in even the smallest of spaces.
The Eva Aqua gloss console from Danetti will add a splash of colour to a tired scheme and is affordable at £99.
30. Install shelves around the bedroom ceiling
Tried every other bedroom storage idea and run out of room? Look up! That final foot of wall up to your ceiling is prime shelf space. High up and out of the way of freestanding bedroom furniture, you can run shelves around the perimeter of the room. Store books, photo albums and other things you won't need regular access to up here.
Read more: