The best bedroom storage ideas do not have to be purely functional. But there are so many stylish options out there that it can be hard to choose. Panic not – we have everything you need to turn your bedroom from a cluttered mess to the ultimate space for relaxation.
The type and amount of storage you need for your bedroom completely depends on what kind of items you need to store and how much space is available. Most of us need some sort of clothes' storage, which may be in the form of drawers, wardrobes, rails or even under-bed storage boxes. You may also be looking for a bedside table or other ways to store things like books, glasses or chargers that you will want near the bed.
Finally, don't forget miscellaneous items that don't have a home elsewhere, or bedlinen and out of season clothes that might be best stored in an ottoman at the end of the bed.
Before you buy your bedroom storage solutions, start by having a big clear out and sending unwanted items and unworn clothes to the charity shop – because that old saying 'less is more' really counts, especially if you are looking for storage for a small bedroom.
If you are designing a bedroom read through our great guide to bedroom storage ideas so you can create the ultimate organised bedroom.
Bedroom storage furniture
Buying off-the-peg furniture will be a quick fix to your bedroom storage needs. Measure up before heading out to the shops and take stock of your clothes to see how much hanging space you may need and what can be stored in drawers.
Buying matching sets including a wardrobe, chest of drawers and bedside table to match your bed will give your room a smart, co-ordinated look; for a more relaxed, eclectic look, choosing non-matching, antique and even upcycled pieces to fit the space.
1. Invest in a wardrobe that can be adapted to your requirements
A standard double wardrobe will have a rail and either drawers below, or a shelf above. However, a wardrobe with a little more flexibility in the design will mean you can set it up as you like. Some have the option of added shelves, or two rows of hanging rails, which can be preferable if you don't have lots of long clothes such as dresses.
If it is a shared bedroom and the wardrobes need to accommodate two people's clothes, adaptable interiors will allow you to divide the wardrobe according to each person's storage needs. Where space is tight, this will be easier to accommodate than two separate wardrobes.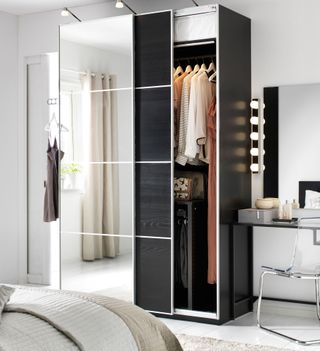 2. Optimise your wardrobe with organisers, racks and hooks
As well as shelves and rails, there are additional things you can add to your wardrobe to make it even more organised. Racks for scarves and ties, or shallow drawers to stow away watches and jewellery will streamline your storage. They also speed up your morning routine by keeping everything you need for your outfit in one place.
A new wardrobe may come with these elements as optional add ons, but there are retrofit options available from most department stores or DIY outlets. On a budget? Try Ikea for a range of customisable choices.
3. Choosing a chest of drawers? Go for width or height
Every bedroom needs a good sized chest of drawers, with taller designs being best for smaller bedrooms with little floor space, and wider ones making the most of the width in a larger room. When choosing a chest of drawers, be sure to pick one with strong drawers and good quality runners or you will soon find that daily use takes its toll.
We tend to store a lot of sentimental items in our bedrooms too – perhaps treasured photos or knick knacks from our childhood that we wouldn't put on display – and a strong chest of drawers can be a safe home for these too. The top of your chest of drawers is a good place for additional small storage (more on this later), or if you like to relax in your room it could be the perfect place to pop a TV or radio.
4. Keep those drawers in order with drawer organisers, boxes and trays
Keep your possessions in check with a selection of boxes and trays so that everything has a designated place. You might feel like you are reaching Monica Geller-Bing levels of tidiness dividing your socks by colour or event, but messy drawers do you no favours when you are getting ready, weary-eyed at 6am. They are also perfect for sorting jewellery, sunglasses and belts.
Some furniture companies will supply trays designed to fit their drawers, but you can get dividers from the likes of Dunelm, Ikea and Amazon. Any boxes small enough to fit in your drawers will do – try shoe boxes or the gift boxes that toiletry sets come in.
5. Looking for drawers but have barely any space? Try a tallboy
If space is at a premium then a tallboy is a great option. Slim enough to fit into the tightest corner, they often come with different depth drawers, which is really handy. If you live in an old home with lots of alcoves or awkward nooks and crannies, you will be pleased to know you can find a tallboy to fit nearly any space.
Another great thing about a tallboy is that if you like to organise your clothes into lots of different categories, lots of smaller drawers are more useful than a few big drawers. Store frequently used items at the top (underwear, accessories...) for easy access.
6. Build storage into your bedside table
A list of bedroom storage ideas would not be complete without the humble bedside table. Find one with drawers, cupboards or some kind of storage, perfect for hiding away odds and ends. Drawers are great for chargers, your phone, watch and glasses, but a cupboard is better for books or medication that needs storing upright.
If you are really pressed for space, let your chest of drawers multi-task as a bedside table – but don't choose anything too tall or you will struggle to reach it from your bed.
Bedroom storage chests
From bedlinen, to out-of-season clothes or perhaps toys if it is a child's room, a chest is the best bedroom storage idea for all of those bulky objects. Place under a window for a comfy spot to read, or at the end of the bed – a great perch for getting ready.
7. Maximise space with an upholstered ottoman
Looking for an elegant place to hide away extra bedding and blankets? Try an ottoman with a hinged lid in an opulent fabric like velvet to create a boutique feel. Fabric storage bags can help you group items in there by type, and you could use vacuum storage bags to fit in more out-of-season stuff.
8. Display stuff in a contemporary bedroom storage trunk
Storage doesn't just have to be practical – in fact, you could endeavour to make it a feature wherever you can. Acrylic storage containers are a popular choice in not just kitchens and bathrooms but bedrooms too and perfect for displaying items, while keeping them protected from dust.
Use one to store your prettiest books, favourite shoes or colourful linens. And it also makes a great alternative to a bedside table!
Fitted bedroom storage ideas
If you have more budget, or the time to build something yourself (even if it is using off-the-shelf storage), then consider fitted storage. Be it wardrobes, cupboard or drawers, a fitted solution can be customised to make the most of every little bit of space – ideal in a small bedroom or loft conversion.
Whether you live in an old cottage with lots of awkward nooks, or have a massive modern bedroom that can incorporate a dressing room, made-to-measure fitted furniture is the way to go.
9. Opt for a fitted wardrobe
Whether in your main bedroom or as part of a dedicated dressing room, a fitted wardrobe will maximise the storage potential of any room. With no end of design options, these storage solutions are not only great for clothes, but also the miscellaneous items that don't really belong anywhere else. Some can even be designed with a fold-out ironing station for last minute de-creasing.
Before talking to a furniture designer, decide how much space you need for hanging. The rest of the space can be a combination of drawers, shelves and shoe racks. Use boxes and baskets on the shelves to corral things like hats and handbags.
And try to pick a design that's in keeping with your home's architecture – streamlined for contemporary homes with clean lines and with detailing in period properties. Mirrored doors, of course, will also make a small or dark room feel lighter and larger.
10. Don't forget under eaves storage opportunities in loft bedrooms
If your bedroom is in a loft conversion, maximise what is usually wasted space by opting for bespoke fitted storage under the eaves. Cupboards are an easy fit, but drawers or shelving can help make the most of the space.
Drawers or cupboards will work well but take the slope of the roof into account. You can actually use this slope to your advantage – high heels are the perfect item to store in that awkward prism of space at the top of the eaves.
11. Make use of an unusual space with a window seat
Window seats with storage beneath are definitely worth considering if you want to maximise the space you have around an otherwise unpopulated window. They also give you somewhere to sit and read – or you can use the top to keep neatly folded throws on (yes, we're Marie Kondo fans). Go for a made-to-measure fitted option to complement other fitted furniture in the room, or find a suitable bedroom storage bench that fits the space, but remember that you may need to swap long curtains for blinds or shutters to make it work.
Bedroom shelving ideas
Shelving can be used in a bedroom to store everything from folded clothing to books and photo frames. From the odd shelf for a small selection of curated favourites to a full wall of shelving for everything you could possibly need, there are many ways shelving can up your bedroom storage.
12. Neat and tidy? Open plan bedroom storage is for you...
The appeal of open storage is that you can see everything straight away. The downside is that you need to keep it tidy! Think you can? If not, our clothing decluttering tips could help you out.
Being careful to design a system to suit your specific needs, with plenty of rails for dresses and shirts and a few drawers for the things you really should hide away (we mean you saggy leggings worn only while cleaning the house), will make it really practical. Pretty storage boxes and baskets will be your new best friend for limiting the amount of clutter on show too.
13. Try a bedroom storage unit in a kid's room
Not everything you want to store in your bedroom can be neatly hung or folded away – there may be items that just need flinging in a storage box out of sight. Toys are a fine example and notoriously hard to keep tidy, so encourage a good clean-up routine from an early age (good luck with that) with a versatile storage unit for all manner of items.
Look out for bedroom shelving that combines drawers for clothes, cupboards for boxes of items you don't want on display and open cubes for cherished objects. A simple shelving unit that can be fitted with a few doors, or used in tandem with storage boxes gives the perfect balance of hide-away and display.
14. Use vertical space with a shelf ladder
When searching for bedroom storage ideas, think outside the wardrobe/chest of drawers/bedside table-shaped box. Shelf ladders are super versatile and a good buy for renters who may be looking for multifunctional furniture that might have a future storing other items, in a different room, in a new home.
They suit a variety of schemes, from traditional to industrial to something more sleek and modern. Finally they don't take up tons of floor space and the varying depths of shelves mean they can be used to store lots of different things – boxes at the bottom and small trinkets at the top.
15. Use even the smallest sections of wall for shelves
A great tip for keeping tidy is to have everything off the floor. Shelves are obviously ideal for this – hang your shelves next to the bed for easy access, or a bedside table alternative. Another great thing about shelves is that they can be a feature in themselves, so not just for storing but displaying too.
16. Install shelves around the bedroom ceiling...
Tried every other bedroom storage idea and run out of room? Look up! That final foot of wall up to your ceiling is prime shelf space. High up and out of the way of freestanding bedroom furniture, you can run shelves around the perimeter of the room. Store books, photo albums and other things you won't need regular access to up here. Put it on the wall behind the bedhead and you'll barely see it.
17. ...Or build a shelf around your radiator
Radiators – great for keeping you toasty but somewhat of a hindrance when you don't have much room to place your furniture. So, while a radiator may be stealing precious wall space for a chest of drawers or wardrobe, turn that into a positive by investing in a radiator cover with a shelf. If you can't find one you like, build one yourself, or even just install a shelf above (remembering to leave room for heat to rise).
What's more, a radiator cover is perfect in a child's bedroom to protect them from the hot metal.
Storage beds
A bedroom needs a bed, so when space is limited building storage in to this essential piece of furniture cuts the need for unnecessary extras. Whether using the area under, above or behind the bed, you can eke a few vital inches (or more) of storage room.
The type of storage bed you choose will depend on budget, space and what needs storing. Don't forget there are ways you can add storage to your existing bed too.
An ottoman bed is perfect for items you don't need day-to-day or for bulky things that you may struggle to cram into under-bed drawers. Seasonal clothes, bedding, spare pillows and duvets are well suited. Avoid anything too heavy that could damage the base or be hard to lift out.
Don't forget an ottoman needs to lift up, so this might not be suitable in a loft bedroom if the ceiling slopes too close to the bed.
19. Max out the storage with a four poster storage bed
A few furniture companies have taken storage beds to the extreme with four poster storage beds. The space below and behind the bed are all used and while the footprint of the bed itself will end up being quite large, it could be the only storage furniture you need.
We would recommend a storage bed in a studio apartment to help zone your bed off from a larger space. Some are bunk beds too so you get even more bang for your buck.
20. Choose a headboard with storage
A storage headboard is a nifty bedroom storage idea if space is at a premium. Simple examples feature a couple of shelves either side of the bed, but to make the most of every inch look for full-width nooks for bedtime ephemera. You can get headboards with cupboards built in which are great if you still want something to sit up against when sipping your morning cuppa.
21. Make the most of every inch with under-the-bed drawers
Some beds come with in-built drawers, but even if you don't want to buy a new bed, you can find drawers that roll away under your existing bed. This really is the perfect way to maximise that space under the bed and a great place to store spare towels, bed linen or shoes. Some drawers come with dust covers or lids, others are just a good place to slide away all of those vacuum packed textiles.
There are plenty of underbed storage drawers to on the market, but if you can't find some you like why not have a go at making them yourself? We love these simple but effective drawers by Medina Grillo of @grillodesigns which are made with a few planks of wood and some castors.
22. Use the space above the bed too
Remember those 1970s melamine up and overs? Maybe you're still harbouring one... Here's how to drag the look into the 21st century and make the most of every inch of potential storage space. It keeps the room looking streamlined and you can match the bedroom storage units to your existing scheme. You can even create wardrobe hanging space as well as hidden shelves and lights can be integrated so it's a great option to consider.
23. Pack – then hide – bedroom storage bags
If you have space under your bed or at the bottom of the wardrobe then use vacuum storage bags to keep clothes clean and dust-free. This means seasonal clothing, spare bedding and towels are not wasting valuable cupboard space.
Once filled and the inner bag is sealed, vacuum out the air and zip up the outer bag to ensure they only use minimal space.
Bedroom storage ideas for a multifunctional space
Living in a flatshare, small home with limited rooms or looking to move soon and want to invest in a piece that will have use elsewhere? Take a look at these pieces of furniture that will add storage to a bedroom but would also be at home in an office, living room or hallway.
24. Doubling up as a home office? Find a stylish desk
With more and more of us working from home, the bedroom can often be the place that doubles up as mini home office space. Or, if you are decorating a spare bedroom, it might need to be used for work too. A stylish desk is exactly what you need.
If this desk is going to be in your room you will need to think carefully about creating enough added storage for stationery and paperwork, as the last thing you want to see before bed is a mounting to-do list. This could mean choosing a desk with room for folders and files built in, but for a sleeker look chose a streamlined desk and store office paraphernalia in a cupboard or wardrobe nearby.
25. Save space with a hanging clothes rail
If you're looking for minimalist style bedroom storage ideas and are great at keeping tidy, then why not opt for a hanging rail? They have plenty of space for coat hangers and often feature a shelf for shoes or neatly folded jumpers.
This is a sound option if you have a separate dressing room or walk-in wardrobe and just want to lay out outfit options for the next couple of days in your bedroom, to avoid a morning panic. Should your requirements change, it could then make a great hallway storage solution.
26. Create depth with a glazed bedroom storage cabinet
Glazed bedroom storage cabinets aren't just useful as wardrobe or cupboard storage or display – the fact that you can see right to the back of them makes your storage look more transparent, and less like it's dominating a space, just as a mirrored wardrobe would.
This type of storage is the kind that can be used allover the home, so a good quality one would be a real investment piece. Be it solid wood or even metal, they come in a wide range of colours, styles and sizes so you won't be hard pressed to find a suitable match for your room.
27. An armchair is not just for sitting
The humble armchair is much underrated in a bedroom, but is actually a piece of furniture that we all use quite a lot for laying out the next day's clothes or for keeping that extra throw handy for those nights when it gets chilly. An armchair is also the perfect spot to place all of your throw cushions if you don't like them in the way when you go to bed.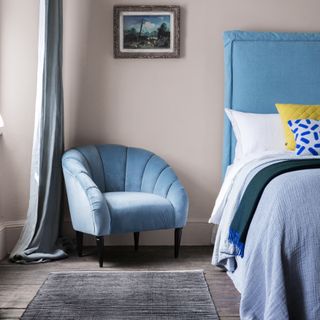 Bedroom storage accessories
On a budget or run out of space for more furniture? These small bedroom accessories are just what you need for grabbing a few more inches of useable storage.
28. Stuff lying around? Buy bedroom storage baskets
Forever useful, baskets are a no-effort choice for storing everything from magazines and books to spare throws and scarves. Stow them atop a wardrobe, place them at the foot of the bed or use them to corral makeup on your dresser. They come in a range of colours and materials to suit each and every bedroom design scheme.
29. Tidy away makeup in a dedicated desk
Who knew you could actually get a purpose built makeup desk? No more frantically searching for your mascara while getting ready! An idea solution for those without a dressing table and could also function as bedside table.
30. Pick a spacious shoe storage solution
We all have too many pairs of shoes, so why not keep your favourites neatly stacked? Throwing your favourite pairs at the bottom of the wardrobe will not do them much good, so look for special boxes to stack them individually, or a show tower.
31. Don't forget about jewellery storage
Loaded with bling? Leaving all of your jewellery tangled in a box or tray means an untangling mission every time you want to wear your favourite necklace, so you might need dedicated jewellery storage.
You can find an array of jewellery trays for drawers, wall racks for necklaces and trinket trays for rings, but if you need a mirror too, give a storage mirror a go.
32. Keep bedside items tidy in an over-the-bed pocket
Keep knocking over your phone/tablet in your sleep? Or do you enjoy writing in your diary before bed, but the pen keeps rolling off the bedside table? Thankfully, there is now a great storage solution for these woes. A handy pocket that slips over your bedframe takes up barely any room and won't be too noticeable.
Read more: