Fresh bedroom storage ideas don't have to be purely functional — in fact, we are of the belief that storage and bedroom organizers can and should be as stylish as they are practical. But where do you start hunting down the best and most beautiful storage solutions for your switch-off and snooze quarters?
Well we recommend you sit tight right here, because we've collated the dreamiest bedroom ideas to turn your snooze-snug from a cluttered mess, into the ultimate space for relaxation and beauty sleep. From how to make use of empty corners to tips for studio apartments, we've got something for every bedroom space and design aesthetic.
1. Utilize baskets in more ways than one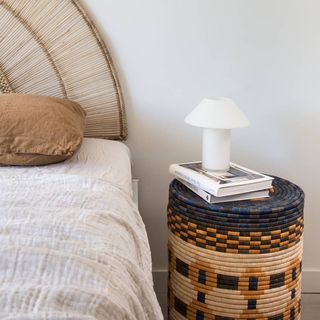 You can't go wrong with a basket, or 10! Not only do they provide versatile, transportable storage solutions in any space, but they also introduce those layers of texture, color, and a sense of artisanship that really roots a scheme. And if you're really tight on space in your boho bedroom, as demonstrated here, you can double-up your storage basket (or laundry basket) as a rather stylish and tactile bedside table — it's a win-win situ!
2. Make a feature with a floating bookshelf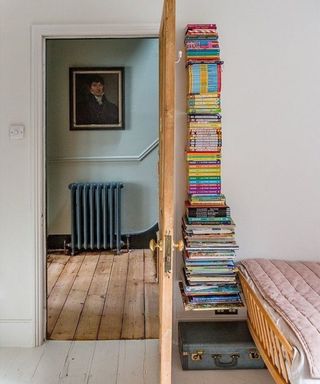 Do you enjoy a good page-turner to help wind down towards dreamy lands? Keep escapist reads within reach, whilst making the best use of an unused space or nook with a floating shelf like this one made from books.
We legit love how this pick from TEEbooks creates a hovering illusion, making for a charming 'pile high' feature in its own right, whilst utilizing the awkward space between the foot-end of the bed and the door.
3. Fill up recessed shelving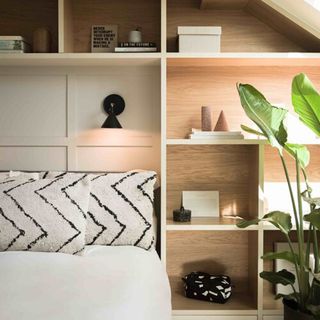 If you're able to make bigger, structural changes as part of your bedroom makeover, then a couple of bedroom shelves is a wise move. Max out the storage opportunity with cleverly recessed finishes that you can fill with trinkets and bigger items for function and decorative appeal in one.
A carpenter or builder can accommodate these when building stud walls. In a large master suite, you could even build a stud wall to help zone the space and add storage in the process.
"Bespoke-designed tailored storage will always provide more functionality" says Kate Whitfield, founder of An Artful Life studio, noting how "you can achieve the exact aesthetic you want for a truly beautiful space."
4. Create (temporary) clutter corners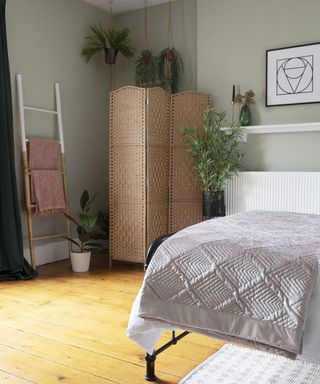 OK, so not perhaps not a long-term idea, but also, why not? This is perfect for a studio or if you're ever in a state of panic trying to tidy up before your parents arrive... The humble room divider. Ideal for cordoning off a small area of the room, this is a stylish way to signal privacy, disguise laundry drying, or just that stockpile of outfits on the floor, because that happens.
Plus, if your bedroom serves as a multifunctional home office, dining room and chill zone all in one, this will help make the switch off by night that little bit easier — boosting both productivity and well-being in harmony.
5. Don't overlook deep windowsills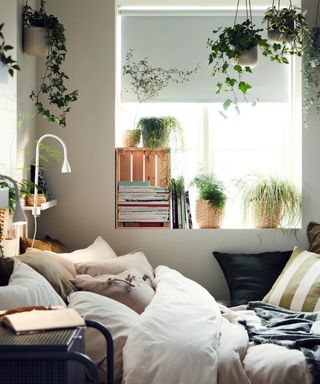 If you're really squeezed for space, look at your window — no, not out of it — on it. Sills are the perfect place to position your fave indoor plants to ensure that they get ample sunlight. It's also a brilliant spot for any solar-powered devices and gadgets you may have, as well as a perfect resting perch for book piles in lieu of a bedside table.
If your bedroom is facing the main street, be sure to invest in a window treatment like blinds or a set of curtains so that your possessions aren't on show and tell.
6. Elevate your space with above and beyond shelving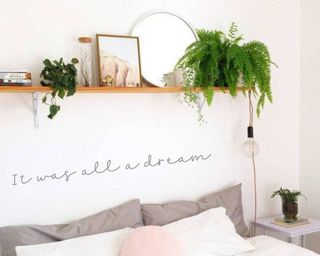 Take your bedroom storage ideas to another level with above-the-bed decor. Install a floating shelf above your headboard and style it with a personality-fuelled assortment of potted houseplants, personal touches, and decorative accessories.
If you're wondering how to get your best 'shelfie' on, learn how to style shelves like an interior designer.
7. Utilize space under eaves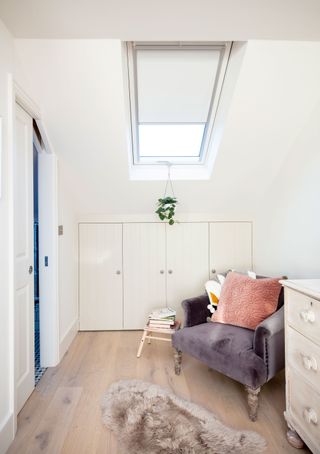 If your bedroom is in a loft, maximize what is usually wasted space by carving out room for bespoke fitted storage solutions under the eaves. Cupboards are an easy fit, but drawers or shelving can help make the most of the space.
8. Add interest and optimize your wardrobe storage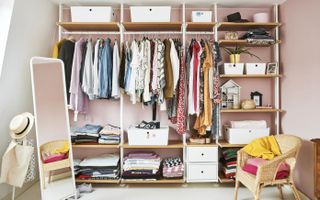 As well as shelves and rails, there are tons of products to help organize your closet fast. Racks for scarves and ties, or shallow drawers to stow away watches and jewelry will streamline your storage. They also speed up your morning routine by keeping everything you need for your outfit in one place.
"A fitted wardrobe will maximize the storage potential of any room, particularly those with awkward/quirky features," says Melanie Barnes, creative director, Elixir Interior Design.
A new wardrobe may come with these elements as optional add-ons, but there are retrofit options available from most department stores or DIY outlets. Designing your bedroom on a budget? Try Ikea for a range of affordable closet organization ideas.
9. Ditch the wardrobe for something unexpected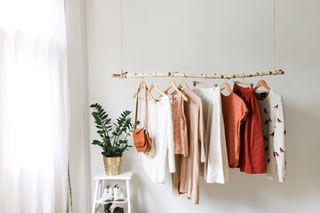 Closet space is a must-have, but it's not always an option, especially in rentals. So if you have to go without, a cute clothing rail may well do the trick, even if you only use it for your most worn items and keep a smaller dresser close by.
We love this rustic rail made using a birch branch which you could DIY if you felt up to sawing off a tree branch in your yard and securing it to the ceiling... Personally, we're here for letting Etsy help us get this look.
10. Favor width and height in a dresser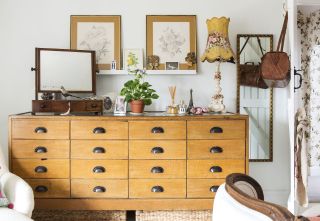 Every bedroom needs a good-sized dresser. Go high and mighty with taller designs in smaller spaces with limited floor space, or share the load with wider proportions in more generous quarters.
When choosing a chest of drawers, be sure to pick one with strong drawers and good quality runners or you will soon find that daily use takes its toll. The top of your chest of drawers is a good place for additional small storage (more on this later), or if you like to relax in your room it could be the perfect place to set the TV or vinyl player up.
This vintage bedroom is full of charm using a reclaimed piece of furniture for lots of charming quirks. Just look at that lampshade.
11. Keep socks in check with drawer organizers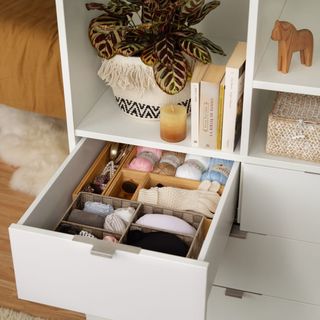 Keep your underwear and other essential possessions in check with drawer inserts and that daily sock search will become less frequent. Use a selection of boxes and trays so that everything has a designated place. You might feel like you are reaching Monica Geller-Bing levels of tidiness by dividing your socks by color or event, but messy drawers do you no favors when you are getting ready at the absolute crack of dawn. They are also perfect for sorting jewelry, sunglasses, and belts.
Some furniture companies will supply trays designed to fit their drawers, but you can get dividers from the likes of Ikea and Amazon. Any boxes small enough to fit in your drawers will do, you can even repurpose shoe boxes or those gift boxes that toiletry sets come in.
12. Choose a nightstand with integrated storage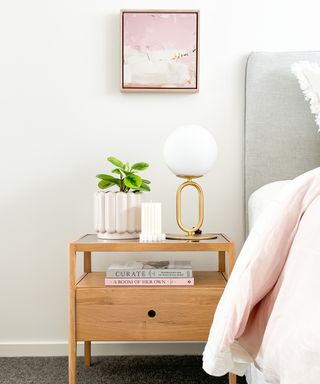 A bedroom wouldn't feel totally complete without a cute nightstand. Find one with drawers, cupboards, or some kind of storage, perfect for hiding away odds and ends. Drawers are great for chargers, your phone, watch, and glasses, but a cupboard is better for books or medication that need storing upright.
13. Add storage to even the most awkward of spaces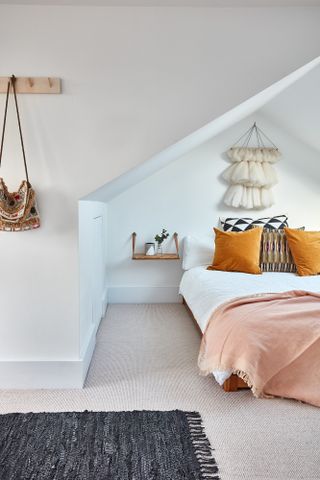 In a small bedroom, you really have to make the most of every inch of space, even if that space is a bit awkward. This is particularly tricky in loft bedrooms when you will be dealing with slanting walls, but check out this idea. Pop a bed in the eaves and wall mount your bedside table to save space.
A wooden peg rack is the perfect place to hang handbags and hats and doesn't need much room at all. Find a cheap, easily-installable piece of hardware at Home Depot.
14. Add a touch of luxe with a tactile ottoman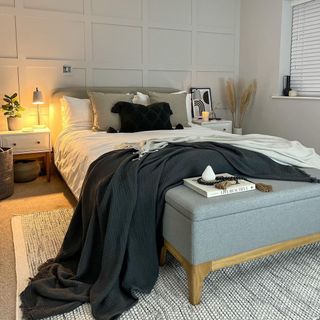 Looking for some elegant bedroom storage furniture to hide away extra bedding and blankets? Try shopping for a bedroom storage bench with a hinged lid in an opulent fabric like velvet to create a boutique feel.
Fabric storage bags can help you group items by type, and you could use vacuumable clothes storage bags (e.g: Spacesavers on Amazon) to fit in more out-of-season stuff.
15. Store items on a DIY headboard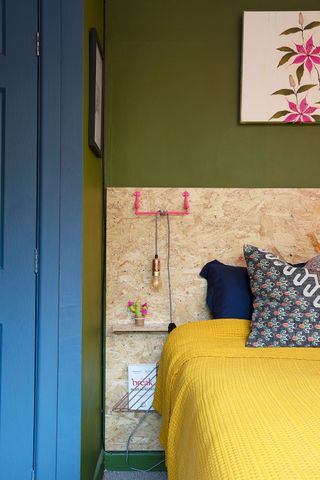 A great bedroom storage tip is to have everything off the floor. This DIY headboard made from OSB is a thrifty base for all your bedroom storage ideas. The kitsch pink handle and magazine rack are industrial chic, in a cool way, and we are here for it.
16. Make every inch count with concealed bed storage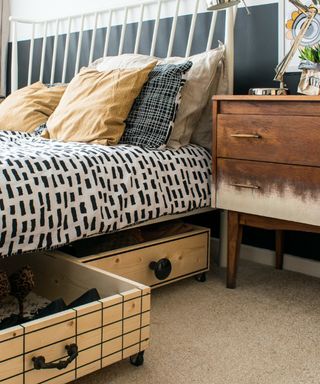 Some beds come with in-built drawers, but even if you don't want to buy a new bed, you can find drawers that roll away under your existing bed. This really is the perfect way to maximize that space under the bed and a great place to store spare towels, bed linen, or shoes. Some drawers come with dust covers or lids, others are just a good place to slide away all of those vacuum-packed textiles.
There are plenty of under-bed storage drawers on the market, but if you can't find some you like why not have a go at making them yourself? We love these simple but effective drawers by Medina Grillo of @grillodesigns which are made with a few planks of wood and some castor wheels (which you can find easily on Amazon) to easily roll out what you need.