The words bedroom fairy light ideas are enough to put even the most eclectic and confident of interior designers in two different camps. Those that love these twinkling little lights, and others that cringe at the concept of these diddy decorations.
But rather than feeling childish or something that you should be ashamed of, make this bedroom lighting feel chic with our elegant execution ideas. We take a look at curtain lighting to affordable chandelier projects, themed biophilic bedroom string light ideas, and everything in between.
And, we've even approached internationally-renowned lighting experts to encourage you to decorate with this divisive decor to brighten up your bedroom.
Bedroom fairy light ideas to add a glow
'Bedroom fairy lights suit any style of room and inject a fresh feel in seconds.' says Becky Tasker, PR manager, Lights4Fun.
'Make them a feature for your mirrors by draping them over and around them. Delicate shapes such as flowers add a pretty and elegant look.'
1. Create a forest theme with ivy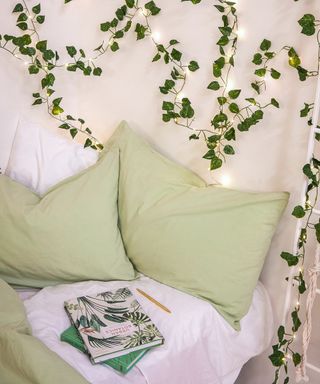 Bringing the outside in has a multitude of wealth of advantages for our mental health. Aside from the benefits of houseplants, a green bedroom with themed bedroom decor can create a calm and tranquil atmosphere for you to sleep and relax in.
Immerse yourself in a verdant and enchanted forest scheme with 10 meters of battery-operated, Ivy-shaped bedroom fairy lights from Urban Outfitters. These string lights can be plugged into any USB port for adding quick and easy ambience to your woodland-inspired bedroom, so you can literally put the 'fairy' in fairy lights.
2. Upcycle a fairy light chandelier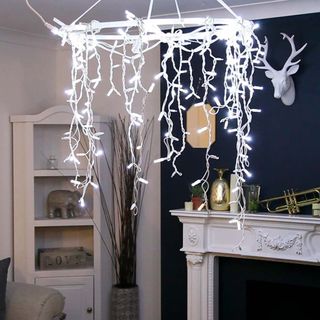 Bedroom fairy light ideas don't have to be your secondary light source, or just there to create ambiance. As the main way to provide brightness, why not create a DIY chandelier-style bedroom ceiling light using a hula hoop.
Do not adjust your device screens, because we said what we said. This recreational hoop spun around gyrating hips can be used to create an unusual but affordable crown of lights to make your bedroom look lit!
Here, Jenny Hardy, digital marketing executive, Festive Lights, shows you how to create this unusual do-it-yourself project. And despite their brand name, this isn't just for Christmas.
You will need:
Fairy lights (long drop icicles look good, but you can decide per your decor)
You'll need a starter cable (available from Festive Lights) if you've opted for ConnectPro lights
A hula hoop
Cable ties
2 x ribbons for hanging
A ceiling hook
1. Start by securing one end of the lights in place. We just used the icicle drops themselves and tied them securely around the hoop. We were able to do this thanks to the strong rubber cabling on these particular icicle lights, but if your lights aren't quite as robust, you can use cable ties to secure them.
2. Now this bit can take some time but it's a really simple process. All you need to do is work your way around the hoop, securing the lights as you go. Make sure the end of the lights with the connection is easily accessible, as you'll need to connect your chandelier to the power source.
3. Your beautiful new fairy light chandelier is complete! Simply tie two separate lengths of ribbon onto the hoop, one across from the other, creating a cross shape over the hoop. Using these ribbons, you'll be able to hang your fairy light chandelier from a hook. Now all you need to do is plug in your homemade chandelier, sit back and enjoy your hard work!
4. Your beautiful new fairy light chandelier is complete! Simply tie two separate lengths of ribbon onto the hoop, one across from the other, creating a cross shape over the hoop. Using these ribbons, you'll be able to hang your fairy light chandelier from a hook. Now all you need to do is plug in your homemade chandelier, sit back and enjoy your hard work!
3. DIY an unusual focal point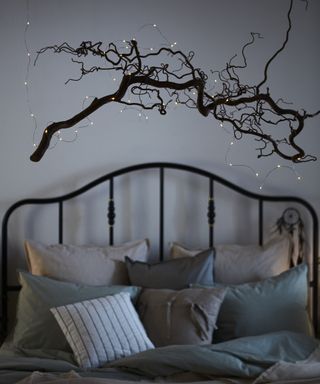 If you can't afford a new statement headboard, or you're leasing a rental home, you may be wondering how to create impact in your bedroom without blowing the budget.
As a quirky and budget bedroom idea, why not forage some foliage from your local forest or park, securely fix it to the wall, and then wrap it with bedroom fairy lights. You're guaranteed to have something unique and it's a real talking point for when you're showing guests around your home.
4. Create the illusion of high ceilings in a girl's bedroom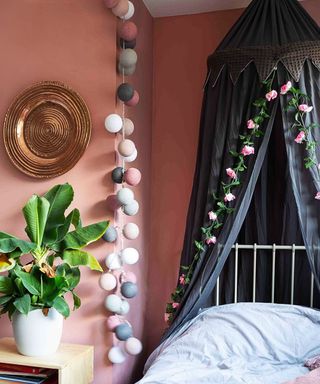 Transitioning a toddler from your bedroom to their own can be a challenging task. But with the power of bedroom fairy lights, you can create a beautiful big girls' room.
Perfect for adding texture, these Cotton Ball LED string lights from Cuckooland are the perfect way to add interest and create the illusion of high ceilings in a single bedroom. Hang them along the windowsill, across a headboard or if your child is feeling a bit apprehensive about being alone in the dark – why not hang them up in your kid's room and use them as a nightlight?
They'd be perfect for a magical kids' bedroom theme. With lots of colors to choose from, you'll want a set in every room.
5. Spruce up a teenage university dormitory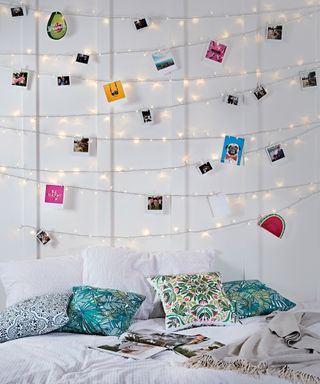 'Fairy lights are a brilliant solution to brightening up those drab dorm rooms,' says Tasker.
'Twinkly lights and Polaroids were meant to be together and can create the ultimate personalized display for your bedroom!'
'Peg your cards and photos to your lights for the picture-perfect look! LED lights stay cool, so you don't need to worry about them overheating - they can be left on all day and night.'
'Create a DIY fairy light wall by simply swagging and pinning lights across your wall. You can achieve cozy low-level lighting by opting for battery lights, they also have a handy timer function!'
6. Reach for the stars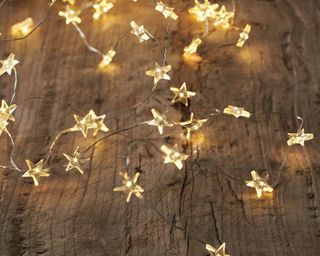 'Choose warm white lights for soft tones and cozy evenings, creating a soothing atmosphere once darkness falls,' says Tasker.
'Shapes such as stars are perfect for bedrooms, creating a starry sky effect by night. The shapes radiate a warm glow from the inside and out, to create the ultimate display feature for your space.'
Shop these 40 warm fairy lights from The White Company and try filling a lantern with them to give your bedroom some extra sparkle. Complete with a timer, these lights can be set to automatically turn off while you're sleeping.
7. Create a Scandi-inspired scheme with star filaments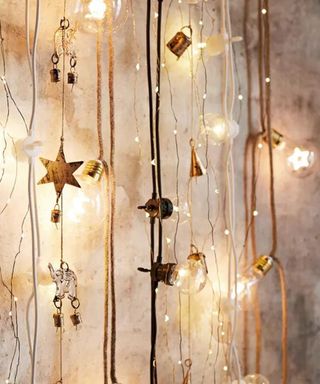 Rather than playing about with the shapes of the fixtures, why not experiment with unusual exposed filament designs for a more subtle approach?
We're in awe of these Nordic-inspired bedroom fairy lights from Danish brand Madam Stoltz, available from Trouva. Famed for its boho take on Scandinavian design, the company uses rich colors and textures to create its signature range of interior products including string lights.
We are particularly in love with this combination of grey concrete walls, jute covered wires, clear plastic bulbs, and gold-colored fittings.
8. Add interest near a window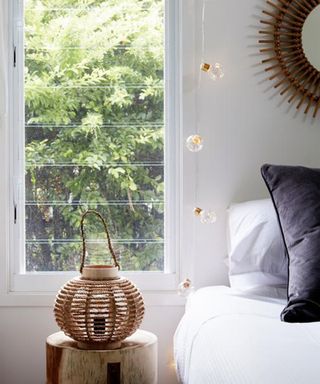 'Hang fairy lights or festoon lights vertically on walls or drape from ceilings, they are super easy to style within your space. Replace your bedside table lamp with an indoor lantern to add to the glow,' says Tasker.
While Richard Petrie, head of digital and e-commerce, Thomas Sanderson agrees, 'Fairy lights are a soft and effective way to add subtle lighting to your window. They can be used in a number of ways, draped around your window frame or placed on your window sill which won't interfere with any window dressings. Either way, they will add a sparkle to your home and make it more inviting.'
9. Draw the eye towards wall art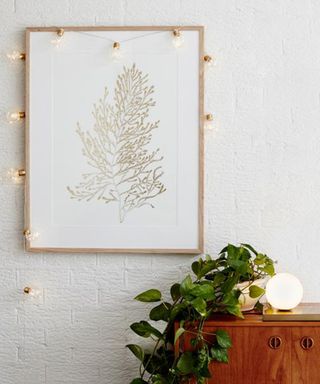 Whether you have a gallery wall or a special standalone piece of wall art, you'll want a painting, portrait for wall hanging to look its best. Aside from the quality of the paper, and choosing a frame, there are other ways to make sure your prints are popping!
Here, the same aforementioned brass globe indoor/outdoor string lights from Lights4Fun can be arranged around the artwork to accentuate colors and oil paint or canvas textures. And, the exciting part? You can make your room look like the Louvre for less than twenty bucks.
10. Add Gothic glam with a cagey gem design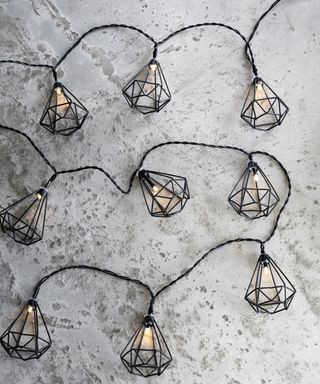 Diamonds are a girl's best friend. But if your female relative isn't a girly girl and shies away from pink and pastel bedroom decor – we've just the thing.
Combining geometry with gemstones, this trendy set of cage pendants houses one warm white LED for a stylish glow. Plus, with an optional 6-hour timer they'll illuminate autonomously night after night.
We think these'll look extra special in a monochrome or modern bedroom.
11. Brighten up a bedroom fireplace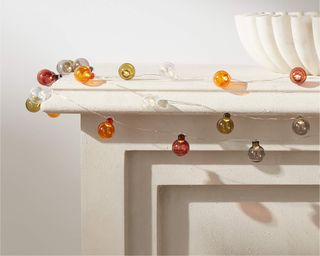 If you're lucky enough to have a bedroom with a fireplace to add extra warmth during the winter, and extra shelf space during the warmer months – decorate it with colored fairy lights.
Whether yours is made from dark wood or light marble, the high contrast of these glass bedroom fairy lights from CB2 will add personality to your mantelpiece.
12. Create an atmospheric reading corner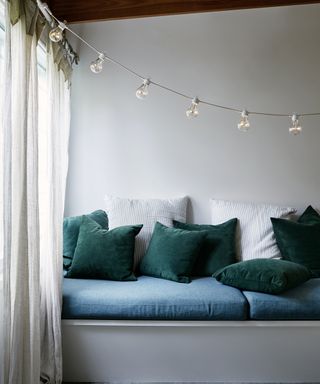 Whether you're reading a book, relaxing with a cup of tea, or merely taking in some city or suburban views, a window seat is a great spot to take five. But rather than relying on your bedroom wall lighting or ceiling fixtures, create that balmy summertime feel (whatever the weather) with a set of festoon lights.
13. Compliment a color-blocked feature wall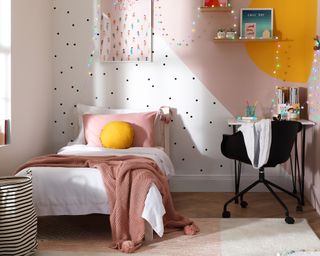 If your bedroom is a little snug, there are two decorations that are sure to make an impact without compromising on space: a bold feature wall using paint and some small bedroom lighting ideas. So why not combine the two?
Here, a trendy mural of pink and yellow color blocking meets polka dots and multi-colored fairy lights in this bedroom. Create a 'same-same-but-different scheme' with the introduction of soft circular and spherical shapes.
To do this, paint a semi-circle or round wall paint decoration, add plump cushions, introduce a pom-pom embellished throw, and how about a round rug with pom-pom details? Perfect.
14. Add interest with a curtain light backdrop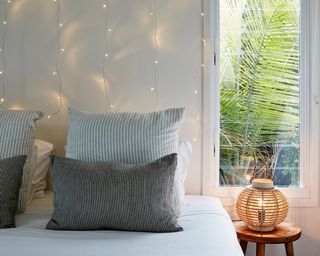 Wall decor in a bedroom can be hard to get right. If you've already got a shelfie design on the adjacent wall and your sleep quarters still look quite bland, a set of curtain lights can create ambiance and atmosphere for less than you think. And, they also add interest if you don't have a headboard.
'Curtain lights create the perfect backdrop for bedrooms. Hang them from the top string and let them drop down wherever you want them to sit. The generous lead wire is also ideal for hard-to-reach sockets.' says Kirk.
15. Create a sweet firefly-style glow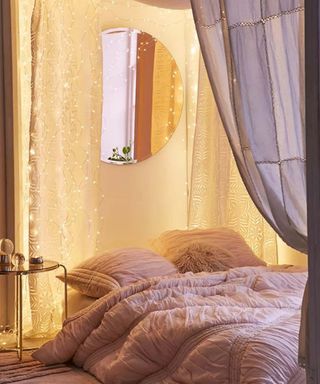 Create the feeling of camping outside with bedroom fairy lights that encapsulate the nostalgic memories of fireflies or glow worms. These warm copper LED bulbs from Urban Outfitters are strung on a bendable wire so you can manipulate them around your bed.
A versatile design, these bedroom fairy lights can be styled whether you have a low-slung slubby bed, or make it a romantic bedroom idea for couples by using them in conjunction with a voile curtain and four-poster bed.
16. Create a seventies-inspired bohemian chill-out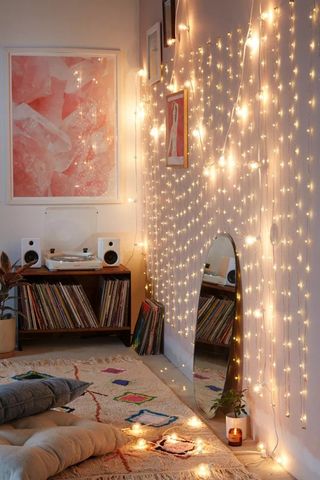 Bedrooms are a great place to set a mood or vibe and transport yourself to any place or era, and boy do we love this groovy setting.
So whether you're practicing peace and love with a bit of yoga or singing in your hairbrush to pop classics, create a warm atmosphere with curtain lights, like these from Urban Outfitters. Dress up a bare wall and immerse yourself in a space that is truly your own.
We love this chilled boho bedroom space with the Berber-style seventies chic rug and retro record player (like these from Urban Outfitters) and accompanying vinyls... Oh and not forgetting a potted plant too!
'Whilst curtain lights are perfect for hanging in the window, they can also be draped across walls with ease. They fill blank spaces effortlessly and add a sparkling statement piece to your room!' says Tasker.
17. Go for simplistic festoon lights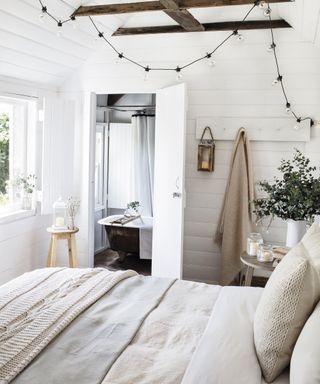 'If you are a real minimalist or lover of all things modern then you could opt for a string of festoon lights somewhere in your bedroom,' says Tasker.
'They are the perfect match for a monochrome bedroom and would also look great in a contemporary studio apartment or strung against a white wall. If your bedroom has subtle tones of black and white then a string of festoon lights on black cable would be a perfect fit.'
We love this rustic indoor/outdoor feel with the overhead wooden beams and white shiplap wall paneling.
18. Drape lights over a mirror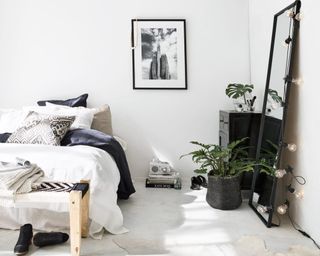 A good mirror design is only half the part when it comes to checking out your reflection in your bedroom, as lighting plays a massive part in accentuating your facial features and silhouette.
Too warm/yellow will make the room look lethargic, too bright and white, and you could mistake your sleep space for the doctor's surgery. Getting your color temperature right will also make those selfies look more Instagrammable!
These simplistic bulbs can work wonders when applying your make-up or doing up buttons or zips on your favorite garments. Together, with your main light source, they will work as ambient and task lighting to get ready for work or party.
19. Create a moody masculine room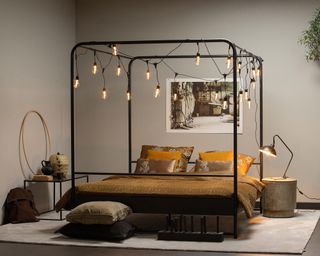 If you thought that fairy lights were just for females... Think again. This fairy light design is perfect for teenage boys and as men's bedroom decor. Asides from choosing an Edison-bulb string light, make this feel like a manly room with a powder-coated industrial bedframe, like this Woood kingsize black metal four-poster bed, available at Cuckooland, and different types of grey, taupe and brown decor for tonal variation. Then, add a pop of mustard to compliment the warm glow of the lights.
And, if you want to create a really moody and dramatic scheme, why not play with smoked glass? Lights4Fun has some quirky smoked globe indoor/outdoor LED string lights for a rock 'n' roll aesthetic.
20. Go for a truly bespoke design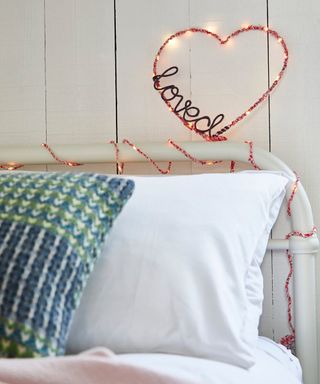 If you don't want something that's been manufactured en mass, go bespoke with your bedroom fairy lights by reaching out to an independent retailer. We love this heart-shaped decoration, but if you are installing it in your young son or daughter's room, we'd recommend some caution with the wireframe which may present a health hazard.

'This pretty fairy light heart is a sweet bedroom accessory with personalized writing,' says Melanie Porter, owner of online marketplace, Melanieporter.co.uk
'Mixing classic Liberty print fabric with gold thread, the light string is hand-spun with fairy lights, then wrapped around a wireframe to make this reassuring light-up heart.'
'Completely battery-operated without the hassle of plugs and sockets, this sweet light makes your children's space their own.'
Of course, you can find a plethora of other small businesses supplying unique lighting solutions on Etsy or Not On The High Street too!
How do I put fairy lights in my bedroom?
'Whilst curtain lights are perfect for hanging in the window, they can also be draped across walls with ease. They fill blank spaces effortlessly and add a sparkling statement piece to your room!' says Tasker.
Do fairy lights look tacky?
In short, no. It all depends on how you style them. And, if it's good enough for global lighting brand Lights4Fun, then it's good enough for us.
'Create your own fairy light wall using warm white fairy lights. Simply drape the lights over some small picture hooks and hang photos from some mini pegs,' explains Kirk.
'Keep it quirky using colorful photos and even birthday cards or, if you want a real vintage bedroom feel, use black and white or sepia photos for that old-school look.'