We've gathered our favorite bedroom curtain ideas to inspire your space. Stylish, practical and easy to recreate yourself – whatever budget you're on – curtains are as popular a choice as ever throughout the home but, most especially in the bedroom.
Go for a luxury finish with blackout curtains to promote the best sleep you've ever had, choose to recreate the most natural light-infused bedroom ideas going or, find the perfect balance with a voile and curtains over the top... The inspiration is endless and dreamy, of course.
Which curtains are best for bedrooms?
Different types of window treatments all come with their pros and cons. But when you're opting for curtains or drapes, your choice of fabric is key. Light and airy options look lovely and can provide privacy, but are not effective if you like to sleep in complete darkness, in which case the best blackout curtains might be a better choice. Heavier fabrics such as thick cottons, slubby linens and rich velvets, especially if lined with blackout fabric, will keep the light at bay as well as draughts.
1. Dip dye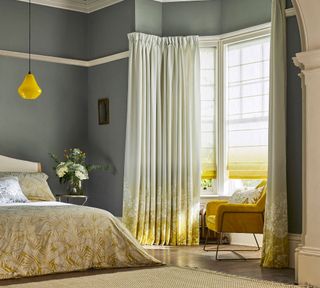 A subtle color duo never goes out of fashion and we love the gentle dip-dyed yellow ochre on cream look here. Helping to lift all of the other gorgeous yellow accents going on in the space for a sunny finish that will always be a joy sleep and wake up in.
2. Fabrics that puddle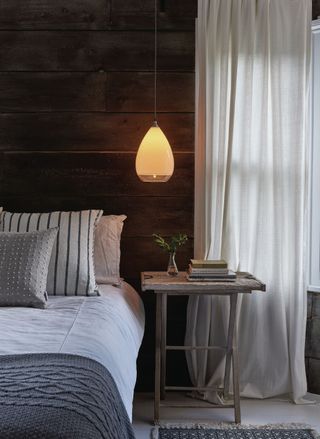 There's nothing more calm-inducing than soft fabric curtains that puddle a little at the ends. Bring this look home and you won't regret it.
3. Ready-made or made-to-measure?
Next up when researching bedroom curtain ideas: budget. You can buy curtains ready-made or made-to-measure. Ready-made tend to be cheaper, and you won't need to wait for them to be made, but it can be harder to find options to fit some windows, in which case you'll have to measure up for curtains (find out how to go about that in our guide).
If you buy made-to-measure curtains you will get exactly what you want and while this tends to come at a premium, there are some great brands now offering the service for very reasonable prices online. We recommend requesting fabric samples first if you take this route.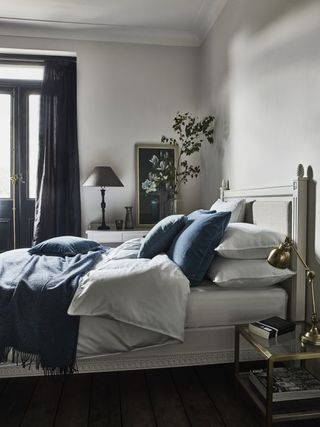 4. Which size curtains for your bedroom windows?
When choosing curtains for a bedroom, consider your window's shape as well as its size, but factor in the room's size, too, since overly bulky curtains will make it feel smaller. If you've got a bay window, the curtains will need to be a little bit wider to fit all the way around, and if you've got tall windows, don't forget to measure the length and choose curtains at least a few inches longer than the window itself. Bear in mind that floor-length curtains that drape look more relaxed but also more luxurious than those that just skim the floor.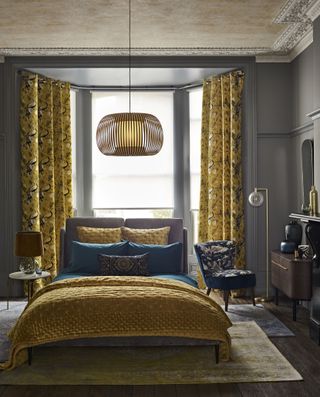 5. Which curtain top design for your bedroom?
Bedroom curtain ideas need to include the curtain top design, too. Pencil pleat curtains come with little hooks, which although are a little frustrating to fasten in place, allow for a neat and uniform drape across the window, plus they're the best type of fitting to keep light from seeping through the top of the curtain.
If you have a curtain rail, then you can choose to go for curtains with eyelets, which are much easier to hang, but must be the right length to avoid pockets of light appearing at the top of the window, or combine with blinds or shutters.
Find out how to put up a curtain pole in our step-by-step guide.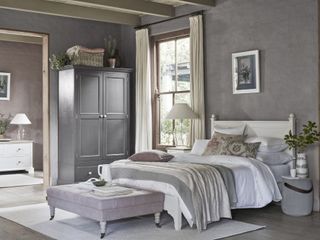 6. Patterned or plain bedroom curtains?
If your bedroom is fairly plain, bold patterns and colours can add interest and character to the room; if you have brightly patterned bedlinen or wallpaper, plain curtains will be a calming choice. Bear in mind, too that large motifs tend to look more contemporary, smaller ones more traditional.
Find out more about mixing patterns and prints in our design guide.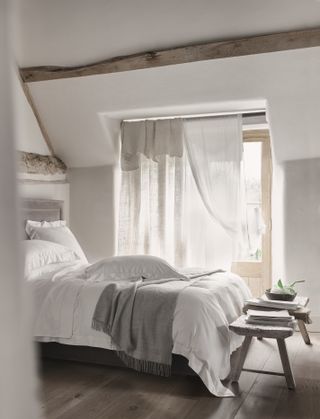 8 . Look for vintage-style bedroom curtain ideas for a period feel
This stunning Dulcet in Old White linen mix bedroom curtain fabric is inspired by the work of landscape painters from the 1800s onwards, and was hand-painted by Annie Sloan in her famous Chalk Paints. It features abstract trees and scenery in three of her classic paint colours, Old White, Paris Grey and Amsterdam Green, and looks fabulous set against dark walls. The pale fabric colour means it's worth matching it with blackout lining, blinds or shutters.
Have a read through our guide to choosing window blinds and how to choose window shutters for more advice.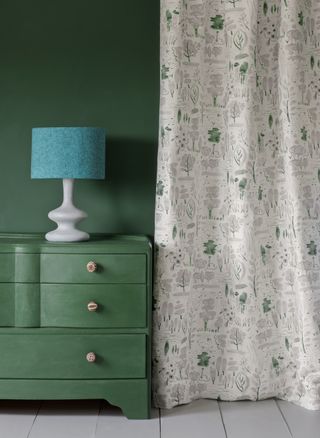 9. Layer fabrics for a versatile bedroom curtain idea
Why go for a layered curtain look? Doing so will create a feeling of luxury, even if you haven't spent a fortune on the curtains and blinds. Opt for two curtain types, one solid and one filmy, perhaps, and hang them on separate or dual poles. The result is a pretty look that filters the light and offers privacy as well as subtle colour.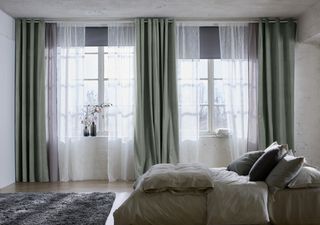 10. Create a relaxed look with pale fabrics
Bedrooms are the ultimate place to relax in, so choose bedroom curtain ideas with textures and colours that are going to help create a restful atmosphere. Don't shy away from floaty fabrics or light colours – if you want to block out light you can pair them with a lining made from a heavy or black-out fabric in a pale shade.
We love the chilled out cosy look that Loaf offers. They've recently added curtains to their repertoire and we adore this Faded Pink brushed cotton pair. Choose from a huge range of fabric types and colours, and add a standard or blackout lining.
Love this bedroom? Go and have a read through our pink decorating ideas for a load more lovely rosy rooms.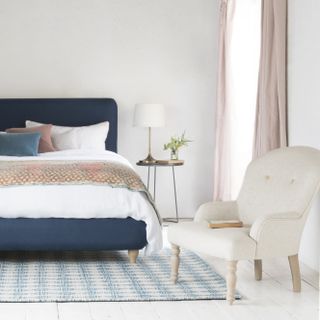 11. Embrace pattern in bedroom curtain fabric
In a neutral scheme, textiles give you the perfect chance to add a bold print, the perfect solution for anyone wanting to inject a little interest into a plain room in rented accommodation. Find a bright set of curtains in your favourite colour or pattern and pick out the colours with the rest of your accessories.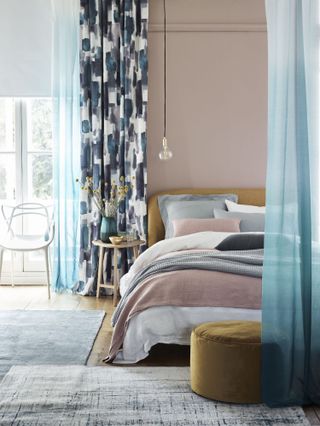 12. Mix materials for dramatic bedroom curtain idea
If you love the look of a fabric or colour, but are wary of using it in one solid block, why not match with a more neutral material in your bedroom curtains for balance? It's a brilliant idea for anyone on a budget, too, since you can use the more expensive material sparingly but to great effect. For a truly unique look opt for a bespoke service that will allow you to mix and match.
Neptune will make bespoke curtains for you using their beautiful fabrics, and we love this two tone look that features their rustic Hugo linen in Pale Oat with the stunning Isla velvet in Fox at the bottom. It's the perfect combination for a sumptuous bedroom.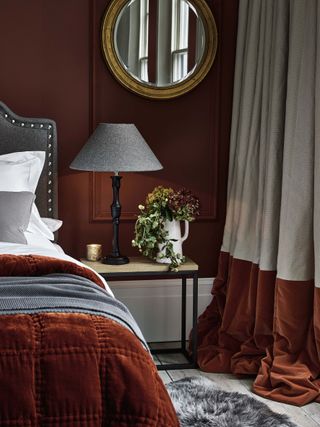 13. A twist on traditional bedroom style
If you want to bring a touch of modernity to a traditional bedroom design, the key is to make sure at least one element of your curtains breaks the rules a little. You could, for example, go for a traditional pattern in an outlandish colour, or choose a classic pair of curtains in an unexpected fabric.
The textural weave of the Bagatelle range, from James Hare sits cleverly between contemporary and traditional styles. The colour used in this bedroom is Foxglove. Team with yellow, bright pink and lilac accents for a contemporary feel.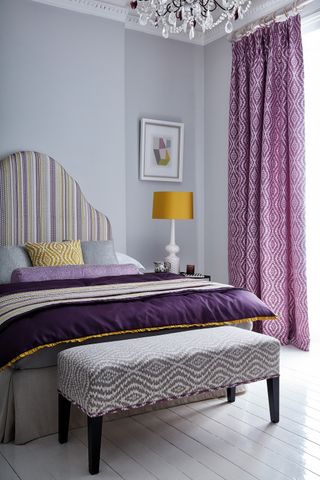 14. Neutral bedroom curtain ideas create a laid back look
Neutrals give a romantic feel to a bedroom – and soft pinks, off whites and taupes are also conducive to a calming bedroom atmosphere. So why not carry that through to your bedroom curtains? Choosing a fabric that blends with these colours will be an easy way to add the finishing touch to your bedroom and, lit by bedside lamps at night, it will glow invitingly.
This pretty striped material is by George Spencer Designs and is called Capalbio Sheer.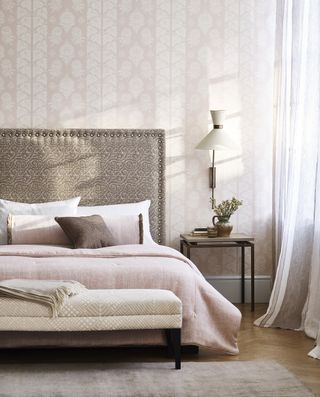 15. Hang curtains floor-to-ceiling
The drop of a curtain is very important in creating the look you desire. While from a functional point of view, a curtain need only reach just below the window sill, allowing the curtain to skim the floor will look more contemporary and elegant. It will also mean the curtains frame the window nicely when open.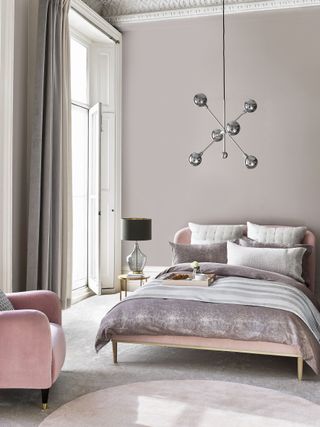 16. Combine bedroom curtains with other window treatments for privacy
Layering curtains with other window treatments, such as shutters or window film, will give you maximum daylight but privacy if you're overlooked. You needn't choose heavy curtains if you prefer a lighter look – why not layer a light cotton curtain with a heavier blackout option, such as Roman blinds, for the best of both worlds?
Find more gorgeous window film ideas in our design feature.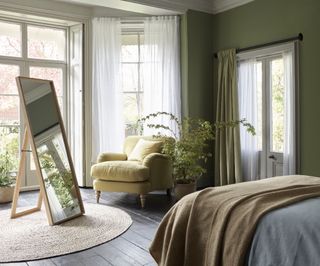 17. Choose a modern botanical design
Florals in a bedroom are always going to work, but why not try a twist on a traditional design and opt for bedroom curtains with a fresh, contemporary botanical pattern? We love the simplicity of the new Blowing Grasses collection from Clarissa Hulse, and these curtains work perfectly with the all-white colour scheme.
If you love this room, make sure you check out our white bedroom ideas for loads more inspiration.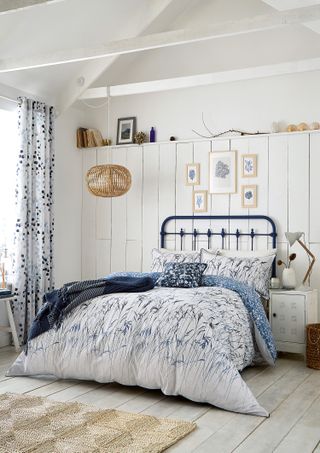 18. Use curtains to tie together a color scheme
Curtains are the perfect starting point for creating a colour scheme in your bedroom. Choose curtains that highlight certain colours from around the rest of your room –here, pastel sea green curtains match the subtle hints of the same colour in the bedlinen but because of the contrasting deep maroon the over all look isn't too matchy matchy.
This gorgeous bedlinen is by Morris and Co. in their Strawberry Thief print.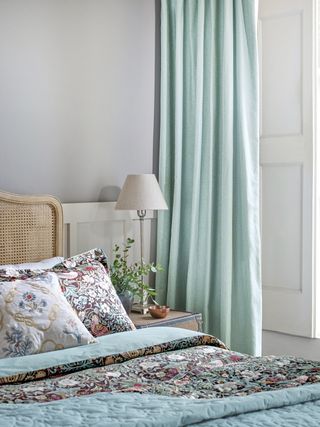 19. Double up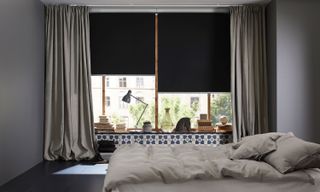 Giving your bedroom the double window dressing treatment is often the most effective, making for a really sophisticated looking and practical space. Ensure your bedroom curtains carry a little more luxe and comfort if you opt for dark blinds. Giving you the option to let in only as much natural light as you'd like.
20. Let your curtain rod melt into the background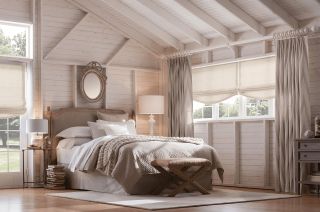 For a dewy and romantic finish in your bedroom. Hang curtains on a rod that will politely disappear into the walls. Letting other cozy colors like taupe and gray stand a little more proud.
21. Light colored drapes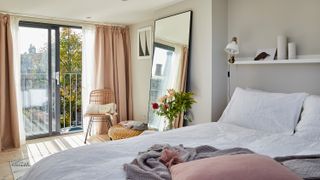 Double-layered curtains are perfect for a loftier look especially if you're fortunate enough to have a larger type of window or even sliding doors. Choose a light and airy voile, then add curtains or drapes in a heavier fabric for the perfect contrast and play around materials for more pizzazz.