Creating supreme comfort and individual style are high on the agenda for a bedroom, and bedroom flooring ideas should be no exception. Stepping out of bed on to your chosen flooring ought to be a pleasant experience every morning, and flooring should complement the remainder of the room's decor, too.
Bedroom flooring isn't subject to the same foot traffic as living spaces, so there's a wide choice of types of bedroom flooring open to you with wear and tear less of an issue. Want a little luxury underfoot? The bedroom is definitely the place to indulge.
We're talking adults' bedrooms and guest beds here, of course, and kids' rooms are a different case. Durability and the ability to shrug off stains are important for these rooms – and we've got the lowdown.
Choosing the best bedroom flooring should be on your list of bedroom ideas and whether you like the idea of carpet, wood, vinyl, laminate, or something else we've put together all you need to choose well and achieve a look you adore.
Bedroom flooring ideas: the best types and looks
Of all the types of flooring for bedrooms, it's carpet that's the number one choice for many homeowners when the bedroom is being remodeled. Setting bare feet on to a soft and warm carpet each morning has tons of appeal. As an alternative, you could consider a natural floor covering made from plant fibres underfoot.
Hard flooring, most especially wood flooring, is as attractive to many, though, and – depending on the choice – can have a contemporary or period look. Low maintenance alternatives to wood include both laminate and vinyl, which can create the look of timber, or have other finishes.
1. Choose carpet for a bedroom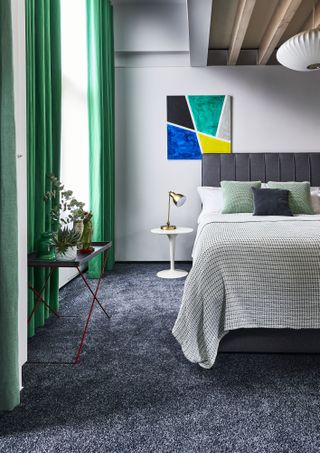 If you want to treat your feet to a soft warm surface when you get out of bed, the right type of carpet could be the best bedroom flooring option for you.
Carpet for a bedroom doesn't need the hard-wearing credentials it requires in other rooms. You can save with a lighter weight of the same carpet you've used elsewhere, or introduce an unashamedly luxurious style like saxony, which has a deep pile you can sink your feet into, and produces attractive light and shade effects as the pile is brushed in different directions.
Where in other rooms you might choose a wool blended with manmade fibres for excellent durability, in the bedroom this doesn't have to be the case, so you can realize a preference for natural materials with pure wool carpet if you want to.
The full range of carpet color choices may also be possible for a bedroom, where they might prove impractical in other spaces. In an adult, shoes-off room, very pale carpet is an option, and can make the room look luxurious.
'Carpets are usually the go-to flooring for most houses because it feels good to the touch,' says DIY and home improvement expert Andrea Adams of Silent Home Hub. 'The padding of carpets, with its soft and dense texture, makes carpets one of the best in absorbing sound. The thicker the carpet, the higher its ability to minimize sound and create a sound barrier.'
2. Natural bedroom flooring options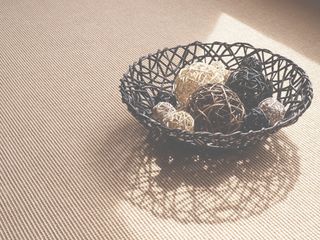 Made from plant fibres, natural flooring can bring textural interest to a bedroom, and is another of our favorite bedroom flooring ideas for fans of natural materials. Check out both sisal and seagrass, but you'll probably want to swerve coir as it isn't the best texture for bare feet.
Also look out for jute, which feels soft and silky. It's unsuitable for heavy traffic areas, but a great choice for a bedroom and will create a luxurious feel.
3. Beautiful wood flooring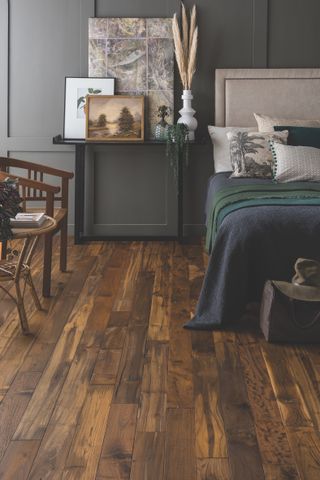 If opting for a type of hardwood flooring, you may want to repair old wooden floor boards that have been covered up, or go for the lasting beauty of new wooden planks.
Wood flooring works well in a bedroom, and can be left to show off its color and grain throughout or softened with a rug. Worried about the temperature of the surface bare feet will meet when you swing them out of bed? Solid wood can generally be teamed with underfloor heating (but check with your supplier before buying). Wood flooring is easy to clean and maintain and should stay pristine in a bedroom – although scratches and dents can be remedied.
'Genuine hardwood is commonly regarded as one of the best flooring materials among real estate professionals,' says Paul Stein, founder and CEO of Trusted House Painter. 'It's not only attractive and durable, but it's also warm and long-lasting. It's even better because it's eco-friendly.

'Hardwood brings a sense of warmth to a bedroom. The look varies depending on the wood species and finish, but wood almost always gives a room a sense of primal beauty.'

4. Pick engineered wood for a bedroom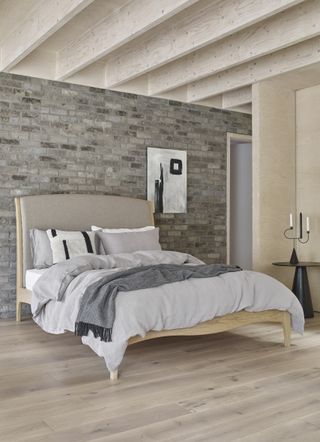 As well as hardwood flooring, another of the types of bedroom flooring you might like to consider is engineered wood. Like solid wood, it can make a bedroom look luxurious and up the quota of natural materials in the room.
Engineered wood is still wood, but made up of layers combined to make a board that's more stable than solid wood. Invest in a high-quality version with a top layer of solid wood veneer of one third of an inch (7mm) or more.
Engineered wood should be compatible with underfloor heating to leave you with a floor that feels pleasingly warm on a winter morning – but check before committing to a purchase.
5. Opt for practical laminate bedroom flooring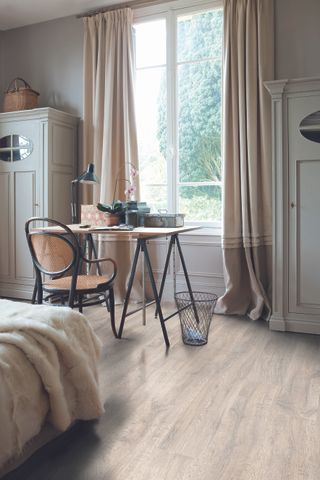 Choosing laminate is one of the best budget bedroom ideas out there if you want the look of wood, without the cost. It can have an authentic appearance and, like wood, it should be usable with underfloor heating so can be made a pleasure to step on to. Laminate is also easy to look after; it will just need cleaning.
Different types of laminate won't be taxed by a bedroom location as this is a low traffic space, but do invest in the best quality you can to ensure it has the appearance of timber. Cheap versions won't pull this off.
6. Enjoy easy-care vinyl flooring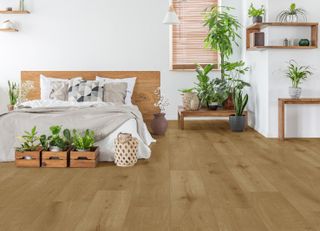 Have you considered vinyl flooring as for your bedroom flooring? It's another alternative to wood that will have the look (though not the feel) for less. It can alternatively look like tile, if you prefer, so you can get an interior you love.
High quality vinyls are soft and yielding underfoot, as well as quiet, so they can be a great option for apartment dwellers.
There are different types of vinyl flooring available, and you might be wondering which vinyl flooring is best for bedrooms? Here's the lowdown.
Sheet vinyl comes on a roll. It's available in different colors, as well as with the look of materials like wood and stone. It can be both durable and affordable.
Luxury vinyl tile (LVT) comes in a tile format, and luxury vinyl plank (LVP) in a (you guessed it) plank format. They both have a layered construction for durability. The best quality versions successfully reproduce the look of stone or wood, but there are a whole host of alternative looks also available. Another pro is that installing vinyl plank flooring yourself is doable.
7. Flooring for children's bedrooms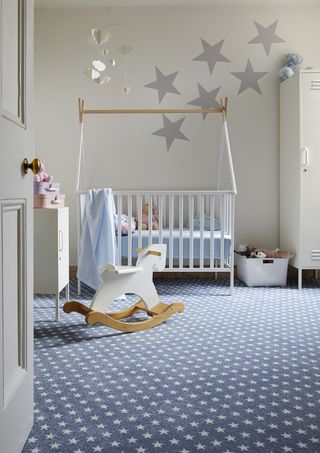 When it comes to designing kids' rooms easy clean and stain-proof flooring is essential, and durability is important, too.
Consider vinyl flooring for its soft and warm surface, or linoleum, which is composed almost entirely of natural materials and is recommended for allergy sufferers. Rubber flooring is a pleasant surface for a child's room, and laminate can also be an easy-to-care-for option here.
If you're going for carpet in a child's room, opt for stain-resistant polypropylene or a wool blend. A loop pile that can snag may be worth steering clear of, too, at least while they're playing with toys on the floor.
'Kids are hard on floors,' says Ralph Severson, owner of Flooring Masters. 'Whenever we are replacing the floor in a child's room, or someone is looking for advice on what to choose, I recommend click lock laminate planks or peel and stick vinyl tiles. Both of these are available in a large range of designs so it's easy to find one that will complement the rest of the home. However, if moisture and stains are a big concern, vinyl is the absolute best option.
'Anyone who is willing to learn can install these types of flooring with minimal tools, they are very cost effective, and once the kids are old enough to take it easy on the floor, they may be easily replaced.'
What is the cheapest way to cover a bedroom floor?
If you are remodeling your bedroom on a tight budget, there are some great flooring options at affordable prices.
You'll likely find sheet vinyl to be the cheapest option, with luxury vinyl planks and luxury vinyl tile costing a little more. Laminate can also be found at low prices.
Do bear in mind that there is value in buying the better quality versions of both vinyl and laminate flooring, however. These will offer more durability than the cheapest materials.
Another way to save is to fit the flooring yourself rather than calling in a professional, and both vinyl and laminate offer the opportunity to DIY with little difficulty.
Is vinyl or laminate better for bedrooms?
Vinyl and laminate can both be great choices for bedrooms. They offer value for money, and can pull off the look of other, more expensive, materials such as wood or stone. They're also easy to look after once laid.
'Any resilient vinyl flooring, such as tile, sheet, or plank, is ideal,' says Martin Boonzaayer, CEO of The Trusted Home Buyer.
'Laminate flooring is a close second, owing to the fact that it necessitates special cleaning techniques. Use an extremely damp mop or a system like the Swiffer Wet Jet to avoid ruining it with wet mops.'