Boho bedrooms fill up our Instagram and Pinterest like no other style. We see more rattan headboards and Berber rugs than we do Scandi-style interiors nowadays and we get it, it's such a cozy, inviting look that's perfect for bedrooms. Plus, boho style can have so many different variants from a neutral, minimalist look with plenty of textures to a colorful vintage-inspired space that maximalists will love. We've covered them all here, plus some tips on how to recreate the style in your current space.
So just keep scrolling to get inspired to create the eclectic boho bedroom of your Pinterest dreams, and check more bedroom ideas in our huge gallery.
1. Pick a boho-approved color scheme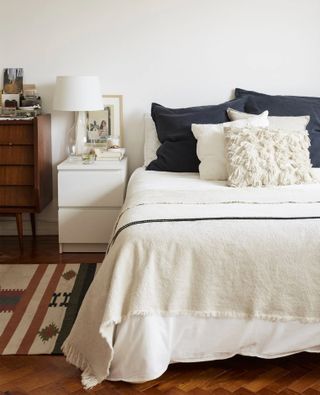 Now, when it comes to picking a color scheme for a boho bedroom you have plenty of options. But when it comes to color, we have found there are two quite different schools of boho. You have very neutral spaces – white-washed walls, wooden floors, beige linen bedding and subtly printed textiles, like the space you see above. Then there's the more... eclectic boho, loads of mismatching prints, colorful walls, there are still piles of texture but they come in the form of bright shag throw pillows.
We love both looks and we also love that it's a spectrum, you can pick to go somewhere in between. 'Neutral, white walls with warm undertones give the perfect backdrop for natural wood materials, textiles, and patterned soft furnishings commonly seen in a boho interior.' explains Scarlett Blakey, of Ophelia Blake Interior Design. 'Naturally, wood has an element of warmth to it, so contrasting this with the white walls will provide the perfect balance.'
Opting for a more neutral backdrop will mean you can try out different levels of boho decor without having to paint any walls each time you change your mind.
2. Layer up the textures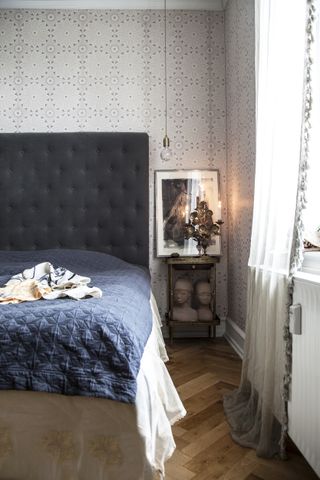 Whatever colors you decide to go for, textures are key to creating a boho bedroom. Pile up all the throw pillows, bed sheets, blankets, rugs, even curtains can be used to add some rustic textures.
'Boho interiors are all about textures, so when choosing your soft finishes such as bedding and pillows, opt for textures like ruffles or something with a ruched effect. To make it more inviting, introduce natural linen duvets that will naturally crease to add texture and provide an element of luxury with their quality. Add layers to your bed with throws that drape over the ends of the bed in a pom-pom or tassel finish, or faux fur is a great texture too.' advises Scarlette.
You want the room to feel lived in, with a really laid back look so even if you are keeping the colors simple, pick fabrics that are going to add interest instead.
3. Create a rustic country boho bedroom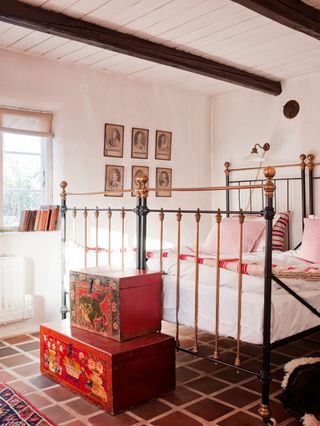 There's a lovely country, cottage-core take on boho interiors going on in this bedroom. The white walls and minimal decoration let the beautiful vintage furniture be the highlight and the linen bedlinen brings in that all-important texture we were just talking about. Let this room inspire you to hunt around your home and see if there are any second-hand finds you can repurpose – sometimes all a boho bedroom needs is a couple of standout pieces of furniture to give it that rustic feel.
If you love the vibe of this space, we have a whole rustic bedroom ideas gallery for you to peruse.
4. Bring in some rattan to a boho bedroom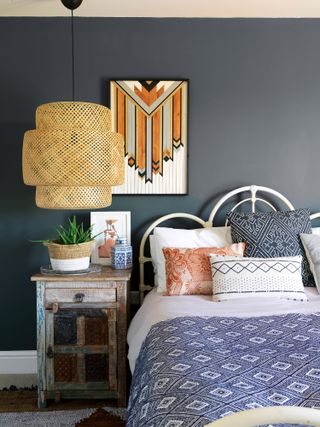 You very rarely see a boho room without some form of rattan in it. Rattan – or any natural texture, seagrass, sisal, cane – instantly add that all-important texture. Plus, you can find pieces to suit whatever style you are going for, in this bedroom the statement light has quite a contemporary feel to it, but you can find vintage rattan pieces if you are after a more traditional look.
'The bed is the biggest feature in a boho bedroom, so pick something that's crated out of wood or rattan to achieve this look. Source something that has an organic shape such as curved rattan or carved wood.' says Scarlett. 'Beds which are low profile or to the floor are commonly found in a boho room. Alternatively, a four-poster bed can make a big feature in a bedroom as they are the perfect structure to hang natural textured fabrics like draped linens, hanging greenery, or delicate lighting.'
5. Get thrifting to give a bedroom a boho feel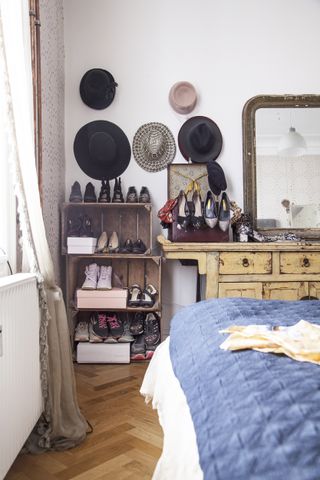 Shopping second-hand is a surefire way to find some gorgeous pieces that will be a gear starting point to creating your boho bedroom. Keep an eye out in thrift shops and online marketplaces for furniture and decor that has that quirky, unconventional look. A headboard would be ideal if you are looking for a statement piece, but small decor items like mirrors, textiles, trunks, lighting can have just as much of an impact.
6. Keep your lighting soft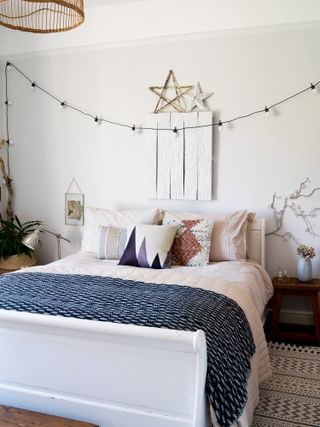 When it comes to bedroom lighting you want everything to be soft and glowy and for us, that means fairy lights. Festoon lights have been used in this bedroom, and we love how they give almost an industrial edge to all the soft colors and material going on in the rest of the space.
7. Add pops of greenery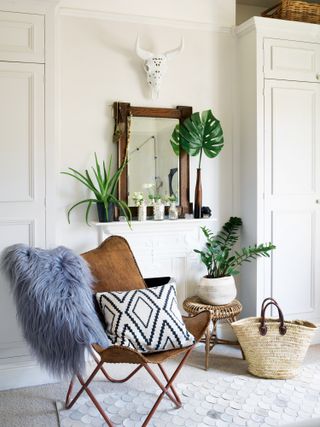 Bringing in some greenery instantly lifts a neutral color scheme. And we say the more the merrier, as soon as your house starts to resemble a mini jungle, you are about halfway there... Pick larger plants like palms and fiddle leaf figs for the corners of the room or give your smaller plants some height with plant stands. Then scattered smaller plants on shelves and in hangers to add texture throughout the rest of the room.
If your fingers are more black than green, go for faux plants, or check out our guide to caring for houseplants to become the perfect plant parent.
8. Experiment with paint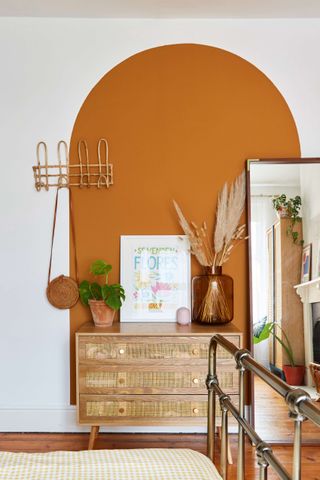 This is a big trend at the moment. Painted arches and shapes are the ideal alternative to a feature wall and they are so easy to DIY too with just a brush and masking tape. The earthy, warm colors going on in this space are perfect for a boho bedroom – give pop terracotta a go to break up an all white space and pair it with amber accessories to up the warmth.
9. DIY a rustic headboard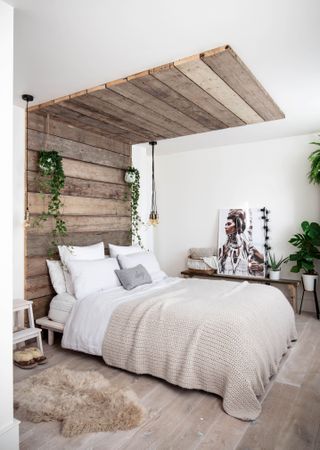 This bedroom is giving us treehouse vibes, with the wooden canopy and hanging plants. Bringing the headboard up onto the ceiling creates such a cozy, cocooning feel and with all the added textures and softness going on the rest of the room you really could be in a cabin. And it's actually pretty straightforward to DIY a similar headboard using wooden boards.
We have loads more DIY headboard ideas if you are after an easy weekend project.
10. Make space for a hanging chair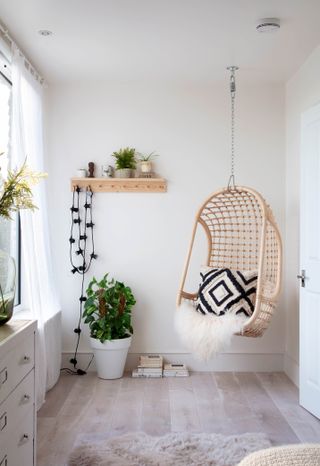 It doesn't get more boho than a hanging rattan chair. They work surprisingly well in small bedrooms too because they technically don't take up any floor space and don't add any visual bulk to the room. Add a cute cushion and a blanket to soften it up, and you have a lovely spot to read and relax away from your main living room.
What exactly is a boho bedroom?
A boho bedroom can have lots of different variations, but it's usually a space that's full of texture, pattern and unique, vintage furniture. It has a relaxed, global feel, with very few clear lines or any rules to the decor. There is a more is more approach when it comes to the boho aesthetic, so pile up all the textures, all the patterns, all the colors. But that being said, there is a more minimalist approach with neutral colors and just plenty of texture to add interest.
How can you create a boho bedroom on a budget?
The best way to create a boho bedroom on a budget is to shop second-hand. For lots of big furniture buys you'll find it's cheaper to buy second hand than buy new. Plus, you'll get that vintage feel to the space that you want when designing a boho space.
Where can you buy boho bedroom decor?
The best places to buy boho bedroom decor is thrift shops as, as we just mentioned, those quirky vintage pieces are what's going to give you that eclectic look. But if you are buying new, try Urban Outfitters, Anthropologie, World Market, H&M Home and Etsy for shopping inspiration.