One thing's for sure – we love the idea of organising our wardrobes. Marie Kondo's The Life-Changing Magic Of Tidying Up sold over four million copies worldwide, with readers everywhere champing at the bit to start de-cluttering and organising their homes.
Getting dressed in the half-dark every morning is tricky enough, without having to locate your only clean/ironed blouse in a chaotic heap of clothes. And with more of us than ever living in small spaces, a SATC-style walk-in-wardrobe is, for many, the stuff of fantasy.
Whether home is a rented studio flat or a cute-but-cramped cottage, you can still have that Pinterest-worthy wardrobe. Here are 20 inspiring clothes storage ideas to get you started.
1. Store above the door
If you're tight on storage space, make use of every spare nook and cranny. The gap above your door is ideal for squeezing in a few more shelves for hats, handbags or bathroom linens.
Handmade in Cue & Co of London's workshop, this clever storage idea would work in any home with a reasonably high ceiling.
2. Have it pegged
Your walls are valuable storage space. Pegs and clothes storage racks are perfect for storing grabbable items like scarves, hats and bags.
Find this sleek rail and accompanying accessories at John Lewis.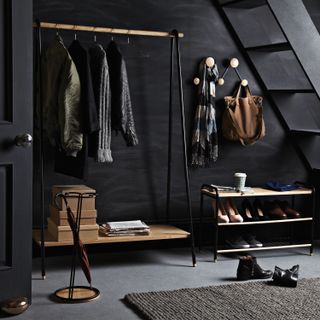 3. Multi-tasking
Children's rooms are especially mess-prone, so any furniture item that serves two or three purposes is a winner. A stool that doubles as a side table with room inside to stash clutter is a must - and the design is adorable.
Visit Olli Ella for their Storie stool and another charming storage and home décor ideas.
4. Hang in there
We've covered walls and doorframes, but what about your ceilings? Hanging rails are ideal for storing clothes when wall space is limited.
Meet all your clothes storage hanger needs at Rack Buddy.
5. Basket case
The old basket at the end of the bed: a classic. And for good reason – a traditional wicker basket is just the thing to stash pyjamas, bedsheets and towels away in.
Add a rustic touch to your bedroom with a simple wicker trunk from The White Company.
6. Down under
Plenty of beds come with storage now, so why would you have one without? In bedrooms lacking storage space, those extra drawers are very handy for keeping socks, tights, pjs and that spare dressing gown out of sight. It also means you can avoid the need for plastic drawers or under-bed storage boxes.
Find your dream bed that covers both sleeping and storage, from Willow & Hall.
7. Curtains
While open wardrobes are super in many ways, they can look a right old mess. A nifty and affordable fix is a curtain. Easier to open than a sliding wardrobe door, a curtain breezily conceals unsightly mismatched clothes hangers, gym bags and any other mess.
Find more clothes-storing inspiration at Ikea.
8. Metallica
Opt for a flexible clothes storage system that you can adapt according to your needs, adding hooks here or rails there. Metal is – obviously – considerably more flexible than alternatives like wood.
Get streamlined metal storage perfect for contemporary bedrooms at Skandium.
9. Make your case
Sunglasses, jewellery and other accessories often get jumbled up and forgotten about – keep all these items together in a brightly-coloured suitcase that you can stash on top of your wardrobe.
Find storage solutions for all your trinkets at Habitat.
10. Branch out
An imaginative and super-attractive storage aid: the humble branch. A beautiful rail made from birch is a lovely way to display your prettiest tops.
Go foraging in the woods or track down a ready-to-hang birch rail at Etsy.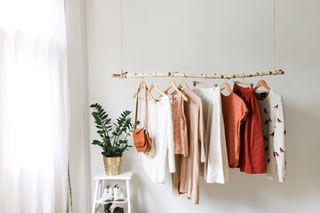 11. Hideaway
What is this trickery? Going one further than the bed-and-drawer combo, why not invest in a bed with sneakily disguised storage. Not only is this hideaway a great space for storing spare bed linen but you might be inclined to stash valuables in this space too.
Look to Hyder Living for more crafty storage ideas.
12. Off the rails
A simple garment rail is hard to beat. Light, portable, and easy to fit into the corner of a room, they're also perfect for carting out when guests need to hang their coats somewhere.
West Elm is the go-to shop for simple-yet-stylish garment rails.
13. Bin it
If there's any part of your home in which to embrace playful storage, it's the kid's bedroom. Have fun with alternatives to baskets, like jars and clothes storage bins. This kind of container can make great clothes storage for babies as a place to stow away small miscellaneous items like bibs, booties, hats and scratch mitts.
Check out this cute storage bin from Cuckooland.
14. Feeling board
Pegboard is a useful material, whatever the room. Fixed to your wardrobe door, it's the go-to place for jewellery, shoes, glasses and bags.
Ikea has done it again with their near-unbeatable ideas on clever clothes storage.
15. Bag it
Accessible storage containers make clearing up your kid's room (relatively) fast and easy. Introducing these coordinating clothes storage bags and laundry bins from H&M, which will usefully store anything from toys to dirty laundry.
16. Raise your glass
Give your clothes and accessories special treatment by showing them off in beautifully-lit glass cabinets.
Smallbone of Devizes have some beautiful examples of bespoke cabinetry from real homes, like this stunning dressing room.
17. Opt for an ottoman
Throw those bedspreads, cushions and non-seasonal bedding into an ottoman, which will fit snugly at the foot of the bed. While an obvious place for linens, ottomans are equally useful for stashing away belts, weekend bags and shoes.
You can't go wrong with Button & Sprung's simple grey ottoman.
18. Stick to tradition
Sometimes you can't beat a good old-fashioned wardrobe. Opt for one with a drawer at the bottom and shelf at the top for foldable items or added storage baskets.
Find classic wardrobes ideal for cute kids' rooms at Cuckooland.
19. Double up
Save yourself precious space by sleeping bunk-style, with the lower half of your bed cleverly utilised as a wardrobe, complete with rail and hanging drawers.
Shop Ikea for clever bed-storage-combos.
20. Classic chest
Keep it simple with a 50s-style streamlined chest, which will happily accommodate your folded sweaters, shirts, trousers and pjs.
This narrow chest of drawers from West Elm is perfect for squeezing into a spare corner.
Read more