When it comes to storage in any part of the home, organization is key and incorporating bedroom shelf ideas into your design scheme is a must to ensure that where you go to relax at night, maintains a sense of calm.
Shelving is a great practical solution. From ideas that blend seamlessly into your surroundings to those that stand out with pizzazz – whether you want to go budget or bespoke – you'll find a look to suit all of your needs Utilizing wall space is a great way to get clutter off the floor, and if you have piles of books then bookshelf bedroom storage ideas could be the way forward...
1. Make the most of what you have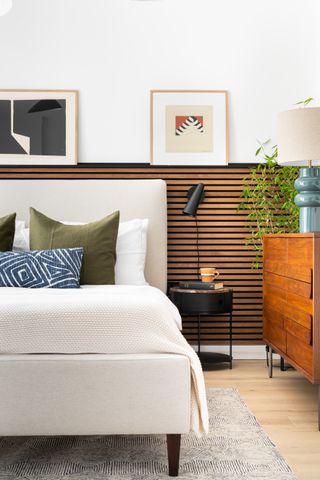 Even if space is tight you can make the most of what you have, for example, this slatted wood wall has enough space on the top to place bedroom artwork along it which adds color and a decorative nature to the bedroom scheme. This could also work as a bookshelf idea – place your books upright along the top edge for both practical and display purposes.
2. Look out for unusual pieces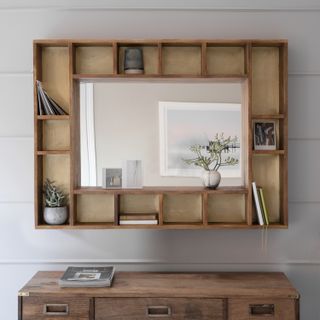 This clever pigeon hole design complete with mirror would work in any room of the house, but we particularly love how it would look in a bedroom. Not only does it have the main shelf inside, but numerous different sized holes that you can use for all of your favourite pieces – from photos to bud vases, postcards to small books. You could even paint the interior in different colors if you prefer eclectic shelving ideas.
3. Illuminate your storage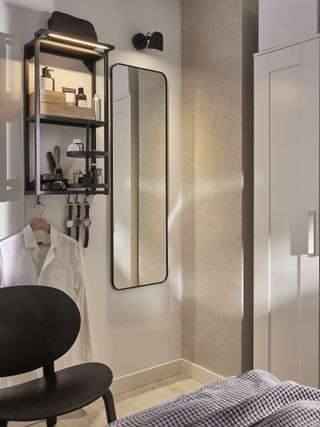 It's always worth investing in pieces that have more than one use, as you get more bang for your buck so to speak. This clever bedroom shelf idea really is multifaceted and can look after all of your accessory needs plus, it lights up too. If you can, add hooks on the bottom shelf, that way you can hang scarves, watches and necklaces from them. Making it one of the best closet organization ideas going in our eyes.
4. Go bespoke if you can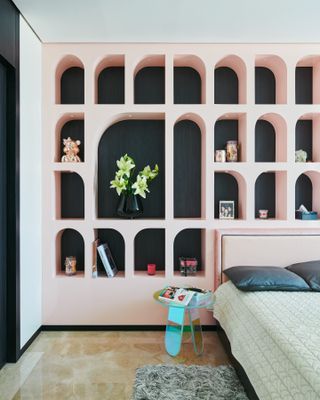 For tricky spaces or if you can't find the kind of bedroom shelf idea that you want, asking a joiner to make you something unique is always worth the investment. It might be that you can't find shelving that will fit the space, or you can't get the shape you're after. Bespoke work offers curves as shown here, and you can make a beautiful feature of it with paint too. This stunning bedroom shelf idea will give you lots of space in different sizes that creates interest as well as lots of storage space.
5. Bedroom shelving that doubles as a dressing table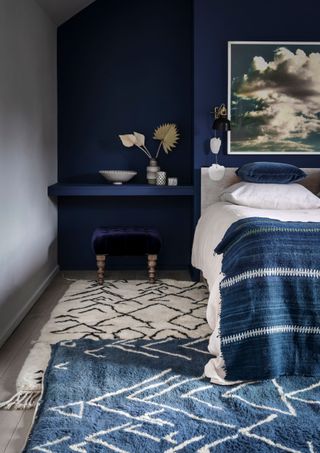 The way this bedroom shelving is painted to match the rest of the bedroom color scheme lets it blend in perfectly, and it doubles up as a dressing table too if you add a stool underneath. You. could even use that space for storing other items like books and shoes. If you're using it to display pieces like here, then choose vases and trinket boxes that contrast against the color of the wall.
6. Bedroom shelving for a seamless home office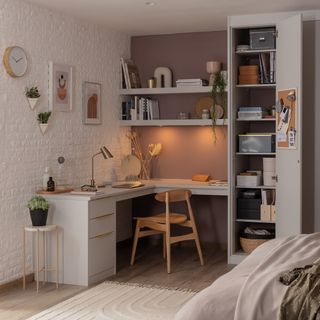 A simple bedroom corner can be turned into a makeshift home office and give you extra bedroom bookshelf space to boot. Rachal Hutcheson, National Retail Manager at Sharps explains, 'Made to measure storage is perfect for crafting solutions that use every inch of space you have. A great way to begin planning is by assessing what you need to store and then rationalising your most important pieces. Perhaps you need to include more drawers and shelves? Beginning to plan with this technique will help create the optimal design and future proof your space, especially if you leave a little extra capacity.'
7. Vary the heights of your objects to create interest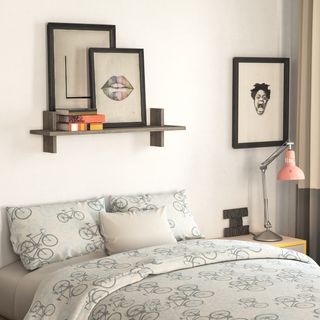 'Make statement shelving your go-to if your home is an abundance of trinkets and treasures,' advises Nadia McCowan Hill, Resident Style Advisor at Wayfair. 'Perfect for adding levels of style, try placing eye-catching bedroom shelving at different heights to create a variety of stylish focal points around your bedroom, rather than cluttering this space.'
8. Incorporate an inset shelf in your bedroom remodel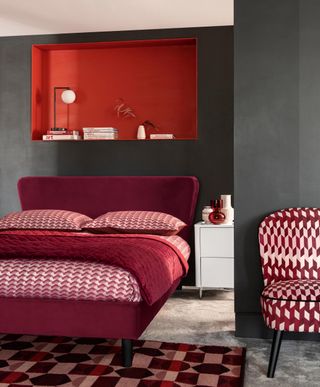 When you're about to embark on a remodel, that's the perfect time to ask your builder to create some inset bookshelves – custom-made. We love how this bedroom shelf above the bed is painted in a vivid red which contrasts beautifully against the dark gray walls. The height is important too, taking it from a standard bookshelf to a stand out feature and allowing you space fo a lamp and vase too.
9. Make your shelving part of your color scheme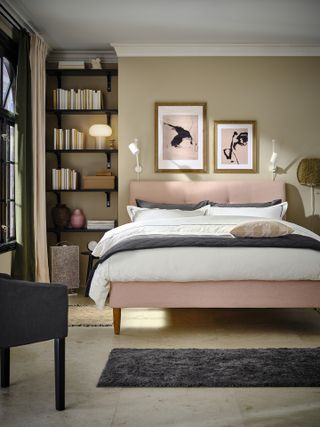 We love to use accent colors and you can tie your shelving in so it becomes part of your scheme - like these jet black shelves that match the woodwork, black armchair, rug and bedding. They also stand out really well against the stone colored walls. The result is a scheme that is modern even though it's in a historic home.
10. Bedroom shelf ideas sans nails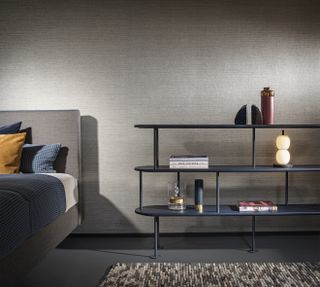 If you're renting and not allowed to hang shelves then consider a floor-standing shelving unit instead. You can choose a long design that can double as a bedside too and use it for your books, ornaments and lighting.
Curvy corners are ideal in a bedroom as they help the eye to flow around the room better, plus no bumping into corners! This modern design also allows you to 'see' through it which makes it an ideal choice if you need smaller bedroom ideas.
11. A simple box frame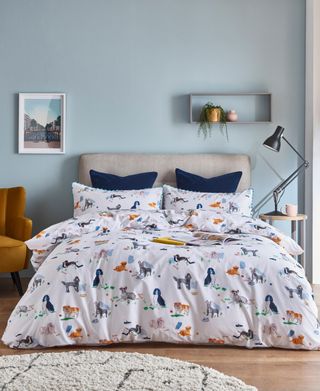 Sometimes it's not always about how many books or ornaments something holds, it can be about creating a decorative element in your space. This bedroom shelf idea enhances the wall and of course does provide storage too.
Less is more, and this box shelf looks great with just two items on it, you can use shades that complement the wall color and therefore become an integral part of your scheme.
12. Log cabin-esque bedroom shelving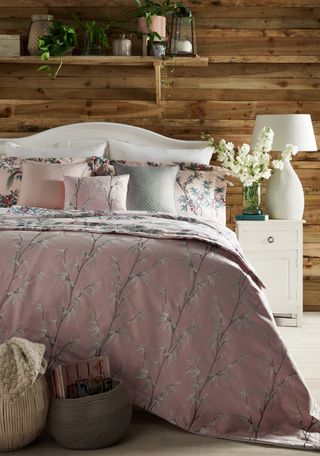 If you love a themed room there's no reason why you can't incorporate bedroom shelving into that. We love this log cabin style bedroom and how the bedroom shelf is part of the wall. In this case, you can keep the theme going and use the shelf for rustic lanterns, candles and color-coordinated accessories.
13. Use your bedroom shelves to add greenery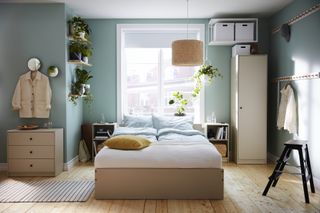 If you're living in and decorating an apartment with little green space around you then you can use your bedroom shelves for placing numerous plants. You can intersperse them with books and vases too for extra interest. Placement is also important, hanging shelves at the side of your bed means you get to enjoy your display rather than having them behind you above the bed.
14. Build a bookcase around your bed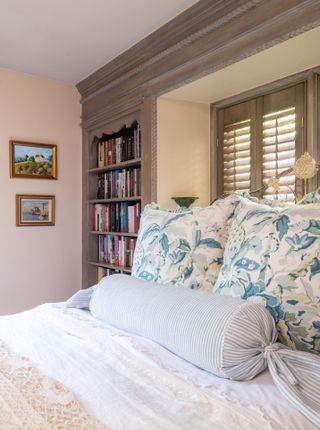 If you're a book lover and adore reading for a few hours each night before sleep then this bookcase shelf idea is for you!
It ensures your favorite books are to hand without you even having to get out of bed – and you could even use one end of the shelf for a glass of water and alarm clock. Use wall lights instead of table lamps so all your storage spaces are used for books.
15. Have a shelf along one wall for a cohesive look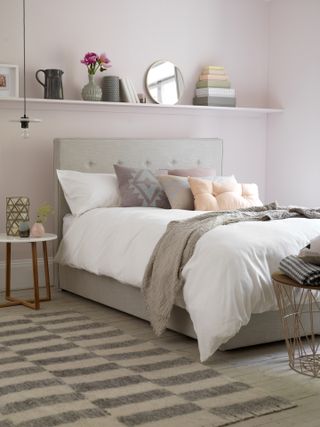 If you can, then put up a shelf along the entire length of one wall, it will give you tons of space and if you paint it the same color as the wall it will look like it's always been there. Use it for all the pretty things like vases of flowers, candles and mirrors, plus the more practical pieces like books, storage boxes and lighting.
What can I put on a shelf in my bedroom?
Your shelf can have all manner of items, it all depends on what you love the most. If you're an avid reader then books will be your thing, if not, then candles, bud vases, ornaments, personal keepsakes, photographs and even artwork.
Table lamps will fit on depending on whether you have shelves above one another, and don't forget plants, they're always a lovely addition.