Home offices are growing in popularity thanks to flexible working practices and the stylish spaces we seen on Instagram and Pinterest. But not all of us have oodles of room for a dedicated office.
Here are some stylish ideas for home offices that are perfect if you are short on space.
1. No office, no problem: create an office 'zone'
Turn an area of you living room, guest bedroom or hallway into a low-key office using simple storage and an attractive desk. You can get desks in every size and style, so it is not hard to find unobtrusive office furniture that will match your room.
This living space from Ikea features a compact desk that neatly fits in an office zone behind the sofa
2. Think dual purpose
When space is at a premium, it's difficult (if not impossible) to be able to dedicate a whole room to a home office, so it's worth thinking about how you can create multiple uses for your space.
This dressing room doubles up as a home office thanks to the freestanding mirror that can be easily moved to make way for a laptop
Guest bedrooms are great place to start as they are frequented less often. You could add a small desk and sleek chair that won't be obtrusive should you have guests come to stay. Add shelves above the desk area, and invest in some matching storage files to keep your work materials organised and avoid any embarrassment should you have any surprise visitors.
When it comes to multi-purpose furniture, a desk could easily double as a dressing table in a master suite with the addition of a freestanding mirror.
3. The storage wall
This is another great option for multifunctional spaces. Fill a wall with modular shelving including a desk. To make the space feel less utilitarian, keep office supplies in pretty storage boxes, and use the shelves to display your favourite possessions too.
This String home office combination is available at Skandium
4. Stack it up
Space is often tight in children's and teen's bedrooms. Save floorspace by using the area under a bunk bed for a desk. It is the perfect place for a homework station.
The Stuva bed, desk and storage combo from Ikea can be configured in many ways as the desk can be moved
5. Underused spaces - think outside 'four walls'
No-one said that home offices had to be self contained spaces. Thinking outside of the four walls concept, if you have any wasted space (under stairs, large landings, hallways, kitchens or dining rooms), this could be the ideal place for your home office. You could even consider using paint, flooring or rugs to zone the different elements of the space so it feels more intentional than makeshift.
Use compact, flexible elements to convert your space with a drop-down desk that needs no leg room and minimal wall space. Pair with an adjustable chair and modular, freestanding storage for the perfect compact home office
6. The alcove office
Alcoves are another commonly underused space. Sometimes too small for a wardrobe, TV stand or chest of drawers, if you can't squeeze in a small desk, you can easily use the walls to support a work surface.
Use the full height of the space by fitting shelves and cupboards above the desk.
This alcove has been turned into an office using an Elfa storage system
Creative bespoke joinery makes use of awkward areas to form extra storage. Here, a desk and shelving provide workspace in the living room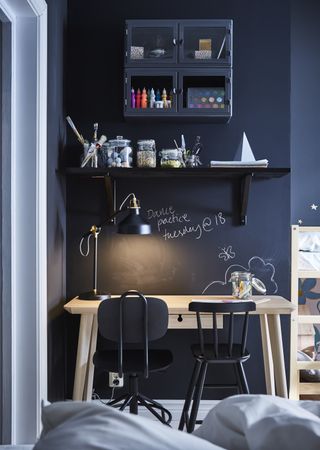 This work and craft station by Ikea has been painted with chalkboard paint for leaving notes
7. Consider hideaway options
If you don't want your home office area to be visible 24/7, then consider what you can create behind closed doors. This hideaway approach will be a bespoke option, but it would be perfect for those who hate clutter, or those who only occasionally need a home office set-up, and will help maintain the clean lines of contemporary spaces.
Shut the clutter away at the end of the working day with a hidden office space like this set up from Elfa
These hidden desk and storage spaces open to create individual workspaces in this London family home
8. Create an 'invisible' office
If you want your home office space to be unobtrusive, a glass desk is a great option that will seemingly disappear when not in use. You could paint your desk or use coloured or patterned contact paper (there are some great marble-effect contact papers available) to give your desk an individual look that complements your existing decor. Spray paint is also a great way to ensure any new home office elements work with your existing space.
Glass desks are perfect for those looking for an unobtrusive look, as seen in this cottage renovation
9. Ultimate storage desk
Plenty of desks incorporate storage, but in a small space you will want to find a slimline one which doesn't dominate the space. Go for a desk with shallow desks right under the table top, or pillar storage in place of legs.
You should also look for cable channels to hide unsightly wires away.
The Ambitions desk from VITA stows away all of your work paraphernalia at the end of the day. It features a discreet central drawer and a compartment to neatly tuck away wires and chargers
Find products for your small office in our expert buyer's guides