What are the hallmarks of a traditional bedroom design? Well, for one, the room itself. Think beamed lofts, gorgeous sash windows, wooden floors, and perhaps even a fireplace. Which is not to say, however, that if you live in a more modern home, you can't decorate your bedroom in a traditional style. There are plenty of design tricks that work for all kinds of rooms, from paint colours to furniture choices. We guide you through the very best in traditional bedroom design – as well as giving the odd useful practical tip.
For more bedroom ideas, head over to our feature.
Need more practical advice? Find out how to perfect your bedroom design.
1. Create a cosy loft bedroom
If your bedroom is in a loft conversion, approach the structural elements as a design feature – or add in faux architectural elements to give a contemporary conversion that doesn't suit your taste some character. This bedroom emphasises the beautiful roof beams with an all-over coat of white paint.
Find out more about loft conversions in our beginner's guide.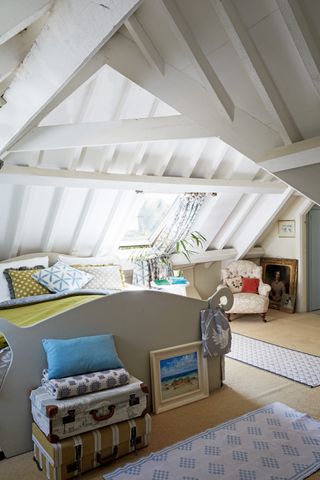 2. Work the design around an exposed wall
Exposed brickwork is something of an acquired taste, but it can add a rustic, down-to-earth feel to a bedroom that's very attractive. Our advice if you are choosing this look is to up the comfort throughout the rest of the design scheme to balance out the harshness of the surface – think a luxurious upholstered bed, a deep rug, luxurious curtains. Emphasise the textures of the wood brick with complementing natural materials throughout the room – here, wicker bedside tables, wooden flooring and beams do the trick.
For a similar upholstered bed, try Willow & Hall.
Find out more about exposing brick walls – and get ideas for your home – in our guide.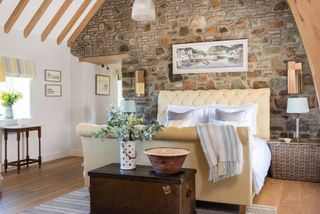 3. Pick a characterful headboard
An easy way to add instant traditional charm to your traditional bedroom decorating scheme is to pick a bed with a luxurious upholstered headboard. Not only do headboards add extra comfort to your bed (perfect for those who love reading before bedtime), but they create a formal, imposing look that works beautifully as part of a traditional design.
This bedroom looks fit for a queen thanks to the Jaipur headborad, handmade using traditional techniques by Lorfords.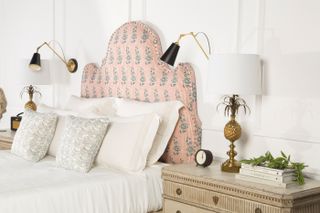 4. Accent with a chaise or love seat
What sits at the foot of your bed is very important in a traditional bedroom design scheme, as it can really make that whole area a quite grand focal point. Blanket boxes work well, but for ultimate sophistication, nothing beats a sumptuous chaise or love seat.
For a similar velvet chaise, try Wayfair.
To make the best choice, find out how to choose bedroom furniture from our guide.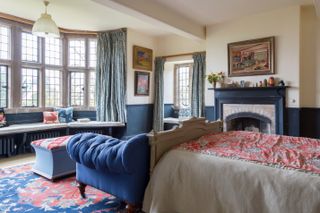 5. Make the most of a small bedroom with a daybed
We think daybeds are hugely underrated. These clever pieces of furniture are the perfect solution to a small bedroom that is used in multiple ways, for example as a guest bedroom and as a home office. An elegant daybed will also help to keep the design of the room coherent and neat.
Pick a well-upholstered, detailed daybed for maximum design impact. We think the Anastasia Ivory Cotton Daybed from Maisons du Monde is a strong contender.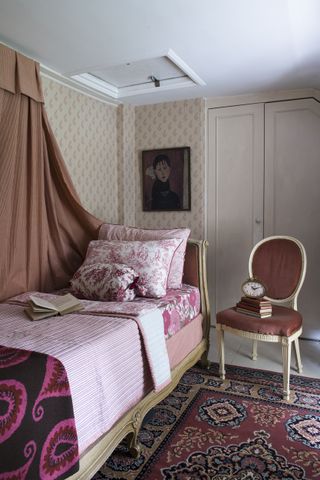 6. Choose a classic, rich colour scheme
One of the greatest advantages of going for a traditional decorating scheme is that you can indulge in rich, deep paint colours, from confident reds to moody dark purples and intense greens. This is because ornate, traditional furniture can take these colours and won't be overwhelmed by them.
For a similar velvety red, try Radicchio by Farrow & Ball.
Want more bedroom paint inspiration? Check out our bedroom paint colour ideas.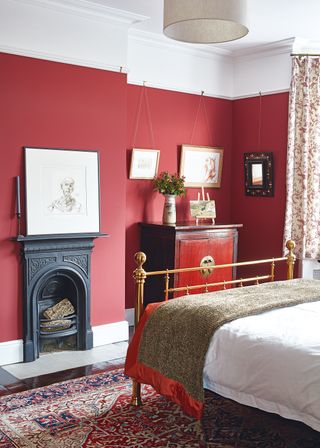 7. Go for a muted and relaxed design for a country look
MORE FROM PERIOD LIVING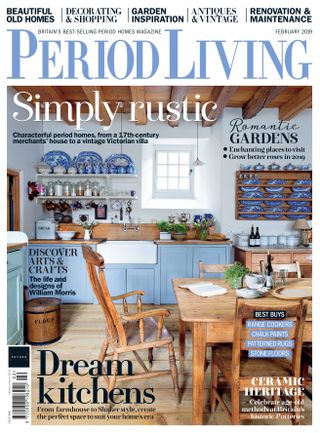 Get the best period home inspiration, ideas and advice straight to your door every month with a subscription to Period Living magazine
Love the airy, rustic simplicity of a country cottage bedroom? It's actually one of the easiest traditional bedroom looks to create. All you really need is whitewashed walls and lovely printed textiles. A quilted bedspread is a must, and for a traditional look, you can't go wrong with a Made to Measure Quilt from Vanessa Arbuthnott.
Or, why not take up quilting as a hobby and make one that's completely unique? For more craft ideas, check out these craft activities you can take up as a hobby in 2019.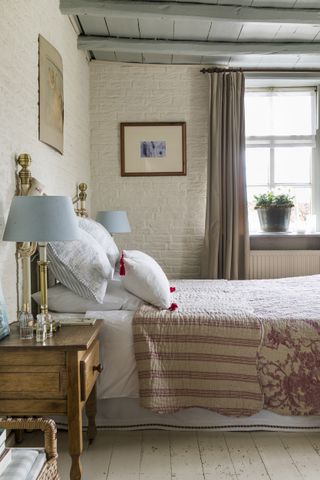 8. Embrace pastels and patterns
And while we are on the subject of textiles, curtains play as big a role in a traditional bedroom as the bedspread. As a rule, the curtains should never be more than a shade or two darker than the rest of the room's colour scheme, or they will suck up all the natural light. So, think muted and dusty pastels in a light-painted bedroom.
Have a browse through our stylish bedroom curtain ideas for more design options.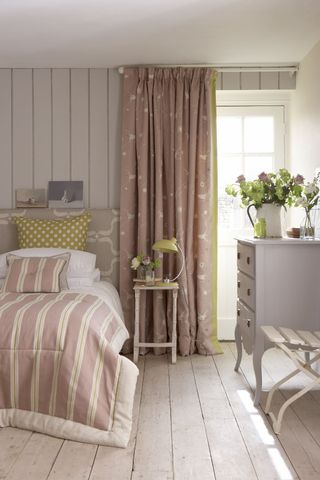 9. Upcycle vintage furniture with printed fabric
If you've inherited or purchased a piece of bedroom furniture that has seen better days, try upcycling it with some nice printed fabric or wallpaper. It's worth trying before completely discarding a vintage piece, especially if it's made from good quality wood.
For step-by-step advice, see how to upcycle furniture for a vintage look.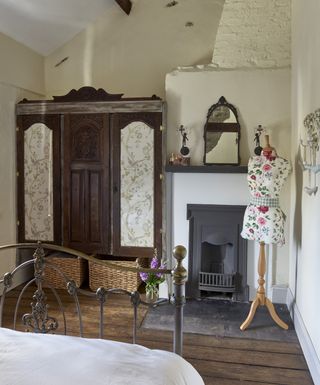 10. Liven up a grey colour scheme with bright colour
We know, we know, grey is everyone's favourite bedroom colour scheme. Grey bedrooms, traditional and contemporary, are a design standard by now. But what if, having achieved the grey bedroom of your dreams, you are getting a bit bored of the monochrome? There's an easy solution: colour accents. A colourful bedspread and a pendant light will do the trick for a quick and easy update.
For more grey bedrooms with a twist, browse our gallery of gorgeous grey bedroom design ideas.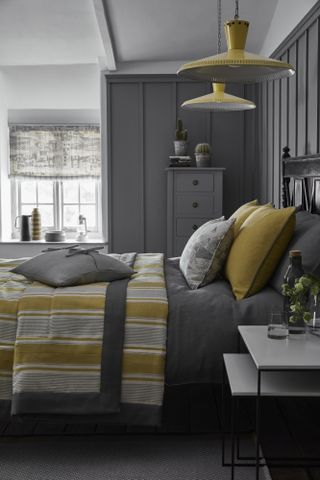 11. Combine the bedroom with a study space
Perhaps you are short on space, or maybe you just enjoy the ultimate privacy of your bedroom when you need to concentrate; either way, combining a traditional bedroom with a study offers plenty of lovely design options. A desk is an obvious choice, but you can also opt for a bureau which combines the practicality of a writing desk with the elegance (and storage space) of a chest of drawers.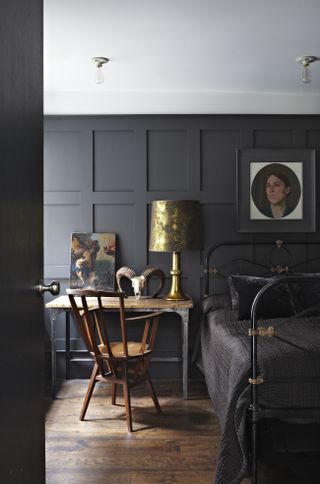 12. Up the comfort level with a window seat
Got a bedroom with a view? Or perhaps you need to build in subtle extra bedroom storage space that you'd rather was cleverly disguised? Make the most of both opportunities with a window seat. This padded one has been upholstered in fabric by Vanessa Arbuthnott.
For more smart bedroom window treatments, see our design gallery.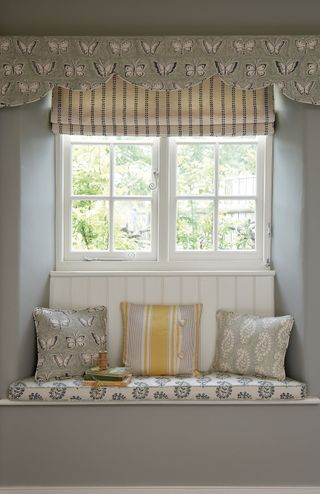 13. Add dimension with patterned wallpaper
Wallpaper works like a charm in traditional bedrooms, instantly warming up the room. For a traditional design with a twist, pick a graphic rather than floral wallpaper design. This bedroom has been decorated with Marie wallpaper from Sandberg.
Check out more inspiring bedroom wallpaper ideas.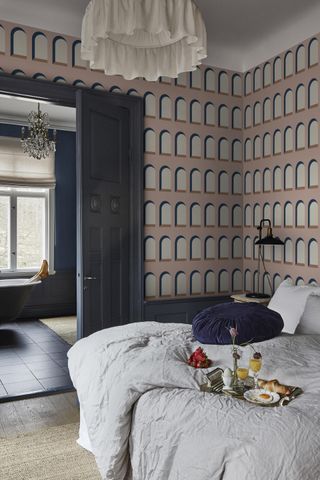 Want more traditional room designs?