So you want to make your small bedroom feel bigger? Well, we have you covered. Many of us being small space dwellers ourselves, we have learned a thing or two about 'expanding' space without having to knock down any walls. And actually, the easiest ways to make a space feel larger don't cost a ton either, some of our hacks are even free!
It's mostly about reimagining your space, striping back on what you need, thinking about your layout and maybe getting a bit hands on with some DIY. Oh and storage, you are going to need to up your storage game and make sure you get it spot on (don't worry we will talk you through some ideas). So let's get started, let's see how you can make your tiny bedroom feel like a spacious, airy, clutter-free, calming space...
1. Think about your layout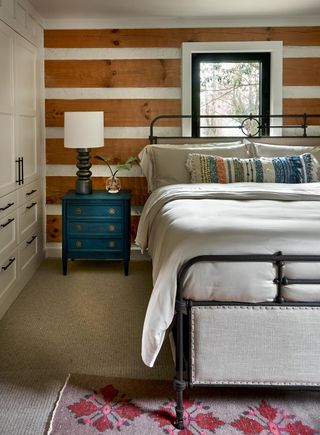 If you want to make your small bedroom feel bigger on a budget, rearranging your room is something you can do for free. Now you might not have much space to play with here but we do have a tendency to push all our furniture against walls, especially in small rooms, which might be making the space feel even more cramped.
Start with the bed. Is it pushed against a wall so you can only access one side? That immediately is going to make the room feel more claustrophobic. Pull your bed into the center of the main wall so there is a gap on either side. This space does need to be big enough for you to walk on either side, it will give the room more flow and breathing space, instantly making it feel bigger. And don't worry if it means sacrificing a bedside table, wall mount some floating shelves above or either side of the bed instead to save on space.
2. Pick a bed that matches in scale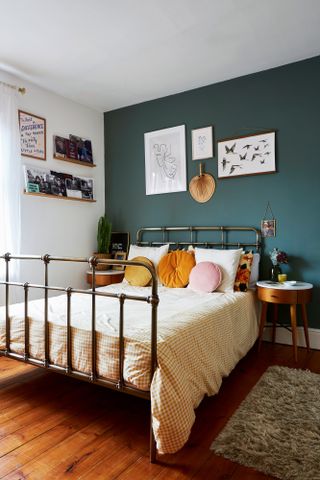 If you are starting from scratch in a small bedroom and buying new pieces, always be sure to keep your furniture in scale, especially with the bed.
'For the bedroom in particular, it's most important to pick a bed that doesn't overwhelm the space.' advises designer Kathy Kuo. 'If your room has plenty of storage space, choose a platform bed that sits lower to the floor. It will create a greater sense of height that will make your room feel spacious. On the other hand, if you're in need of storage, choose a bed that has built in drawers beneath the frame -- you might even be able to forego a dresser which will give you more space!'
Love this bedroom? Check out all our green bedroom ideas for plenty more where this came from.
3. Keep your furniture slimline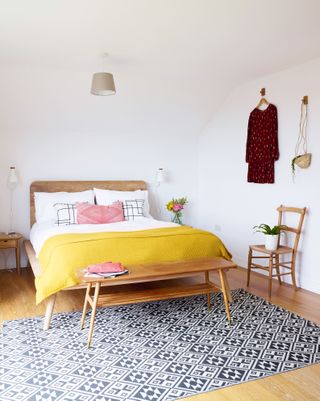 And keep it relatively simple with the rest of your furniture too. It's really easy to overwhelm a small bedroom with furniture, so really think about what pieces you actually need in the space and if anything can be multifunctional.
'In a small bedroom where floor space is limited, it's extra important to be very intentional with every furniture item you include. Avoid anything that feels bulky or overwhelming - simple is best.' continues Kathy. 'When deciding on lighting, try installing wall sconces or pendant lights instead of floor lamps that would cramp the room. Floating shelves are also a visually appealing and functional option when looking for a way to incorporate decor elements.'
4. Paint the walls (and floors, and ceiling)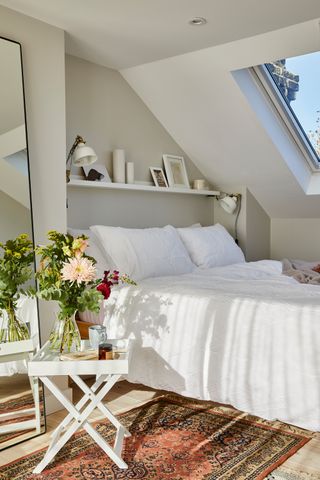 It's design 101 that light colors make a small bedroom feel bigger, so don your DIY dungarees and give your walls a freshen up with some white (or close to white) paint. And don't stop at the walls, paint your ceilings too and if you have been blessed with floorboards why not carry on and paint them too?
Now we know, all that white could risk making your bedroom feel a tad operating room-esque so bring in some hints of color with your accessories. Stick to the lighter color palette and add some soft hues like muted pinks, pale blues and sage greens. If your room is really on the small side, stick to a cooler color scheme and those more frosty hues tend to have a more space-expanding effect than warmer ones.
We have a whole gallery dedicated to white bedroom ideas that would all work to make a small bedroom look bigger so be sure to check that out too.
5. Cut the clutter with plenty of storage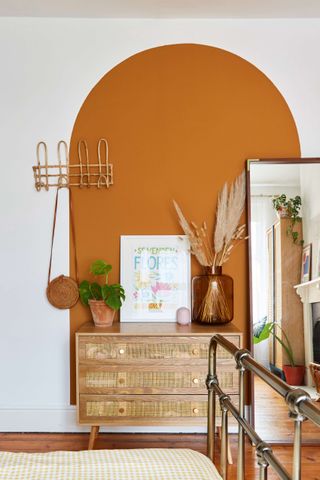 There's a bit of a catch 22 situation going on with it comes to small bedroom storage. Storage takes up room and if can make the space feel smaller, but you need to storage to store the clutter that can also make the space feel smaller. The key is to pick storage that's multifunctional, this storage needs to earn it's place. Oh, and have a declutter too, Marie Kondo that space so you only have to store what you really need
Storage beds or beds that have room for storage boxes underneath are a given. But in terms of storage furniture, pick a single piece that looks lovely as well as being practical so it actually adds something to the room rather than just visual clutter. And think about shapes too – legs are good as it means you can still see floor space and light can easily flow through the space.
Wall mounted storage works great in smaller bedrooms too, shelves, hooks, wall mounted cabinetry. These things add storage but take up zero floor space, plus can often be used to add some decoration too.
6. Expand space with mirrors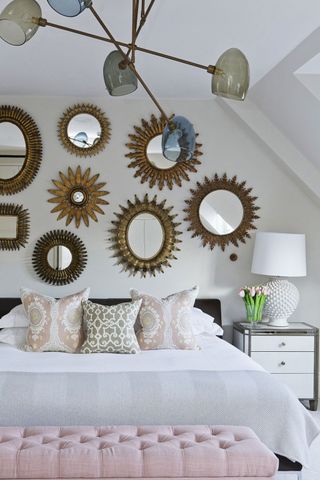 Another simple way to make a small bedroom feel bigger – mirrors.
'One of my favorite hacks to make a small space appear larger is the use of mirrors or mirrored pieces, as they reflect natural light and visually open up a room. If you're able to, try propping a full-length mirror against a wall - it really enhances the appearance and scale of any space.' says Kathy.
Alternatively, copy this idea and create a wall of mirrors so even more light bounces around the room. Plus, this is a lovely, slightly more minimalist alternative to a gallery wall, which can look too busy in a smaller bedroom.
7. And an area rug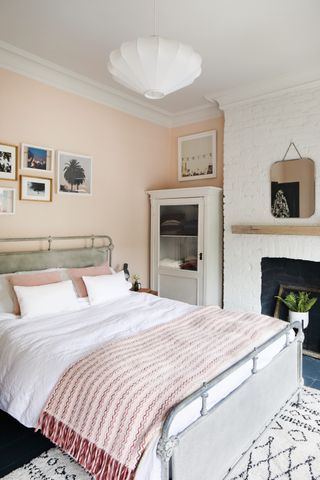 Throwing down a large rug can be a really easy way to make a small room feel bigger. It can create the allusion of larger dimensions because a larger rug will draw the eye wider, plus, it's a great way to cover up dodgy carpet if you are renting.
Pick something in a lighter shade and go as big as the space can handle, you don't want a small rug to just be floating in a sea of floor as that will make the room feel smaller. You want to leave around three inches of the floor on either side of the rug visible. And place furniture on top of the rug too, slide it under the bed or have two of the legs on top.
8. Get your bedroom lighting spot on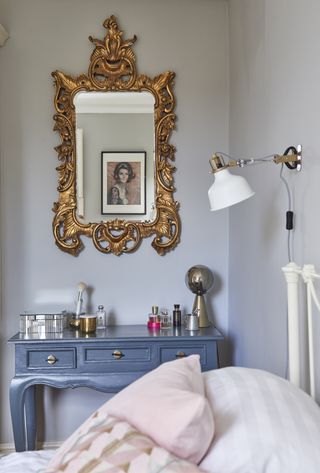 Nothing make a bedroom feel cramped like poor, low lighting so really planning your lighting scheme is key to making a small bedroom feel bigger.
When choosing what types of lighting to go for, think about how you use different areas of the room. You'll probably want a bedside light to read by (you can wall mount these to save on space), an overhead light for the whole room and a few lamps dotted around to create a lovely glow. You always want your lighting to be warm and soft, so pick warm bulbs and shades that will diffuse the light.
Also, try placing your lights near or in front of mirrors. Not only will this add more light it will also create depth to the room and allude to it being larger.
Find more bedroom lighting ideas and advice in our guide.
9. Don't overcrowd your windows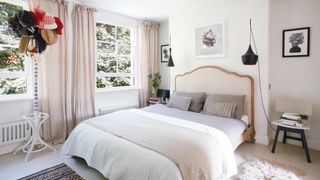 Natural light always makes a small bedroom feel bigger so maximize that light by keeping your windows free from heavy drapes. Instead opt for minimal window treatment such as blinds, shutter or drapes in a very light, gauzy material. Or if you are a heavy sleeper and don't have anyone overlooking your bedroom window you could even go bare.
If you do go down the drapes route, a top tip for making a small bedroom look is hang them floor to ceiling, even go slightly above the window with your rail. This will create the allusion of more height, as well as just looking more elegant than boxy curtains floating around your window.
If you need any more advice or bedroom window ideas just head over to our guide.
10. Use pattern and color to trick the eye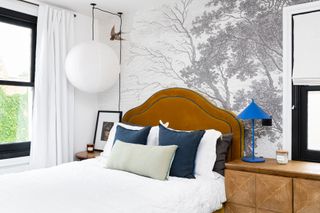 Now, we know we have gone on about keeping a small bedroom simple and only using light colors and not being too bold in your decor. But, if done right, adding pattern and color can make a small room feel bigger.
The best way to do this is with wallpaper. The right patterned wallpaper can simply make a solid wall feel that bit further away and can trick the eye into thinking the room is larger. Still pick something that has a subtle, limited color palette that will add depth but won't totally overwhelm the room.
What colors make a small bedroom look bigger?
The best colors for small bedrooms, as with any small room, do tend to be lighter shades and these colors will reflect light making the room feel bigger. White walls are always a good choice and you can bring in color in small amount through bed linen and accessories.
That being said, a dark color palette can work in a small bedroom too, creating a cozy cocooning space that just embraces the small proportions of the room.
How do you arrange furniture in a small bedroom?
The best way to arrange a bedroom is to keep the layout as simple as possible. It makes sense to position your bed against the main wall in the room, this is usually the largest or the one your eye is drawn to first when you walk in the room.
As we mentioned earlier, if you have the space have your bed centered on the main wall. You will want some space to walk on each side as this is best for not breaking up the room and there still being a nice flow around the space.
In terms of storage pieces, if you have alcoves make use of those and position furniture in those. If not, just balance the room by having the bigger storage items on the opposite side of the room to the bed.