Whether you want a contemporary style kitchen or a more industrial kitchen style, going heavy on metallics will give you a stylish, warm finish with an urban edge. Be inspired by our favourite metallic design ideas for your kitchen – and use our tips to get it right in your room.
Find more kitchen ideas and stunning inspiration via our ultimate guide. 
Designing a new kitchen from scratch? Make sure you check out our ultimate guide to kitchen design.
1. Choose burnished finishes for a kitchen island
Far from appearing cold and sterile, metallics can be warm and tactile. You needn't use the metallic finish across the entire kitchen – sometimes, limiting it to a kitchen island will have impact.
The Tio kitchen from Rational has clean lines, urban metallic finishes and stainless steel components. The wall units have a metallic anthracite super matt lacquered finish with open recess in silver spruce. The scheme is pulled together by the addition of metal-framed open shelving. A kitchen like this would cost from £12,000.
2. Paint kitchen cabinetry for a metallic finish
Doors and drawers that look fresh from the foundry are ideal for metallic kitchens. This effect can be achieved by painting kitchen cabinetry with special paints containing real metal. Clever.
The Ferro slab door in this island has been finished in a paint containing real metal, with reactive processes used to create a unique weathered look. This colour is oxidised copper. Others in the range include rusted iron and burnished brass. The metal effect is a flash of warmth against the muted tones of the Zola Matte Lave and Rezana Espresso Oak of the full height units and shelves. This type of kitchen would start from upwards of around £20,000, from Uform.
3. Wrap kitchen cabinetry in metal sheeting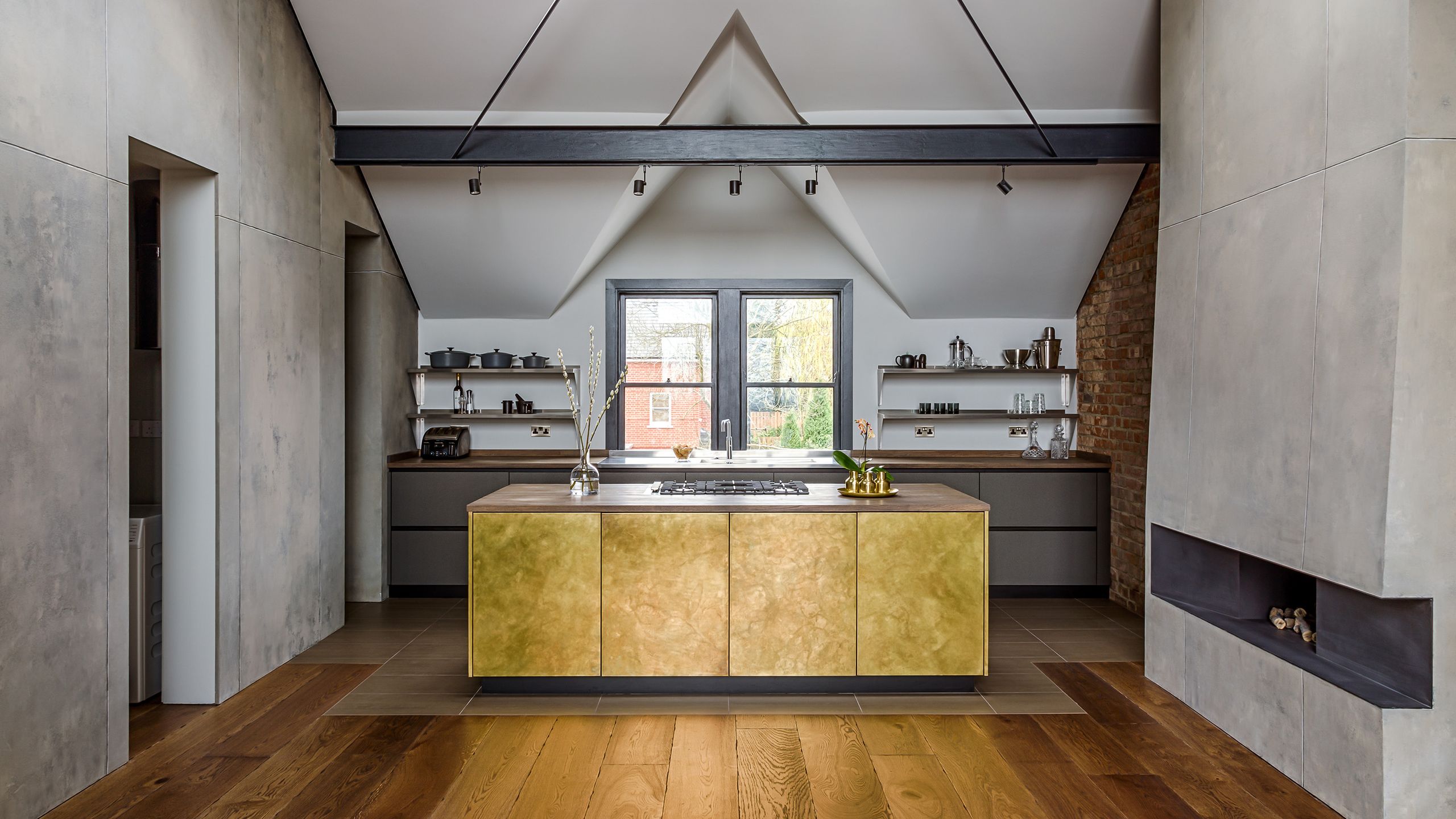 Want a tougher finish than painting cabinetry? Wrapping thin sheets of metal round a solid core can give cabinetry a metallic finish.
Here, the golden glow of burnished brass puts push-to-open island cabinet doors firmly in the spotlight. A nanotech coating arrests the oxidization process to prevent tarnishing and make the doors easy to clean. This is the Form 6 range from Sola Kitchensprices from £35,000.
4. Choose a metallic kitchen sink
While chrome and stainless steel are a long-standing staple of kitchen design, the new metals have a more industrial vibe – like pieces plucked from an old factory rather than a food preparation area, so look for brushed steel rather than polished finishes. The perfect choice for this finish? The kitchen sink – see more sink ideas in our guide.
For heavy duty kitchen tasks, the Blanco Cronos XL 8 from the Steelart collection means business. Made from stainless steel, it is a modern twist on the farmhouse-style sink and is indulgently deep. It costs £1,906, from Blanco. Try Holloways of Ludlow for copper sinks, too.
5. Pick a kitchen worktop with a burnished finish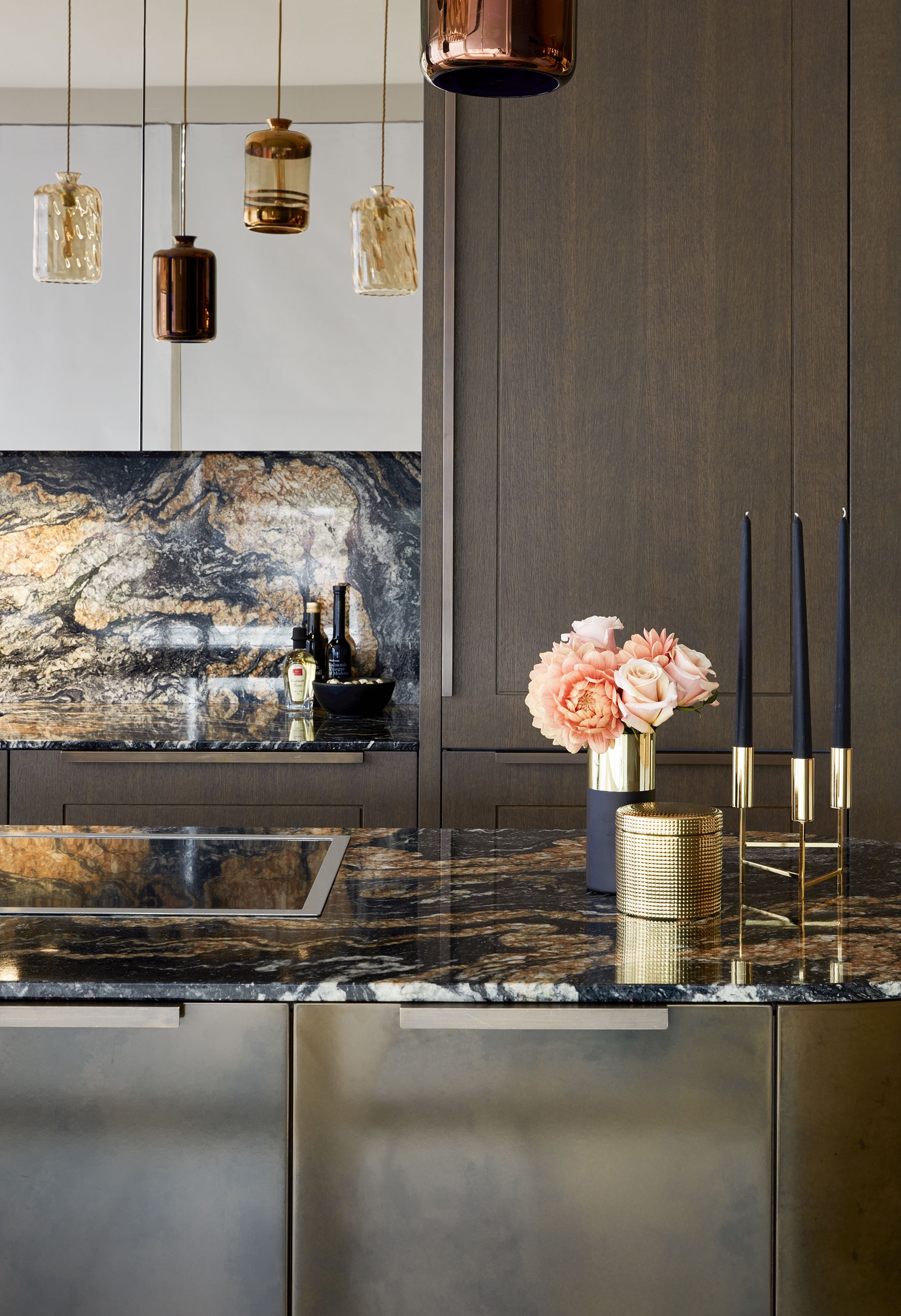 Looking for glamorous worktop materials? Choose one with a metallic lustre, and up the impact by matching it to your splashback material. For more advice on choosing a kitchen worktop check out our expert guide. 
This is a bespoke kitchen in dark oak and metal-effect lacquer by Mowlem & Co, prices start from £30,000. The worktop is Sensa granite in Orinoco, £500 sq m, from Sensa by Cosentino.
6. Choose a splashback with a metallic look
A splashback is an easy option for bringing warm metallics into a kitchen. This copper splashback is matched with polished copper handles, and has a verdigris finish with lacquer hand applied, making each piece unique. £690 per linear metre at standard height, Naked Kitchens. Love this? Check out our favourite copper kitchen accessories.
7. Fit copper kitchen taps as focal features
Looking for handsome kitchen taps? Choose one with a copper finish to make your sink a focal area.
Step up on the style with a four-in-one tap: this one providing hot and cold water, as well as filtered cold water and 100⁰C filtered boiling water – a quick cup of tea with the best quality water has never been so easy. Plus, this stylish U-shaped spout is so cool and contemporary. Omni tap, £1,600, Franke. Find more boiling water taps in our guide.
8. Draw attention with copper kitchen lighting
Want to make the most of a focal feature, such as a kitchen island? You can do so by perfectly planning your kitchen lighting, and picking stunning kitchen pendant lamps. Hang them in threes and choose different sizes for a laid-back, interior-designed look. For more kitchen lighting ideas check out our gallery. 
These copper pendants are by Pooky.
9. Pick out storage in metallic finishes
Storage items that seem like they have been salvaged and repurposed for use in the home, add a nice touch to a contemporary or traditional kitchen. Signs of wear only enhance their charm. Bear this in mind when shopping for kitchen storage – a great way to add metallic touches to a kitchen on a budget. 
10. Add copper kitchen accessories
Looking to design a stylish kitchen on a budget or want to up the metallics in a small kitchen? Any easy, affordable kitchen update is to add kitchen accessories in copper.
Our favourites include the Classic kettle with copper trim, £122.95;  four-slot NewGen toaster, £199.15.
11. Choose a metallic wall finish 
If the idea of fully committing to a metallic kitchen is too much, then think about just adding a metallic feature wall. You can get some really gorgeous metallic effect wallpaper just check out, Kings Mirror by Cole & Son if you want a similar look to the one below. 
We've also got loads more kitchen wallpaper ideas in our gallery if you want some more inspiration. 
12. Go all out with copper worktops
If you want even mooore copper, choose copper as your choice of the best kitchen worktop material. In this deVOL kitchen, the glamorous countertop is the perfect match for the pared back simple wooden cabinets. 
More kitchen design ideas: