We use our kitchen every day, but as we run between work, school, and play, we might not notice that our kitchen design is looking a little dull. Give your kitchen a fresh new look through one simple action: paint your cabinets.
Whether you want to do a split paint job (one color on the bottom and another on the top) or use a single color that pops, we have chosen the best kitchen cabinet paints for you. These paints will hide all those old food stains and offer a seamless look across all your kitchen cabinets.
Once you've coated your kitchen cabinets with a paint you love, update your bar stools or kitchen table with the best paint for furniture or purchase some fun and creative new hardware. Guests will take notice and your kitchen will be the talk of the town.
The best paint for kitchen cabinets
Why you can trust Real Homes Our expert reviewers spend hours testing and comparing products and services so you can choose the best for you. Find out more about how we test.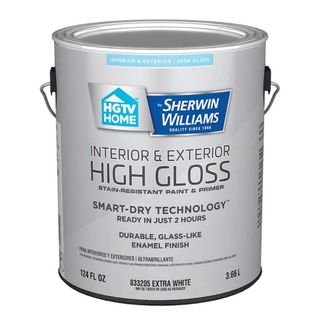 When it comes to DIY projects like painting your kitchen cabinets, less work is the best work. That's why we love the HGTV HOME by Sherwin-Williams Water-Based Door and Trim Paint, because it's a paint and primer in one. Despite the name, this paint can be used on cabinets and applies an even, high-gloss enamel finish that maintains its sheen even after multiple cleanings thanks to its acrylic base. Choose your favorite color with this tintable paint before slathering it on your cabinets.
This paint is resistant to cracking, peeling, fading, blistering, stains, and mildew. It dries within two hours and has a formula that prevents doors and drawers from sticking. And for those who are conscious about paint safety, this 100% acrylic-based paint is non-toxic.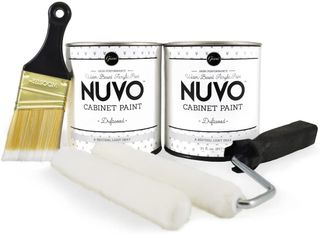 Make painting your cabinets super easy with the Nuvo Driftwood 1-Day Cabinet Makeover Kit, which includes a brush, roller, and water-based acrylic paint and primer in one. You don't need to sand, strip, or prime beforehand (though it's always a good ideas to give your cabinets a good scrub, and use a deglazing solution or liquid sandpaper to remove any sheen before you paint). The low-voc, low-odor paint covers about 100 square feet of cabinets with a soft satin finish in various colors like soft grays, blues, cream, black, and white.
The Nuvo paint can be used on cabinets made of different materials like wood, metal, or laminate and primed. It doesn't require a topcoat or a sealer. Nuvo advertises that you can get your cabinets painted in one day with a single coat, but some reviewers noted that a few coats were required.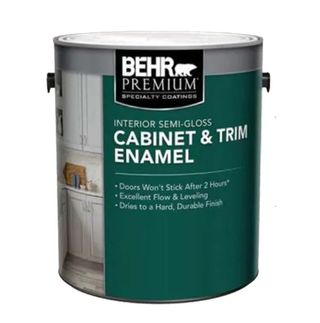 Behr Premium has long been an outstanding paint brand, so it's no surprise that we've chosen their Semi-Gloss Interior Cabinet and Trim Paint. This semi-gloss enamel acrylic paint can be used on different types of cabinets like vinyl and wood, but that's not why it's on this list. It's outfitted with special technology that resists dirt, grime, mildew, and household chemicals. The folks at Behr Premium took it an extra step and created a formula that dries within one hour and creates a tack-free film that prevents your cabinet doors from sticking as quickly as two hours after painting (darker colors take a little more drying time).
Because this paint doesn't include a primer, you will need to prime all surfaces before starting. If you need a second coat, you will have to wait two hours. One gallon covers 400 square feet of kitchen cabinets, but you'll likely have some paint left over which may be convenient because it can be used on moldings, trims, stair railings, baseboards, and interior doors, too.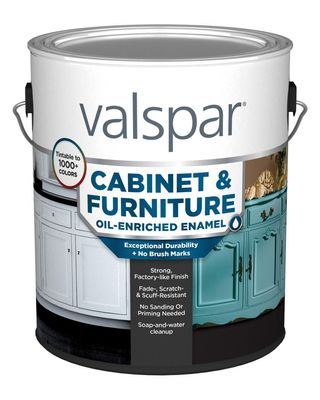 If you hate priming or have an exceedingly difficult set of kitchen cabinets to paint, choose the Valspar Cabinet Furniture Enamel Satin Acier Sw9170 Interior Paint. In addition to not having to sand or prime your cabinets, this Valspar paint will cover previously painted wood or metal, and even properly prepared laminate. For those who hate having to repaint their kitchen cabinets every year because of scratches, fading, or scuffs, you'll be happy to know that this paint is fade-, scratch- and scuff-resistant.
Valspar also advertises that it leaves no brush marks, but to achieve this, you may have to use only a little bit of paint on the brush at a time and cover your cabinets in multiple coats. The only drawback of this paint is that it takes up to four hours to dry and it's oil-based, which means it could contain higher levels of VOCs.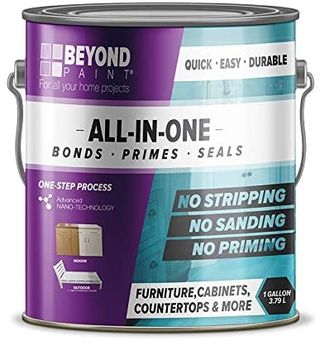 Glossy, satin, or high sheens may not be the direction you want to take with your kitchen cabinet makeover. That's why we've included the Beyond Paint Multi-Surface All-in-One Interior/Exterior Refinishing Paint. It comes in 13 different colors that offer a flat matte aesthetic. The paint will come out thick but that's because it can coat your cabinet in any shape they are – meaning you don't need to strip, sand, or prime before using this paint. (Though, again, we still recommend washing your cabinets thoroughly!)
Though Beyond Paint claims the paint doesn't leave roller marks, you will notice a very light texture. Most reviewers love the texture and the fact that the paint is mildew-resistant and UV/fade-resistant. You'll probably have to do two coats on your kitchen cabinets. Keep in mind that it takes three hours before the paint dries and you can recoat.
You may have noticed that the name of this paint includes words like "Multi-Surface" and "All-in-One Interior/Exterior." That's because you can actually use it on other items besides cabinets like furniture and even countertops!
Creative ways to paint your kitchen cabinets
A neutral look
You really can't go wrong with painting your cabinets a neutral color of white or gray, especially if you want to draw the eye to a creative and colorful backsplash, marble countertop, or want to achieve a streamlined modern look.
White on top
Do you have top cabinets that don't reach to the ceiling? If your kitchen walls are white or cream, consider painting your top cabinets white and the bottom cabinets a darker or bright color. This will create an illusion that makes it look like your top kitchen cabinets are taller than they are. It also allows you to use a bright color on your bottom cabinets without it being overwhelming.
Two-tone
Paint your top cabinets one color and your bottom cabinets another color. This tends to work best when the top color is a neutral or a toned-down version of the bottom color.
Geometric fun
If you really want to make your kitchen pop, you can paint your cabinets in two different tones. For instance, paint the drawers or the doors a lighter or darker color than the cabinet itself. This will make the colors pop and create a fun geometric design to your kitchen.
An island pop
Those with a kitchen island can choose to paint their island cabinets a different color than their wall cabinets. We've seen people paint the island cabinets white and the wall cabinets a darker or brighter color and vice versa.
Different shades
If you love bright colors but don't want to paint your cabinets all a single color, you might like this idea. Some people have chosen a single color – like blue – and painted each cabinet a different shade of that color. It's definitely funky and fun, and when paired with a simple white countertop, it turns your kitchen into a modern abstract art piece.