A freestanding kitchen is a characterful and convenient addition to any home, especially one with a traditional style. Pieces of furniture can be collected, mixed and matched, to create the perfect kitchen scheme to suit your family's needs.
Fitted kitchens might seem like a better use of the space, but once you have one, you're committed to it. With a freestanding kitchen, furniture can be moved around or even replaced if you find something that better suits the space. Old homes with their wonky walls can make fitting cabinets more difficult, whereas freestanding furniture works well.
Lending themselves to vintage furniture and fleamarket finds, freestanding kitchens can be a cost effective way of redesigning a kitchen and creating the perfect space. If you're a fan of DIY or craft, you could really make the project your own by upcycling furniture that you already own and repurposing it for your lifestyle.
Related articles: 10 Kitchens baking enthusiasts will love | How to create the perfect family kitchen | Top tips for getting a stylish kitchen on a budget | 18 kitchen extension design ideas
1. A rustic, relaxed kitchen
Adding a big, Mid-century dresser to this relaxed kitchen creates a focal point in the room, while also adding valuable storage and display space. The cupboard, with its vast glass panels, is the perfect space to store trinkets, collectibles and antiques. Wide drawers provide a place to store cutlery, and the low cupboards offer extra storage for pots and pans, freeing up space on the cupboard surface for cooking ingredients and implements.
2. A kitchen full of nooks
If you live in a old cottage, your home is likely to be filled with nooks and crannies that run the risk of becoming dusty, dead space. Instead, use these spaces to slot in a small cupboard or place a tall dresser behind a door. If part of your kitchen is fitted, you can even paint your freestanding furniture to match, or leave it bare to create a rustic contrast.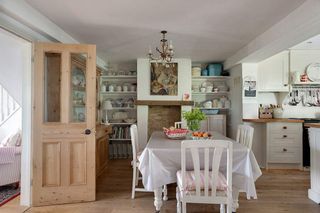 3. A useful island
The island is one of the most sought after features in any fitted kitchen, but it doesn't have to be reserved for those having a complete redesign. If you've got the space in the middle of your room – maybe where a dining table used to be – add a sturdy, high table as another worktop. Having an additional preparation area will free up space on your worktops and, if you find it gets in the way, you can just move it to the wall when you're finished with it.
4. Farmhouse kitchen style
Storage doesn't have to mean cupboards. You spend money on pots and pans, so why not have them on display? Create a rustic-style farmhouse kitchen by storing them on wooden tables with extra shelving underneath, or hang them in attractive displays on wall hooks. This will save on space, and your pots and pans will be closer to hand when you're cooking.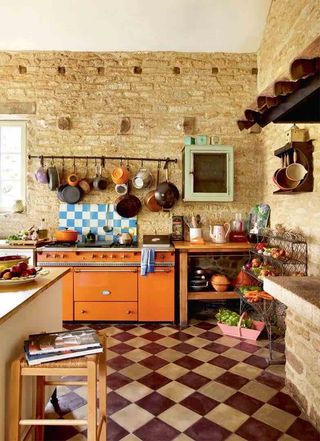 5. Creative freestanding storage
Using a dresser to store and display crockery and collectibles is a great use of storage space in a kitchen. Why not do the same with ingredients that don't need to be kept in a fridge? This will help to free up space in kitchen cupboards and if the dresser has glass doors, you can see exactly what you have in stock.
6. The butcher's block
An old butcher's block is the ideal item of furniture for a freestanding kitchen with a rustic or industrial feel. Butchers' blocks can stand as an island in the middle of the room, or create another worktop or preparation area when pushed up against the wall. Paired with a couple of tall bar stools, they can even be used as a smart little breakfast table.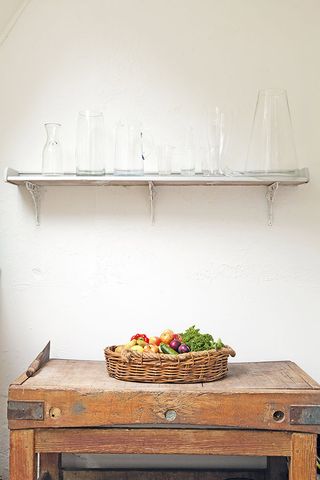 7. Industrial freestanding kitchen
Whether you're looking for a traditional decorating scheme, or trying to add a modern touch to your period home, reclaimed industrial furniture is the perfect way to add character to any space. With a freestanding kitchen like this you can mix antiques and modern additions seamlessly. If it doesn't work, you can simply move the units around until it does.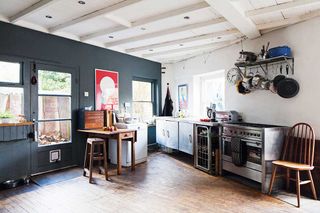 8. Storage on display
Mugs and glasses are the bane of everyone's kitchen storage. They spill out of cupboards when not needed, yet when you have guests for lunch or dinner, they've all vanished mysteriously into the voids of your house. One way to keep track of their whereabouts is to use a freestanding dresser to display them. You'll always know exactly how many you have and they'll be close to hand when you need to make a cup of tea.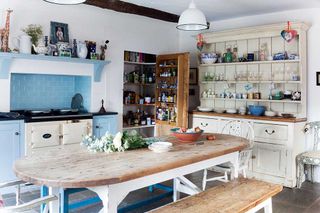 9. An eclectic kitchen
Pairing a couple of ornate, freestanding units with a simple fitted kitchen will give your room a unique and individual style. You space remains practical, but your kitchen is filled with character. Dressers offer valuable storage space for displaying trinkets, as well as drawers and cupboards to keep accessories and clutter out of sight.
10. A freestanding worksurface
Along with high tables or reclaimed butcher's blocks, consider freestanding kitchen islands that feature cupboards and drawers. Perfect for storing cooking utensils, these offer more flexibility than fitted units, but can emulate the look and permanence of a fitted style. Combine with a mix of fitted and freestanding units to create a truly flexible space.
11. A cottage kitchen
Traditional cottages usually don't suit fitted units and you'll be lucky to even find pieces that will sit against the uneven walls and imperfections of an old home. This is where the mismatch of freestanding vintage and upcycled furniture can add some real personality to a space, as well as being flexible enough for you to change furniture freely.
12. An upcycled kitchen
If you've only got a small kitchen, the obvious choice would be to maximise on space with fitted units, but this doesn't allow for flexibility. Instead, a few well chosen, expertly placed freestanding units can be a really clever use of the space. Make sure you've got room for everything you need, and if you find that there isn't enough, just swap out a unit for something more useful.