Kitchen paint ideas are often the quickest and cheapest way to update your kitchen yourself. You can have a whole new look in just a few hours and all it takes is a few cans of paint and very basic DIY skills.
To inspire you to start adding exciting new hues to your cooking space, whether you're working on a full kitchen remodel or not, we have pulled together all of the coolest colors to get on board with.
'Moving away from impersonal and stark bright whites, kitchen design schemes are becoming more considered, with schemes reflecting the wider interior aesthetic of a home. Richer, mood-setting colors are being used to great effect in combination across woodwork, cabinetry and walls,' says Andy Greenall, creative director of Paint & Paper Library.
1. Mix one color tones for a cohesive kitchen scheme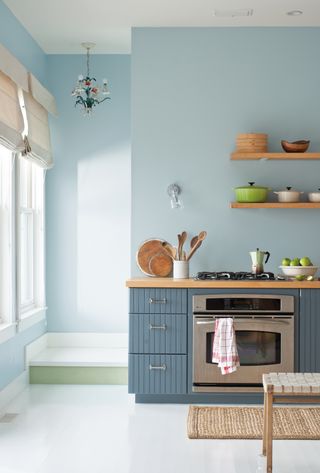 One bold kitchen paint color all over can lack interest, so why not try picking a few shades of the same color to use in one room? Put the darker shade on the cabinetry and the lighter on the walls for a fresh, bright finish.
This lovely fresh blue-based Mt. Rainier Gray (2129-60) on the cooker wall is a great choice for a light and airy kitchen and the deeper shade of the Normandy (2129-40) painted units perfectly complements the color scheme. The hallway wall is painted in a pretty sky blue shade called Breath of Fresh Air (806). The white gloss floor adds balance and gives the room a spacious feel.
If you are looking to give your kitchen a refresh on a budget you can get painting kitchen cabinets yourself, just follow our guide.
2. Take a duo approach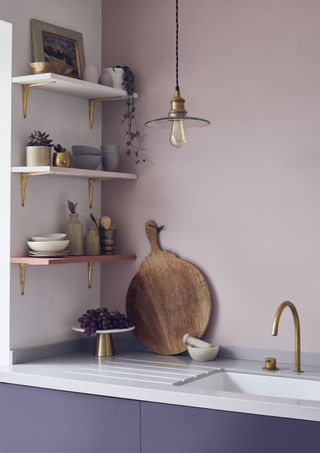 Struggling to choose between two colors to enhance your kitchen ideas? Then, why not have them both? The key to this two-tone kitchen paint idea is to find a feature the colors have in common – in this case, they share the same tone (in other words, light value). Putting the warmer kitchen paint color on the walls – which have a greater surface area than the cabinets, it will create a more inviting feel.
The wall paint used here is Antoinette from Annie Sloan, it works perfectly when paired with the darker, aubergine hues of the kitchen cabinets (a mix of Annie Sloane Aubusson Blue and Emperor's Silk) as it gives the pastel hue a more modern look.
3. Follow the trend for inky shades in your kitchen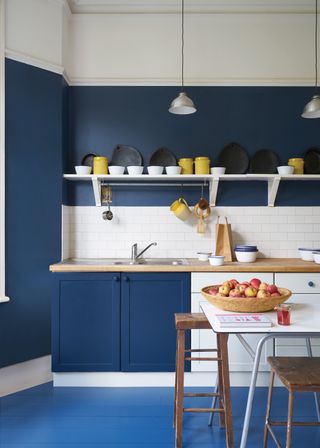 Deep, dramatic alternatives to grey-green, burgundy and blue are very popular paint colors for kitchens, creating an elegant appeal, an effect doubled if used on both cabinetry and walls.
Kitchens with good light and high ceilings can take the darkest of paint colors, such as Farrow & Ball's Stiffkey Blue Modern emulsion (shown here on the walls and floor); an eggshell finish in the same color has been used on the units. Keep the finish sophisticated with a smart, contrasting white – Wimborne White is the perfect choice - and add a pop of color in accessories to lift and modernize the scheme instantly.
4. Choose a neutral kitchen paint for a Scandi feel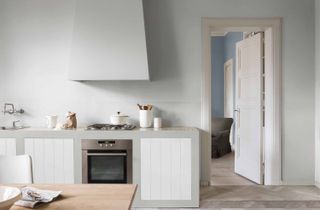 Although they are a hive of activity, our kitchens are increasingly becoming spaces we relax and socialize in. However you use yours, picking the right kitchen color can aid the serene atmosphere of this space.
This peaceful, barely-there grey paint color on the walls is called Brushed Buckle by Dulux. It has warming tones to make it welcoming but is light enough to create an illusion of space – ideal if your kitchen is small and on the dark side. The units trim is called Rail Cloth and adds an extra interesting element to the scheme, while the middle section is painted in Pure Brilliant White.
5. Let the cabinets take center stage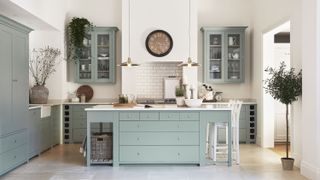 Traditional style cabinetry suits the painted look perfectly. Shaker-style units lend themselves to a splash of color just as well as very contemporary, high-gloss cupboards, so don't be afraid to embrace a new shade.
When you invest in a Neptune kitchen you get the fabulous option of choosing from their range of 28 original paint colors. They are ecologically friendly and water-based, with a choice of matt emulsion or eggshell finishes. Shown here is their classic pared-back Suffolk kitchen that's hand-painted in Sage – a calming green that has a fresh, timeless feel.
We have loads more inspiring Shaker kitchen ideas in our ideas gallery if you like the vibe of this kitchen.
6. Keep it simple with white kitchen paint
You can't beat an all-white kitchen – bright and crisp, it acts as a blank canvas for the rest of the scheme, enabling you to add and swap out accent colors quickly with accessories. Picking a simple kitchen color scheme also means it will be far easier to update and match to new utensils, appliances or dinnerware.
In this deVOL kitchen the cabinets have been painted in Damask and the walls and shelves have been kept the same shade of white too. The choice of wooden flooring however keep the kitchen from becoming too clinical, which we fully recommend doing if you are going for an all-white everything kitchen paint idea.
For more white kitchen ideas head to our gallery.
7. Make a kitchen island the focal point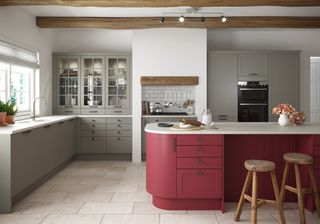 Glossy, bright, apple reds are making way for a new team of more muted hues – think plum, oxblood and vermillion. Paired with sleek, contemporary units, they offer a demure, but modern kitchen paint alternative to anything high-shine or in your face.
This Linear design from Harvey Jones has a modern look with streamlined units. You can choose any paint color you like, and they will hand-paint it on for you; shown here is Fired Earth's eggshell Dragon's Blood. One advantage of doing this is that if you get tired of the color after a few years you can give your units a new lease of life by re-painting them.
8. Use warm tones to brighten a white kitchen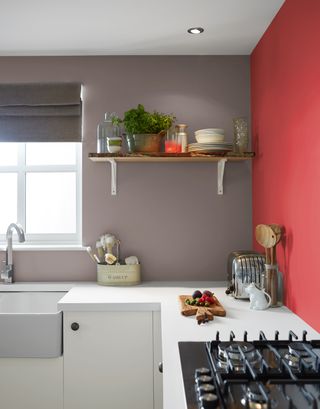 If your units are modern and white, choosing hotter kitchen paint shades for the walls will visually warm up the space. This allows you to embrace the modern look (and easy-to-clean nature) of minimalist white cabinets, without being left with a clinical feel.
On the right wall Toffee Apple adds warmth, while Spice Jar is a unifying, neutral option.
9. Create a chalkboard wall in your kitchen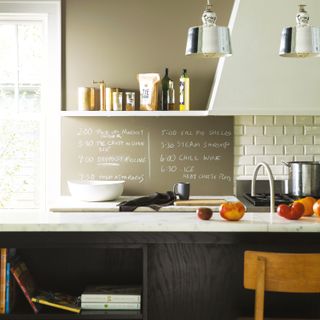 A really fun kitchen paint idea for a family kitchen is to have a wall of chalkboard paint. It might keep the kids amused under your watchful eye, or can be used to leave notes and shopping lists. Plus, chalkboard walls needn't always be black, here Benjamin Moore's Gettysburg Gray has been used as an alternative.
You can really easily DIY a chalkboard, head over to our step-by-step to find out how.
10. Stay with grey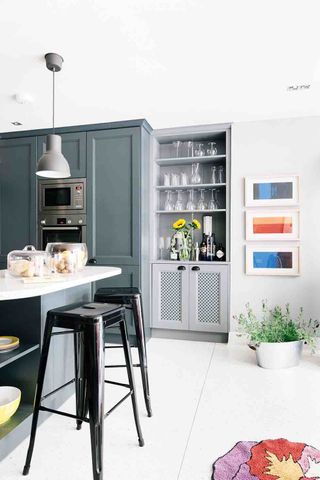 We couldn't put together a kitchen paint ideas piece without including the classic grey. Literally, will our love for this color ever end? Grey does undeniably work great as part of a kitchen color scheme especially if you want to keep things neutral but want to be a tad braver than just going for white or cream.
Try using a few different tones of grey to break up a wall of cabinetry, or choose a different color for a kitchen island. And if you want more grey kitchen ideas, we've got a feature filled with ideas you are sure to love.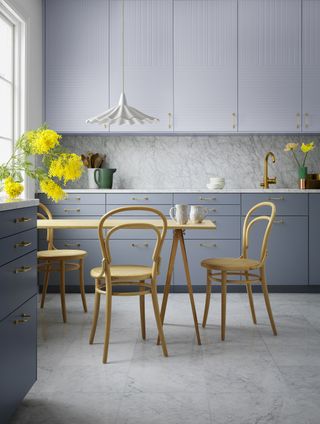 Here's another grey look, right at the other end of the spectrum. We love, love, love the contrasting painted chairs that are set off perfectly by the grey. More on how to paint furniture in our step-by-step guide.
11. Try a clashing color combo
Olive green and salmon pink? Who knew it could look so cool? To recreate this kitchen paint idea, try Farrow & Ball's Calamine and Card Room Green. And if you want more advice on how to make these contrasting colors work go and check out how you can use a color wheel for interior design and color scheming.
12. Add some retro vibes with brighter kitchen colors
Small kitchen? It doesn't mean you can go big on the kitchen paint colors! Check out @hardcastletowers brave small kitchen. For a similarly glorious turquoise try painting your kitchen walls in Dulux's Marine Splash and use colorful kitchen accessories and appliances to add even more pops of color.
Love the retro vibe of this kitchen? Go and check out more of our retro kitchen ideas.
13. Choose terracotta for a Mediterranean vibe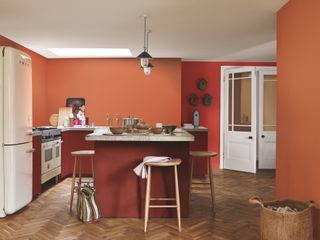 Terracotta walls are a look and gaining popularity for their earthen finish. Slightly less out there than orange itself, or than the color that graced many a home during the '80s, it's the warmer tone that is, ironically also, a whole lot cooler for kitchen paint.
We love Dulux's Toasted Terracotta, especially when it's combined with brighter reds like Dynamite Red.
14. Add warmth with orange hues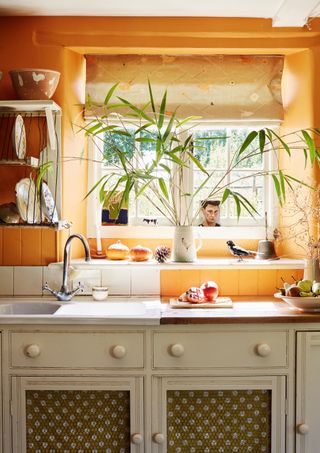 Give a north-facing kitchen a warm glow with an orange kitchen color scheme, yes we did just say orange paint. Not normally a four-wall color we know, but look how it works here in this slightly darker kitchen. Choose something more muted like Arancia from Graham & Brown, and pick a more neutral color for your kitchen cabinets.
15. Choose a black kitchen for a dramatic appeal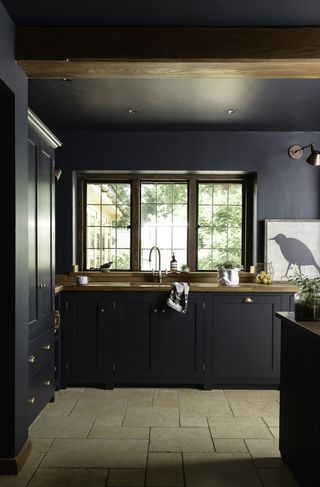 A kitchen that's stained, painted or lacquered in black makes for an astonishingly cozy and comforting space, especially if matched with beautifully grained wood for that much-needed texture and warmth. Going for this look? Ensure the room gets lots of natural daylight and that the artificial lighting is perfectly planned.
Get more black kitchen ideas in our gallery and find out how to plan kitchen lighting in our practical guide.
16. Pair pale pink and sage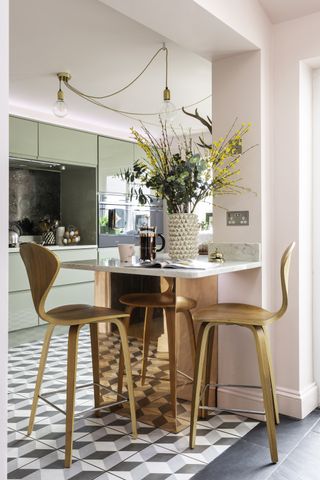 Pink doesn't have to be a bold choice, you can almost use it as a neutral shade. In this kitchen you can barely notice the pinky hues of the walls. But how gorgeous does it look with the sage kitchen cabinets and gold highlights?
Take our tour around the rest of this candy-colored kitchen and for more pink room ideas check out our feature.
17. Paint your kitchen ceiling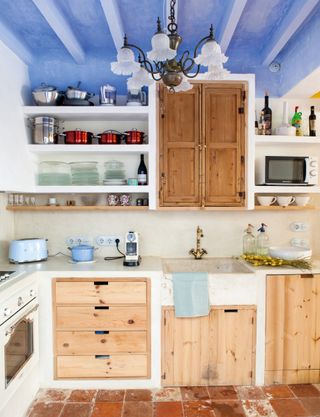 Don't forget about your ceiling when thinking about kitchen paint ideas. Keep your walls neutral and add a pop of color with your choice of ceiling paint. The chalky finish works perfectly in this farmhouse-style kitchen but you could be bolder if you are feeling brave – dark, deep colors look amazing if you have lofty ceilings in your kitchen.
Check out our guide to painting a ceiling.
18. Create a retro feel by mixing greens and blues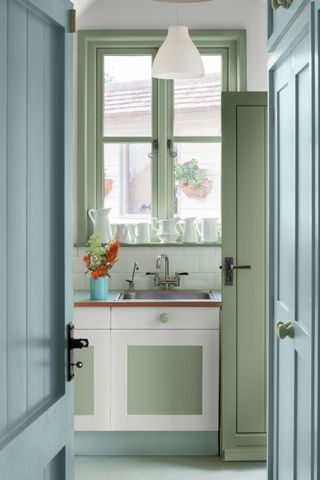 These kinds of dusty, muted blues and greens are everywhere at the moment and we love how they look in this slightly retro kitchen. Pinch this kitchen paint idea and use two different colors on your cabinets. You could even add another color for the kickback. Keep it all quite subtle and choose colors that have similar tones. Match your kitchen colors to the one above with Valspar's Dried Basil, Aerial Pursuit and Fluffy Robe.
19. Remember beige is back (and looks fab)
Yep, beige is no longer the color of rented rooms and bleak hotel rooms! It's cool again and looks gorgeous as part of a kitchen color scheme as demonstrated above with Farrow and Ball's Mouse's Back. Pair it with gold or black hardware for a really stylish look.
20. Be bold with colors even in a traditional kitchen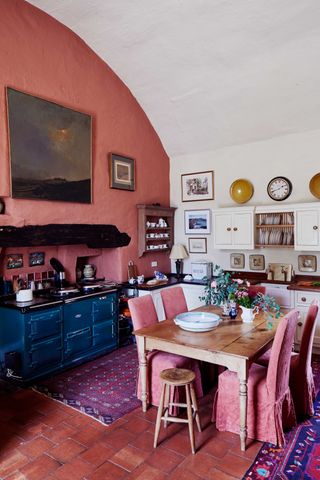 Think that traditional kitchens always have to be soft and filled with neutral colors? No way! Just check out that statement space. We are kind of obsessed with how this deep coral takes a very traditional space and turns it into something really quirky, almost a bit boho-like. The rugs and the matching chair covers only add to that cottagecore vibe and we can't get enough.
For a similar red try Farrow & Ball's Blazer.
21. Add a hint of yellow in a light-filled room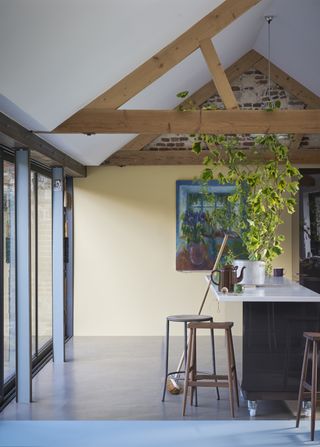 Yellow can be a tricky color to decorate with, but pick the right shade and the right space and it can look amazing. This is Farrow & Ball's Hay and it is a lovely warm, subtle yellow that would work well in a kitchen that gets plenty of light. Pair with some grey blues and wood accents for a modern but still quite rustic feel.
22. Contrast ice cream shades with jet black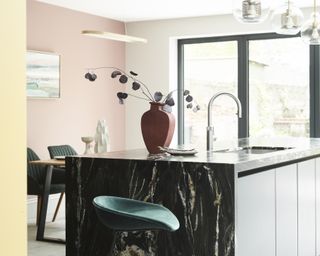 If your kitchen is feeling a little stark then warm it up with a couple of ice cream shades. It will soften real or faux DIY marble kitchen counters, or an island, but in a modern way. Add in some shades of green to add extra depth and your old kitchen will be transformed without breaking the bank
23. Earth tones are cozy and comforting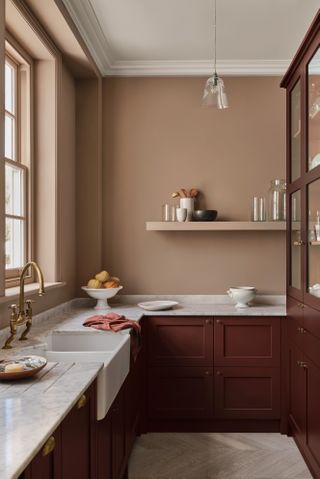 The 'new' neutrals are slightly deeper and more grounding than a pale stone shade as Andy Greenall, creative director of Paint & Paper Library explains:
'Mink' is a wonderfully versatile, warm, pink-based neutral that adds depth and warmth to kitchen walls. Pair with the enigmatic, deep red-brown 'Scarlet 'n' Rust' for a sophisticated, timeless scheme.'
24. Combine jet black with a glossy countertop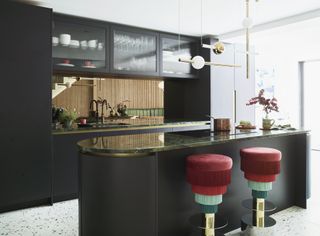 A monochromatic scheme with a difference. To make this work well ensure you have enough white to break up the black, and the finish is important. Here, the units are matt and are teamed with high gloss countertops that soften the black. Pop in an accent of ruby – how super cool are those barstools?
25. Or dial it back to sophisticated pale gray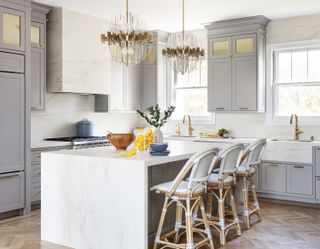 Give a gray scheme extra dazzle by accessorizing it with brass and white marble. There's nothing more glamorous than this combo but it can feel stark – that's where the brass extras come in, they lift the scheme and add a luxury feel.
26. All white is always a winner – with chrome accents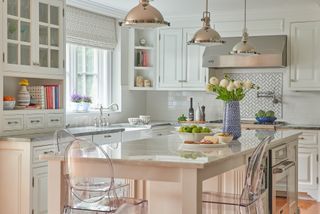 'I love warmer whites for kitchens as they are still bright and airy but add some depth to the space so it doesn't feel too clinical,' says Georgia Zikas, founder and principal designer of Georgia Zikas Design.
We have mentioned whites before because they really are a perennial favorite, but there is an interior design aspect that needs to be applied to make it work successfully and that's texture. In this beautiful kitchen you'll see plenty of textures – the backsplash under the cooker hood plus the metro tiles above the countertops, the blind and the pale veined marble kitchen island, these all add the depth that Georgia advises above.
27. A muted green will calm the senses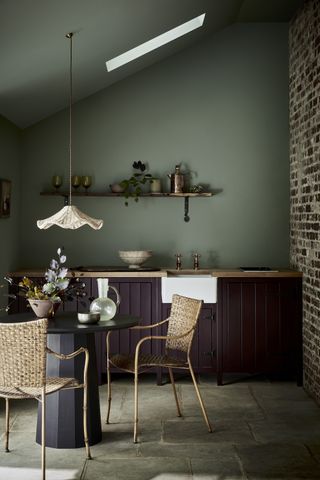 'The sense of wellbeing that we gain from time outside in the natural world has resulted in a desire to re-create this sense of connection and positivity in our homes, driving a renewed love for greens of all hues,' says Ruth Mottershead, creative director at Little Greene.
How you use the paint is key too, we love how this kitchen has both the walls and ceiling painted for an all-encompassing look.
28. Perk up white with walnut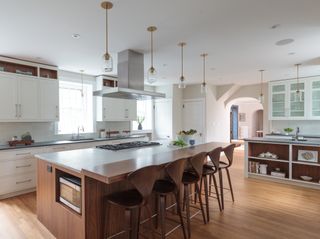 Walnut is such a luxury wood and as such needs to be used with the right paint color that allows its beautiful patina to shine. White is a great option due to its versatility, and if the ceiling is low it will lift the whole space
29. Add a zing with pop of color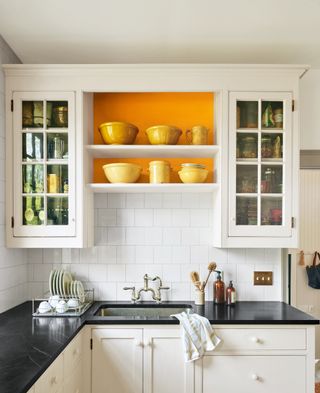 'Bolder colors are definitely gaining popularity so you could try injecting some personality into an all-white kitchen with a pop of strong color in an unusual place,' says Helen Shaw, UK director at Benjamin Moore.
Other places to consider are the ceiling, inside shelving and other pieces like a freestanding cabinet.
30. Charcoal is a great alternative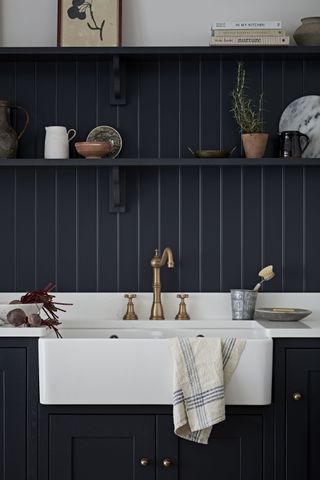 If you like the idea of a deeper kitchen paint color but feel black is too dark then consider charcoal. To give it balance use contrast as Ben Burbidge, managing director of Kitchen Makers explains:
'You can bring this idea to life by opting for a tonal look combining darker and lighter shades of the same color will provide a sophisticated finish. You can use one color for cabinetry and the other for splash backs, trim or your island. Whether opting for contrasting wall and floor mounted cabinetry or choosing an island in an eye-catching hue, mixing colors and finishes is the perfect way to make a kitchen design stand out from the crowd.'
31. Give a trad kitchen a makeover with candy pink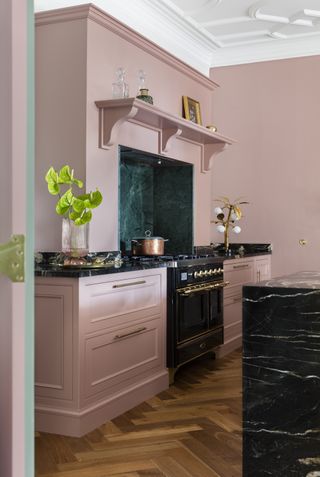 Pink may seem to be an old choice for a kitchen, but doesn't it look great here! It works well with the jade marble and the way the pink includes the shelf and coving gives the space a contemporary look. The white ceiling prevents it from being too all-encompassing as does the warming herringbone floor.
32. No time for neutrals? Choose a zesty green instead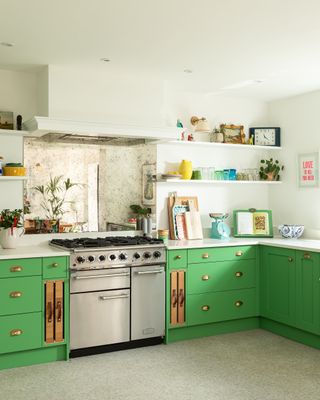 If you want to make a statement rather than a kitchen that whilst beautiful, doesn't stand out, then go for a bright color like this stunning green. Note it's only used on the cabinetry which allows the white to give the space a balanced look. Bring the green through into the rest of the scheme with accessorizes like tumblers and vases.
33. Or, go bold all over!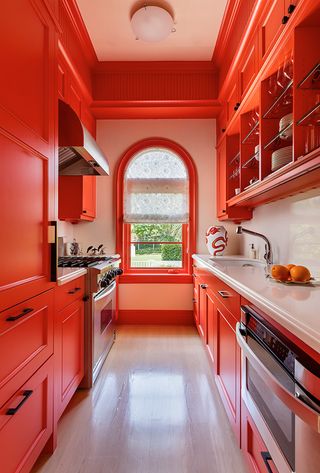 Wow – what can we say about this eye-catching burnt orange kitchen? It's truly stunning, and although not for the faint-hearted, it's beautiful. The white helps it visually as does the flooring, we love how the window is painted in the same shade too.
Which paint color to choose for your kitchen?
Dark colors, including grey and black, are popular, with wall colors often contrasting to add impact. If you would rather keep your cupboards light and neutral, a pop of color on the walls will be much easier to update, should you wish. And if you're painting your kitchen cabinetry a bold color, consider limiting it to a short run of units or a kitchen island, with a more neutral shade on the other cabinets; this will be ultimately easier to live with – and change in the future if you want a new paint color.
Which paint to use for kitchen cabinets?
Looking for the best paint for kitchen cabinets? A good eggshell will be tough enough for units, while modern emulsions will work for walls, ensuring that they are still wipeable. However, there are some fabulous specialty paints for kitchens on the market which can be a good option if you have a young family. Both Crown and Dulux have good ranges if you want wipeable, grease-resistant paints.
What are the most popular kitchen colors now?
'I think soft grays and richer whites will never go out of style. They pair together beautifully and work well as neutrals to complement any other colors you might see come through in the backsplash or countertops,' says Malka Helft, founder of Think Chic Interiors.
'I think we are starting to see some injection of color here and there, but done in minimal ways like through pendant lights, backsplashes or even kitchen islands being painted an isolated, complementary color,' says Georgia Zikas, founder and principal designer of Georgia Zikas Design.
'Because greens are fairly neutral, (they often contain both blue and red) and come in varying undertones and depths, they are incredibly versatile, working wonderfully in any room to serve as a natural extension of the exterior, giving the impression of bringing the outside in. Green is a fantastic color for kitchens, for example, a bright and bold green will create a vibrant and energetic feel, whilst a muted and more gentle tone will create a calming environment that is well suited to open plan living,' says Ruth Mottershead, creative director at Little Greene.
Should kitchen paint be lighter or darker?
'I always veer toward light when possible, as I think kitchens are a truly utilitarian room and as such, should be light & bright to help them function well as a backdrop for cooking and gathering,' adds Malka.
'There's no hard and fast rule for a light or dark kitchen. Just as with your fashion choices, you will have colors that you like and dislike, so that is always a good place to start.  Also think about the mood you want in a room: uplifting and energizing or calming and tranquil. Or, if you're going the dark route, choose a color and finish that has great warmth and depth, and reflects light well, lending itself to mixing with accents of marble, brass or brushed aluminum,' says Helen Shaw, UK director of Benjamin Moore.