Picking out the best flooring for kitchens is such an important decision when it comes to designing your space.
After all, kitchen flooring is probably the most hardworking surface in the home and needs to withstand regular staining (and therefore lots of cleaning), water spills, and temperature fluctuations.
Of course, this doesn't mean that kitchen flooring ideas can't be pretty too. With beautiful patterns and finishes available regardless of the material you choose, there's no excuse for your kitchen floor not to be a major feature of the space.
Experts at Amtico explain, 'These days our kitchens are at the heart of the home, and are an important space for cooking, socializing, working and entertaining. It goes without saying that your kitchen flooring needs to look great, but it also needs to be durable, hardwearing and easy to clean.'
To help you find the best kitchen flooring, we have put together a guide that takes you through all the options plus how to keep your choice looking at its best.
Pick out easy to maintain kitchen floor tiles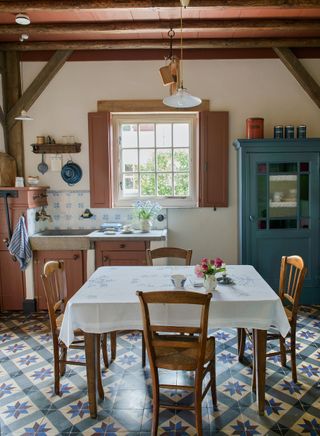 For durability and a range of visual effects, nothing beats floor tiles as one of the best flooring for kitchens.
Floor tiles come in a range of natural and manmade materials and finishes, from textured to matt to high shine. Some tiles are more porous than others – something to be careful of in a room where moisture levels tend to be high. If you've fallen in love with a tile, such as terracotta, that is porous, ensure it's well sealed, and resealed regularly.
Choose: Want real stone? Opt for slate or granite. For manmade materials, porcelain or ceramic tiles are a time-tested flooring option for kitchens.
What's the difference? Real stone has plenty of character; manmade materials less so, although they are generally more affordable and can be made to mimic other materials convincingly, such as wood.
Avoid: Limestone, which tends to scratch, and travertine, which is porous.
Design know-how: Use larger-scale and/or pale-colored and/or high-shine tiles, to make a small space feel bigger. Lay tiles diagonally rather than square on to the wall, too, to enhance the effect further. Tiles with a pitted surface are much more difficult to keep clean than those with a smooth finish.
Installing floor tiles: Is perfectly doable by DIYers, unless your floors tiles are particularly heavy and expensive, or a tricky material to cut (which some natural stones are), in which case invest in the services of a professional. Find out how to tile in our guide.
Cleaning floor tiles: To clean your tiled kitchen floor, use warm water only on natural stone, and a mild detergent on ceramic and porcelain.
Opt for the warmth of wood kitchen flooring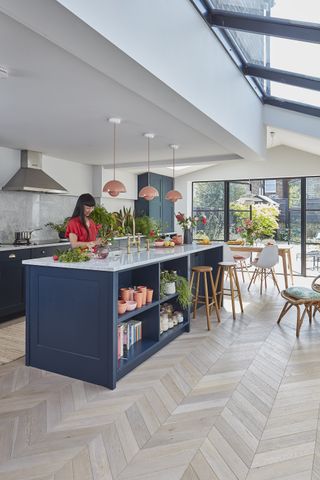 Wood flooring brings warmth and texture to a kitchen, particularly in a period home, but importantly in a contemporary home where cabinetry might be sleek and modern. However, any kitchen will always be exposed to a lot of moisture, which means your choice of wood flooring needs to be a careful one.
Choose: Engineered wood flooring, which will do much better in a kitchen – with a durable top layer, it is much more resistant to warping and movement than solid wood.
Avoid: Expensive, solid wood flooring, which can warp when exposed to water.
Design know-how: For an on-trend, expensive finish, have parquet flooring laid in a herringbone pattern. Lighter wood colors will create a more spacious feel in your kitchen, but will show dirt more quickly; white or pale cabinetry can look stunning contrasted with dark wood flooring, which hides marks more effectively. Wider boards look more contemporary than narrower ones.
Installing wood flooring: Professional installation is often recommended for a perfect finish, but as most of the ranges now come as a floating floor with a click-lock system, competent DIYers will be able to install wood flooring themselves.
Cleaning wood flooring: Clean your wood flooring with a damp mop, and avoid saturating the surface with water.
Choose laminate for a cost-effective kitchen floor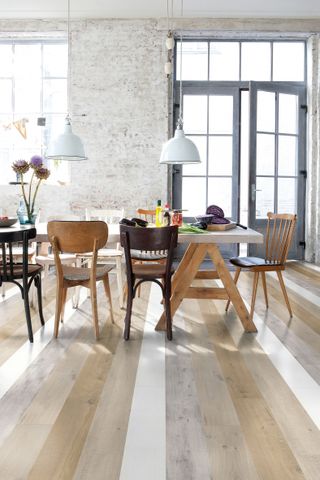 Laminate flooring has been a firm favorite for kitchens for a long time. Its main edge over tile and wood flooring is its cost effectiveness, although high-quality and pricier options are available.
Ari Ziskin at FlooringInc.com says, 'As technology improves, so does laminate flooring. You will see even more convincing wood looks and all of the current wood trends including handscraped wood looks, and distressed wood looks.'
Stain- and scratch-resistant, it's a great option for busy kitchens, but check yours copes with the room's steamy conditions before buying.
Choose: Higher-end laminate, which can have a very convincing wood or tile effect, complete with grain finishes, embossing, beveled edges and stone looks.
Avoid: The cheapest laminate, which tends to stain, warp, and peel. With laminate flooring, you get what you pay for, with cheaper options often having an overly shiny and unrealistic effect.
Design know-how: Go for a low-sheen finish, and look for the details mentioned above, such as beveled edges, to get a truly convincing lookalike. Protect your laminate flooring from damage by heavy kitchen appliances with an underlay.
Installing laminate flooring: It is possible to lay most laminate flooring yourself, as most manufacturers have updated their laminate with easy-to-fit locking systems.
Cleaning laminate flooring: To clean your laminate floor, use a damp cloth, but never a soaking wet mop, which can get water under the laminate flooring and ruin it.
Explore alternative materials for your kitchen floor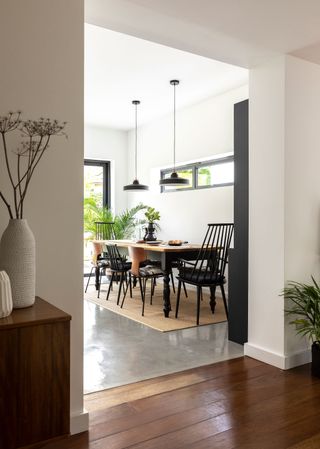 Alternative materials, such as vinyl, rubber, even bamboo, for kitchen flooring have been gaining popularity in recent years: they can be hard-wearing and water-resistant, and more cost effective than traditional options.
Choose: Bamboo, which is eco-friendly, tough, easy to maintain and more water-resistant than hardwood. Cork is another suitable option for kitchens, but is incompatible with underfloor heating. Concrete and resin flooring is a possibility for ground-floor kitchens, but will not be suitable for upstairs kitchens. Rubber can work in kitchens, but can be easily scratched, so avoid damage from kitchen appliances by placing a sheet of hardboard between the appliance and floor.
Avoid: Leather and reclaimed wood, beautiful but expensive and high-maintenance materials that will not respond well to the wear and tear that is part of daily kitchen use.
Design know-how: Poured concrete looks good as part of a contemporary open plan space. It can also be used outdoors, so offers the perfect opportunity to incorporate the same flooring throughout, connecting the garden to the rest of the house. Create a similar effect with floor tiles, from contemporary to traditional in style.
Installing alternative flooring: Bamboo can be installed with glue or as a free-floating floor, and is compatible with underfloor heating (though you will need to contact your manufacturer for temperature limits). Polished concrete tiles, rubber tiles and vinyl tiles can be laid by an experienced DIYer, but poured concrete, poured resin and rubber and vinyl sheet kitchen floors should be left to professionals.
Cleaning alternative flooring: Concrete, rubber, vinyl, resin and bamboo are all generally very low-maintenance and should be wipe-cleaned with a damp cloth.