If you've spent any time on TikTok, Pinterest or Instagram lately, you've probably heard of cottagecore, the bucolic lifestyle that's sweeping the worlds of interiors and fashion at the moment. If you're a nostalgic soul that dreams of living on an 1800s farmstead or in a thatched-roof English cottage then you are guaranteed to love it. While it might be popular at the moment, the truth is, cottagecore has roots in a timeless, homey look which will guarantee to stand the test of time and will always give your home a warm welcome.
Think cozy, historic spaces brimming with period features and filled with aged furniture, antiques and vintage finds. Handcrafted furniture in wood and wicker are a hallmark of the look, alongside handmade ceramics and plenty of vintage fabrics. To give you inspiration and a helping had for creating your own scheme we've rounded up nine key ways to capture the cottage core spirit, pulled from the pages of our sister magazine (and the ultimate cottagecore digest) Period Living.
1. Get gardening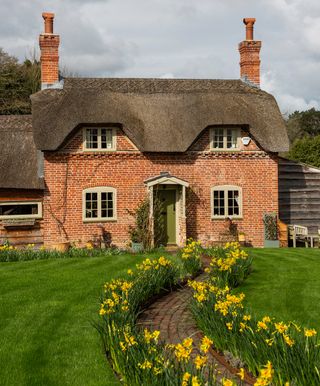 Chances are you're already a cottagecore fanatic if you've spent hours swooning over the countless picture-perfect postcard snaps of traditional English homes on instagram. From Cotswold cottages of The Holiday fame, to timber-frame thatched homes, these cottages are true chocolate box gems brimming with period features and unique character.
To give your home an insta-worthy picturesque exterior consider growing a climbing rose up the front, or around a doorway. Creating a meandering path lined with flowers to your front entrance would guarantee to give a warm cottage-style welcome, or try lining the outside with soaring hollyhocks and a quaint picket fence.
For more ideas don't miss this guide on how to create a cottage garden.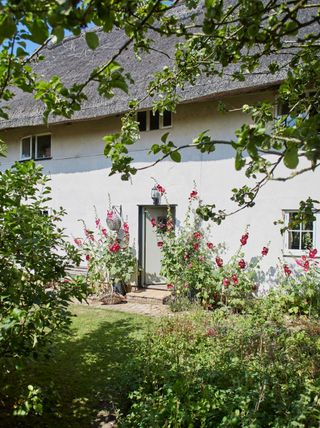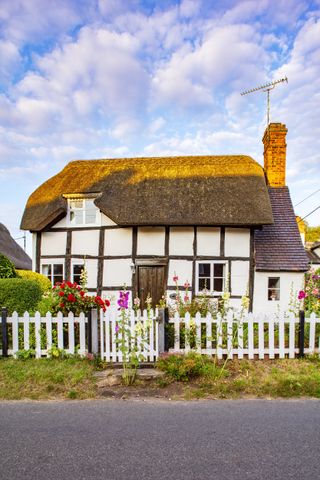 2. FILL A FARMHOUSE DRESSER WITH VINTAGE CHINA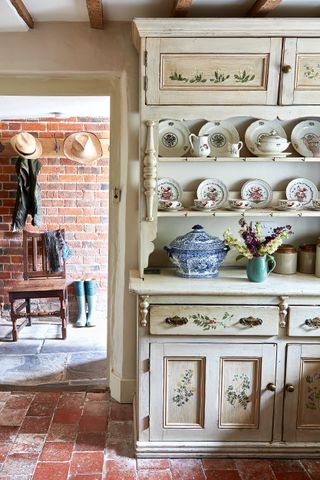 Have a China collection? If not, it's time to start one. Then, take a cue from 17th Wales,and display it all on a vintage dresser. The dresser is a mainstay of a British farmhouse kitchen and is a beautiful way to display and store collectibles and ceramics.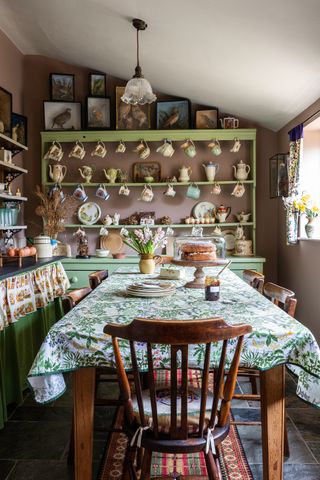 Generally you'll want a dresser with a hutch, too, for extra display room. Antique examples can range anywhere from a couple hundred dollars at a thrift shop to $1,000+ for a well-preserved antique.
3. ADD IN PLENTY OF FABRICS IN CHECKS AND STRIPES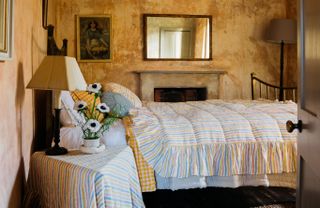 One way to guarantee cottagecore charm is by layering up vintage-style fabrics in a mix of prints; you can really never have too many, and the more ruffles and trims the better!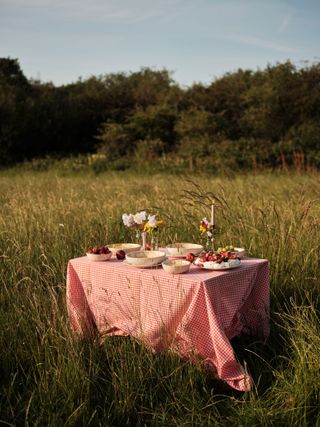 Dating back to prairie days, gingham and checked fabrics are a particular stalwart for the look. A gingham tablecloth will guarantee to give a farmhouse kitchen that quaint, nostalgic style. Or, for the perfect Instagram moment, try setting up a table in a field for an alfresco cottagecore lunch, like in the shot above.
4. CREATE A TRADITIONAL COTTAGE KITCHEN WITH A BUTLER'S SINK AND SHEILA MAID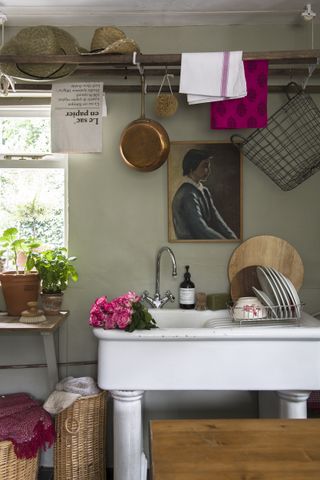 For a kitchen brimming with cottage charm consider adding in some key pieces like a butlers' sink and sheila maid. Forget today's stainless steel or seamless quartz sinks; we think you can't beat the traditional enamel versions, which up until the 1930s would have been a common sight in any kitchen. Still popular today, they come in all shapes and sizes to fit any space. We particularly like this reclaimed French design complete with its own stand sourced on Ebay. To see more of this adorable utility room and for plenty more cottage core inspiration you'll definitely want to take a tour of this Wiltshire thatch.
Looking for more cottage kitchen ideas? We've got lots more inspiring cottage kitchens to browse.
5. FILL YOUR HOME WITH FLORALS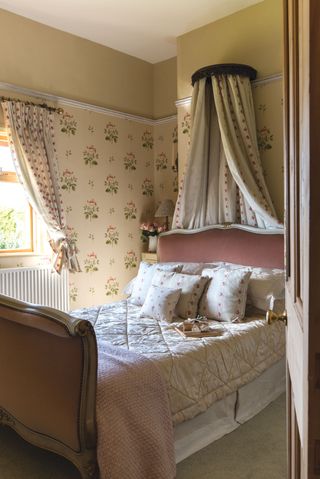 Whether on paper used wall-to-wall, or introduced on cushions and soft textiles, nothing says romantic cottage core style like floral prints. For traditional English Chintz designs try Jean Monro, alternatively for beautiful French-inspired linens try the likes of Kate Forman or Cabbages & Roses.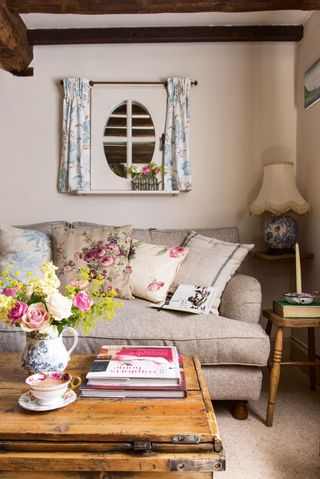 If you're cautious with pattern keep walls and furniture neutral and reserve prints for scatter cushions as demonstrated in this adorable Wiltshire cottage .
6. INSTALL A TRADITIONAL RANGE COOKER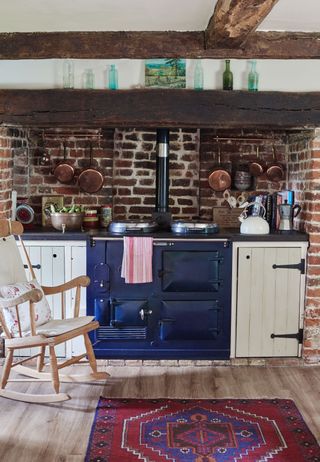 Planning a kitchen reno? Forgo cold stainless steel in favor of the warm, oh-so-cottage-y look of an enameled range. Not only are they cute, but historically a cast iron range would have been at the heart of an any British cottage. Functioning on the principle of radiant heat, it would always be on, used to cook but also to heat the house.
7. ADD A TRADITIONAL FARMHOUSE KITCHEN TABLE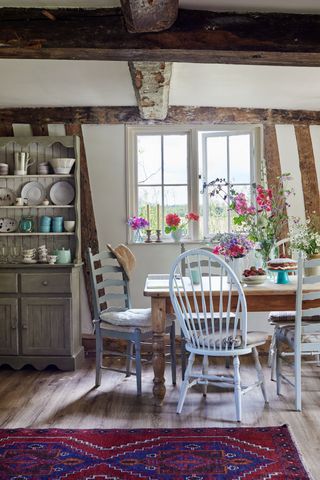 No traditional cottage should be without the farmhouse kitchen table; it's where meals are shared, homework is completed and creative plans are hatched. Historically they would have been used for preparing food, stitching and repairing... pretty much everything! For a quirky feel mix and match wooden chairs picked up from flea markets and paint them with chalk furniture paint such as Annie Sloan's chalk paint. Be sure to include some Windsor-style chairs for a true cottage feel.
Take a tour of the rest of this thatched cottage in rural Suffolk for plenty more cottage core ideas.
8. SPLURGE ON A CLAWFOOT TUB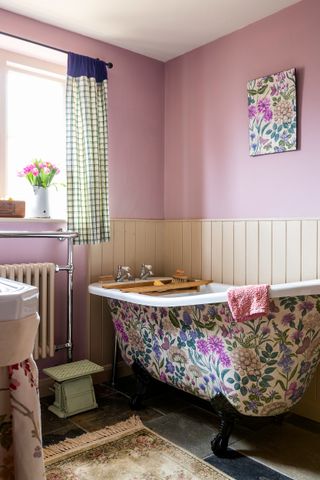 Who doesn't dream of having a luxurious soaking tub to retreat to after a long day? For a classic, vintage look choose a claw foot design. Authentic versions are enameled cast iron, but today's lighter-weight alternatives are made from modern, more affordable materials such as acrylic and fiberglass resin.
To give your tub a cottagecore makeover why not cover the outside of your bath in decoupaged floral fabric like these homeowners have done? For more cottagecore ideas, tour of the rest of this English home.
For more inspiration browse these traditional bathroom ideas.
9. ADD A GARDEN ROOM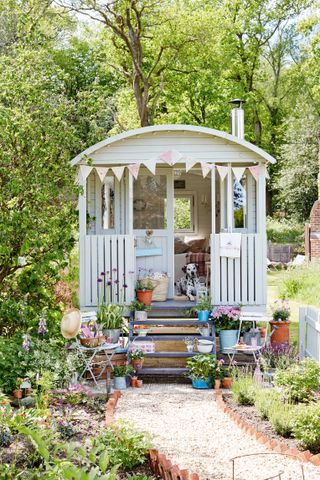 Why not get the cottagecore aesthetic outside, too, by adding a rustic garden potting shed or even your very own shepherd's hut? Historically used as accommodation for shepherds guarding their flocks, these adorable spaces can be the perfect spot to get creative or simply escape and unwind with a good book. This delightful shepherd's hut, 'Belle' is where blogger Helen Moore writes her interiors blog, what a lovely way to pass the time!
For more inspiration check out these summer house ideas.