The best kitchen layouts will ensure your space works on all levels. And now a good configuration goes much further than the golden kitchen triangle. Yes, connecting the sink, stove and fridge, considered to be the main centers of activity in the room, is a must but it's no secret that our lives have changed somewhat and that our spaces are evolving furthermore to accommodate our every household need.
Kitchens need to be both beautiful and practical in design. Whether you're weighing up the pros and cons of an L or U-shaped layout, or if you're trying to make the most of a galley configuration, there are lots of different factors to consider, and we have much in the way of inspiration.
Kitchen layout ideas that work hard for your home
You'll want to consider ease of movement for those that use the space plus, how to make it practical for cooking and perhaps entertaining. Now, kitchens are often part of open plan spaces, with a dining area, doubling up as WFH spots and possibly play spaces for kids, so the kitchen ideas you want to take on have to be adapted accordingly.
'The classic working triangle is a useful starting point but should be a guide rather than a strict rule,' says Martin Holliday of Chiselwood. 'Now, the owner's lifestyle and the specific needs of the family are the starting point.'
Take a virtual walk through some inspiring kitchen layout ideas and decide what'll work best for your kitchen design.
1. Double-up appliances on a large island for practical symmetry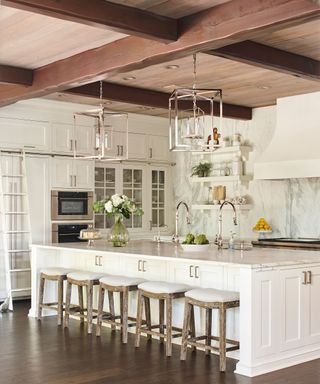 In larger spaces go big and 'stay home' with a central focal point island, balanced with double sinks and a duo of feature pendants suspended from above. Not only does two of anything up the functionality potential, but aesthetically, it creates a calming, symmetrical layout with a timeless sense of grandeur.
Mel Bean of Mel Bean Interiors comments: 'We often select classic materials and furniture and combine them with dramatic focal points. Some of my favorite dramatic points in the kitchen are the backsplash and pendant lights. The backsplash is a good place to start for the color scheme of the kitchen - cabinet color, drapery fabric, counter stools, and a rug.'
'Consider floating shelves to display functional yet beautiful items such as serving bowls, plants, ceramic canisters, vases, and a wooden tray.'
'As a space saver, design the island so stools can neatly tuck under the counter. An island is also a great place to store oversized appliances such as a stand mixer, blender, or pasta maker.'
2. Extend for better ease of movement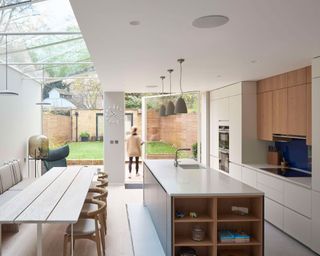 Embracing a whole new kitchen layout doesn't always mean moving home, plan a kitchen extension to open up a cramped kitchen layout into a space that can be multifunctioning to boot.
Joanna Simpson, founder of Simpson Studio comments: 'We have all spent a little too much time in our homes over the past couple of years and everyone has certainly felt the temptation to move house. However, this isn't always possible. With a new kitchen, your home can feel like a completely new place, which is a feeling we love creating for our clients.'
Keith Myers of The Myers Touch, agrees: 'The great thing about extending is the opportunity to create a brand-new feel to your home. Open-plan extensions are a great way to release free space and create flow with clever zoning areas to fit all your furnishings or contrasting wall coverings can help to define areas for cooking, dining, and relaxing.'
3. Create room in your working zones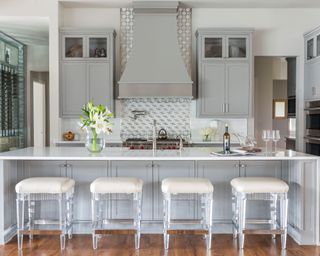 Lance Thomas of Thomas Guy Interiors, advises: 'Ensure proper space near the refrigerator, sink, and cooktop - not just to comfortably walk around but take into consideration how you use the space. Where do you eat - in the kitchen or the dining room? Do you entertain? The kitchen is often the central gathering space of the home, so all of this has to be considered in the design plan.'
4. Zone an open plan layout with a two-tone scheme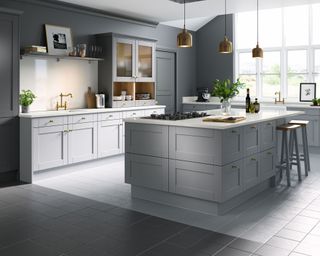 A duo color palette can add depth, contrast and visual interest. In open-plan kitchens, where you want to retain the sense of flow, spaciousness, light and floor space, whilst giving functional areas a 'task zone' feel, different color blocks work beautifully, adding definition that doesn't disrupt as would a physical boundary like a wall or door.
5. Maximize natural light to open-up a narrow galley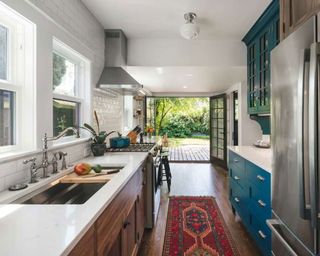 Galley kitchens by definition (and namesake), are confined, corridor like spaces that can easily feel a smidge claustrophobic and confined. A great way to combat this hide-and-seek look and feel, is to bring in natural daylight wherever possible, and experiment with kitchen window treatment ideas.
Windows, skylights and glass paneled doors (even if not in direct situ of the galley space) will optimize natural daylight, instantly creating an outdoor-in vibe for an enhanced space with a mindful, nature-nurture nudge. Imagine watching the trees talk whilst getting involved in some cooking therapy, or stargazing through the skylight at night whilst doing the dishes - dreamy.
Home expert Richard Petrie at Thomas Sanderson, comments: 'Maximize natural light by hanging window furnishings like blinds which offer the perfect balance of light and privacy. As natural light can only get you so far, be smart with your artificial light by having a mix of overhead and accent lighting, for example strip lighting is a great option for kitchens to save floor space and make your room feel bigger.'
6. Create a space for entertaining with an L-shape layout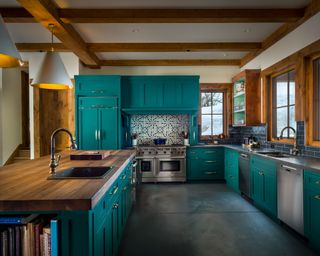 There's a lot of L-ove for L-shaped kitchens. This versatile and sleek design uses two adjoining walls to unite the kitchen space, keeping the central area open for a lofty feel, or primed and ready for a focal point, social hub kitchen island idea.
Natalie Zirbel's, Zirbel Architect, comments on L-shaped kitchens: 'As our workplaces have also become our homes the function and feel of our spaces must live up to these new demands. Having an L-shaped kitchen can provide function as well as save space which is why this layout is most popular among clients.'
She continues: 'This design is very flexible and can be adapted to many styles and sizes of kitchens. Plus, it is the most practical and efficient in terms of workflow. Many people have been spending more and more time in the kitchen as it has become a social center within the home, so lots of space for gathering is imperative for entertaining your guests.'
7. 'Melt' your small U-shaped kitchen into your living space with an ice cream pastel palette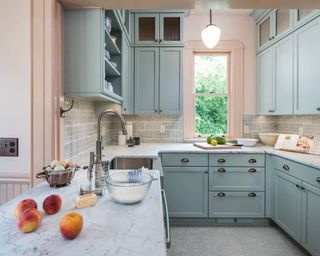 Don't let a snug U-shape kitchen cramp your style (pun intended!)
Pastel shades effortlessly blend into any space, radiating warming, positive energy. As the 'new neutrals' of the nouveau 20's, incorporate pastel palette kitchen ideas to add color, calm and playful personality. For a cool twist, coordinate tonal shades, for instance mint and blush, across cabinets, walls and furniture.
Charlotte Radford, Senior Product Manager at Valspar says: 'Colour plays an important role as it can completely change the way you perceive a room, especially when it comes to size. If you have a small kitchen and you want to make it feel airier, matching the colour of the cabinets with the adjoining wall will 'stretch' your room making it feel wider. Another tip is to choose a clear shade such as green or yellow as it will make your room look larger and brighter. If you want to take a bold step further, paint your kitchen chairs in the same colour as your wall and cabinets with a contrasting table to create a focal point.'
'Specifically, the color trend is moving away from all-white or all-gray kitchens to the use of more color, especially nature-inspired hues of green, blue and brown,' comments Barbara Miller, design director, Neil Kelly.
8. Play with height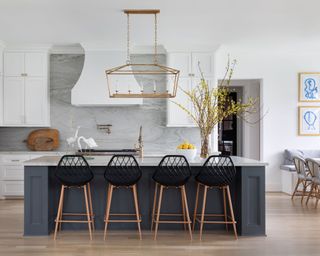 Shake things up with kitchen island color ideas to create a striking focal point. Mary Patton of Mary Patton Design comments: 'I'm very into white kitchen cabinets and painting the island a fun color to make the space pop. Most all shades of blue are universally popular in kitchens. I like to pair this combination with brass or gold plumbing, fixtures, and hardware.' It's not just color that can trick the eye with a kitchen layout, but ensuring you're using the vertical space to your advantage in the way of island seating is a clever design trick to make the most of your space's configuration.
'Regarding the island space, start with the height of the counter and subtract 10-12 inches -- that's where the seat of your chairs or stools should be for comfortable seating.'
9. Balance form and function to reflect your lifestyle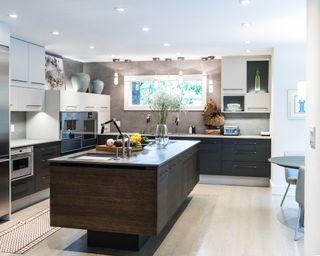 It can feel overwhelming when considering your kitchen layout. With so many elements to puzzle together (kitchen storage ideas, counter space, appliance type and location, traffic flow, dining area, sink size and location, budget, even windows - the list goes on…), it's easy to lose sight of the end goal.
It's important not to let form (the aesthetics) follow function, and visa versa. The correct layout should be tailored to suit your lifestyle and space, making it a truly individual haven that makes day-to-day living a honey-sweet breeze. Let's face it, in this digi-fuelled, manic-paced world, we need all the help we can get!
Susan Serra of Susan Serra Associates, Inc. comments: 'Having adequate traffic flow is critical and should be designed for the kitchen being 'under pressure' with multiple family members and/or guests. Space allocated to the dining area is also important as ample space surrounding seating and the table is conducive to people feeling comfortable and lingering at the table.'
She continues: 'Workstations can be designed for specific needs such as a coffee area or wine station or they can be designed for multi-function activities such as an island used for baking, kids' projects or dining. A comprehensive interview of the family's life in the kitchen will reveal both needs and wants for the new kitchen.'
10. L-shaped kitchen with a round dining table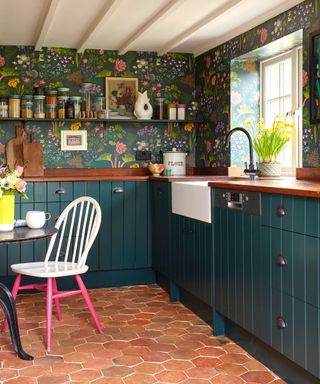 An L-shaped kitchen design, where cabinets are placed at right angles to each other, is one of the most practical layouts for a kitchen. Add a round dining table or island to make the space the social hub of the house.
11. An L-shaped kitchen with island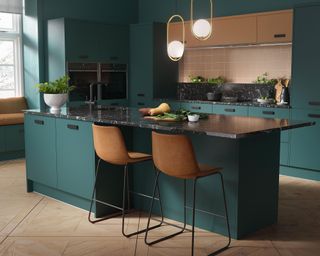 Experts at Howdens explains, 'Fitting neatly into the corner of a room, an l-shaped arrangement can free up floor space for a more open feel or to accommodate other essentials, like dining.'
Adding an island not only adds even more storage and worktop space, it will also work as a beneficial partition for open plan designs.
12. Single wall kitchen with an island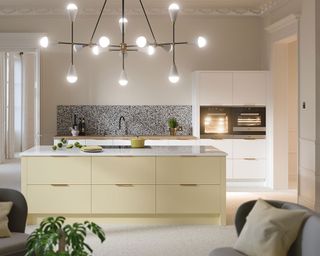 An island unit can be the key to integrating a kitchen into an open plan space, as they are placed centrally but within easy reach of the oven and sink.
If you're limited to one wall for kitchen cabinets, an island will give you that extra space to allow you to face into the room and join in the conversation while preparing dinner.
13. A U-shaped kitchen with a peninsula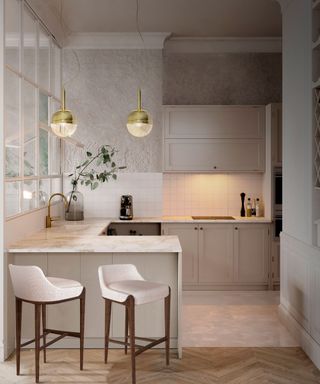 If you are planning a small kitchen design and an island is totally out of the question, adding a peninsula to a u-shaped kitchen is a failsafe option.
You'll add a few extra cabinets to your kitchen, you'll provide a mini breakfast bar area and will also help divide an eat-in kitchen without dominating the space.
14. Long and linear kitchen layout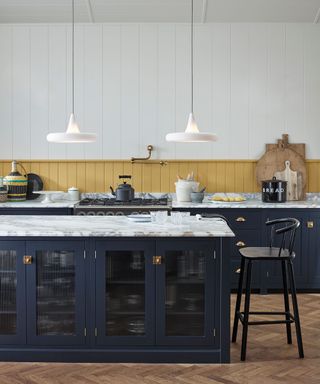 If you've got the luxury of a lot of space and high ceilings (everyone's dream), why not keep cabinetry below decks or under countertops to keep your space open and airy?
You could add statement kitchen island lighting to accentuate height and if you feel you'd like a #shelfie or two, you could incorporate simple open shelving to show off your prized kitchenware and cook books.
15. A curved island in an open-plan space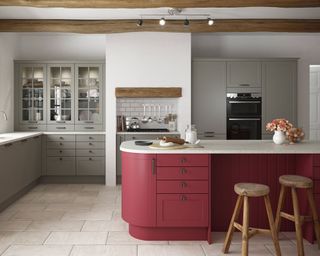 Round island units have been adopted by many designers. 'Placed in the middle of the room, they really are the hub of the home,' says Janet Wallace of Smallbone.
'Curved shapes are always good in an open plan space because they accommodate the flow of people moving around much more easily.'
16. A chef's kitchen layout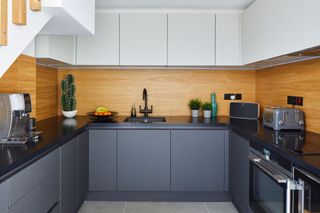 U-shaped kitchens are perfect for those who have a passion for cooking, as the u layout promotes ease of access to all of the crucial cooking areas of the kitchen.
You'll also create the maximum amount of worktop and storage space by optimizing on the available kitchen space.
Experts at Wren say, 'Not just reserved for large kitchens, small and relatively narrow kitchens can often take the U-shaped design as well. There is a limit, however, and these smaller kitchens should only feature this amount of work surface if there's enough room for someone to prepare food with total ease.'
'Larger square and rectangle kitchens have more flexibility when it comes to the U-shaped design. The U-shape can be installed in one part of the kitchen, leaving space for a dining area. Or even giving the opportunity for a central island – a favorite with many who have the choice.'
17. Effective open plan kitchen zoning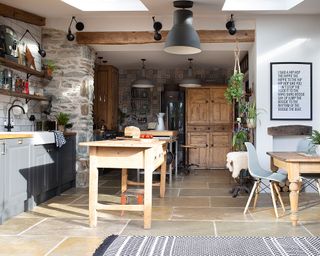 Zoning is one of the best ways to deal with multifunctional open plan living so spaces for different activities are arranged in a logical way to ensure that the room feels comfortable and works well.
Visually, a kitchen that is part of an integrated living space should blend with the rest of the room and one popular way to do this is by mixing colors and materials.
'Often the cabinets around the walls are painted one shade with a different color or natural wood chosen for the island to make it more of a feature,' says John Stephens of Rencraft.
Light toned woods such as oak in natural finishes are currently the most popular but walnut and other dark woods are a sophisticated alternative.
18. Make use of space for large pantry cabinets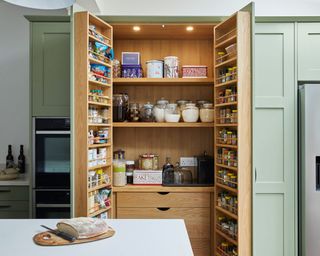 Although islands incorporate some storage space, the main cupboards in any kitchen are usually arranged around the perimeter of the room and tall larders are a more practical solution.
'We install big larder units in about 80 percent of the kitchens we design', says John Stephens of Rencraft.
Janet Wallace of Smallbone agrees adding, 'Larders can provide storage equivalent to 12 wall cupboards.'
'People tend to be much more adventurous with their cooking now so they need to keep a greater selection of cookware and an array of herb, spices and ingredients to hand. A larder is the ideal solution as it has space for them all.'
19. Integrate the kitchen with the look of your home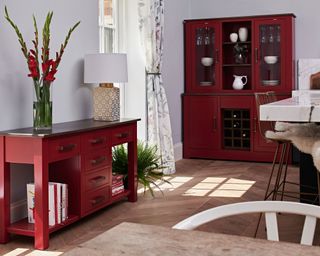 Successful kitchens are designed to integrate with the house, as well as the room, in which they are installed.
Glyn Rodmay of Cotteswood says, 'If you live in an older house, try to choose a kitchen design that is sympathetic to the material your home is made from and its style of architecture.'
20. Galley kitchen layout with dining table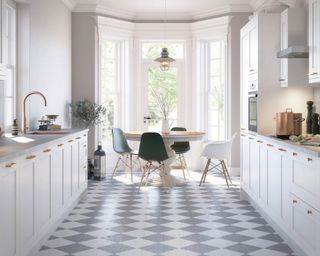 Named after the cooking areas aboard a ship, the hallmark of galley kitchen designs is two parallel runs of cabinetry with a narrow corridor in between and are common layouts for small kitchens.
Experts at Howdens explain, 'Making the best use of space has become crucial to homeowners, which is why many households are looking for galley kitchen ideas to create a small and efficient layout.'
21. G-shaped kitchen for extra countertop and storage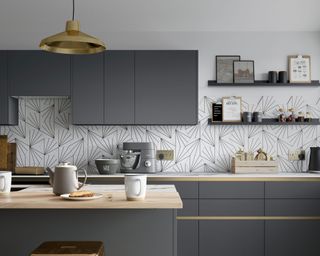 As the name suggests, a G shaped kitchen design has four sides that resemble the letter 'G.' They are very similar to U-shaped kitchens, except there is usually a jut or peninsula that adds a little extra countertop or dining space.
Magnet's experts explain, 'Like with every kitchen design, there are G shaped kitchen advantages and disadvantages. Think about the size of your space and your lifestyle requirements before committing to this particular layout.'
22. Kitchen with island and integrated dining table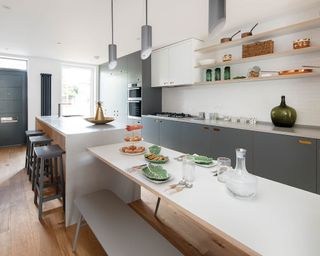 If you have a long, narrow area to work with, why not use the length to your advantage by streamlining a slim island and a slim table with benches for dining?
The benches can be tucked under the table when not in use to keep the space clutter-free and accessible.
23. Multifunctional split-level kitchen island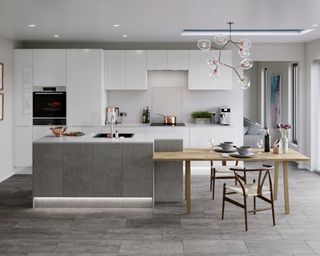 Some island units have a raised countertop and tall stools for breakfast, or so guests can sit and chat with the cook, and others have a drop level surface that can be used as a home office or a desk for homework. A kitchen island doesn't just have to house units or bar stools.
Add a split level island with a multifunctional table that could act as both a dining area or a desk where you can comfortably work from home, within arms length of the coffee machine.
What are the different types of kitchen layouts?
Al Bruce, founder of Olive & Barr comments: 'A one wall kitchen is ideal for those with a smaller space that still want an impactful kitchen. The simplicity of a one wall layout is that you can maximise efficiency without compromising on functionality. You need to think vertically and create as much extra storage space as possible by utilising the height of your walls.'
'L-shaped kitchens are equally as good, the layout is one of the most practical and versatile options you can go with. It is perfectly designed with practicality and flexibility at the forefront and the style allows for space-saving storage solutions and the use of every corner of the kitchen.'
'Lastly, a galley kitchen instantly offers more flexibility especially in terms of storage space, as the layout is made up of two rows of cabinets facing each other to create a galley between them, removing the need for corner cupboards in favour of using every millimetre of space.'
'Island kitchens are arguably the most popular kitchen layout option right now, especially in open plan living spaces. However, this option relies heavily on having the space, so aren't always the most efficient option for smaller kitchens.'
Which kitchen layout is the most functional?
Darren Watts, Wren Kitchens design director, comments: 'A common kitchen layout, the L-shape is a classic and sleek design that uses two adjoining walls to bring the kitchen space together. Keeping the central part of your kitchen space clear, allows homeowners to install a kitchen island for extra workspace, or to keep clear for a fresh and open feel.'