Have you ever walked into a house and thought, 'This is the one'? If you're lucky, you'll know that feeling of being instantly at home in a property, no matter what state it's in.
For Jason and his husband, Kevin, the instinctual attraction to their Victorian Brighton home led them to snap it up immediately, despite the huge renovation challenge it posed.
It's that connection, and Jason's passion for interior design, that speaks through the couple's home. Taking careful steps to retain the period characters of the property and decorate in keeping with its era, they've restored the house's grandeur – yet they've not been afraid to bring it into this century, too, with modern glazing and striking contemporary art.
Read on to find out how they did it, then head to our completed projects page for more real-life inspiration.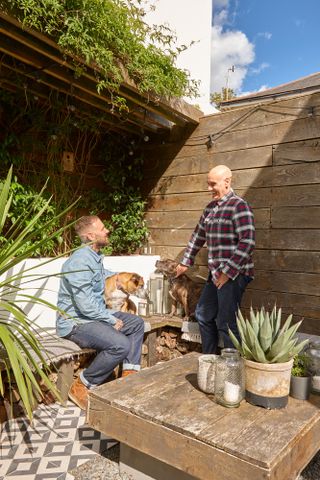 Project notes
The owners
Jason Traves, a retail designer (luckyfox.uk.com) and interior consultant, and his husband Kevin Petre, who works in corporate business travel
The property
A three-bedroom Victorian terrace in Brighton
Total project cost
£92,200
Jason says...
'This house was so run- down when we bought it. Not much had been done for a long time and it needed a lot of work – plastering, rewiring, replacing windows and doors, knocking walls down – but the moment I stepped inside, I fell in love. I remember saying to Kevin, "Let's do it!"
'I've always liked Victorian architecture, so I wanted to keep true to the era. We chose colour schemes and materials that would reinstate the character taken out over the years – lots of black, inky green and dark red. That was our starting point, and then we started having fun with it by adding layers. We have a lot of provoking religious pieces around the house. I like things that are talking points rather than just pretty pictures – lots of skulls, and pieces that mix up religion and art.'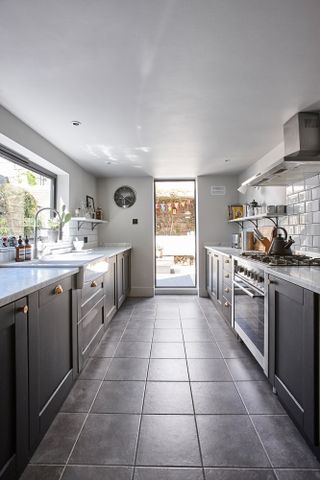 'The biggest project was the loft, which is our master bedroom. Instead of traditional Victorian sashes, we opted for super-modern double-glazed aluminium windows. They make the space feel bigger, and they frame the view brilliantly. Being at the top of the house, it made sense to capitalise on light. We have walk-in wardrobes under the eaves, which we squared off with doors so they feel like a separate room.
'We worked with a builder I know through work, and lived with their team for six months. They stayed with us to keep costs down as they were based in London. Living through the work was challenging, but it was interesting getting to know every inch of the house.'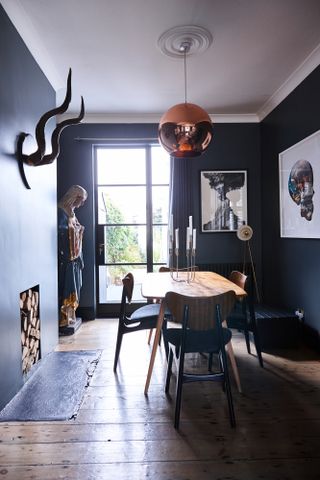 'I budgeted £50,000 for the whole house, excluding the loft conversion, but we went slightly over on both. As we went along, I wanted to add things on – a marble hearth, a log burner in the loft. We didn't employ an architect or designer, though, so we kept costs low there. We spent money on the finishing touches, such as art, and the little things that get used day-to-day, like beautiful brass handles and light switches, and saved on things like kitchen units.'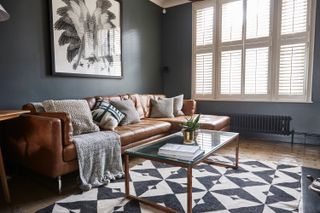 'There's always something on my list for our next project. Kevin gets irritated with me; I'll decorate a room, then stay over at a hotel or go to someone else's house, and it makes me think, "Maybe I want to change the colour in the living room." Kevin's like, "We only just finished it!" We'd like to extend the kitchen, but at the moment, it's just the two of us and the dogs – so it works for us.'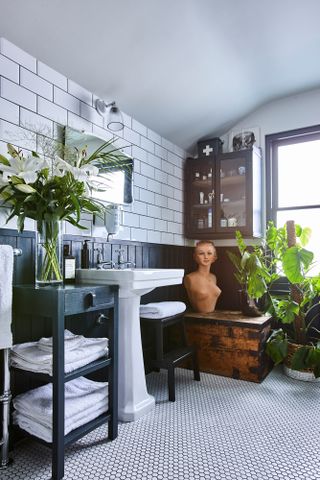 More from Real Homes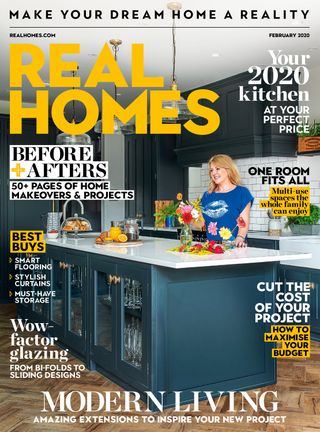 Love your daily dose of Real Homes? Then why not subscribe to our magazine? Packed with fabulous readers' homes, trend features, project advice and easy updates, you'll wonder how you ever lived without it.
Kevin says…
'It's been an easy process for me – all I have to do is say yes to whatever Jason proposes! He has a clear vision of the house and how it should look. My role is doing what I'm told – prepping walls and surfaces, ripping things out, painting, shifting furniture. I nearly slipped a disc carrying the Aston Matthews bathup the stairs to the bathroom.
'We have very different ways of seeing things. I'm analytical and all about the detail, so I'll find myself focusing on the little things. Jason can see the whole space and the changes that need to be made to pull something together. I'm in awe of that – I just can't see it until I'm in the room. It's really hard to visualise something the way he does.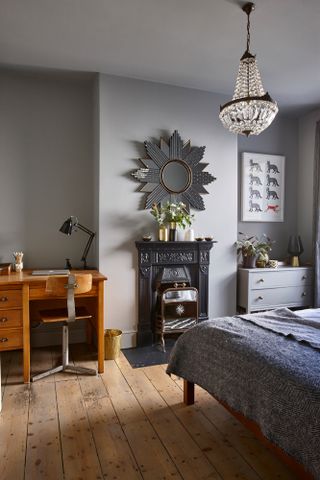 'I work a lot from home when I'm not travelling, so it's important for me to be in surroundings that I love. The house is such a relaxing space. We have the fire on a lot, which helps – Jason loves it and he'll find any excuse to put it on, even if it's the middle of July. There's definitely something about a roaring fire, but it's still hard for me as someone from up north – I'm used to the cold!'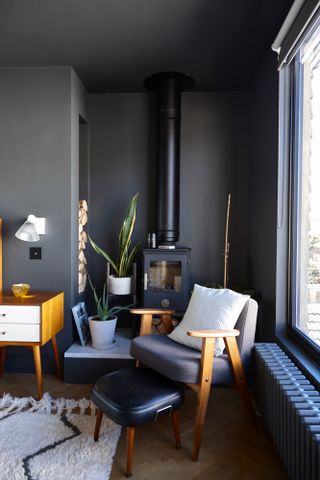 'My favourite part of the house is the loft conversion. The light comes in on one side over the hills, and it casts the most gorgeous colour across the roofs of the houses. There is a Crittall window on the other side of the bed, too, which is like having a massive pane of light. The room can either be dark and cosy, like a snug, or like a wide-open space – it's perfect for a bedroom.'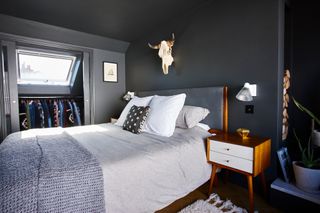 'For the amount of work the house needed in the early stages, it's all been so well planned out. Compared to the flat we lived in before, we have so much more room – it's perfect for family and friends when they come over. I spend much more time with my family now than I used to. I'm not sure what's next for the house – but I'm sure Jason's got his own ideas…'
Contacts: