Your kitchen might be compact, but it can still offer all the functionality and good looks you're after. What's more, a great small kitchen design can make you feel like the room is a whole lot bigger than its square footage suggests. (For small kitchen ideas to get your decor on point, check out our feature.)
The key to a great small kitchen layout is good planning to ensure the room meets all your needs, includes the storage required for food, cookware, tableware and appliances large and small, and has an efficient floorplan that makes preparation, cooking and dishing up a streamlined process.
Experts at Magnet explain, 'Your floorplan isn't just about the layout of your space. It's also essential to think about your work triangle. One of the benefits of small kitchens is that you can easily access all areas of your space, making cooking and cleaning efficient. Try to place your cleaning, cooking and preparing areas into three separate zones, with plenty of floorspace in-between.'
To make your kitchen design successful, our guide has all the advice and expertise you need. From layouts to costs and budget ways of designing your small kitchen to perfection, we can help.
Small kitchen design and layout ideas
From choosing the best layout for a small kitchen to selecting the most space-enhancing colors, follow these tips to design your tiny kitchen successfully.
1. Draw up a floorplan for your small kitchen design
If you're working with a kitchen designer or architect, they'll create a scale plan of your small kitchen design, but it's perfectly possible to make your own using graph paper.
Measure the kitchen's dimensions and decide on a scale for your plan. Remember that the window or windows of the small kitchen need to be marked on the plan as well, along with door(s). Of course, if it's part of an open-plan kitchen-diner, it may not have these, but do include the other zones of the room on the plan, too, so you can see how the small kitchen area relates to them.
With the plan you'll be able to see where base and wall units can go, how your essential elements fit, and whether the would-like-to-include features can find a place in the small kitchen.
2. Select the best layout for a small kitchen
There are a number of layouts to consider when you're planning a small kitchen. Take a look at the options when you're wondering how to design a small kitchen layout.
Galley kitchen layouts
Often, a small kitchen will have a galley layout with units along just one or two facing walls. If yours is the narrowest of small kitchens, there might be space for only a single run of units along one wall. But if it's sufficiently wide, a small kitchen will be able to accommodate a second run of units opposite.
The same layout could work if your small kitchen is part of an open-plan space, with the opposite run of units created by a kitchen island (use this feature for design inspo).
A galley kitchen is an efficient small kitchen layout. Bear in mind these points:
Where there's a double run of units and the kitchen leads to somewhere else and younger family members will be passing through, it's safer to keep sink and hob on one side.
If passing kids aren't an issue, positioning the sink opposite the hob with the fridge as the third point of the classic kitchen work triangle is efficient.
Even if there's only space for a single run of units, it may be possible to fit a narrow worktop on one side of the room, creating a breakfast bar or just extra prep space.
U-shaped kitchen layouts
U-shaped kitchens can work well for small spaces. You can easily create an efficient work triangle with the cooker, fridge and sink on each of the sides. Consider these points:
To avoid a closed-in feel, think about open shelving or glazed wall cupboards, at least on one side of the U.
Make the most of the corners with specially designed pull-out interiors for the units located there.
If the U isn't even on both sides, put the hob on the longer run for maximum worktop space either side.
L-shaped kitchen layouts
Practical in small spaces, L-shaped kitchens are often part of an open-plan kitchen diner. Bear these points in mind:
Locate the oven and hob on one section of the L and the sink on the other.
If the window position allows it, use the longer wall for wall units with oven and hob in the same run. The sink will sit comfortably under the window.
If you're planning an L-shape in an open-plan scheme, be aware that you'll have your back to family and friends when you're working.
Tall units, including a built-in fridge freezer, work well on the shorter part of the L (if the window's not in this position).
3. Decide on the final look of your small kitchen space
Once you know what you want to include in a small kitchen design, and the way in which cabinetry and other elements are going to be arranged, think about the style of units.
To maximize the feeling of space in a small kitchen, dial down the detail on kitchen cabinetry. If you're after a contemporary kitchen look, flat-fronted units will fit the bill – handless cabinets are ideal and are great for very small kitchens, ensuring there are no protruding handles.
Don't fret if you prefer a more classic look. Shaker-style kitchens have a paneled front that's unfussy by design, so they'll prevent a small room looking hectic with detail.
Reflective finishes will make the most of daylight and artificial illumination, helping a small space feel larger than it really is. Think high-gloss units or even stainless steel. If those aren't your favorites, though, flatter finishes or painted units in pale colors will also brighten in a space-stretching way.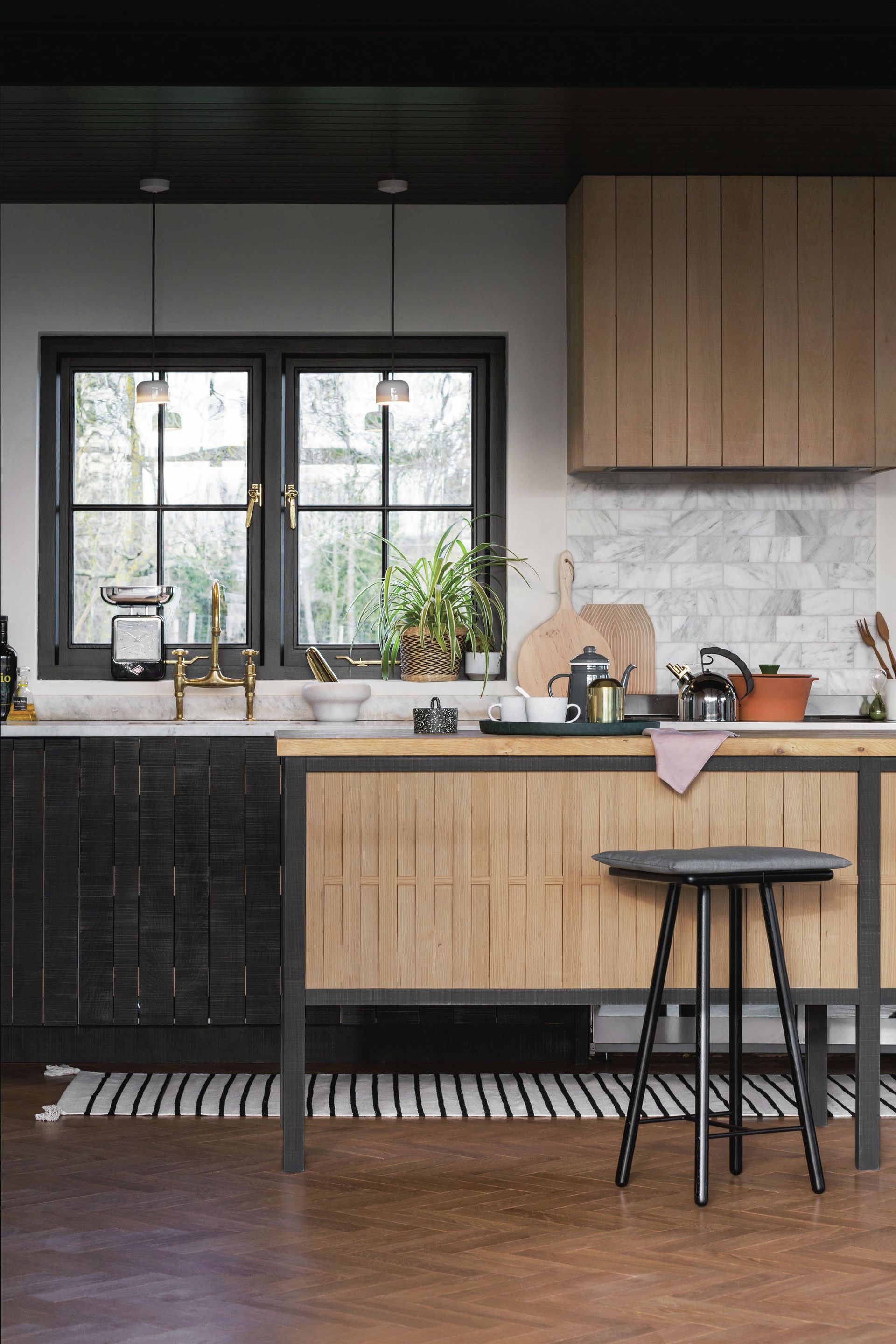 4. Select the right cabinet color
This is crucial. And, white is a winning choice in small kitchen designs because it'll help bounce light round the room and make it feel bigger. Pure white looks contemporary, or you can opt for creamier tones for a softer effect. Find white kitchen ideas in our design gallery.
Colorful kitchens that are small are best kept to paler tints. Think light greens, blues or greys if the room's short on light.
Got a small kitchen with roof lights or a high ceiling and tall window? Then color choices expand. Darker tones of grey and blue won't close the room down if there's plenty of daylight.
Want to create extra interest in a small kitchen? Consider teaming white wall units with darker base units, or pale wood cabinets on the walls with white units below. The light-reflecting surfaces you do include will keep the room bright.
5. Choose the ideal small kitchen counter top
Light's your friend when the goal is to make a small kitchen design feel more generous in size, so reflective work surfaces can be the best kitchen worktop option in small spaces. Pale natural stones can look spectacular in a small kitchen, adding character as well as bouncing light round. Manufactured composites also come in colorways and finishes that can boost the light.
Less costly laminates can pull off the same tricks in light colors. Or why not go for stainless steel to give the kitchen a professional edge and keep it bright?
Alternatively, in a well-lit small kitchen, you might want the warm contrast of wood against white or nearly-white units.
6. Select the best window treatments for a small kitchen
Window treatments for a small kitchen design need to be able to withstand the atmosphere and be easy to keep clean. They also need to be as space-efficient as the rest of your choices for the room.
Window shutters make the grade on both counts because they can be wiped clean, and because they fit the window exactly, so there's no dangling fabric if they're above a sink, for example.
Other possibilities include kitchen blinds specially made for high-condensation rooms. If the kitchen faces the garden, window film, which is applied to the glass, can ensure sufficient privacy.
7. Be selective with a small kitchen backsplash
A great kitchen backsplash can help make a small kitchen design feel more spacious as well as doing its wall-protecting job. Glass is barely-there and will reflect light, while high gloss tiles make more of a feature but can still help brighten. Don't like tiles that are high shine? Match a less glossy version to the wall color and take the tiles just a minimal distance up the wall for a more expansive feel.
Try more unusual ideas, too. A mirrored backsplash can trick the eye into seeing the room as bigger. Make sure you buy a design made for the job – it must be toughened.
In country kitchens, vertical panelling can bring a fresh twist to wall protection, and because of the orientation of the planks, make the ceiling feel higher.
8. Choose the best lighting for your small kitchen design
A solid kitchen lighting scheme is essential for not just looks but also safety when you're working in the kitchen, and when done well, it will make the room feel larger as there will be no areas lost in shadow. Concentrate on the three types: ambient, to light up the whole room, provided by ceiling lights; kitchen task lighting, for work areas; and accent, to highlight specific features.
Pendant lights over any breakfast bar are still a good idea in a small kitchen to add to the overall aesthetic. Choose smaller versions than you would in a bigger space and they'll look in proportion to the room's dimensions.
9. Factor in small kitchen flooring
The full range of kitchen flooring types are suitable for a small kitchen design, but as well as selecting for practicality and looks as well as according to your budget, you may want to use the flooring to make the kitchen feel larger.
Large format tiles with a rectified edge and in a light finish can help the room feel bigger as there are fewer visible grout lines breaking up the floor.
An uninterrupted expanse of vinyl, rubber, concrete or resin flooring can look sleek and expansive.
Wood planks can lead the eye outwards to make the kitchen feel wider, or along the length so it feels bigger in that direction, depending on how they're laid.
10. Finally, invest in good storage
Working the most practical storage ideas for small kitchens into your design is a must, particularly with a view to keeping worktops neat and clear, which in turn will help your kitchen feel larger.
Using storage jars and more clever pantry storage ideas will all keep your cupboards neat and anything kept on the worktops looking organised.
Small kitchen design tips
Worried you're going to have to compromise from the off because of the dimensions of your small kitchen?
These small kitchen design tips will help you see the potential in your space.
Remember that while you'll have fewer cabinets in a small kitchen, you can maximize the space they offer with pull-out interiors. These allow you to use the whole depth of a cabinet without losing items at the back. Check out the ClosetMaid 3 Tier Compact Kitchen Cabinet Pull Out Drawer.
Think about the vertical space you can utilize. Wall or ceiling-hung racks for saucepans, and magnetic strips for knives, for example, can all be part of a small kitchen design, leaving the cabinets freer for other items.
Bear in mind that you can hang mugs on wall hooks, and keep the tableware you use every day on open shelving. It won't get dusty if it's needed daily.
Consider smaller versions of major appliances. There are some brilliant designs out there that don't mean compromising on functionality, but which will leave you with more precious kitchen real estate.
What to include in a small kitchen design
These are the must-have elements for a smaller kitchen space and therefor they are crucial to make a part of your design, from kitchen cabinets to taps.
Experts at Magnet say, 'Kitchens inevitably need a range of appliances to function efficiently. At the very least, you will need a fridge freezer, hob, oven and washing machine.'
'Try to plan your appliances into your space before you purchase anything. If necessary, you may need to compromise.'
Use our list to ensure nothing vital is excluded, and to help you then consider ways of incorporating more desirable features.
Kitchen wall units
Kitchen base units
Glazed kitchen display units
Open kitchen shelving
Kitchen larder units
Oven, hob or range cooker
Microwave
Kitchen sink
Taps
Extractor fan
Breakfast bar or kitchen island
Planning a small kitchen
All kitchen designs need to deliver the worktop space, cooking options, appliances and storage solutions needed to make it functional, and in a small kitchen design, it's about getting this as close to the efficiency of a bigger room. The crucial issue when you're planning a small kitchen, as you'll be all too aware, is that there isn't the same volume of space to accommodate them.
Your small kitchen could be part of an open-plan kitchen-diner, which means less wall space for cabinetry, or it could be in a compact and even awkwardly shaped separate room.
But a kitchen that falls short of your expectations definitely doesn't have to be the result. Use our guide and whether you're working with a kitchen designer, architect or builder, you can plan a perfectly formed small kitchen.
What does a new small kitchen design cost?
An average size new kitchen costs from around £3,000 for good quality units, while worktops cost from £100, and appliances and fitting can vary from a few hundred pounds to more than £2,000, according to the design. How much cabinetry and worktop a small kitchen design will accommodate does depend on the layout (see above), so a figure of £17/m² for off-the-shelf units and worksurfaces may also help you prepare a budget.
Will you need planning permission for a small kitchen?
A new kitchen doesn't require planning permission, and even if you are planning a kitchen extension, this work may be covered by permitted development.
New units and fittings don't require building regulations approval, but drainage and electrical works may.
Who can fit a small kitchen?
A kitchen company or supplier may provide a fitting service, while a specialist kitchen designer can manage everything from initial plans to the fit out, including all the trades involved. Or, find a reliable builder yourself to install the kitchen.
Competent DIYers may want to take on tasks such as fitting the kitchen units and tiling themselves.
Planning a small kitchen on a budget?
If you need to keep your spend down when you're planning a small kitchen, try these tips to save on new kitchen costs: