When moving into a first apartment, there are a lot of things that you need to make your home work for you. One room that needs way more than you think? The kitchen. Yep, there are a whole lot of kitchen organizers, appliances, and cookware that are all useful to have.

The first time I moved into a rental by myself, I came armed with a box of cutlery and a couple of scrappy plates from my time at college. As I went on living there, I found myself constantly having to dash to the store to buy things whenever I realized I didn't have them. In the words of an age-old meme, ain't nobody got time for that.

That's why I've put together a handy list of items that you might need for your first kitchen. That way, when you want to whip up a batch of midnight cookies or cook for your 'rents when they turn up unexpectedly, you won't get stuck.

So, scroll on down for all the kitchen essentials…
15 kitchen items that are perfect for your first place
Why you can trust Real Homes Our expert reviewers spend hours testing and comparing products and services so you can choose the best for you. Find out more about how we test.
Got an empty kitchen that needs a li'l bit of love? Here's everything you need to fill up your cooking space…

The prices below were correct at the time of publishing this article.
Small kitchen appliances
For when you need to bring the heat, without using the whole oven.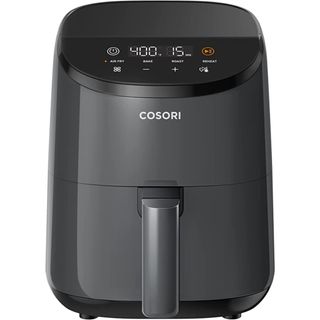 Easy to use air fryer
COSORI 4-in-1 Mini Airfryer
Capacity: 2.1 quarts
Size (in.): H10.5 x W8.3 x D10.1
Price: $48.99

Let's face it, air fryers can be real noisy. When you're watching Netflix while waiting for dinner, you don't need to hear that hum. Luckily, reviewers have found that this small air fryer is so quiet. They also love the fact it's super simple to use. Oh, and get this — it can also be used with Google Assistant. How clever.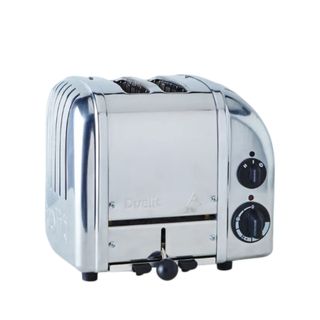 Small but powerful toaster
Dualit Classic 2-Slice Toaster
Capacity: 2 slices
Size (in.): H8.27 x W14.17 x D22
Price: $299.99

Mmm, you just can't beat a beautiful slice of buttery toast. Whether it's by itself or in panini format, it's just totally yummy. The Real Homes team found when testing this toaster that it retains heat well, heats quickly, and fits large slices of bread easily. It also comes in lots of different colors — the copper finish is calling my name, personally.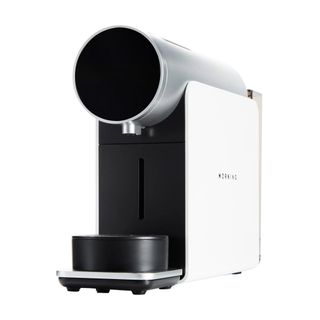 Our favorite small coffee maker
Type: Pod
Size (in.): H10.04 x W4.02 x L15.8
Price: $420

Want the beaut flavor of a bean-to-cup machine, without having one take up the whole space? This small coffee maker is perfect for apartments, as it will fit into small kitchen corners stylishly and snugly. Our ecomm editor Christina loves the fact it has 10 default brew modes, as well as its OLED screen and dial. Talk about being techy AF.
Small kitchen pots, pans, and boards
To cook up a storm, you've gotta have the right equipment.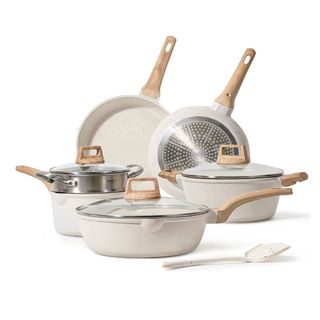 Every size needed
Carote Nonstick Pots and Pans Set
Made from: Granite
Color: Cream white granite
Price: $79.99 for 10pcs

Trust me, pots and pans don't have to remind you of your grandma's kitchen (no offense nanna, but I'm only about cute cookware). This set is seriously elegant, meaning you can keep it out of your cupboards and use it as decor if you want extra storage space. It's also suitable for all stovetop types, so you don't need to worry about breakages.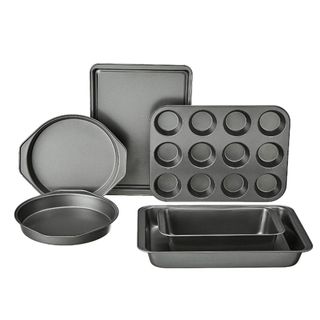 Bake and shake
Amazon Basics Nonstick Bakeware Set
Made from: Carbon steel
Color: Gray
Price: $22.21 for 6pcs

Whenever I get stressed out, I turn the oven on, fire up my phone, and get ready to bake something. This is why I firmly believe that every kitchen cupboard should have all the pans needed to get baking. The deep, rectangular trays are also great for roasting vegetables and potatoes.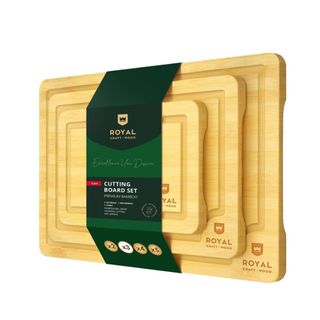 Eco-friendly
Royal Craft Wood Cutting Boards
Made from: Bamboo wood
Color: Natural
Price: $24.97 for 3pcs

Why settle for one chopping block when you can have three? Basically, whether you want to slice up something the same size or just CBA to wash up, this gives you all the options. I could also see them working as adorable serving boards — did somebody say cheese and wine night?
Small kitchen utensils and cutlery
Cut up and spoon up real good with these handy tools.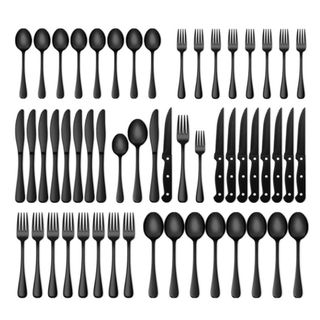 Eat up
Aiviki Black Silverware Set
Made from: Stainless steel
Color: Black
Price: $34.98 for 48pcs

Look, we aren't in our student era anymore. That means no plastic cutlery and no eating noodles with hands. This set has an amazing amount of cutlery, meaning if you accidentally break some or lose some (fun fact: I always leave teaspoons around the house), you won't need to grab another set. I also love the chic black shade — bye bye plain ol' silver.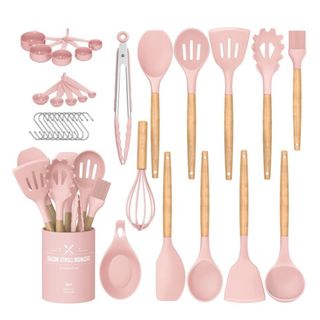 Stir away
Umite Kitchen Utensils Set
Made from: Wood, stainless steel, silicone
Color: Pink
Price: $31.99 for 33pcs

I have a set similar to this and can confirm that it makes kitchen life 10x easier. Whenever I've needed a slightly different shaped spatula or needed to glaze pastries, I've been able to easily find the utensil required — no messy improv here. This set also comes with the most adorable measuring spoons, so you can season your food to perfection.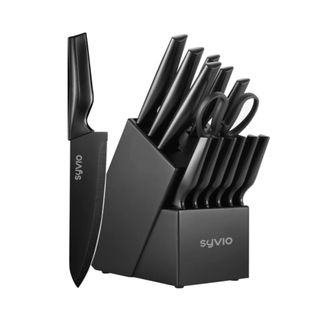 Amazon's Choice
syvio Knife Sets with Block
Made from: Stainless steel
Color: Black
Price: $49.99 for 15pcs

Whatever you need to slice, this block has the right-sized knife. Chef's knife? Bread knife? Steak knife? There are 13 knives to choose from, with six steak knives and seven bigger ones, so there's literally an option for everything. A sturdy set of kitchen shears is also included, so you can tick that off your shopping list too. Chop chop.
Small kitchen dishes, glasses, and mugs
Eat and drink in style with these pretty and practical tableware pieces.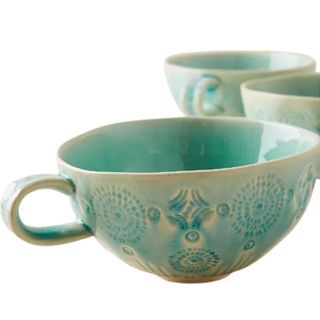 Time for tea
Old Havana Crackle Glaze Stoneware Mugs
Made from: Stoneware
Color: Mint
Price: $56 for 4

I love having a li'l hot drink. Whether it's a cup of coffee in the morning, a pick-me-up tea in the afternoon, or a cocoa before bed, I always seem to have one or the go or the electric kettle boiling for another. And you know what makes hot drinks taste even better? Cute AF mugs (well, IMO anyway). These Anthropologie ones are super pretty and are sure to impress any guests you have 'round too.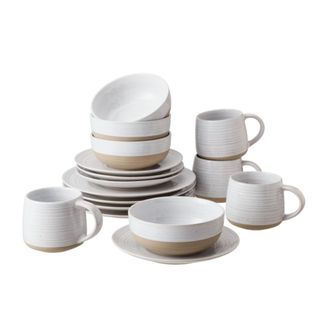 Serving style
Better Homes & Gardens Abott White Stoneware
Made from: Stoneware
Color: White
Price: $49.92 for 16pcs

I'm obsessed with how sophisticated this set is. Like, you could serve up just a plate of fries, and it would look so gorgeous. It's also really neutral, meaning that wherever you move, it will blend in with the aesthetic. The pieces are all dishwasher and microwave safe, so whether you need to clean up or heat up, this set has got you, boo.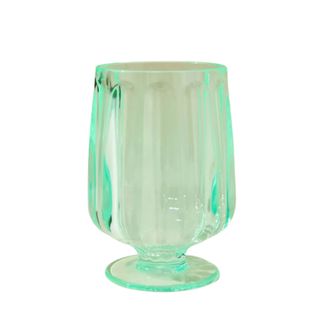 Drink up
Lucia Acrylic Durable Wine Glasses
Made from: Acrylic
Color: Mint
Price: $40 for 4

Okay, I know these aren't made out of glass — but when you live in a small space, you don't want to be breaking glass and spending ages getting tiny pieces out of corners and crevices. Hence, I've chosen these, which are made of gorgeous acrylic. These are officially wine glasses, but I think they're super versatile and could be used to boujee up water, soft drinks, and even cocktails.
Small kitchen organizers
Getting everything together straight away will mean less clutter later on.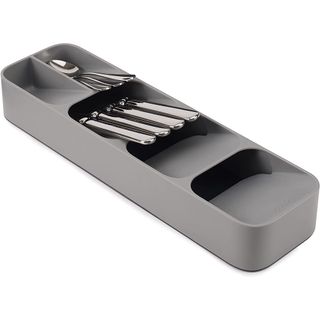 Cute cutlery
Joseph Joseph DrawerStore Organizer
Size (in.): H15.6 x W2.25 x D4.33
Made from: Plastic
Price: $11.24
Only got a li'l cutlery drawer? This Joseph Joseph divider is just the right size for fitting into these, keeping everything neat and tidy in its handy tiers. Our head ecommerce editor Annie Collyer also found that it leaves plenty of room for other gadgets.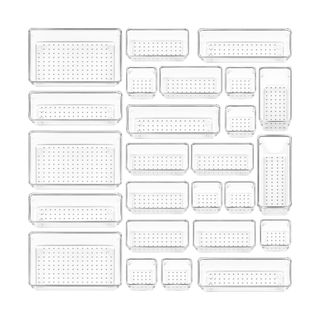 For dreamy drawers
Vtopmart Store Clear Plastic Drawer Organizers Set
Size (in.): L9 x W6 x D2 (max)
Made from: Plastic
Price: $19.99 for 25pcs
This has lots of different sized organizers, so you can fit everything perfectly into your drawers without having awkward gaps. With 25 pieces, you could split it out between different kitchen drawers, or even between different rooms.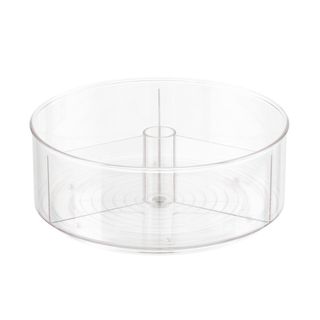 Spin 'round
iDesign Linus Divided Lazy Susan
Size (in.): D9 x H3
Made from: Acrylic
Price: $21.99

From spices and oils to rice pouches and noodles, lazy Susans are an amazing way of keeping your cupboards organized. This one has divided sections to categorize these items, as well as stainless steel ball bearings for smooth spinning.
Got a better idea of what you might need for your new kitchen? I know it may seem like a lot, but take it from someone who has been in the sitch. You're better getting as much as poss now, to save yourself the hassle later. And you know what else? Having a complete kitchen will make your new place feel more like home.

Up next: How to organize a kitchen