Swiping through the photos online, Charlotte and Adam weren't convinced that this 1930s house – with its many quirks and ancient-looking décor – was quite their cup of tea, but having outgrown their Victorian terrace they were desperate for somewhere with a little more legroom. Luckily, a viewing not 24 hours later revealed its full potential, and they pipped a queue of developers to the post by submitting an offer and having it accepted almost immediately.
Keen to create their forever family home, work on the property began just months after moving day. A single-storey extension to the rear and a double-storey side extension provided the additional space the couple had been seeking for a social, open-plan kitchen and living area. It also allowed them to increase the size of the third bedroom.
If you're planning in extending your house like Charlotte and Adam, we have lots of ideas and advice on how to do it in our extending a house feature. For more real home transformations, head to our hub page.
Profile
The owners Charlotte Jarega (@projectwaltonroad), a full-time mum, lives here with her husband, Adam, sons Fabian and Tobias, and Mr Terry Tibbs the cat.
The property A three-bedroom, semi-detached house built in the 1930s in south Manchester
Project cost £103,000
'The kitchen was typical of a 1930s house; a narrow galley with an old gas stove and a big tin sink. I wouldn't be surprised if it hadn't changed at all since being built,' Charlotte recalls. 'Our plan was to knock through the internal wall to the connecting room and extend to the side and rear to create an open-plan kitchen, diner and living area, plus a utility room. Design-wise, I knew I wanted an industrial-style concrete worktop with an integrated sink fairly early on, and based the scheme around having that as the focal point. I chose Metropolis Star tiles from Tons of Tiles to accentuate the island, and saved a little money by purchasing white goods from a Currys auction.'
For house extension advice when you're on a budget, be sure to check out our advice piece.
'Building work began in September 2017, five months after moving in, and in March 2018 I learned I was pregnant with Tobias. By some stroke of luck, the build was completed two months before his birth. Were we to do the extension again, I'd definitely invest in an architect for a more innovative layout. Naturally, we tried to keep costs down by forgoing it, but I think an architect would have helped us make even more of the space.'
'The previous owner left two old wooden ladders in the garage and the hoarder in me kept thinking that I would use them for something. I must have been inspired by a photo on Pinterest because when it came to deciding on a light for the dining area I just knew it had to incorporate a ladder. I cut one of them in half and hooked it up with chains from B&Q. I bought the copper elements and flexi wire from Dowsing & Reynolds, and had an electrician friend construct it – albeit very reluctantly – with my guidance. Once he had completed it he understood why I was so set on it. I love it! The other half of the ladder is propped up in the garden housing plant pots and climbers.'
'By knocking through the rear external wall and extending three metres, while also removing internal walls to allow for the open-plan kitchen, diner and living area, we've more than doubled the size of the original living room. However, removing the entire ground floor rear wall created some engineering and construction challenges as the steel was so large – over seven metres. Ever optimistic, we decided to leave it exposed and treat it as a feature. We were planning on painting it a burnt orange colour, and we still like the idea but, as yet, we haven't found the right hue.
'We had bespoke cupboards fitted for additional storage, and opted to have them constructed using MDF to save money. I invested in quality paint to give them a more expensive-looking finish.'
'We decided to move the stairs from their original position – where they took up half the hall – as we saw an opportunity to increase the space both upstairs and downstairs. I had underfloor heating fitted throughout the ground floor to keep walls free from radiators, and sought a local iron welder to create bespoke railings, which we had sprayed black. They've added an industrial edge to our monochrome scheme and contrast really well with the light-coloured stair carpet.
'I fell in love with the original 1930s front door, but Adam wasn't so keen to keep it. I'm glad I put my foot down on this one, as I just adore it – particularly in the sunny yellow hue. Eventually we'll weatherproof it in order to remove the storm porch from the front.'
'Before the renovation, the bathroom was separate to the – ahem – delightful green toilet. It was too small for a family of four and it had no bath. We knocked down the internal wall, which, along with additional space from the side extension, allowed us to create a large family bathroom with a shower and tub. The room was completely gutted during the renovation. We moved the window to allow for the shower, installed underfloor heating and made it a part-wet room. I wanted to keep the height in the new part of the room to make it feel bigger and add a little visual interest.
'The vanity wall unit was my best buy. I had been looking for something in a natural wood, and this one ticked all my boxes. Plus, it came with a square black marble sink, too. Sold! I varnished the teak to protect it from staining.'
'My favourite part of our bedroom is the bed. It took a while to find what I wanted – we even slept on just the mattress on the floor for a few months when we moved in because I couldn't find the frame. By the time I had made a decision and it had arrived I was seven months pregnant, and was having to roll off the mattress to get up, so a bed frame was most welcome!'
'We knocked through the wall in the master bedroom to create an ensuite. We also got rid of the chimney breast and some old built-in wardrobes, which allowed us to fit in our king-size bed and still have bespoke wardrobes either side. We did consider creating a four-bed, one-bathroom home, but an en suite was a better use of space, and was the option that most suited our needs.'
Be inspired for your bedroom design with our feature.
'Fabian's bedroom is one of the two rooms in the house that hasn't been structurally changed, besides blocking up the chimney. I am slightly jealous that he has the largest bedroom, but it's a great size for him to grow up in. We had one big floor-to-ceiling wardrobe built in, and a desk with shelves which I'm hoping he will use to do his homework on. I painted the mountains mural behind his bed and added low-cost triangle decals elsewhere in the room for easily interchangeable décor as he ages. I had my eye on the house bed for a while before I could buy it. It arrived while Adam was working away, so I built it myself while I was pregnant. He couldn't believe it when he came home and saw that it was already assembled!'
'Originally, Tobias' bedroom was too small to house a double bed, so when we did the side extension it allowed us to increase the size of it, giving us much more space and longevity. We renovated the room completely, but we chose to keep the original wooden frames partly exposed in the corner of the ceiling. It just adds character.'
For more kids bedroom ideas look no further!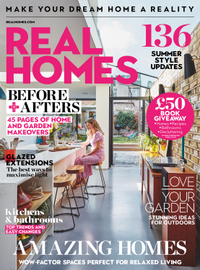 Subscribe to Real Homes magazine Want even more great ideas for your home from the expert team at Real Homes magazine? Subscribe to Real Homes magazine and get great content delivered straight to your door. From inspiring completed projects to the latest decorating trends and expert advice, you'll find everything you need to create your dream home inside each issue.
More reading: