The most sought after kitchen wallpaper ideas can fill the need and want for more color, style and inspiration in your cooking space. It's no secret that hanging wallpaper hasn't always been one of most coveted looks for a kitchen however, this decorative feature has made a huge comeback over the past few years and now it's a trend we all want to recreate.
It may come as a surprise but, some of the best wallpaper ideas can work well both style and function-wise in a kitchen space with many more robust wallpaper types now available in a huge variation of cool designs. Go big on color or line your walls with something subtle but still very unique and give your kitchen a homely, distinctive feel that you can't always achieve with just paint...
Founder of Chasing Paper, Elizabeth Rees says 'Kitchen wallpaper is definitely on trend. Although accent walls in a bedroom or a living room are a popular project choice, we have seen more customers incorporate wallpaper into their kitchen. Whether it is a smaller project such as adding pattern to your pantry or a larger project such as wallpapering every wall, wallpaper is a great way to add impact to a space you spend time in every day.'
Do you need special wallpaper for a kitchen?
A note before you start, if you're not going to choose a wipeable design that's specifically designed for kitchens/bathroom – usually high-quality, cloth or paper-backed vinyl – you'll need to either protect the wallpaper with a glass splashback or hang the wallpaper only in areas where it won't be exposed to constant splashing or heat.
Rees adds how 'You don't need special wallpaper for a kitchen! Chasing Paper's wallpaper is ideal for any room, as long as it is well ventilated and the surface it is being applied to is smooth and non-textured. Our wallpaper is water resistant and can be washed with warm water and a non-abrasive cloth. When cleaning, avoid using any cleaning solutions as that may cause the colors to smudge. Alternatively, you can use our peel-and-stick vinyl flooring as a backsplash instead of wallpaper.'
1. Clashing accent wallpapers
Opposites attract as you can tell from this eclectic wallpaper mashup by KT II Design, Boston. 'This kitchen corner grabs your eye for all the right reasons - the mix of the two wallpapers juxtaposed against each other is done masterfully, mixing color and scale in a way that creates interest.' Say talented designers to A Design Partnership.
2. A complementary kitchen duo
Katie Mack @candycoloredhome lets a duo kitchen color palette bleed into the onlooking wallpaper, helping to make the separate dining area part of the kitchen space, even in an open plan layout.
3. Choose colored wallpaper that complements your kitchen fittings
Picking out a kitchen wallpaper that highlights the fittings in the room can give the whole scheme cohesion it might have lacked before. Here, the wallpaper design complements the worktops, light fittings, taps and the hob to create a co-ordinated look. The green wall acts as a bold contrast that further enlivens the scheme.
Wallpaper shown by Little Greene.
4. A green link to the dining area
If yours is an open plan kitchen diner and living space, it's likely that you'll want the entire room to feel more like a living area than one that's purely functional – and wallpaper is the ideal medium to use to bridge the gap between the two areas. Hanging wallpaper on a kitchen wall that echoes the color or pattern of your dining chairs is an easy way to create a visual link between the two zones.
Wallpaper shown by Farrow & Ball.
5. Pair cool colors with rustic worktops
In an ideal world, the wallpaper you choose for your kitchen won't fight for attention with the rest of the cabinetry but will complement it. So, if you've spent ages perfecting a rustic kitchen worktop look (whether wood or a man-made material), you'll want to ensure it's not over-shadowed by additional decorative details. The cool blue works well in the above kitchen by adding a pop of energy, without overpowering the classic wooden countertops.
Here, the design by Sandberg is the perfect tonal match for the beautiful wooden worktops.
6. Create interest with contrasting patterns
If you'd rather keep the kitchen area fuss-free within an open-plan space, putting wallpaper within the dining area can define the zone effectively while giving what would otherwise be a plain space bags of character.
Mixing and matching prints is an art and done well will help to create a beautifully vibrant space for both cooking and entertaining in. Wallpaper shown by Little Greene.
7. Complement Shaker cabinetry with floral wallpaper
Shaker kitchens are a popular choice – and with good reason, since they never date and are so easy to decorate around. What's more, they will suit both contemporary and traditional homes. Matching them with a wallpaper design that really suits the simple spirit of Shaker style is the best route.
Here, the pretty design by Sandberg has subtly bright colors to enliven the grey kitchen.
8. Wallpaper behind shelves to add character
Open shelving ideas are a must-have in an informal kitchen – the perfect place to store and display kitchenware. Wallpapering the wall behind open shelves will draw attention to any attractive items on display, and add depth and character to that part of the kitchen. Our advice? Put wallpaper on just one or two walls in a kitchen – more than that might well be too busy, especially if you're working with a small kitchen design.
Wallpaper shown by Farrow & Ball.
9. Paint woodwork to flatter the wallpaper
You can up the effect of a dramatic wallpaper design by painting woodwork in a bold shade that picks out the wallpaper's deepest color. Perfect for period-style properties and contemporary transformations, it's a modern trend that harks back to Victorian times and beyond.
10. Highlight a dining nook with a feature wallpaper
There's so much to love about this dining nook: the wall paneling and the geometric wallpaper create a space for eating and entertaining that's both practical, good looking and intimate. Wallpaper shown by Sandberg.
11. Bring out neutral tones in intricate wallpaper designs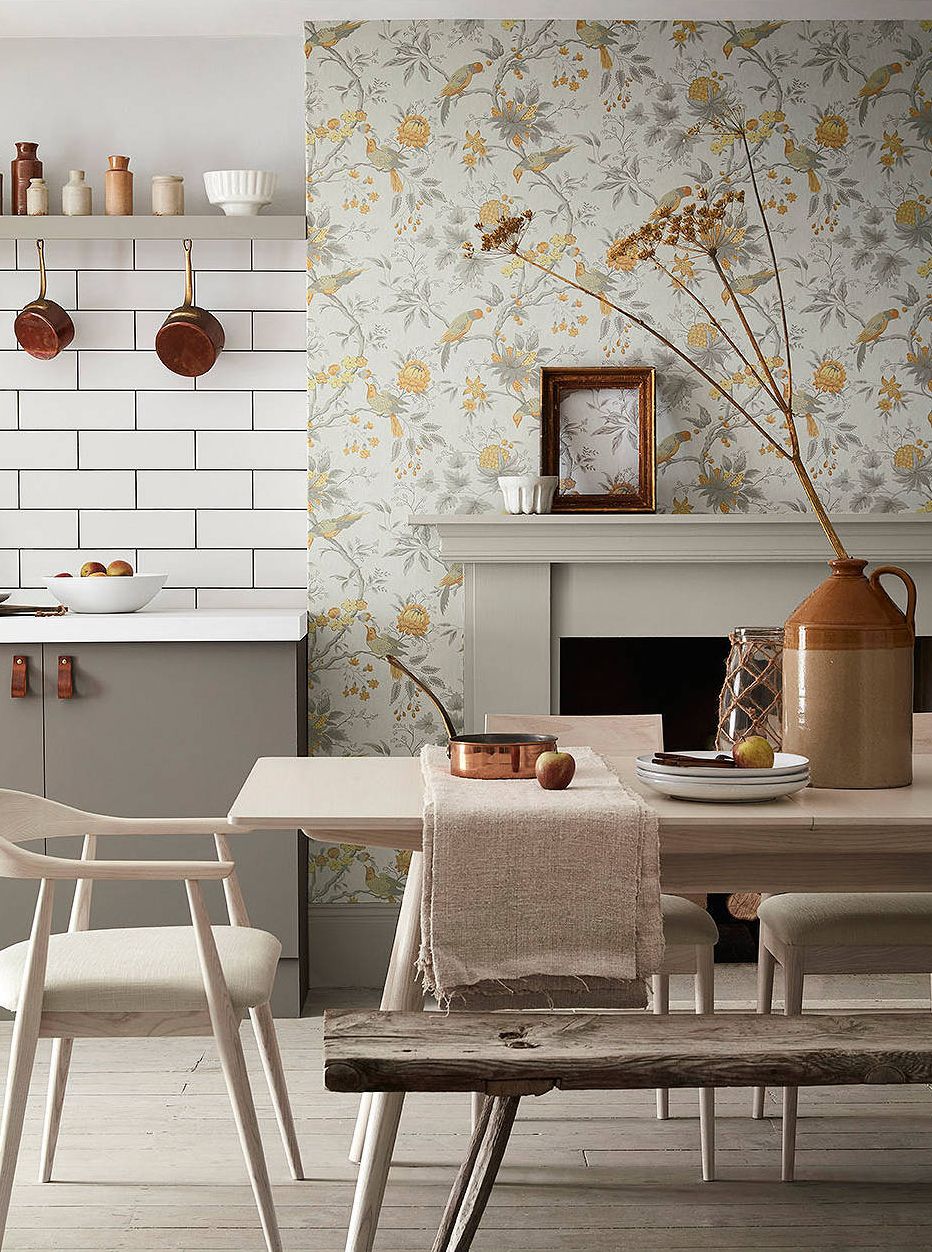 If you're looking to create a kitchen transformation that creates a soothing atmosphere perfect for a busy family space, pick a neutral-toned kitchen wallpaper like Brooke House Cinder from Little Greene that complements the cabinetry. That needn't mean plain – an intricate design will still create lots of interest.
On that note, bear in mind that a small/intricate print will look more traditional and have more of a country cottage appeal than one with a large repeat print, which will create a more formal or contemporary finish.
12. Jungle print
Create mystery and surprise in a kitchen with deep colored jungle print wallpaper as done by Lily Sawyer of @layered.home in her London home. It makes the perfect decor statement to reflect and celebrate a fun, busy family life!
13. Pick out architectural elements for interest
If your kitchen is in a former living room or a characterful period home, it's likely that it has architectural features that can be highlighted with wallpaper. Think alcoves, like the one above or a chimney breast.
14. Link rooms with a kitchen wallpaper's color
The wallpaper in this dining space manages a neat visual trick – linking it to the next room with tones of blue. Why link different rooms within a house? Creating a cohesive scheme throughout by picking different tones of the same color – or the same tone of different colors – makes for a smart finish, and can work to make a small hose feel larger, too.
15. Highlight pretty pottery with different colorways
Wallpapering the back of shelves with different colorways of the same design is a clever trick to get a cute country cottage look and to show off your prettiest kitchenware. If you go for this look, keep the rest of the scheme – cabinetry and all – neutral and fuss-free. Wallpapers shown by Vanessa Arbuthnott.
16. Enliven a white kitchen with a dainty print
If you've inherited a white kitchen that's otherwise lacking in detail – or if you just like to change up the look of a room every couple of years – swapping plain walls for wallpapered ones can give the space a quick, affordable update. Going for an intricate print over a large area of the room? Keep details such as window treatments simple – shutters are perfect.
17. White on white
Enhancing the bright white of kitchen cabinets via similar wallpaper can give a modern kitchen more elegance. Choosing an embossed design will also help soften very shiny surfaces in a chic, contemporary way.
18. Match a ditsy print with paneling for a vintage feel
Perhaps you've inherited a black kitchen and want to take it from cold and contemporary to vintage-style? Paneling the walls to dado level and painting it in black or a muddy neutral shade, then contrasting it with a light-colored, delicate wallpaper above can transform it quickly – and at a far lower cost than swapping cabinet doors or replacing the kitchen entirely.
19. Choose a fun print for a utility room
If you're going to take the wallpaper look from your kitchen to the utility room then this contemporary style utility room is the perfect example of how you can be braver with your wallpaper choice in what is often a small, seldom seen space. Go brighter than in the actual kitchen, and let it inspire you for other small space too, think cloakrooms.
20. Create a subtle two-toned look with wallpaper
Two-toned kitchens are a huge trend at the moment. Wallpaper can be a really easy way to subtly introduce a second color into your kitchen. We like how this wallpaper almost totally matches the green of the cabinets but still brings in that pink hue for contrast – a two-toned kitchen done beautifully.
21. Wallpaper your refrigerator...
Why just wallpaper the walls when you could use those offcuts to brighten up a tired refrigerator? Take a leaf out of Aunt Peaches Hex fridge with this geo print look.
22. Print the kitchen ceiling red
Another bright and geometric number, use kitchen wallpaper on the ceiling if you're more into tiles on the wall and take this maximalist look to town.